Who knew a housewarming party could drag on for so long? I mean, seriously though. This episode of The Real Housewives of Orange County revolves almost entirely around last week's drama at Shannon Beador's party and its immediate aftermath. Hence the foreboding title of the episode: "The Aftershock." And if last week's glass throwing by Braunwyn Windham-Burke was the splash heard 'round the OC, this week is the aftershock heard round…what exactly? Well, at least around the Porch Streets of Newport Beach. Which are, you know, all within walking distance of one another.
Cut back to Shannon's rented suburban dream home. Braunwyn has just stormed out in the wake of her argument with Gina Kirschenheiter. The rest of the 'Wives are positively scandalized by the lone, unbroken glass sitting at the bottom of Shannon's pool. It's almost as if they never watched Tamra Judge throw red wine in Jeana Keough's face back in the Season 6 finale. Oh right, none of them did. Because none of the women in this cast were on the show back at the very start of the Real Housewives of Orange County glory days.
However, if one 'Wife is still operating from the vintage OC playbook, it's Braunwyn. First she pulled off a lesser version of Tamra's now-iconic move to punctuate her fight with Gina. But let me tell you something. Watching her storm off with Sean Burke chasing after her gave me such a deja vu flashback to Jeana and her angry gay minion leaving the Season 6 finale party that I practically felt transported back to the hopeful days of 2011. Only two things were missing. One, Sean shrieking, "That's why you're getting a divorce!" while he chucks a piece of stemware. And two, Quinn Fry standing silently by in a heinous platinum roleplaying wig.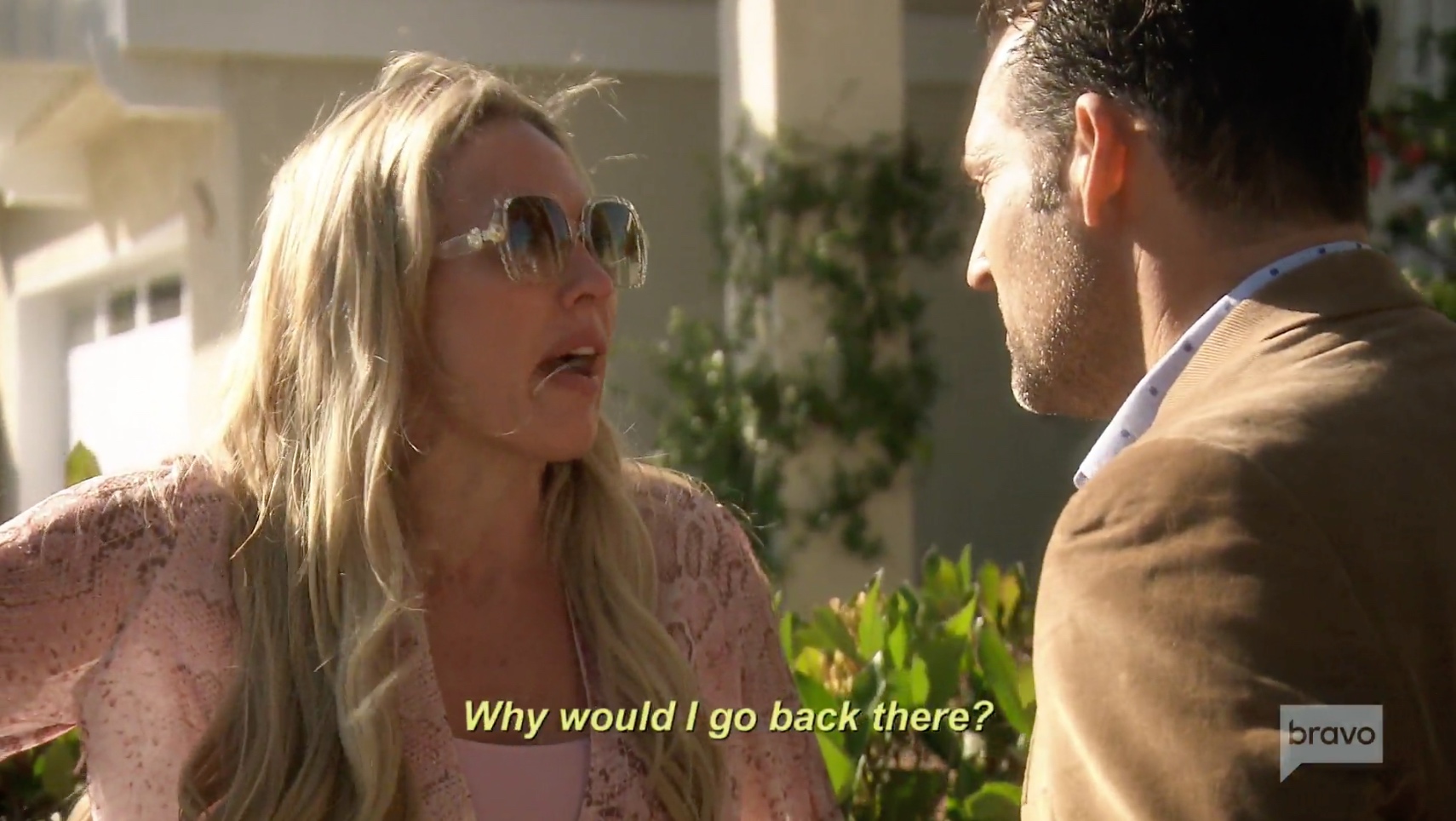 Except Braunwyn doesn't completely exit the party. Instead, she cries on the street while her husband accuses her of letting Gina "steamroll" their conversation. Braunwyn maintains — a la Jack Nicholson in A Few Good Men — that she's the only one in the group who's being honest. And the other women simply can't handle the truth! Again, this is simply a natural part of sobriety 101: suddenly Braunwyn is holding herself accountable and valuing honesty above all else. But that's not how the truth operates in the land of Housewives, where the only thing that flows more free than the alcohol is the hearsay.
Eventually, though, Sean convinces her to come back and cry on the porch while he coaxes Gina out for a second attempt at a one-on-one conversation.
Even though Gina is busy riling the rest of the cast up about Sean "getting in her face" (he didn't), she agrees to try talking to Braunwyn one more time. They both start out with apologies, which seems good. But when the two women get into it over the text message Sean sent Gina last year, it all goes downhill. Braunwyn maintains that Sean was innocently checking on Gina after getting her an Uber. But the ill-placed winky face in the message made Gina uncomfortable given the couple's open sex life. And she's not backing down from that. As the decibels get louder, the conversation goes in circles…and then down in flames. Braunwyn thinks that if Gina took the winky face the wrong way, that's on her. But Gina walks away from the fight.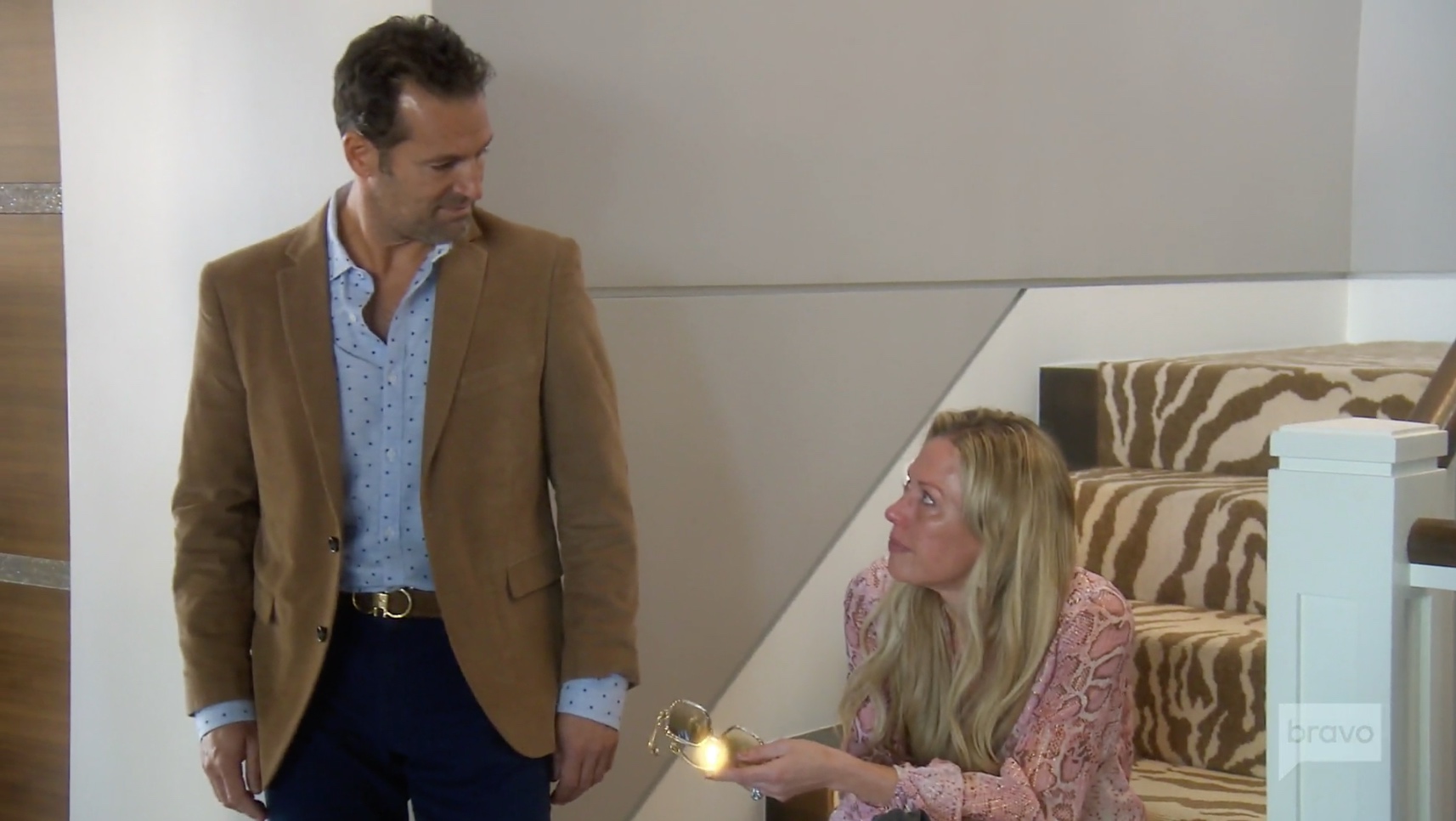 While Shannon gives the rest of the 'Wives the grand tour of her new house, Braunwyn continues to unravel at home. Inexplicably, she changes into workout clothes and jumps on the treadmill. Probably to work off some of the post-fight adrenaline? Or maybe because the 15-second walk home from Shannon's wasn't enough. She's so embarrassed by her outburst that she never wants to show her face among the other women ever again. Being the ever-supportive husband, Sean talks Braunwyn off the ledge and even agrees to go to an emergency AA meeting with her.
The next day, the rest of the cast is still reeling from the drama. Kelly Dodd and Elizabeth Lyn Vargas take a shopping trip to recount the play-by-play, while Gina vents to Emily Simpson, opening up about how her dad is also an alcoholic. So really, if they weren't fighting, she'd be able to empathize with Braunwyn more than almost anyone.
Elizabeth also gets it because of addiction in her family, but really I'm more concerned with how many times the newbie thinks she can get away with wearing that hideous "No 1 Cares What You Shot" trucker hat this season? Is it supposed to be a gun reference via Chanel rip-off? It just goes to show that you can't buy taste, even if you're getting money from your billionaire ex-husband. And of course, Kelly grossly remarks that she'd never sit through an AA meeting to support Braunwyn. Because that's the kind of person Kelly Dodd is.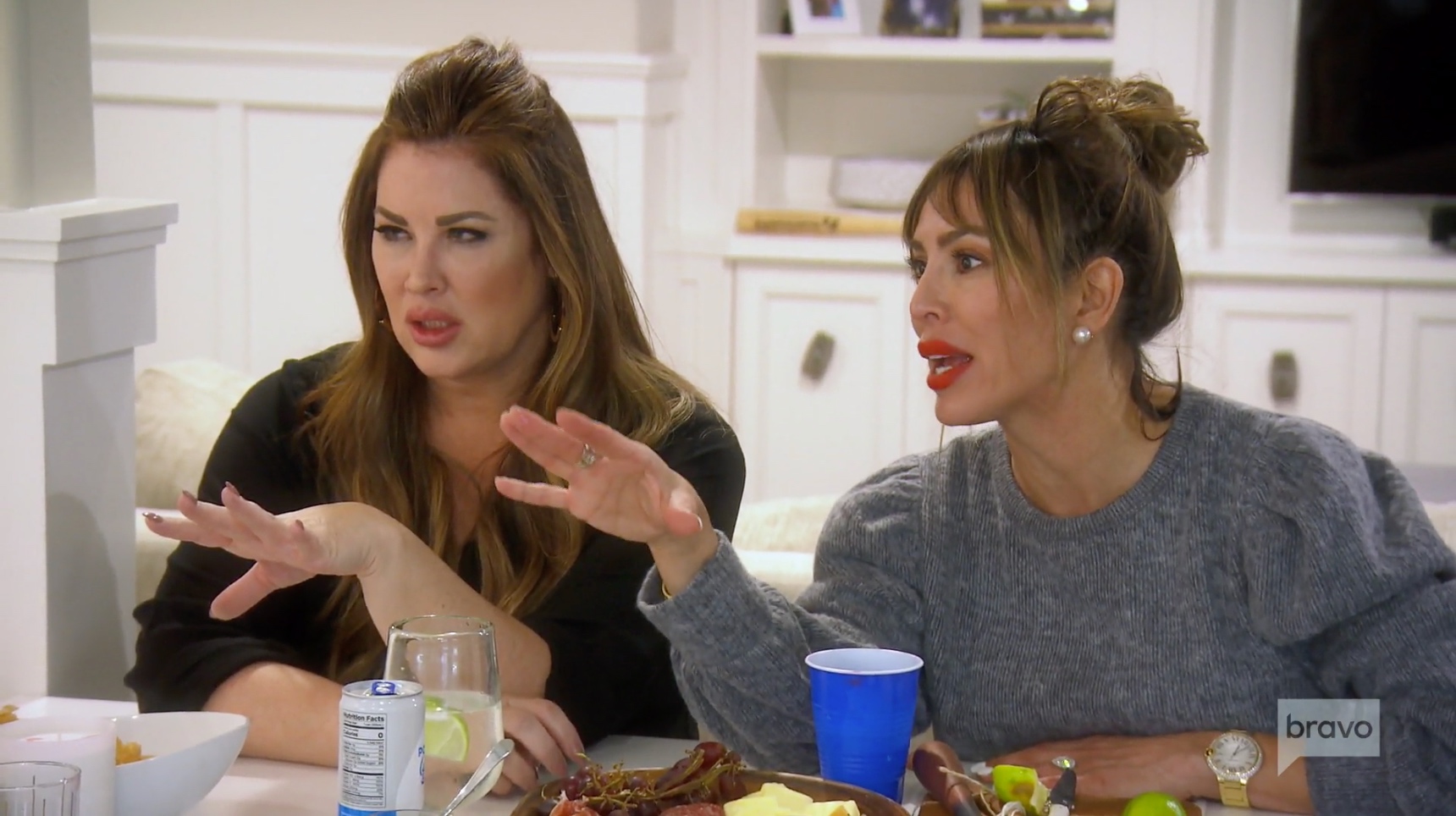 Meanwhile, Braunwyn calls Shannon to try to repair the fracture happening in their friendship. She still maintains that the veteran 'Wife called Gina's condo "sad and depressing," but she wants to move on. In fact, she and Sean are throwing their 20-year vow renewal in Palm Springs, and she still wants Shannon, her boyfriend and all of their kids there. (Yes, even Lemonade Boy!) However, Shannon isn't ready to let the drama go. She's got a bone to pick.
You can even tell Braunwyn's officially gotten on her bad side because Shannon's now referring to her in confessionals by both first and last name. She accuses the Windham-Burkes of mounting some kind of crusade against her, but doesn't want to look bad by not supporting a struggling cast member. Via confessional, Braunwyn nicknames her frenemy "Stepford Shannon." She points out that Shannon's always concerned with how things and relationships appear on the surface. Kind of like she just admitted, Shannon never wants to look bad.
Over at the Beador house, Shannon's not through talking everything out, with John Janssen as a sympathetic ear. So while Braunwyn kindly drops a mezuzah off at Kelly's, Shannon just keeps getting ramped up. (Kelly also throws out the first reference of the season to the coronavirus this week. Of course, she downplays it as just one of those things that happens from time to time. It's just like H1N1, OK? As I'll keep repeating in my recaps throughout this season, please do not turn to Kelly Dodd as an authority on the pandemic.)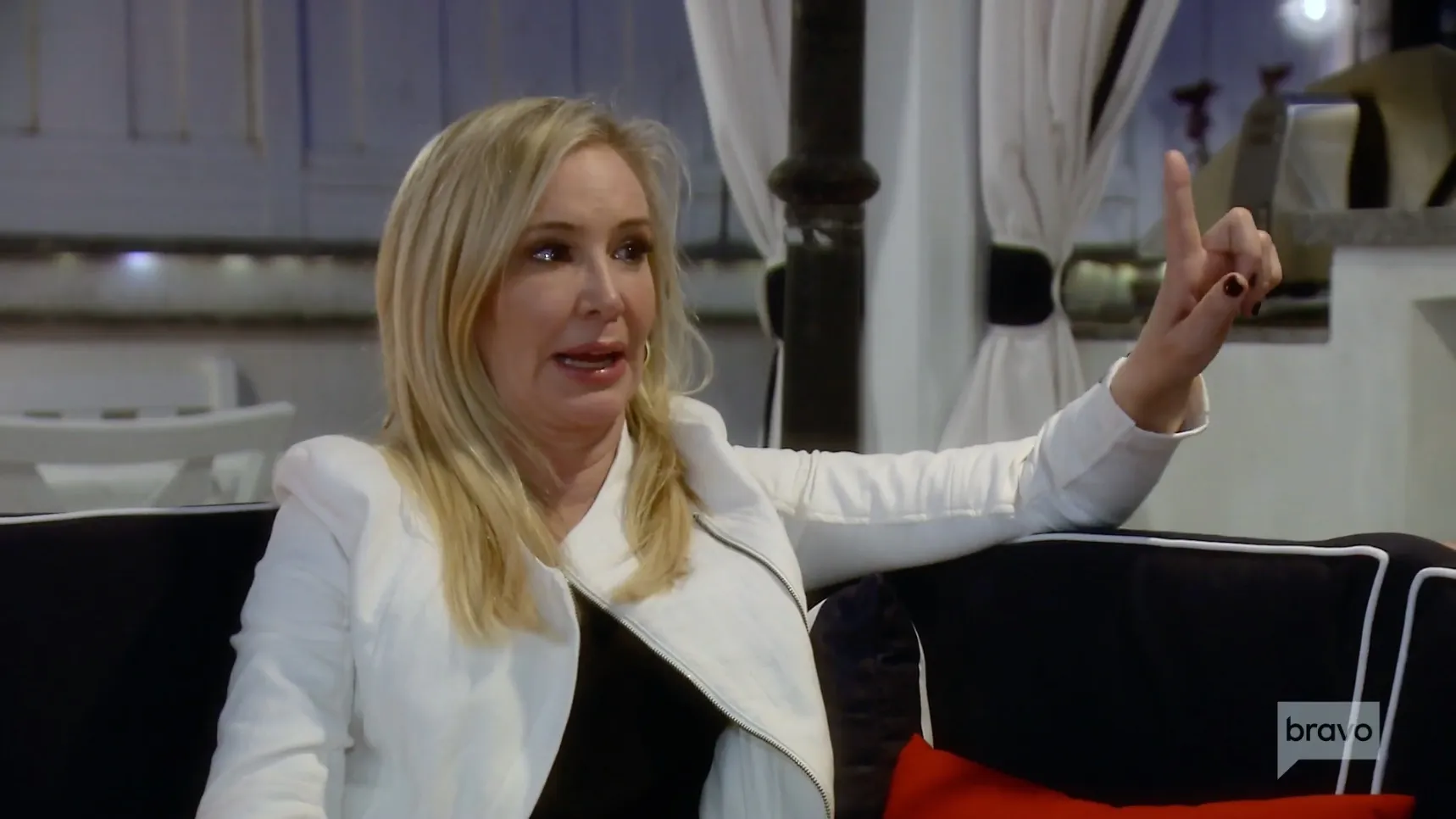 Anyway, back to Shannon. Braunwyn admits to Kelly and Emily that she was angry with Gina and wanted to hurt her. Hence dragging Shannon's (alleged) off-camera comments to light. And now, we don't know who to believe. Because Braunwyn has pegged this whole fight on her just being honest. But she's just admitted there was malicious intent behind it. So that could seem suspicious. Of course, now the sophomore 'Wife just wants a clean slate. With Gina mostly, but also with Shannon.
For her part, Shannon's still furious that her integrity is being called into question. And she also questions Braunwyn's spotty, sometimes unreliable memory as a way of defending herself. Shannon thinks Braunwyn should be focusing on her sobriety rather than on sullying her reputation. And if there's one thing Shannon Beador can't move on from, it's being called a liar. (Well except for all the times she has moved on from that very thing with numerous cast mates over the last seven years. But for the sake of this year's storyline that's apparently not relevant…)  While the aftershocks seem to be settling, it looks like we're headed for a completely new earthquake when the 'Wives take off to Palm Springs…
TELL US- DO YOU BELIEVE SHANNON OR BRAUNWYN? WAS SEAN TOO INVOLVED WITH GINA? WILL YOU BE ABLE TO HANDLE KELLY DOWNPLAYING THE PANDEMIC FOR THE REST OF THIS REAL HOUSEWIVES OF ORANGE COUNTY SEASON?
[Photo Credit: Bravo]