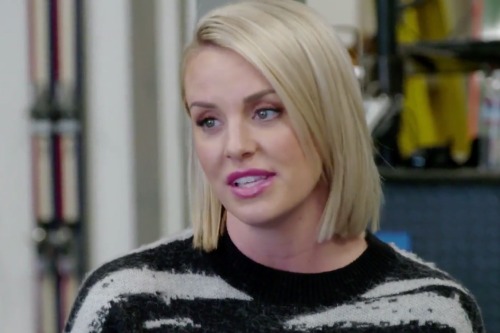 Who knew Real Housewives of Salt Lake City would come in and save the 4th quarter of 2020? I know people weren't originally "feeling" a Housewives franchise that centered around the taboo topic of religion, but RHOSLC is leading us to glory. The cast is diverse, though Meredith Marks and Lisa Barlow may or may not be the same person. Us regular folks have been given a glimpse into what it means to live under the strict rules of being a Mormon.
But only if you are active in the Mormon community. Jen Shah converted to Islam. Heather Gay identifies as "Mormonish" but doesn't adhere to the rigid guidelines presented by the church. Mary Cosby is a Pentecostal first lady and Meredith is Jewish. Then we have breakout star, Whitney Rose. Whitney was a Mormon, until she wasn't. But the reasons why Whitney left the church are varied. Now Whitney sets the record straight and would like to leave the word "excommunicated" out of this narrative.
Growing up in the Mormon community, Whitney confessed she was incredibly unhappy being the "perfect Mormon girl". The premier episode of RHOSLC gave us Whitney and husband Justin Rose's vow renewal ceremony. It also served as a "thumbs up" (and yes, it does mean fuck you) to those who never supported her relationship. Whitney and Justin met when they were both married to other people. Aaaand Justin happened to also be Whitney's boss at the time. This presented a problem for Whitney, who not only considered herself a Mormon, but she's from a long line of individuals in the Mormon religion. Whitney's fourth great grandfather, Latter Day Saint leader Shadrach Roundy, was a bodyguard for Joseph Smith, the Mormon religion founder.
Was Whitney's relationship considered scandalous? Hell yes. But have you noticed Mary is married to HER DECEASED GRANDMOTHER'S HUSBAND? I'm still waiting for anybody to make it right in my brain that Mary's spouse used to bounce her on his knee when she was little… Whitney's cousin and co-star Heather said she was excommunicated from the Mormon Church. Now Whitney is putting the breaks on that word. Recently, she set the record straight on exactly why she stays in on Sundays.
Clearing things up via her Instagram, Whitney wants her followers to know she was absolutely, positively, totally not forced out of the church. She wrote, "For those who have watched the first episode there is something I want to correct. Contrary to what one of my cast mates stated, I WAS NOT EXCOMMUNICATED from the Mormon church. I chose to walk away. Although I no longer identify as a Mormon I still have a deep love and admiration for all of my Mormon friends and family."
Fun fact, the literal definition of excommunication is, "an ecclesiastical censure depriving a person of the rights of church membership". So what we have here is a "you can't fire me because I quit" type of scenario.
Whitney seems to own her life. She admits to partaking in a torrid affair. She isn't trying to hide family issues that would cause someone else to, oh, I don't know, fabricate a completely fraudulent storyline in the hopes of remaining under the radar. And Whitney will also politely let you know your employees suck and do it with a smile on her face. You can say Whitney cheated on her first husband. And you can say Whitney has a reputation. But don't say Whitney was excommunicated, because she doesn't seem shy about setting people straight. But, at least she'll do it in the most cordial way possible.
TELL US- WHAT DO YOU THINK ABOUT WHITNEY? DOES SHE OWN HER PAST? DO YOU THINK SHE WAS EXCOMMUNICATED OR WALKED AWAY FROM THE MORMON CHURCH?
[Photo Credit: Bravo]