Last night's episode of 90 Day Fiance The Other Way was packed full of drama! This was a mix of raw emotion and a hot mess rolled up in one.  There was everything from begging, threats and proposals. All those things wrapped up in one makes for an emotional rollercoaster. I needed a few drinks after watching all of those stressful situations.
Sumit is backed into a corner. Kenneth Niedermeier and Armando Rubio receive shocking news. Ariela Weinberg 's life takes an unexpected turn. Deavan Clegg's wedding day doesn't go as she expected. Brittany Banks  is forced to make a choice for love. Let's get straight to the 90 Day Fiance The Other Way recap!
Jenny, 60 (Palm Springs, California) & Sumit, 30 (India)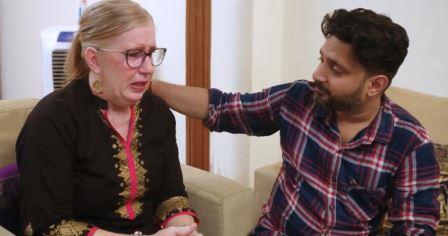 Whew, the room is tense! Sumit is on his hands and knees begging his parents to finally let him be happy with Jenny. The only time his parents speak to Jenny is to shame her for being with their son. At one point, Jenny becomes so frustrated she starts to scream too. I don't blame her.  I wouldn't have been able to handle all the guilt trips and accusations either. Things go from bad to worse when Sumit's mother threatens to kill herself if they get married. Wow! I can't believe she would say something so horrible to prevent their son's happiness. In an effort to calm things down, Sumit agrees not to marry Jenn, but he is unwilling to leave her.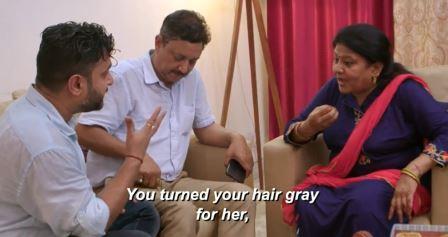 Jenny is pissed now that Sumit has cancelled their wedding for the second time. This is exactly why she told him they should get married and ask for forgiveness later. I still can't believe Sumit's mother stooped so low as to threaten to take her life. I almost rather they just disowned him than to emotionally blackmail someone in that way. Honestly, I think she was bluffing, but I understand why Sumit isn't willing to take that risk.
Sumit surprises Jenny with a romantic picnic after all the stress she has endured. Despite the constant disappointments, she is taking things rather well. When Sumit presents her with a promise ring, she is elated. Huh! I'm glad Jenny is happy, but honestly I would still be upset. But I guess this is truly a testament of how much she loves him.
Brittany, 26 (Palm Beach, Florida) and Yazan, 24 (Jordan)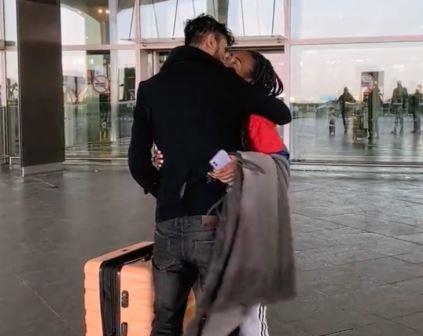 Brittany talks to Yazan after just learning his life is at stake from his brother, Obaida.  Rightfully, she is concerned that people in his family want to kill him. Yazan tries his hardest to downplay the situation. Sigh! He wants her to just ignore the threats when she decides if she wants to marry him. Ummm… who could forget that??? Is he serious? There is no way in hell I would be willing to live in Jordan after finding out that my fiancés life was in danger. I wouldn't even be comfortable leaving the house. For all Brittany knows if she moved to Jordan, she would be on the kill list as well.
Brittany proposes Yazan comes to the U.S as a solution to their problem. After everything she has learned in recent days, it is way too dangerous for them to live in Jordan together. But Yazan is nervous that when Brittany returns home, she will change her mind. Well, duh! Hell, she wasn't sure she wanted to be with him, when there was no threat on his life.
Yazan reveals to his brother, Obaida his plan to move to the U.S. to be with Brittany.  Obaida admits that he wasn't sure she was sincere, but now he is willing to help Yazan with their parents. Thankfully she got this assurance before being forced to leave the next day.  The borders in Jordan were locked down due to Covid-19. On the ride to the airport, Brittany sounded extremely unsure about their future. Sad to say, I think she just wanted to be on television. Brittany never seemed serious about their relationship, in my opinion.
Kenneth, 57 (St. Petersburg, Florida) and Armando 31, (Mexico)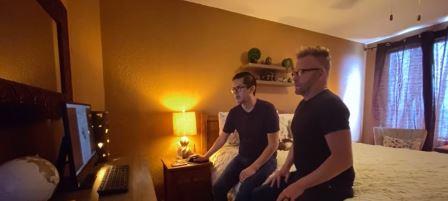 After months of waiting, Armando and Kenneth finally get approval from the Human Rights office for their marriage. They have faced several obstacles together, and have just solved one. Even little Hannah is excited to be able to call Kenneth her "real dad" now. Later, they go on a romantic date on the beach to celebrate the good news. Armando becomes emotional thinking of how far he has come on his journey of self-discovery.
Ariela, 28 (Princeton, New Jersey) and Biniyam, 29 (Ethiopia)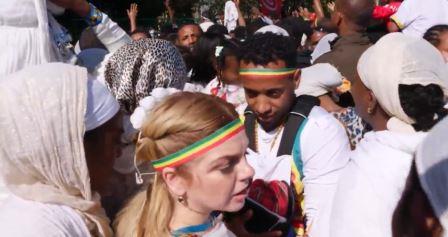 Ariela and Biniyam celebrate a religious day with the baby. Unbeknownst to Ariela, Biniyam has a surprise up his sleeve. But immediately as they approach the crowd, Ariela becomes extremely nervous the environment isn't safe for her son. The two get into an argument and she demands they go home. I can understand her nervousness having a one month old baby in a crowd of people pushing towards the front.
Personally, I wouldn't have brought the baby to the event. But since she did, she could have supported him from the sidelines. Then he would have been able to enjoy the holiday and the baby would be safe. Instead, they left angry and she had no idea he planned to propose to her.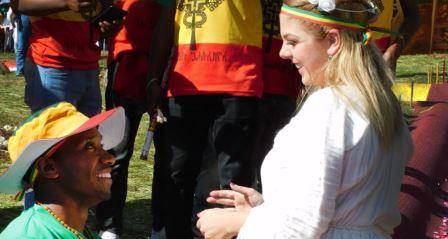 Biniyam is still trying to salvage the holiday, but he can't escape Ariela's wrath. While I understand her need to protect her baby, she isn't going about it the right way. He takes her to his brother's house, so she can take a break.  After stewing for a bit, she decides to go back out to look for Biniyam and apologize. Luckily she didn't allow her anger to completely ruin the day. Otherwise she would have missed the surprise proposal that was planned for her.
Deavan, 22 (Salt Lake City, Utah) & Jihoon, 29 (South Korea)
Deavan isn't happy about her fast assembly line style wedding. They only have 45 minutes for the entire ceremony including the reception. Deavan is a beautiful bride, but I hate the blonde highlights in her hair. The ceremony looked more like a fashion show, than a wedding. Jihoon looks like a doll with his perfectly coiffed hair and highlighted cheeks. This may not have been an American style wedding, but at least Deavan got to dance with her father.
Jihoon and Deavan are trying their best to cope with their new normal in the wake of the coronavirus epidemic. But quarantine has taken a toll on their relationship. Deavan decides to go back to the U.S. for a month to have some space. Sounds more like running away from her problems.  Jihoon doesn't want to say goodbye to his family, but has no other choice. Things have to be pretty bad to leave with two small kids during a pandemic. 
TELL US –DID SUMIT MAKE THE RIGHT DECISION? IS BRITTANY SERIOUS ABOUT HER RELATIONSHIP WITH YAZAN? WAS ARIELA BEING A BUZZKILL OR A PROTECTIVE MOTHER? WHY DO YOU THINK DEAVAN TRULY LEFT JIHOON?
[Photo Credit: TLC]