While last week's season premiere of The Real Housewives of Salt Lake City was a lot about catching up, this week's episode still felt like a bit of a warm-up. Though maybe that's what all the ladies needed considering how chilly some of their relationships have gotten since the Season 1 reunion. Meredith Marks and Jen Shah are in the midst of a cold war, with Lisa Barlow caught in the middle. Jen's friendship with Heather Gay also remains on thin ice. And we all know which side of that feud Whitney Rose falls on. (Hint: she, too, wants nothing to do with anyone calling her cousin a "manatee" and a "racist.")
However, Jen's about to break the ice with one of her frenemies. After an appearance by her assistant/alleged co-conspirator Stuart Smith, she sits down among the mountain of designer duds in the closet of her rented chalet to call Heather. The latter is clearly surprised to hear from her one-time pal. After two months of no contact, she was starting to feel like Jen had all but given up on their friendship. Now, though, the nexus of drama and lies wants to sit down with Heather for a heart-to-heart. (Maybe because the cameras are rolling again?) Heather's face betrays exactly how she feels about that request, but she agrees to meet nonetheless.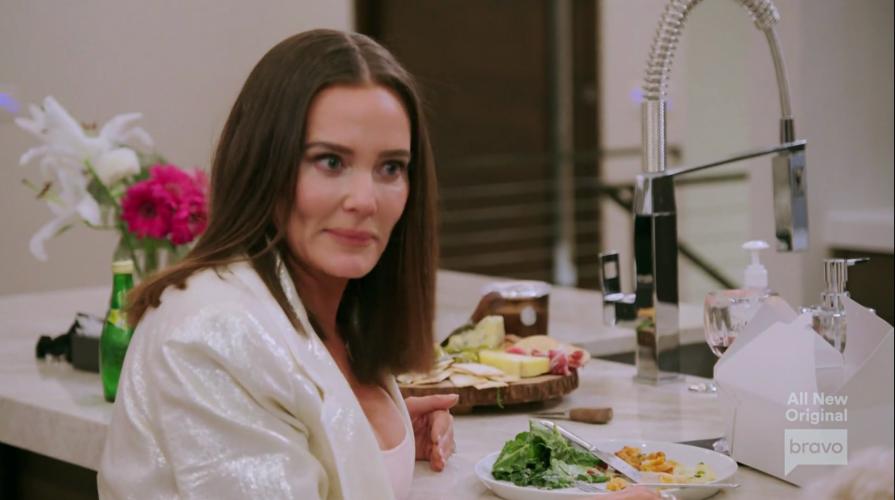 On the other hand, the possibility of Meredith and Jen ever being friends again gets colder and colder with each passing day. Even since last week's premiere, Jen has apparently continued her social media campaign against Brooks Marks. The negativity and homophobia hasn't stopped. And Meredith isn't going to disengage this time. In fact, she's ready to unload. And listen. We all know that Brooks wasn't exactly a fan favorite Housewives kid last season. It would probably be fair to say that the longer the season went on, the less the audience liked him. But I say bravo to Meredith for going so hard for her kid, regardless of whether or not he's publicly disclosed his sexuality. Far too many LGBTQ+ kids don't get that kind of support from their parents, especially in Utah.
Meanwhile, Lisa pays a visit to the Shah Chalet 2.0. to introduce Jennie Nguyen to Jen. More importantly, though, it's an excuse to move the storyline along. Lisa fills Jen in on her heated conversation with Meredith during last week's Shabbat. The Vida Tequila mogul wants to mediate an ill-advised truce between her two pals. But instead of being conciliatory in any way, Jen doubles down that she wouldn't have gone after Brooks if he hadn't disparaged her for flashing her vagina all over his living room in the first place. Because that's for sure the way to come out on top in this argument.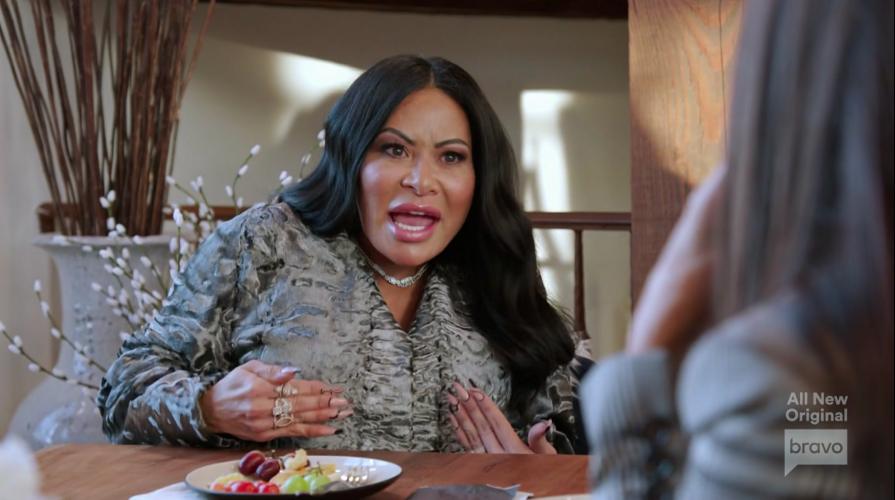 Mostly, Jen's angry that everyone wants her to apologize all the time. She claims she's already told Meredith she was sorry dozens of times last year. And that's true. She has. But as Lisa tries to remind her, those apologies were for all the pot-stirring she did last season about the jewelry designer's marriage to Seth Marks. And for letting slip to the other 'Wives the Markses were separated after being sworn to secrecy. Oh, and also the gossip she spread about seeing Meredith with another man in New York. None of that had to do with slamming Brooks over and over on Twitter. So here's a thought, honey. You wouldn't need to apologize constantly if you weren't treating all your so-called friends so terribly all the time.
Cut to Whitney and Heather on a shopping spree at Name Droppers, an upscale resale boutique in Millcreek. In between trying on the latest knitted beaver coats, Heather fills the other half of "Bad Weather" in on her upcoming face-to-face with Jen. Let's just say Whitney is…less than enthused to hear about Jen trying to weasel her way back into Heather's good graces. And she's not about telling her bestie exactly why. Heather tries insisting Jen's a true friend who just gets "confused and lost in the wilderness" sometimes. But Whitney's not buying it. She warns Heather to be careful in moving forward with someone who's hurt her so many times and clearly shouldn't be trusted…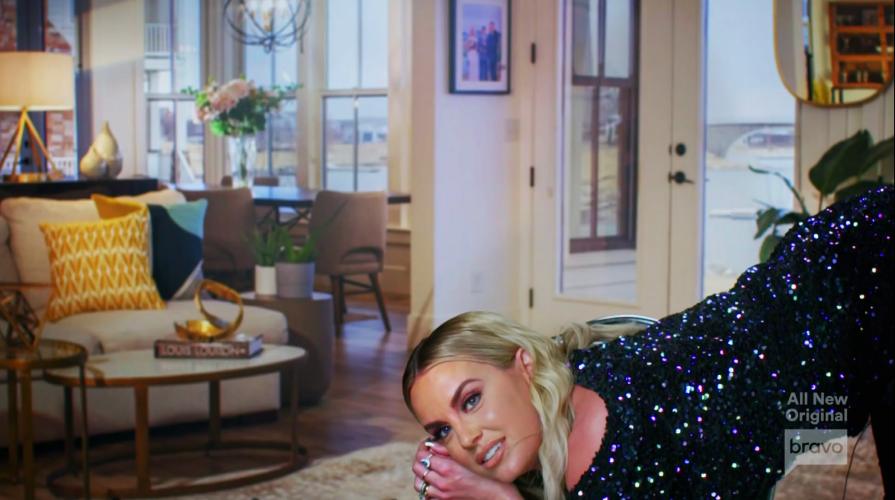 A few evergreen scenes are worth mentioning this week. First, Mary Cosby is giving her house a much-needed refresh. After a year of being locked up in the house staring at the same furniture and crown moulding, she's ready for a major renovation. Mostly, though, I'm just surprised we're finally getting to see more of the First Lady's house than just the inside of the closet where she spent the vast majority of last season. We also get to spend a little more time with Jennie and her family. And if one thing is clear after just two episodes, it's that her youngest daughter Karlyn is gunning for the role as RHOSLC's own Milania Giudice. Sorry, Brooks.
Then there's Whitney, who's starting to feel the burden of balancing work and family that comes with being a second-season Real Housewife. She's trying to rebrand Iris + Beau, the skincare company she barely even mentioned last season, under the new name Wild Rose Beauty. Like Lisa before her, she's suddenly intent on turning the fledgling brand into a billion dollar company. And it's started to negatively affect her sex life. Apparently she and Justin Rose have resorted to "robotic sex" two to three times a week. And I, like probably all of you out there, will never be able to get the image of what Whitney did in her confessional to demonstrate what that means out of my head.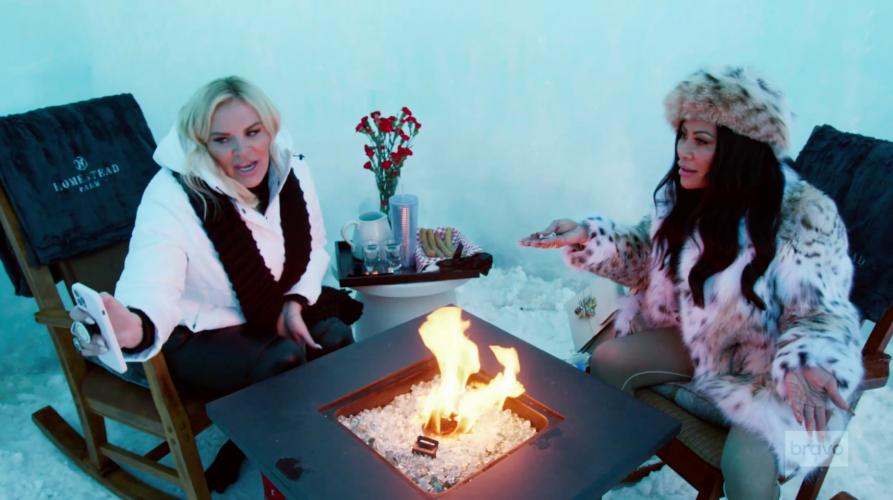 Finally, Heather has her long-awaited meeting with Jen (who has Stuart in tow). But it's not at a typical empty restaurant like the Housewives who've come before them. Instead, the pair meet at the Midway Ice Castles, which as a Utah native, I can confirm are absolutely magical, beautiful and one of the state's hidden gems. (They're also about an hour drive from Salt Lake, on the opposite side of the Wasatch Mountains in Heber Valley. So it was quite the trek for production, but definitely worth it as a filming location.)
Inside the Ice Castles, Jen's organized a cute little fire pit. Which is appropriate, considering she's about to get roasted. Jen tries to blame the lapse in their friendship on just not seeing each other since the reunion. But that's not going to fly because Heather is coming into this meeting with a lot to get off her chest. Jen's called her names like "Shrek," a "manatee," "Honey Boo Boo" and worst of all, publicly labeled her a racist on social media. When Jen flat-out denies most of this, Heather pulls out the screenshots on her phone to prove it. And even then, Jen tries to deflect and deny.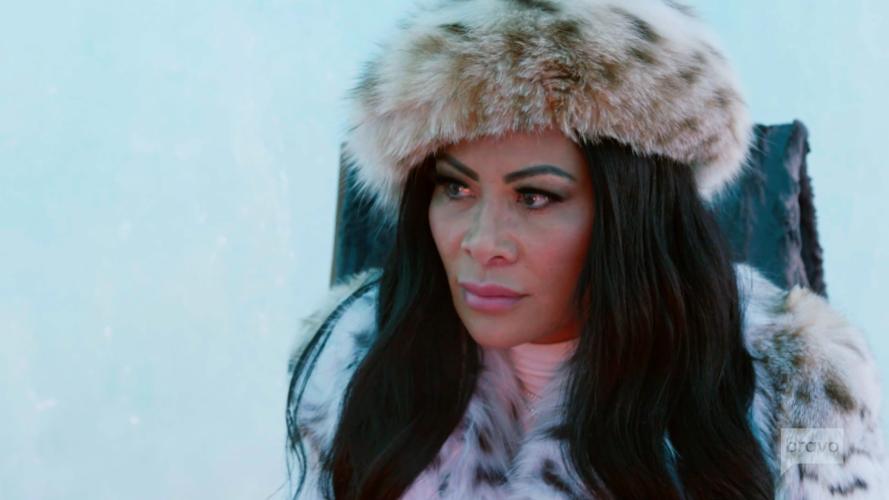 Then, she turns the whole situation around to make it all about how much she was hurt at the reunion. Personally, I fail to see how being called aggressive when you were, in fact, displaying aggressive behavior compares to all the name calling and slander she's been throwing Heather's way. But of course, Jen manages to play on Heather's empathy. And before you know it, the two have pretty much made up. It's kind of baffling, honestly. Jen doesn't even offer up a genuine apology, but all Heather wants is for the attacks to stop. So they end the chat with Heather literally pulling churros out of the fire. And I guess they're all good now? That's one stop complete on this season's Jen Shah Apology Tour. But it looks like next week won't go quite as easily for her…
TELL US – ARE YOU HAPPY TO SEE MEREDITH STAND UP SO STRONGLY FOR BROOKS? DOES LISA HAVE ANY HOPE OF BRINGING MEREDITH AND JEN TOGETHER? SHOULD HEATHER HAVE LISTENED TO WHITNEY'S ADVICE? WAS SHE TOO QUICK TO FORGIVE JEN OR DID JEN MANIPULATE HER EMOTIONS?
[Photo Credit: Bravo]