Happy Valentine's Day, Good Vibe Tribe! Or, at least, happy day after Valentine's Day, which is when you'll be reading this recap. There's been plenty of romance in the air this season on Summer House. But despite the holiday, this week's episode is less about love affairs and more about showing up and being seen. And in doing so, newbie Mya Allen comes front and center amid the sprawling cast of nine roommates.
In the wake of Amanda Batula's '90s-themed birthday party, Mya is feeling left out. Because after the festivities wound down for the night, she got snubbed by Lindsay Hubbard, who refused to let her tag along to the club. Instead, HubbHouse brought her bestie Danielle Olivera and left Mya at home. And honestly, it was such a small detail that I didn't even mention in in last week's recap. But as it turns out, Lindsay's dismissive exclusion gets the ball rolling on a series of escalating microaggressions toward the newest housemate for the rest of the episode. It also turns out to be karma for Lindsay, who gets friend-zoned at the club anyway.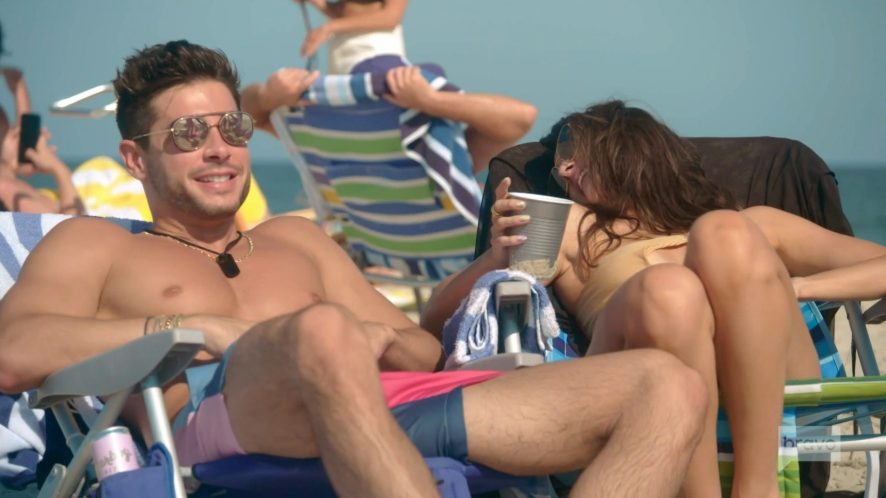 The next morning, it's Amanda's actual 30th birthday. Oh, and look! Kyle Cooke still doesn't have a gift for her. Besides waking up to the stye in his eye getting ever redder, bigger and worse. Already aware he's dropped the ball, he tries to make up for it with flowers, but Amanda's not that impressed. Flowers die, Kyle! Meanwhile, Paige DeSorbo spends the morning filling Mya and Ciara Miller in on her secret makeout the night before with Andrea Denver. And no, she's not telling Craig Conover about it, thank you very much. As always, Andrea makes his morning coffee delivery to Paige and Ciara's bedside, but balks at Mya's presence. He only has two coffees. And doesn't bother running downstairs for another cup. Sorry, Mya, no coffee for you…
Since it's a gorgeous Saturday, the housemates plan to spend the bulk of Amanda's birthday at the beach. Which sounds perfect for Andrea, since it gives him more time to woo Paige. Only now with his shirt off! The thing is, though, that Andrea might be deeper in his feelings for the fashionista than he originally thought when he stepped foot in the Hamptons. Yes, their snow-capped vacation romance in Vermont was cute during Winter House. But now the model is realizing that he's feeling more and more ready to settle down with one girl. And he's starting to wonder if that girl might be Paige.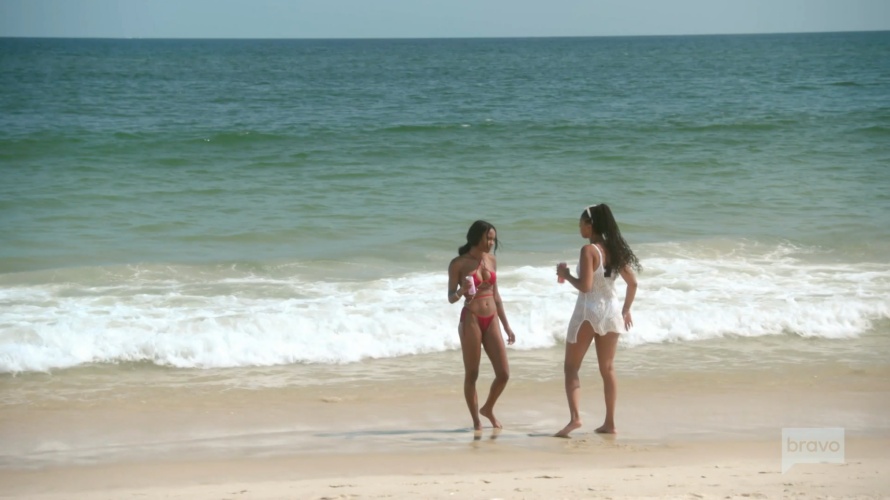 However, Andrea's infatuation with Paige has his attentions focused almost exclusively on her. To the detriment of, well, getting to know most of the other roommates. So he makes a thoughtless mistake at the beach, calling Mya by the name "Lexi," who's apparently some ex-girlfriend of his. The gaffe may have been an accident mistake, but it's hurtful to Mya, who's already feeling dismissed, left out and unappreciated. She walks away from the slight with tears welling up in her eyes. Ciara chases after her into the surf. Thankfully, seeing as she's the only other person in the house who can relate to Mya experience as a Black woman.
Back at home, Luke Gulbranson and Alex Wach are responsible for grilling up dinner. (Naturally, the personal trainer is responsible for roasting his favorite broccoli.) But the real thing brewing in the house is the chemistry between Alex and Ciara. After they shared a steamy kiss during Spin the Bottle at Amanda's party, both are wondering if they could maybe, possibly have a little crush on the other. However, Ciara readily recognizes the fundamental differences in her and the newbie's personalities. She's more spontaneous (see: moving to New York on a whim). He's more tightly controlled and planned out (see: the two pounds of turkey he eats for breakfast). But Alex sees things differently. His commitment to routine equals commitment to a relationship.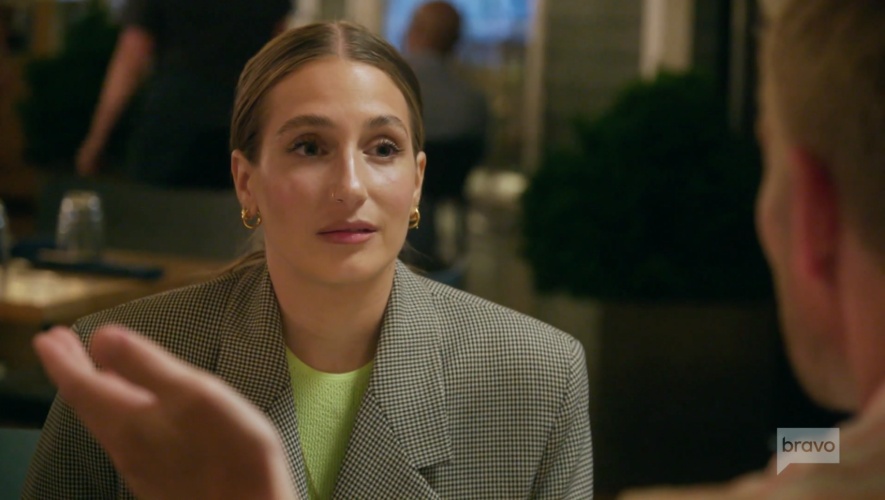 As a hail Mary, Kyle decides to take Amanda out on a date for her birthday. Which is still, for the record, not a gift. But OK, Kyle. It's a little more effort than flowers. Especially when we find out that the betrothed couples haven't been on a date since…winter. Literally since their double date on Winter House with Ciara and Austen Kroll. That's an incredibly, ridiculously, unacceptably long time for a couple who not only live and work together but are literally engaged to be married. It seems they're simply not putting in the effort to keep their relationship healthy. And Amanda points out that Kyle doesn't understand the concept that they need to spend quality time together outside of constantly building Loverboy.
But when it comes to a birthday gift, Kyle does understand that he's messed up. In a big way. Apparently the love language within the larger Cooke clan is generally not gift giving.  So he essentially asks Amanda flat out what she wants for her birthday. The real thing she wants is for Kyle to put a modicum of effort and thoughtfulness into letting her know he's thinking of her. But if her fiancé can't clear that high bar, she'll take him agreeing to continue fostering puppies. Their own dog would be even better, but Kyle's not quite sure he's ready to commit to that.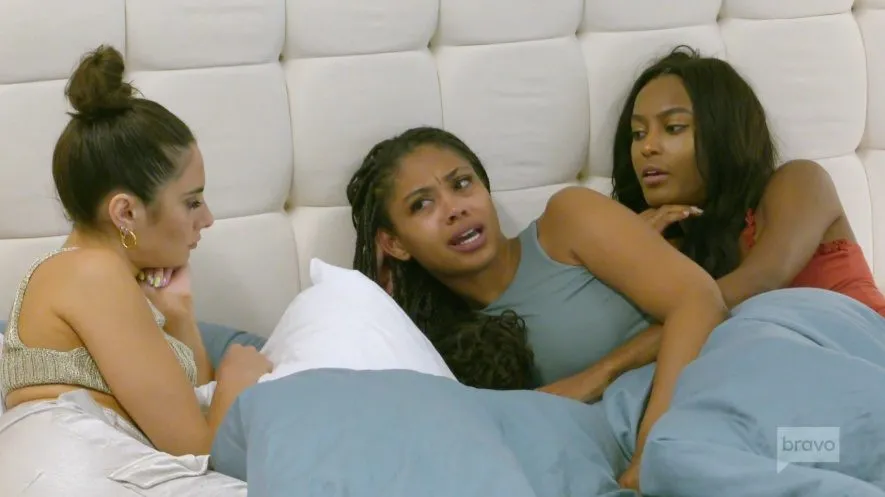 Meanwhile, poor Mya is reaching the end of her rope. As the rest of the roommates rally for a night out, she just can't take it anymore. It's been building all weekend. First with Lindsay. Then with Andrea, not once but twice. Plus Carl Radke's not around this weekend to be her buddy. While joining the house for the summer seemed like a fun idea when Paige extended the invitation, she's starting to feel like she doesn't matter to most of the roommates. That she's not included and maybe a bit like she doesn't belong in the Hamptons.
It's a familiar struggle that past newcomers have felt too over the years coming into the house — most notably Jules Daoud back in Season 4. And probably Jordan Verroi if you asked him. It took Luke two whole years to form what felt like real, true friendships among the group. But that anxiety over being the new kid in school is coupled with the constant pressure and scrutiny of what it feels like to be a minority in the whitewashed Hamptons. And she ends up sobbing in Paige and Ciara's bed.
The next morning, it's time for the crew to pack up and put weekend number found behind them. But before everyone heads back to the city, Ciara calls a house meeting to help Mya voice her feelings to the group. Through tears, she and Ciara both open up about how isolating it can feel to be one of the only Black people in the room. And Mya also explains how hurtful Andrea's little dismissals of her are, even if he's not being malicious. And what happens next is really beautiful.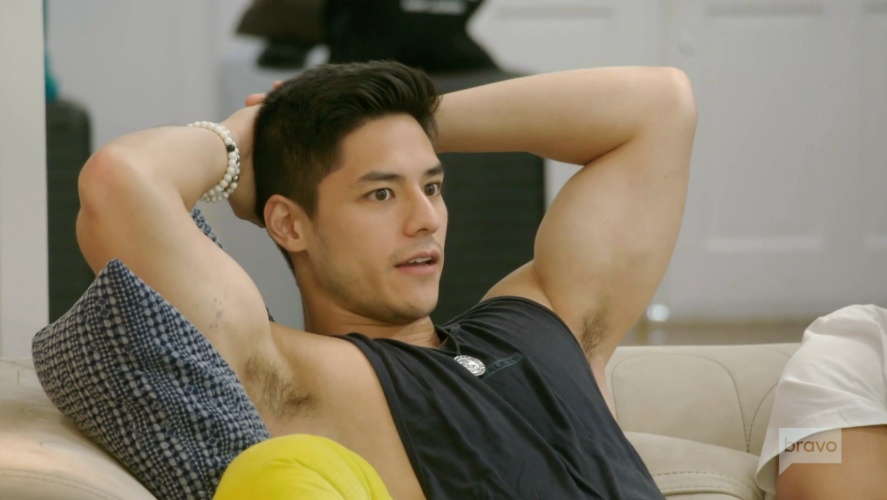 On almost any other show on Bravo, someone would laugh off Mya's feelings. Or put their foot in their mouth and say something remarkably tone deaf. We've seen it happen time and again. But this group sits in the discomfort and really listens. Alex is able to add to the conversation, revealing that multiple guests at the Fourth of July party mistook him for a worker because he's half Asian. Because he doesn't fit into the privileged view that everyone spending the summer in the Hamptons is typically white. Someone even called him "Bruce Lee" or "Jackie Chan." Being Latinx, Danielle shares via confessional that she, too, felt similar anxieties over joining the house (and the show) back in Season 2 despite spending years and years of summers in the Hamptons.
These are the types of underlying issues that too often get ignored or minimized, but that need to be brought to the light and addressed. Because everyone's better off in the end for having the loving, open, enlightening conversation. Andrea is mortified that he made Mya feel small, and apologizes profusely. Everyone empathizes. Everyone promises to do better. And rather than a dramatic fight, the episode ends with a big group hug for this diverse, lovely family of millennials spending a summer together in the Hamptons.
TELL US – CAN YOU BELIEVE KYLE DIDN'T GET AMANDA A BIRTHDAY GIFT? IS ANDREA IN OVER HIS HEAD WITH PAIGE? IS THERE ACTUAL CHEMISTRY BETWEEN CIARA AND ALEX? DO YOU EMPATHIZE WITH MYA, CIARA, OR ALEX'S EXPERIENCES? HOW GREAT WAS THE ROOMMATES' HEART-TO-HEART AT THE END OF THE EPISODE?
[Photo Credit: Bravo]