Well, we've apparently, and sadly, reached the penultimate episode of The Real Housewives of Orange County. And am I the only one who felt like it was an odd let-down? I'm not sure what's happening behind the scenes with production and the network. But this week's episode hardly matched up with what's been teased for the past two weeks in previews. Or in the midseason trailer for that matter. And now there's only one episode left to wrap up the trip to Aspen and the finale party. I worry way too much of the drama that looked so promising is going to get left on the cutting room floor.
We last left off with Heather Dubrow sitting down for a one-on-one with Noella Bergener. The newbie had to be coached through an apology by Shannon Beador for spreading the rumor on camera that Heather physically assaulted a member of the crew during the premiere's sushi party. So do you think she's really sorry? Hardly, if the conversation that follows is any indication. Heather's (rightfully) completely unresponsive to Noella's version of the classic Housewives apology. And goes on to point out that she's given the new 'Wife's behavior a pass over and over this season because she feels bad about everything she's going through. But at some point, enough is enough. And that point is now.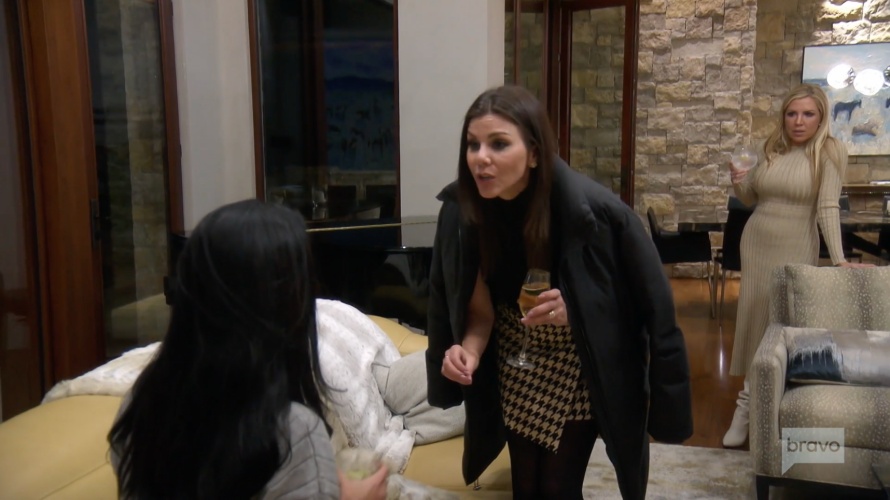 Noella asks point blank if Heather put her hands on anyone in the crew that night. Heather maintains she never did any such thing. And the issue should've been dropped there once and for all, preferably with a sincere apology on the chaotic freshman 'Wife's part. But instead, Noella tries to go down the rabbit hole one last time. And at that point, Heather calls it. She's done, declaring the newbie a "liar and a thirsty girl" and walking away from the conversation with champs in hand. Let's call it a night.
The next morning, Noella decides the best course of action is to isolate herself in her room while the rest of the women prepare for a day of outdoor activities. The dramatics are a little too Peggy Sulahian for my taste, honestly. Also, I have a hard time taking Noella's hurt over Heather's comment about her karma all that seriously when, hello, she was the first one to throw the word out and Heather was just responding. You can't take mortified offense to something you just said to the other person in an argument, sweetie. That's not how the art of conversation works. And for the record, Heather never said Noella's son's autism or her father's death, or anything specific was her karma. And it's a shameless sympathy grab to suggest otherwise.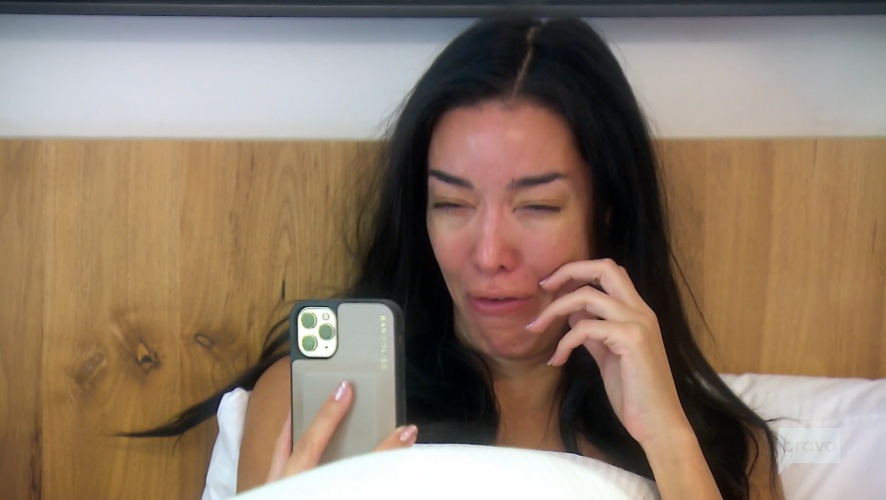 Leaving Noella to wallow in bed with a bloody Mary, the rest of the 'Wives kick off day two of their vacation by trying their hand at archery. Where, of course, Shannon can't help but dress up like Bret Michaels on some sort of wilderness excursion reality show. (Why do half of her costumes always look like they came from the wardrobe department of Rock of Love??) But it's Emily Simpson that turns out to be the best shot amongst the group.
(Side note: I've really grown to like her but Emily's not wrong about Dr. Jen Armstrong parroting everything Heather says in conversation. After all, it's pretty damning when the editors can piece together a full flashback package of her doing exactly that all season. But you know who else mimics people in conversation? Lisa Rinna! I noticed the habit several seasons ago, and once you do you'll never be able to un-hear it. So…I'm sorry. But I think it's some sort of subconscious way for both of them to connect in conversation and get people to like them? I don't know. Hopefully Andy Cohen brings it up at the reunion.)
While her cast mates are off shooting arrows, Noella gets an email finalizing the details of her divorce from James Bergener. Never one to pass up an opportunity for on-camera histrionics, she takes a nature walk down to a nearby creek for yet another (forced?) emotional breakdown, all while wrapped in an Hermes blanket cape. Listen, I do have sympathy for a lot of the hard things happening in Noella's life. I do. But if you're mourning the death of your estranged father and working through such complicated fraught emotions, maybe consider staying home rather than going on a girls' trip with a bunch of frenemies?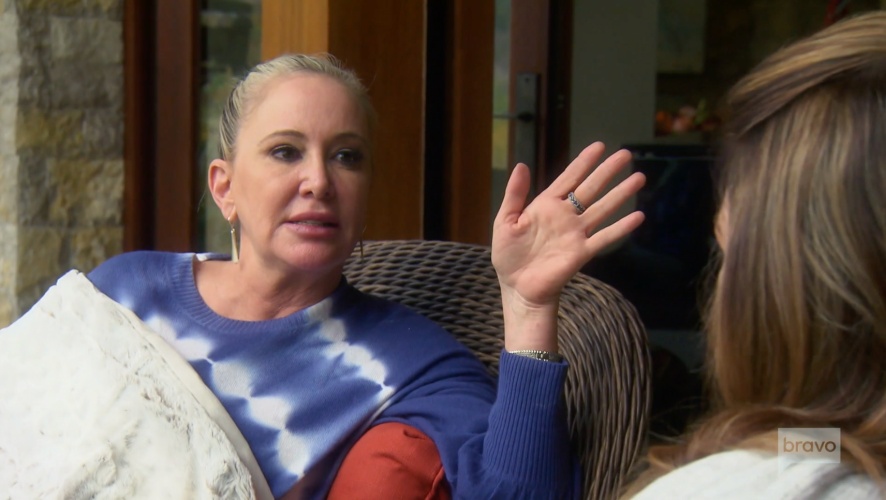 Later in the day, Noella finally engages with the group by joining Emily and Gina Kirschenheiter for a tour of a local mine with the most adorably charming old tour guide. On one hand, she manages not to make the entire afternoon about herself. On the other, she feels insulted Gina and Emily don't give her their undivided attention and ask a million questions about how she's feeling. Meanwhile, Heather, Shannon and Dr. Jen opt to go on a hike. Which Shannon uses as the perfect opportunity to gossip about Emily's pot-stirring ways and unwavering loyalty to Gina. Heather agrees that Emily tends to stir up the drama. But is it really that wrong if she's just getting the truth out in the open? Either way, Fun Shannon wants to try to clear the air with Fun Emily. You know, since they're at their best together on vacation.
And that opportunity comes just a couple of hours later back at the house. Shannon starts off the conversation claiming she doesn't want any negativity around her. Which naturally leads to Emily sticking up for Gina, but that's not the goal of this sit-down for the veteran. So let's put a pin in the Gina of it all for a moment. Emily promises she doesn't let Shannon's issues with her bestie affect their own friendship and apologizes for running to Gina with whatever Shannon tells her. It really has takes these two many years to get on any semblance of a good page with one another. And they seem committed to continuing their friendship. We'll see how that goes at the reunion…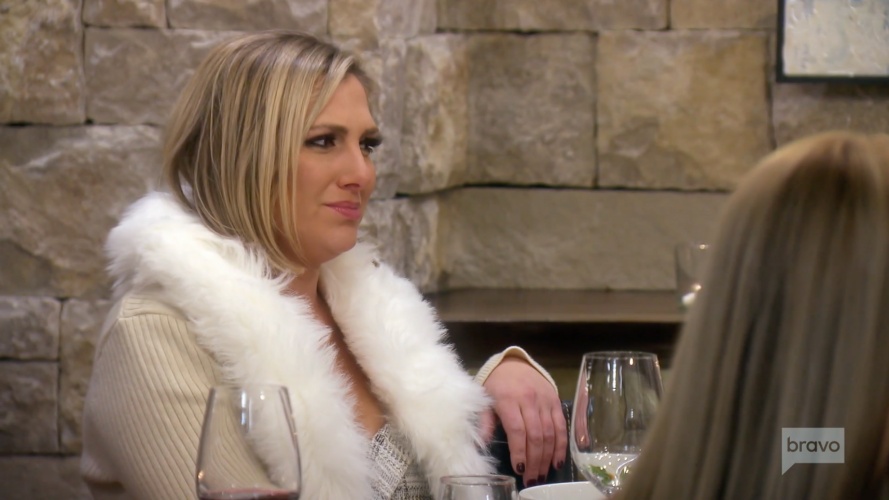 For dinner, the 'Wives get glammed up in another round of their best winter whites. They have a local bluegrass band playing a private concert for them. Emily and Shannon fail miserably at pranking the others by dressing up in what look like used bear costumes. Noella finally can't hold it in any longer and regales the rest of the group with the latest update on her divorce. And then games start being played around the dinner table. Because that always goes well.
In a simple conversation about each of the 'Wives' first jobs, Gina references her best friend Tatiana. And when Noella needs clarification on who "Tat" is, Gina goes ballistic. I could pretend to care more about this topic. Because, sure I knew who Tatiana was when Gina said her name. Because I watch this show like it's my job (oh wait, it is) and have an arguably encyclopedic knowledge of every side character in the history of the entire Housewives universe. But suddenly I'm having flashbacks to the inane Nanny Kay argument in Beverly Hills. And I just…can't relive another feud about one 'Wife not knowing a peripheral figure in another 'Wife's off-camera life. Can we fight about something else, please? Let's go back to slamming people against walls!
Next week, the season finale! And in the meantime, can someone please figure out which Will Smith music video Noella starred in at 16? Feel free to report back in the comments.
TELL US – ARE YOU TEAM HEATHER OR TEAM NOELLA? DID NOELLA'S LATEST EMOTIONAL BREAKDOWN FEEL GENUINE OR FORCED TO YOU? WERE YOU SURPRISED AT HOW EASILY SHANNON AND EMILY CLEARED THE AIR? ON A SCALE OF 1 TO 10, HOW MUCH DID GINA OVERREACT ABOUT TATIANA? 
[Photo Credit: Bravo]