Welcome back to another round of Real Housewives of Beverly Hills coverage. This time, we're shaking things up and doing things differently. Instead of a traditional recap of everything that transpired on the latest episode, we're doing the top five takeaways!
Kyle's Insensitivity & Diana's Coldness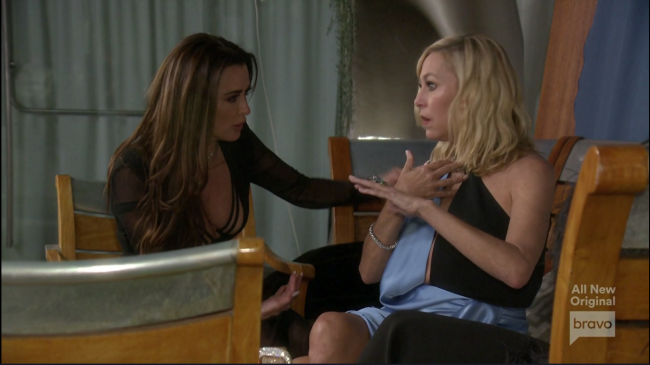 Kyle Richards' entire interaction while Sutton Stracke was speaking to Diana Jenkins was mind-boggling. She went out of her way to shut down everything Sutton was saying. Also, how Kyle implied that Sutton was lying about having miscarriages was gross. Sutton bared her soul to Diana to relate to her on a human level. However, Kyle had her nose planted in the center of it at every step.
Kyle has gone to extreme lows over the years (Game Night, anything with her sister Kim Richards), but this was A LOT. This was something different because questioning the loss of someone's unborn child is off-limits, and at least, it should be.
Throughout this entire scene at the beginning of the episode, Kyle was not only downplaying Sutton's trauma but shoving her as well. To say that Diana lost a child and Sutton did not was a gross display and a prime example of why the Fox Force Four is a problem.
They get away with everything and hold everyone else to a different standard. If Garcelle Beauvais, Sutton, or Crystal Kung Minkoff said anything like that, it would've been the top storyline for the rest of the season.
Kyle even went as far as to say that even if Sutton did miscarry, it wasn't recent like Diana's. So what? Why does that even matter? There shouldn't be a statute of limitations on Sutton's feelings. Sutton's sobbing throughout the entire scene, but I could only focus on Kyle's insensitivity and Diana's ice queen demeanor.
Does Diana even have feelings? I kept asking myself that throughout the entire viewing experience. She relishes being this evil super villain, and it's quite the weird flex. Diana isn't a good fit for this group or reality television. Hopefully, she's a one and done. If anyone deserves only one season, it's her.
Erika's Inappropriate Behavior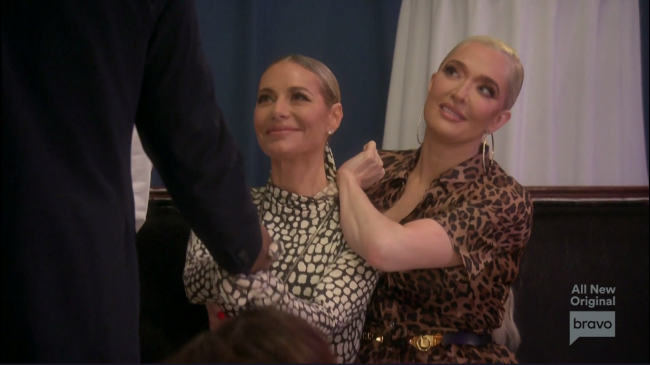 I understand Erika Jayne's gone through a lot over the last year. However, that doesn't excuse how she was grossly throwing herself all over Garcelle's son Oliver. Erika didn't give a damn about him being married or anything. She wanted to come on to him in the most public way possible. This isn't how she conducted herself in the past.
To make things worse, Erika tells Garcelle's 14-year-old son Jax to "get the fuck out of here" when he tries grabbing flowers. Erika, what are you doing? Why is this happening? Someone needs to be cut off at this party.
It's not alright to come to your friend's birthday party and accost her children like that. It doesn't matter if they are a grown adult like Oliver or an impressionable teenager like Jax. None of her actions on Garcelle's birthday were okay.
For starters, Oliver was clearly uncomfortable with the sexualized way Erika was speaking to him. This is one of his mother's "friends," so he was trying to be as respectful as possible. However, she made it difficult.
Erika kept pushing and pushing and shooting her shot. This entire time, I thought they were feuding over stuff related to the Tom Girardi debacle, but I was wrong.
When it comes to Jax though, that's an entirely different story. There's no possible excuse for that. He is a minor. He's not a cast member of this show. He doesn't deserve to be accosted with explicit language from a drunken mad woman.
Kyle & Sutton Face-Off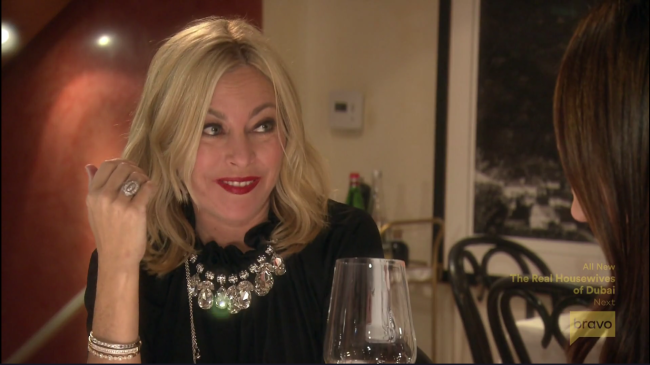 Kyle and Sutton have had multiple uncomfortable one-on-one's this season. She immediately backs down about questioning Sutton's miscarriages of the past. Sutton is right.
Kyle came into a conversation that was already ongoing and inserted her own twisted opinions. Kyle takes this entire conversation as a way to say she's apologizing, but it doesn't feel that way. Instead, it feels like Kyle's hellbent on covering her own ass.
These two keep alluding to being "close" to each other, but I don't feel it. All season Sutton and Kyle's tension keeps growing. When the reunion arrives, I think their relationship will be in tatters, and too much has gone down.
However, Kyle's one smart cookie; she knows she needs to stay good with Sutton and Garcelle, so viewers don't entirely turn on her.
Kyle, Dorit, and their husbands strike again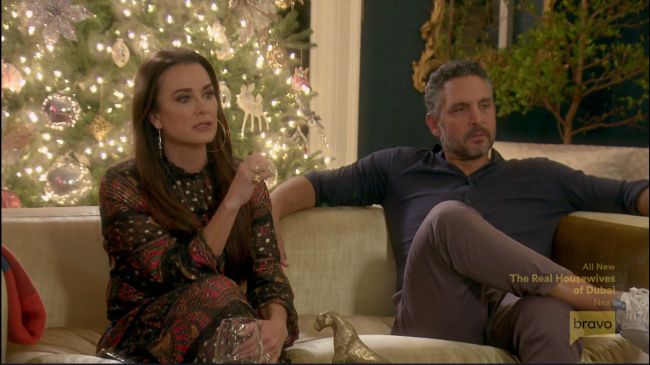 Last season Kyle and Dorit got shit from Erika for allowing their husbands to mock her life. It's Garcelle's turn now. She gets to watch this back and watch them all laugh at his misfortunes. It has to be quite the warm and fuzzy feeling. They are so fake!
How is Erika attacking Garcelle's young son fun? Someone tell me. What were they talking about? This isn't someone being free and loose; it is someone miserable taking it out on the rest of the world. Kyle lets her say whatever she wants because "at least she's being genuine." Are you kidding?
Dorit even says it wasn't her child, so it's alright. It shouldn't be acceptable to do or say to anyone's kid. HE WAS CRYING. It seems whenever they all get together, true colors emerge.
Garcelle would be wise to view this as a warning and handle it at the reunion. Erika was out of control at the party, and there are no excuses that should be made.
Sutton's Luncheon From Hell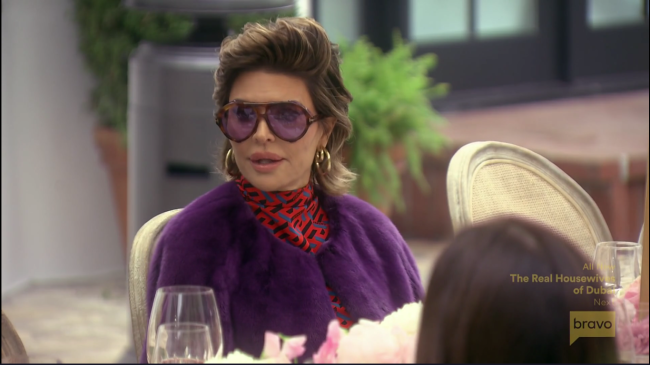 Erika went into Sutton's party nervous about speaking to Garcelle. She knew she would be on the receiving end of her wrath. Erika also knew that her drinking needed to be dramatically reduced. Her alcohol intake over the last few episodes has been HIGH. This time around, she knew she couldn't do that if she was going to deal with Garcelle.
The luncheon only got worse from there because Diana's absence was glaring. She concocted a story about being sick (which could be true), but it felt likely that she was avoiding Sutton. After their confrontation at Garcelle's birthday party, seeing Sutton probably wasn't high on her priority list.
However, Lisa Rinna stood in Diana's place and tried to take Sutton to task for calling Diana soulless. Rinna must love having Diana on the cast. She's seemingly going after all of her own targets she pretends to be friends with. How convenient!
Next week it looks like Erika's going to drink a lot more at the lunch, and Rinna vs Sutton will heat up. This luncheon must go from a dumpster fire to a dumpster fire in the flames of hell.
TELL US – TEAM SUTTON OR TEAM DIANA? WAS KYLE OUT OF LINE? TEAM GARCELLE OR TEAM ERIKA? ARE YOU ENJOYING THIS SEASON OF THE REAL HOUSEWIVES OF BEVERLY HILLS?
[Photo Credit: Bravo]