There's a new reality competition show coming Thursday, Jan. 12th streaming on Peacock, that mashes up all-stars from across the Reality TV spectrum. All 10 episodes of "The Traitors" will be available at launch, in a game that relies on (what else?) deception, sneakiness and treachery.
The show is hosted by Tony-Award winning actor, Alan Cumming, with the show being set in his castle in the foggy hills of Scotland. 10 former Reality All-Stars join 10 completely new faces, in a game where the goal is to make it to the end and the show's $250,000 prize. That prize however, begins at zero, and it's up to the contestants to fill up the prize pot by competing in a series of challenges throughout the season. Meanwhile, some of the contestants have been secretly named as "Traitors," where each and every night, they "murder" another contestant, sending them out of the game. Those that are not Traitors are "The Faithful," and it's their job to vote out contestants who they think are working secretly as Traitors.

The 10 former Reality Players consist of Survivor alums Cirie Fields and Stephanie LaGrossa Kendrick, as well as former Big Brother winners Rachel Reilly and Cody Calafiore (Celebrity Big Brother contestant and Olympian athlete, Ryan Lochte, is also competing). Then there's Kyle Cooke (Summer House), Arie Luyendyk Jr. (The Bachelor/The Bachelorette), Brandi Glanville (The Real Housewives of Beverly Hills), Kate Chastain (Below Deck) and Reza Farahan (Shahs of Sunset).
This is the first season of the U.S. version, as the show had already successfully launched previously in the U.K.
I was lucky enough to get the chance to talk with the amazing Alan Cumming, along with Cirie Fields, Cody Calafiore, Stephanie LaGrossa, Rachel Reilly and Kyle Cooke. There are ZERO spoilers about the show as we were not allowed to discuss any specifics about the episodes or the strategies.
View the video below for the FULL interviews, or see them on The FilmSurvivor Podcast, but here are some highlights/excerpts from the interviews:
ALAN CUMMING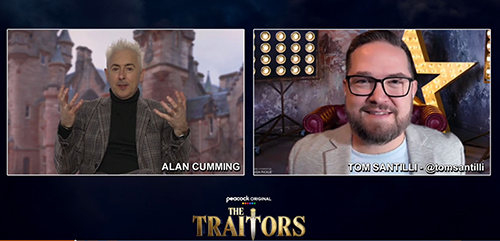 (Excerpt from The FilmSurvivor Podcast Interview) On what led him to becoming a Reality TV Host after his award-winning career on film and stage:
Alan: "It's circuitous (laughs). It wasn't on my radar, they just asked me. I watched the Dutch version. I mean I'm always open…I do lots of weird things, I do have a strange sort of resumé. This was really out of left field. I don't know, I just really liked the people that were doing it, the production company, and I realized it was going to be quite heightened and campy. I said to them, it seems to me that you want me to be like a Bond Villain. And I was actually going to be bringing my dog and sort of be stroking her…but it's sort of like playing a character. I don't really feel like, well yes, I'm the host of this show, but it's very much like acting. So that's really what made me do it."
(Also discussed on the podcast with Alan: More on his approach to this "role," his eccentric costumes that he gets to wear, the structure of the show, his previous interest in Reality TV, what surprised him about his experience, and what makes a good "Faithful" or a good "Traitor").
STEPHANIE LAGROSSA KENDRICK, CIRIE FIELDS & CODY CALAFIORE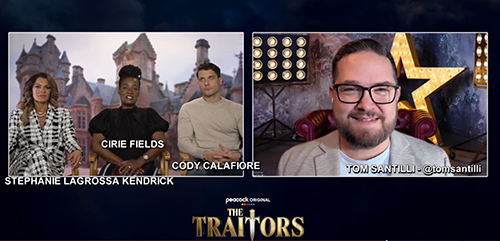 (Excerpt from The FilmSurvivor Podcast Interview) On playing a new game that isn't familiar and how to approach strategy:
Cirie: "There were ten other people that we didn't know, and you had to immediately adapt to the current situation once we were given the rules and told what the show was about. Adaptation at its best is what you're going to see from us."
Cody: "I completely agree. Adaptation is probably the key to succeeding on this show. Like with other shows, we're watching past seasons, we're seeing which players have done well and we can emulate their game. This game? A completely new game, we didn't know what to expect, and so if you can't adjust on the fly, you'll just fall behind."
Stephanie: "And there's already built-in Traitors. So it's hard if you're a faithful to even make an alliance, because you really can't trust anybody. And then even if I say, "I'm a Faithful," it's like (sarcastically), "Yeah, sure you are." You know what I mean? If you talk too much, you're a Traitor. If you don't talk that much, you're a Traitor."
(Also discussed on the podcast with Stephanie, Cirie and Cody: What makes them want to be back in the spotlight again, the difficulty of playing with others you are familiar with versus new players, their thoughts on Alan Cumming as host, the pace of this new game, how they hope fans receive them and their Survivor 43 predictions as the interview was taped prior to the Season Finale!).
RACHEL REILLY & KYLE COOKE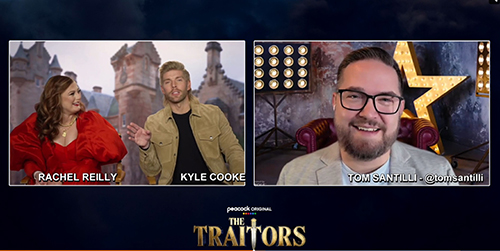 (Excerpt from The FilmSurvivor Podcast Interview) On what they think the real draw is of shows like "The Traitors" and why as former contestants they would want to be back in the spotlight:
Kyle: "I think what makes Reality TV so successful, is that it's either relatable, or it's an escape. That's the money-maker. I think people love these types of shows. I think what The Traitors brings to the table is this unique social experiment element that was made for TV. There's obviously tons of TV shows where there's social strategy and a social element to it, but I really feel like this show flips it on its head, and amplifies it. And I think that's just going to make for a great television experience."
Rachel: "Yah, for me I feel like unscripted is so amazing because we see these beautiful, raw stories and characters…enhanced character traits and we put people in crazy situations. Whether it's a docu-follow, or whether it's an unscripted competition show. We get to see people in these moments, where they either have to overcome something really crazy, or like they fall flat on their face. So for me, this idea of bringing Traitors into the mix, it's a new kind of show. We haven't really seen anything that's like a "murder mystery." It was really interesting to navigate it. It's really a fun show. And one thing that stands out, is like at these round-tables [where the contestants vote out who they think is a Traitor], where we have to talk to all these people…usually on other shows we're doing most of the talking to the cameras…diary room sessions…"
Kyle: "Yah, it's all out in the open."
Rachel: "Yah, and you have to put it out, and if you don't you don't get another chance…but for me unscripted is just in my soul, it's something I feel so strongly and passionate about."
(Also discussed on the podcast with Rachel and Kyle: Rachel's past dominance, how to prepare for a show they know nothing about, their thoughts on Alan Cumming as host, recognizing other Reality TV stars and how that affected their games).
Again, you can find all of this content on The FilmSurvivor Podcast below or by going to The FilmSurvivor Podcast site.
Follow me on Twitter, @tomsantilli!
TELL US: WILL YOU BE WATCHING THE TRAITORS? WHICH CONTESTANTS ARE YOU EXCITED TO SEE AGAIN? AND WHO IS BEST SUITED TO LIE AND DECEIVE THEIR WAY TO THE CASH PRIZE?
[Photo Credit: NBCUniversal/Peacock]