Season 10 of Vanderpump Rules came to a close on Wednesday, June 7 after Part III of the reunion aired on Bravo. During the highly-anticipated episode, viewers' hearts broke for fan-favorite Ariana Madix as she watched her ex-boyfriend Tom Sandoval recount his months-long affair with her close friend, Raquel Leviss. News of the affair, also known as "Scandoval," ushered in a new wave of fans who may be unfamiliar with Tom and Ariana's relationship history. In case you need a refresher, we have you covered with Ariana Madix and Tom Sandoval's relationship timeline.
Bartending Buds
Fans first met Ariana in Season 2 of Vanderpump Rules, which aired in November 2013. The blonde beauty was introduced as a new bartender at SUR restaurant but she was no stranger to the Vanderpump Rules cast. She had previously worked alongside cast members Tom Sandoval and Scheana Shay at Lisa Vanderpump's other Beverly Hills establishment, Villa Blanca.
Ariana's close relationship with Sandoval quickly became a topic of conversation among the SUR staff as rumors that the two previously hooked up began to circulate. Sandoval, who was dating Kristen Doute at the time, initially denied the rumors but later admitted he and Ariana had shared a kiss at a Vegas casino a few years back.
Reunion Reveal
Season 2 of Vanderpump Rules was such a whirlwind that Tom and Ariana didn't endure too much heat for their Vegas kiss. It was a little hard to see Kristen as a woman scorned after her affair with Jax Taylor was exposed. In the Season 2 reunion, which aired in February 2014, Tom and Ariana revealed they had started dating after Tom broke things off with Kristen.
Ariana and Tom's relationship went Instagram official that same month. Tom shared a photo of him and his new girlfriend spending quality time together in Northern California.
Miami Girl Drama
Kristen's sole mission on Vanderpump Rules Season 3 was to wreak as much havoc as she could on Sandoval's life. Not only did she start dating Sandoval's friend, James Kennedy, but she also hatched a plan to blindside her ex with his past hookup. Yes, we are talking about Miami Girl.
In the Season 3 episode "Miami Vice," Kristen showed up at SUR restaurant with a girl who alleged she had slept with Sandoval in Miami after he had started seeing Ariana. Sandoval denied the claim and Ariana took her boyfriend's side. For years, the couple stuck to their story that Miami Girl was lying about the hookup but during a May 2023 appearance on Watch What Happens Live, Ariana admitted that Tom had slept with Miami Girl and she covered for him.
Moving In!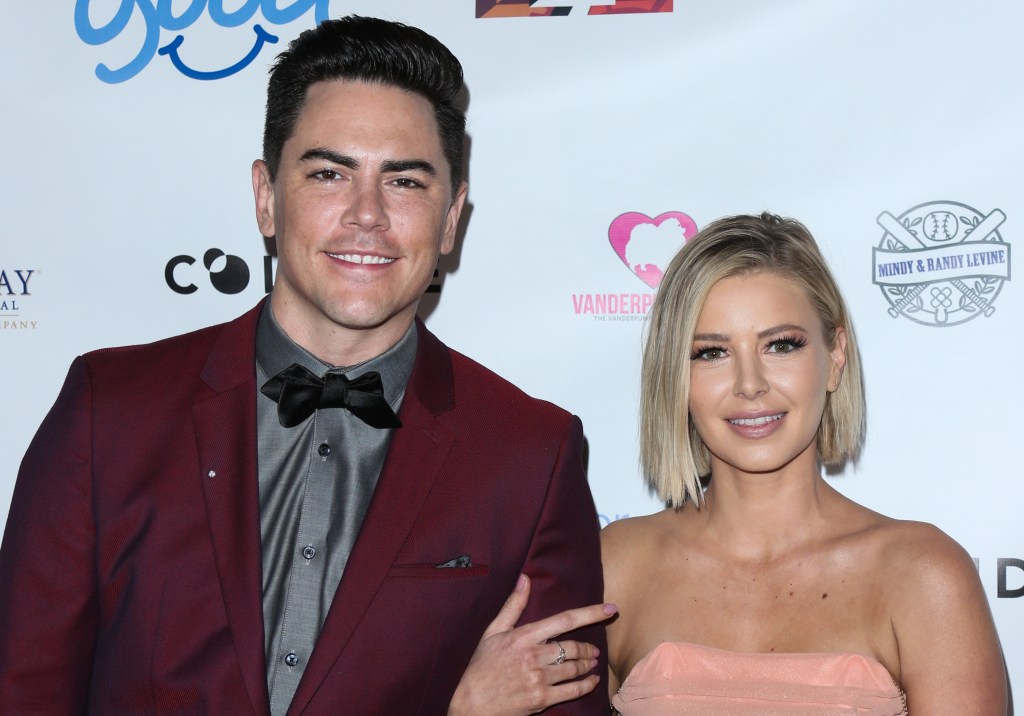 In Season 4, Ariana and Tom's relationship went to the next level when they decided to move in together. Ariana agreed to settle into Sandoval's West Hollywood apartment that he previously shared with ex-girlfriend, Kristen. But she had one condition—they had to sell the couch that was tainted by Kristen and Jax. Fair!
Tom & Ariana Become Homeowners
Tom and Ariana became homeowners in February 2019 when they purchased their Los Angeles dream home. The couple's realtor posted a photo on Instagram commemorating the moment.
"Congrats to our clients @tomsandoval1 and @ariana252525 on buying their dream home," they wrote in the caption. "Tom has been a close friend since grade school and I couldn't be more proud to see how far he has come! Your first home is AMAZING!"
Tom & Ariana Release a Cocktail Book
In December 2019, the couple embarked on a business venture together when they released their cocktail book, "Fancy Af Cocktails: Drink Recipes from a Couple of Professional Drinkers."
The book was initially supposed to be Ariana's project, which caused some tension in the relationship. Fans watched the two butt heads over the book in Season 6 of Vanderpump Rules.
After Tom mentioned wanting to be involved in the project, Ariana spat back, "You're not [going to] be the face. You're not [going to] take attention away from me."
I guess Ariana changed her mind.
Tom & Ariana Celebrate 7 Years Together
In January 2021, Ariana and Tom's relationship hit a new milestone, as the couple celebrated seven years together! Ariana shared a photo of Tom alongside a sweet message.
"7 years with you ❤️," she wrote. "You've shown me love that I had only dreamed of. I don't know what adventures life has in store for us but if it's anything like the last 7 years, I can't wait to spend every moment with you ❤️. I love you."
Tom Shares a Steamy Birthday Post for Ariana
In July 2022, Tom took to Instagram to wish Ariana a Happy Birthday. The Bravo star shared a series of photos of his girlfriend alongside the caption, "Happy Birthday My Love, My Queen, My Best friend! Myself and the world are so lucky to have u! I love u, Dumplin."
Scandoval
Fans were shocked after news of Sandoval and Raquel's affair broke in early March 2023. The scandal marked the end of an era for the Vanderpump Rules crew. Viewers watched the aftermath of the scandal play out in Season 10 finale of Vanderpump Rules where a heartbroken Ariana told Sandoval, "I regret ever loving you." And thus was the end of Ariana Madix and Tom Sandoval's relationship.
TELL US-WHAT DO YOU THINK ABOUT TOM & ARIANA'S RELATIONSHIP?