Season 15 of The Real Housewives of Atlanta has reached its halfway point! So far this season, we've endured a failed cast trip to Birmingham, Alabama, and we've watched Marlo Hampton erupt at Kandi Burruss over the shooting death of her nephew. The drama between Kandi and Marlo left the cast divided and the audience hoping for an episode of RHOA that wasn't focused on someone's untimely death.
This week, we lucked out because on the Real Housewives of Atlanta Season 15 Episode 9, there was no death mentioned! For now, the ladies seemed far removed from the nephew storyline, and the fractured group dynamic was much less noticeable. We actually made it through an entire episode without any massive arguments. Instead, we got a warm episode focused on family, sisterhood, and healing.
Shereé's health journey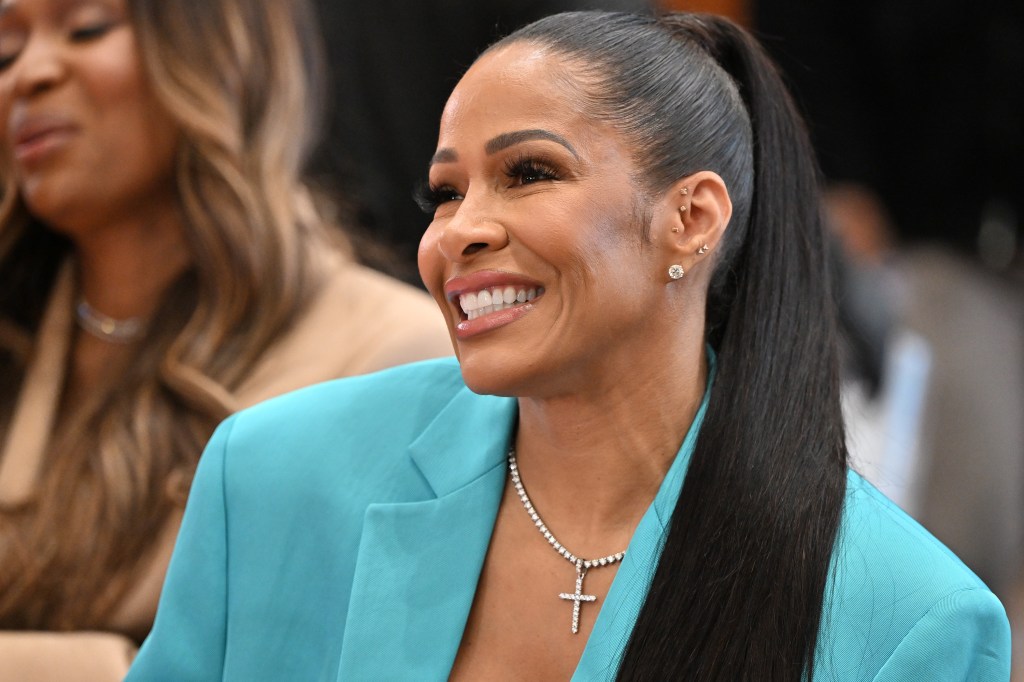 This season, the cameras have followed Shereé Whitfield as she decides how to best deal with fibroids. Earlier this season, she consulted with a doctor about having them surgically removed. However, the downtime and the risk of them returning caused Shereé to question whether that's the right option.
This week, she revealed that she's seeking holistic options to see if she can alleviate the fibroids without surgery. She tried acupuncture this week, which was way funnier to watch than it should have been. Next, she's planning a trip to Portugal for a healing retreat. Get your passports ready, because there's a cast trip in our future!
From Sisterger to Sister
In Episode 9, we continued to follow the complex relationship between Drew Sidora and her sister Allison. Allison worked as Drew's manager for years but has taken a step back to focus on her mental health. The sisters, along with their mom, sat down and had an emotional and raw conversation about their relationship.
Allison and Drew acknowledged how career pressures prevented them from bonding as sisters. The ongoing work, coupled with PTSD from an abusive relationship, led her to seek professional help. With the RHOA cameras rolling, Allison shared these profoundly personal details with her family, and it was a beautiful moment to see Drew connect with her on this level.
Allison expressed how thankful she felt to be able to stay with Drew in Atlanta during this transition period in her life. So, it's a shame that Ralph Pittman and her have such a strained relationship. How can they genuinely bond as a family and support Allison when Ralph doesn't even want her there?
Kenya's Commercial Shoot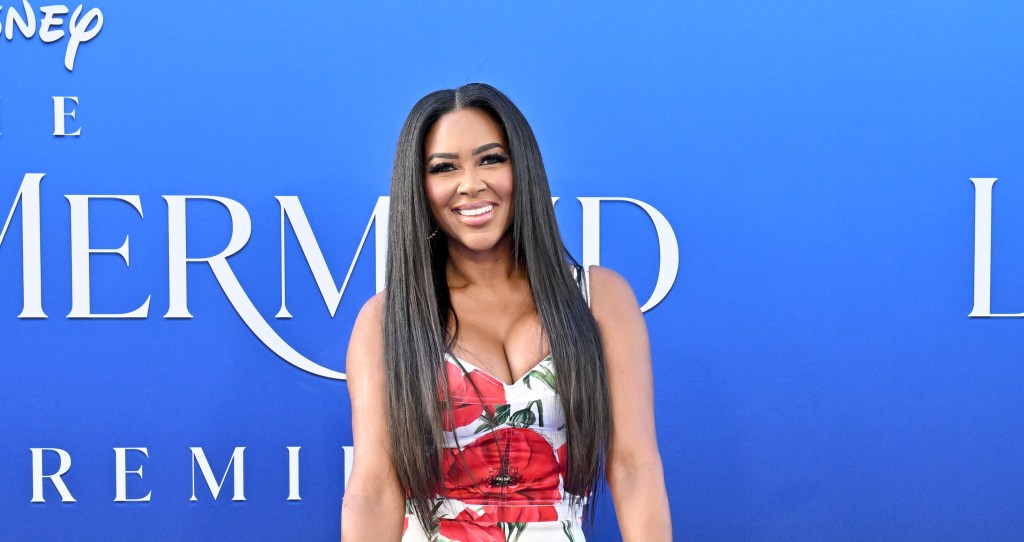 Earlier this season, Kenya Moore planned a halftime performance at the Magic City Classic for Kenya Moore Haircare. She planned on drawing inspiration from the iconic moment when she had a drum line crash Marlo's wig event. Of course, the Magic City Classic performance didn't pan out, and since Kenya is a genius, she decided to recycle the costumes and the choreography for a commercial instead.
During the commercial shoot, Kenya had her daughter Brooklyn Daly come out and dance in a matching majorette costume. Does anyone else get the warm fuzzies whenever Kenya and Brooklyn are laughing and smiling together on screen?
While Kenya and Brooklyn filmed their scenes, another surprise visitor dropped by: Roi Shlomo, Kenya's new boo! Roi made his RHOA debut, which went way more smoothly than when Shereé brought hers onto the show. When introducing Roi, Kenya made sure to use the word "friend," but we all know what that's code for.
Roi is an entrepreneur who owns a health food restaurant, so Kenya explained that he's hard to pin down. The fact that he made an effort to come to Kenya's commercial shoot and surprise her is a major green flag. And Roi brought food, so that's another green flag. He also seemed really good with Brooklyn, so that's like three green flags. We're rooting for Roi!
Seeing Brooklyn and Roi at the commercial shoot was cute and everything, but one thing was missing from the scene: Cynthia Bailey. In the Season 15 RHOA trailer, we saw a clip of Cynthia dropping by Kenya's video shoot. Nothing is more annoying than when they tease something like this in the trailer, only for it not to make it into the final cut. Bravo needs to stop depriving us of Cynthia.
RHOA Legacy?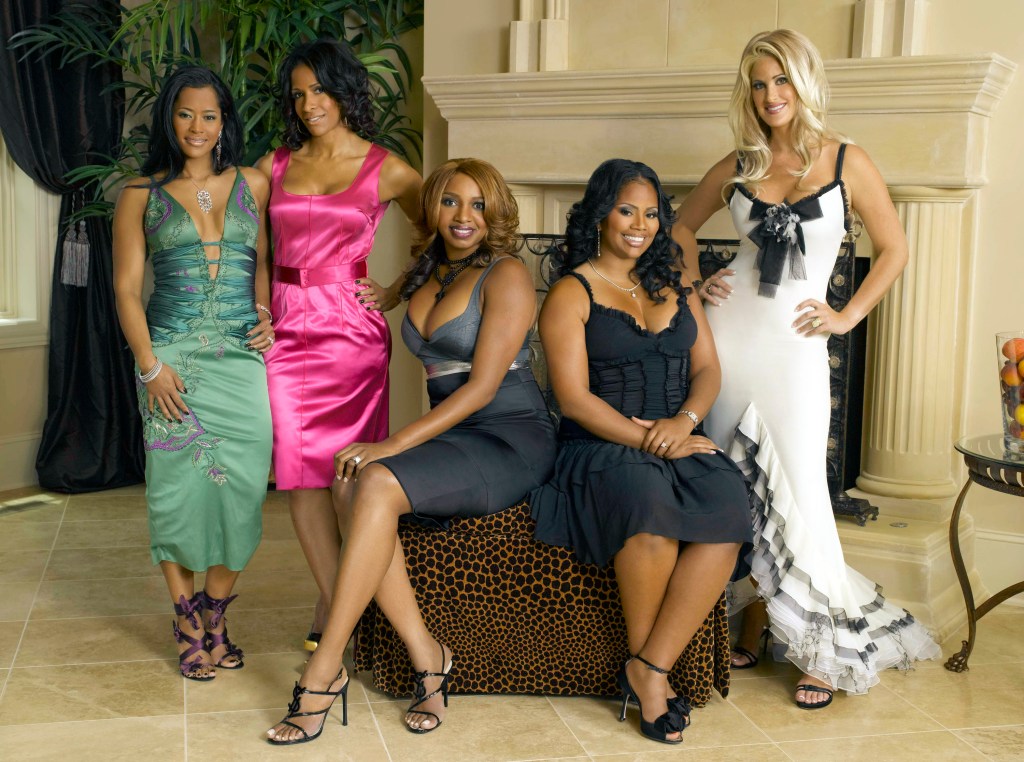 Shereé put her producer hat on this episode and arranged a dinner with the OGs of the Real Housewives of Atlanta. This scene could have been dropped into any episode this season, but they chose to put it here, and it worked with the drama-free vibe of the rest of the episode.
Lisa Wu, Deshawn Snow, and Kim Zolciak sat down with Shereé for an honest get-together between old pals. It's fascinating to see these women back on screen together after all these years, chatting about divorce, reality TV drama, Kim's foreclosure, and everything in between.
Although it's been years since we've seen these women together on screen, in some ways, nothing has changed. Deshawn is still way too quiet for reality TV. Lisa is just as chaotic as ever, and Kim is just Kim. Of course, this moment would have felt complete had NeNe Leakes appeared. This is the second time this season that Nene's presence has been severely missed. It's a shame we have to act like she doesn't exist in the RHOA universe.
In Shereé's confessional, she theorized that if she and the OG Housewives can still come together after the years of crap they endured, then maybe there's hope for the current group of Atlanta Housewives, too. Let's hope so.
The Mommi Awards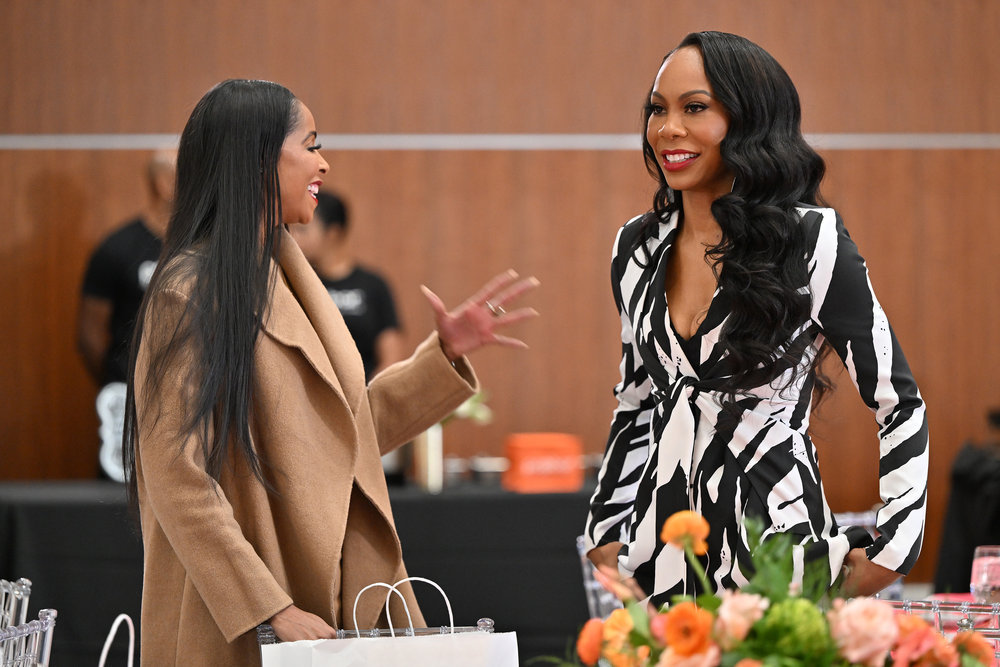 Most of the action in this episode was centered around Sanya Richards-Ross and her charity event for her online community, MommiNation. At first, it seemed like Sanya finally found something to talk about on this show besides her fractured family dynamic. But, of course, since all of Sanya's family members are also her employees, their drama crept into the charity event, too.
When we caught up with Sanya at the event, she and her sister with deep in a session of bickering. Sanya failed to communicate any timelines for how the day would run. Frustrated with the workload, she accused Sanya of "toying" with her life, which caused Sanya to get emotional. Through tears, Sanya apologized to her sister and acknowledged how thin she was stretching her. Acknowledging is the first step. Now, she just needs to actively do better.
The MommiNation event was structured as an awards ceremony for moms along with an auction to raise money for homeless mothers. It's a great cause, but poor Sanya ran around like a chicken with her head cut off before the event started. She was putting out fire after fire.
First, the auctioneer dropped out because of COVID. She tapped Kenya to fill in. But in typical Kenya fashion, she was over an hour late to the event and having a last-minute meltdown over the fact that she and her plus-one were being seated at two different tables.
The event had a rocky start, but it ultimately went smoothly. Kenya knocked it out of the park filling in as the auctioneer, and they raised $78,000 for charity. Each RHOA cast member threw down $5,000 towards the cause. They opened those purses, and raising money for charity proved to be an effective bonding moment for the ladies. Raising money for a good cause and bringing the Housewives together? That's a win-win.
Real Housewives of Atlanta continues Sundays at 8/7c on Bravo.
TELL US – WHAT DID YOU THINK OF THE MOMMINATION EVENT? WERE YOU BUMMED THAT CYNTHIA'S SCENE DIDN'T MAKE THE FINAL EPISODE? DID YOU LIKE SEEING THE OG HOUSEWIVES MAKE AN APPEARANCE?