Julie Chen has been a reality TV mainstay in many homes since 2000. As the host of CBS' version of Big Brother for over 20 years now, she's cemented her reputation as an accomplished presenter. But in 2018, Julie stepped down from her position on the CBS daytime talk show, The Talk.
She walked away over her husband's sexual misconduct allegations. She wouldn't be the last co-host to step down from the show over solidarity with a man. In 2021, another reality TV staple, Sharon Osbourne, would step down from the show after defending controversial commentator Piers Morgan.
Piers had made some comments about Meghan Markle that other co-hosts on The Talk deemed racist. Sharon's defense would ultimately lead to her departure from the show. Julie recently appeared on Watch What Happens Live to discuss the events.
Julie saw Sharon's exit as "a train wreck"
A fan asked Julie what her reaction was to Sharon Osbourne's "sudden departure from The Talk," and when the last time they spoke was. Julie said they'd texted "probably before" Sharon's departure. "I would say maybe eight months before that … Her departure, I thought, was, um, I think the whole thing was handled really horribly."
She went on, "It was very sad to see." Andy Cohen said he felt Sharon should've gone on and talked it out, as per the show's name. Julie agreed, saying, "Yes, and I didn't feel like it was produced to the point where … I don't think people knew what they were doing and getting themselves into."
Julie concluded her thoughts by saying, "The whole thing was a horrible mess. It was watching a train wreck." Commenters voiced their support for Julie, with one writing that "She's probably one of the most professional" journalists still reporting, and that "she still keeps it professional." Another wrote that The Talk just hasn't been the same without her.
TELL US – WHAT DID YOU THINK OF SHARON'S EXIT FROM THE TALK? WHAT ARE YOUR THOUGHTS ON JULIE'S ASSESSMENT?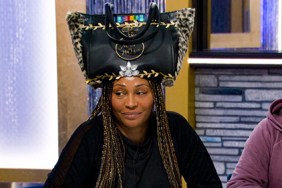 Former Real Housewives of Atlanta star Cynthia Bailey has been making the reality TV rounds. She decided to quit the…