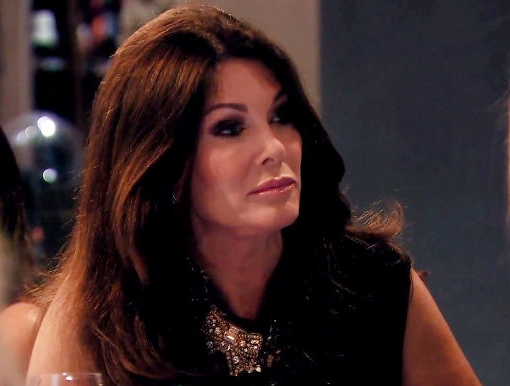 Some of the little Vanderpump Rules chickies have behaved vewwy, vewwy badly this week. And mother hen is not pleased! Lisa Vanderpump is indeed at the end of her very short rope with bad girls' club wannabe Kristen Doute and so-called reformed bad girl Stassi Schroeder. But seeing these two try-hards diss Lisa behind her back on camera was just too much to bear. Cancel the Apology Tour Due To Lack of Authenticity! (All tickets: nonrefundable, of course.) 
Lisa first discusses her reaction to Katie Maloney requesting to use her home for her engagement party. "Of all the places in Los Angeles, why is Katie asking me to borrow my garden for her engagement party?" ponders Lisa. "I don't want to have their engagement party at my house. I don't have any party at my house but I kind of do have a very soft spot for Katie and Schwartzy so if anybody was going to ask me, I suppose they're the only people I might possibly say yes to."
CLICK THE CONTINUE READING BUTTON FOR MORE!
In her video blog, Lisa comments next on Kristen hooking up with ne'er do well ex-boyfriend, James Kennedy. "You know what, I just did not want to see them sit down and have dinner together. Those days are gone. That ship has sailed." Yes. Or, more to the point: That table has been bused. 
As for Kristen's new found "self esteem," Lisa's not so sure it's working. Or accurate. "'I'm a f***ing catch,'" snickers Lisa, mimicking Kristen's delusional assessment of herself. "Yeah, really? So you date Kristen Doute, what might you catch?" she snarks. (Teehee!)
"I've never seen two people that shouldn't be together but yet is so perfect for one another," Lisa points out. But she does have some advice for these star-crossed clinically insane lovers: "Well if you're going to be banged on anything you should be banged on a Bentley darling, not a Beamer."
RELATED: KRISTEN DOUTE AND JAMES KENNEDY ADDRESS THEIR BEAMER BANGING!
Moving on to Kristen and her latest sidekick, Stassi, Lisa admits, "When I see these two wenches discussing me in such disparaging manner, it really is quite hurtful actually. I mean that's not actually my main concern that we're going to run out of vodka if Stassi Schroeder shows up but it's just her patronizing, dismissive manner that piss me off like you've done." 
Noting that she sees a "glimpse of fear" in Jax Taylor's sociopath eyes regarding his trip to Hawaii, Lisa hopes THIS TIME he will finally learn his lesson. She explains, "Jax has this natural tendency to want to run away from things. You must realize that Brittany's not the problem right now, he is." 
"I think Jax feels like the walls are closing in on him but he shouldn't right now. He should be celebrating the fact that he's got this young girl that will stick with him through thick and thin," closes Lisa. And that he has a girlfriend who doesn't mind open-door defecating, to boot. <gag> 
TELL US: WHAT DO YOU THINK OF LISA'S REACTION TO KRISTEN AND STASSI DISCUSSING HER? WILL JAX EVER, EVER, EVER CHANGE? 
Photo Credit: Bravo