Sonja Morgan is facing even more scrutiny over her drinking and disaster-ing on this season Real Housewives Of New York. She even quit drinking for part of filming. On the positive, Sonja is more than happy to rekindle her friendship with Luann de Lesseps, who is now her roommate! 
Reacting to the premiere episode, she blogs about goings-on with Luann and Ramona Singer, Bethenny Frankel's scathing criticisms, and all things Sexy Sonja! 
Feeling lonely with her daughter at boarding school, and Lu needing a place to crash while apartment hunting, gave Sonja an idea: How 'bout two boozy floozies become one?!
CLICK THE CONTINUE READING BUTTON FOR MORE!
"I've been getting closer to Luann, and it feels great. We have been friends a long time now. More than 10 years. Not as long as my other seemingly lifelong friends, but she is actually my longest new friend since my divorce. Can you imagine?" exclaims Sonja. "It's hard to make new friends like that. We met when we were both splitting up with our exes and something gets us through this sorority sister madness. Says a lot."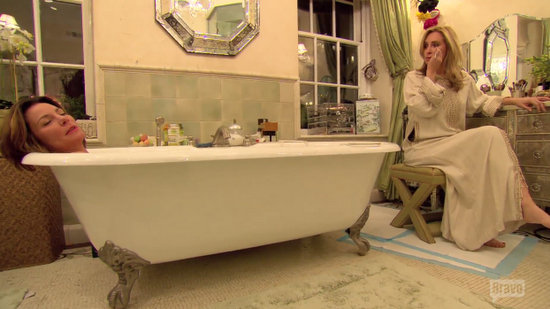 While Lu and Sonja are becoming two peas in an intern-zipped pod, Sonja's friendship with Ramona is fraying at the seams – particularly over what Sonja feels are Ramona's hypocritical comments. Over lunch with Bethenny, they complained that Sonja is embarrassing.  
"Great lunch with Bethenny and Ramona. Ha!," Sonja notes sarcastically. "I love Ramona being concerned with being associated with ME. I've been defending her embarrassing behavior for decades (when she is drinking and when she's not drinking–that's even worse, LOL)." 
While Ramona is criticizing, Sonja is supporting – how Ramona handed divorce from Mario and is dipping her Turtle Time back in the dating scene.
"Ramona dating is like me starting all over–but vicariously through her. It's kinda fun for me to watch her experimenting." 
"I'm so happy Ramona was able to do what was right for her daughter and just move on with Mario. To hold on to money and haggle in divorce is never a way to live in the moment. You are always in a holding pattern. And…its aging!," advises Sonja. "I'm speaking from experience as I never waited for the other shoe to drop in my divorce. Obviously it isn't aging Ramona. She looks better then ever."
I'm glad to see Sonja having perspective and recognizing that she did not process or accept her divorce for years! 
Hitting a little too close to home Sonja admits she "cringed" while watching flashbacks of Dorinda's Turks and Caicos martini meltdown. "I hate when that happens! Like when I was so upset with the girls in Atlantic City on top of everything I was dealing with and went OFF THE RAILS. I really just wanted to cry on a shoulder and ended up defending myself (over and over as the repeater)!" laments Sexy J. "It's hard in large groups of friends when you need to nuzzle up with a friend, and you just get static or hit a wall with friend after friend." 
Speaking of friendships hitting walls – that's exactly what happened between Bethenny and Dorinda during their fishy brunch with Jules Wainstein! "OMG Bethenny is on a tear right out of the box this season. Ninety miles an hour ripping you a new one," says a shocked Sonja. "She is cutting no one any slack. Last season was obviously just a warm up. 'All roads lead to dry cleaning' – The Big B." 
One positive from that hair-raising brunch was just that – the great hair! "I love Bethenny's new haircut and for a skinny bitch, Jules has a healthy head of hair," writes Sonja before saying sayonara. 
Tonight RHONY returns – with more Bethenny and that mouth! Bethenny plans a chic BBQ at her house in the Hamptons, as Sonja and Luann bond over booze and boys. 
In the latest step of washing Mario out of her life, Ramona has FINALLY renovated her apartment. Meanwhile, Carole and Bethenny breakdown her relationship with Adam and the possibility of having a friendship with Luann again. Lastly Dorinda hosts a lingerie party, where Bethenny confronts her about John, leading to Ramona making a shocking statement about Dorinda and John's relationship which causes Dorinda to explode! 
Reality Tea will be live-tweeting! 
TELL US – WHAT DO YOU THINK ABOUT SONJA AND LU BEING ROOMMATES? IS RAMONA A TURTLE-TIMING HYPOCRITE? WERE BETHENNY'S COMMENTS TOO HARSH?
[Photo Credits: Bravo]