Luann de Lesseps is just two days away from her New Year's Eve wedding to the second love of her life, Tom D'Agostino Jr.
Luann's road to the altar has been anything but blissful, however, the soon-to-be-former-countess has been anything but a bridezilla. She's braved Tom locking lips with another woman, revelations that he dated of two of her friends, and the exposure of the whole mess on Real Housewives Of New York. So, anybody else excited for round two?!
CLICK THE CONTINUE READING BUTTON FOR MORE!
"I was devastated. I had my heart broken on television," Luann admits of Bethenny Frankel revealing photos of Tom kissing another woman days after their engagement. "It felt like someone ripped my heart out of my chest."
But all of that is in the not-so-distant past, and Luann is yachting into her future as Mrs. D'Agostino.
RELATED – Bethenny Still Sucks At Relationships!
Luann has confirmed time and time again that she won't let "a stupid kiss" ruin all her happiness, and proved her devotion by getting her marriage license two weeks ago. "Obviously, if it happens again, I would have a serious problem with that," Luann says. "Fool me once, shame on you; fool me twice, shame on me."
Tom admits, "Yeah, I feel awful about it." He promises it will never happen again. Let's hope!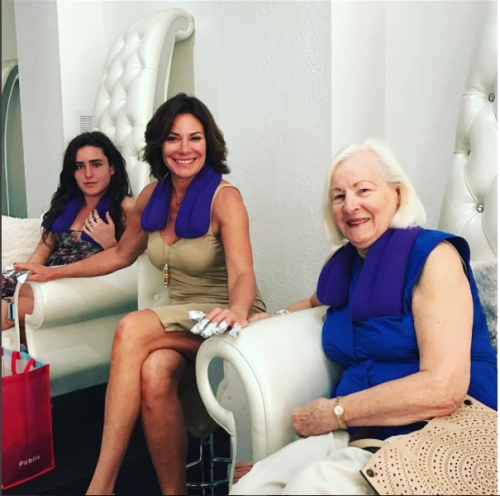 Above, Luann shared, "Getting pampered. 3 generations. #mom #daughter #weddingcountdown" [Photo Credit: Instagram]
Luann and Tom are in Palm Beach for the three-day festivities, which kicks off with a rehearsal dinner on a yacht (these people are obsessed with yachts!). Dorinda Medley is a bridesmaid. Sonja Morgan, along with other current and former RHONY stars, will be attending. Even Luann's ex-husband will be there.
RELATED: Sonja In Love? And Dorinda Getting Married?
NOT on the guest list, thankfully, is Bethenny. "I think she's just an unhappy person," Luann tells People. "I find her very negative." No whammies, right Lu?!
The festivities will be filmed for Real Housewives Of New York season 9.
TELL US – ARE YOU SURPRISED THE COUNTESS IS GOING THROUGH WITH THE WEDDING?
[Photo Credit: Instagram]