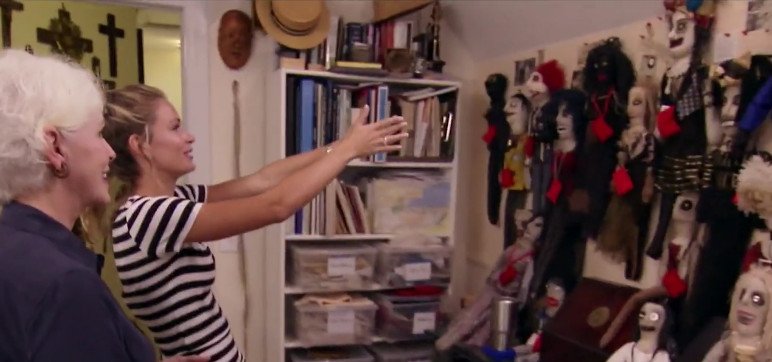 Before we begin with last night's Southern Charm shenanigans, can we please give a big, fat "Atta boy!" to Craig Conover for passing the South Carolina bar exam! It looks like Shep Rose is going to have to find another reason to deride his pal. Of course, while Craig can celebrate this milestone, he's going to have to atone for being a complete jackleg to his girlfriend Naomie Olindo on last night's episode. Once again, she proves to be the only voice of reason in this motley crew!
After the gang muddles through their various (hopefully not morning, as most of them are slugging cocktails) routines, Cameran Eubanks takes her mother to purchase some hoodoo dolls in hopes of reclaiming her high school efforts to become a white witch…complete with spell incantations, purple hair, and a homecoming queen sash. Unlike voodoo dolls, their hoodoo counterparts bring positive energy to those who use them. Cameran is hoping this doll will help with matchmaking her friend Chelsea with Shep.
CLICK THE CONTINUE READING BUTTON FOR MORE!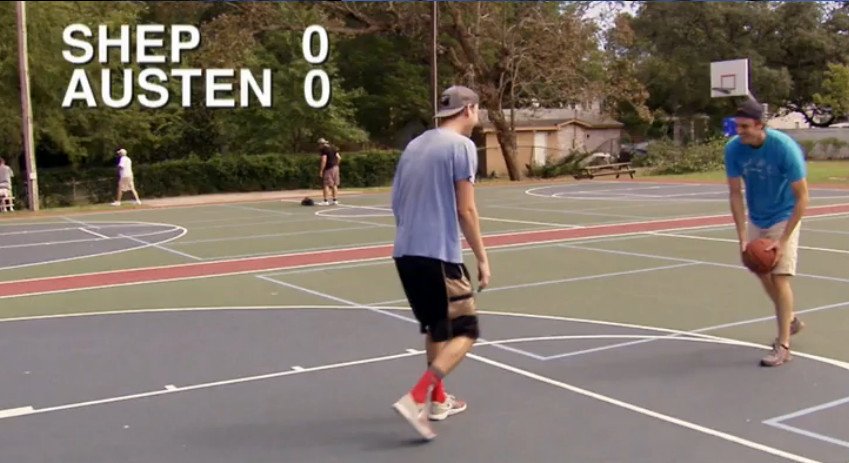 Across town,  bro code violator Austen Kroll is shooting hoops with his douchemaster. Shep brags about bagging a girl after his yacht party, and he enjoys making his protege squirm when asking if Austen fared the same. Shep is fully aware of Austen's blossoming romance with Chelsea, and he isn't happy about it. As the guys wheeze and sweat over minimal exertion, Shep wonders if he needs to seek medical help. A stuttering Austen is forced to relay his relationship status with Shep who chastises him for not asking permission. Wait, what? Shep can take home whoever he wants, but he is still has dibs on Chelsea? Shep pretends not to care while joking about Austen and Chelsea's age difference, calling her Demi Moore. I'm sure Chelsea will swoon over Shep after hearing that comparison!
Whitney Sudler-Smith is doubling down on bourbons while waiting on Thomas Ravenel. T-Rav is stressed about his Mr. Mom status while lamenting past khakis that shaped his buttocks and his confidence in such a way that made him a one-time man about town. While he is still able to pluck that low-hanging fruit, his baggage (read: his children who live in a totally separate dwelling on their father's property and their fiery–to be nice–mother Kathryn Dennis), Thomas has lost his swag when it comes to approaching women who would make a suitable first lady for his main house. Whitney encourages him to pursue Landon Clements who clearly is intrigued by the aging Lothario 's bank account.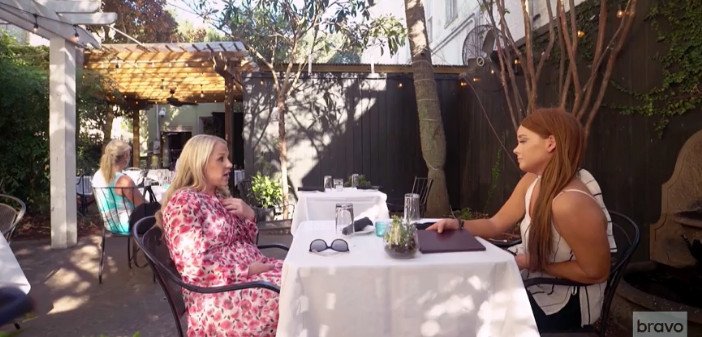 After several months of not speaking, Kathryn is attempting to repair her friendship with new mom Jennifer Snowden. Perhaps "repair" is a strong word. She really just wants to know why Jennifer was so quick to cozy up to T-Rav after the way he treated Kathryn and spoke to her for being Kathryn's champion. Kathryn is wary to let down her guard with Jennifer, but she's ready to confront their issues. Over lunch, Jennifer wonders what she did to get the silent treatment, but Kathryn can't get the notion out of her head that Jennifer is a social climber. Why else would Jennifer have so easily accepted T-Rav's apology after all the shit he talked about her to Kathryn? Jennifer defends herself, showing honest emotion. She cries recounting her newborn son's terrifying brain surgery and reminds Kathryn that she needed all the support she could get. She certainly wasn't getting it from Kathryn…nor is she now. Kathryn listens coldly, offering monotone sympathy, while questioning whether Jennifer is just trying to be manipulative with her tears. Really? I am trying to be sympathetic, but as a mother who seems to know serious struggles first hand, I would have hoped that Kathryn could be more Anna and less Hans. Melt that ice!
Austen is wing-manning Landon as she checks out Little Jack's Tavern for her "blog." As Landon inquires about the best cocktails to pair with lunch, Austen can't help but think her website is just an excuse to eat and imbibe at the city's newest hot spots. He laments to Landon about Shep's admonishment after hearing Austen has been seeing Chelsea, and Landon is quick to jump on any train that lets her belittle her former bestie. She's clearly not over Shep deriding her for being so snobby to his entrepreneurial friends. Speaking of pretentious, Landon teases Austen for not recognizing Aspen as the only place to travel in Colorado. She opines about how a weekend getaway is the best way to learn about a new partner. Does he pack a dinner jacket with his exercise clothes? How expensive is his luggage? Austen is baffled by the words coming out of Landon's mouth (who isn't?) as she discusses the importance of a well-to-do paramour. He reminds her that her young buck Drew has never been to New York City. Her boy toy would love to see the Big Apple. He's heard there's a big park there.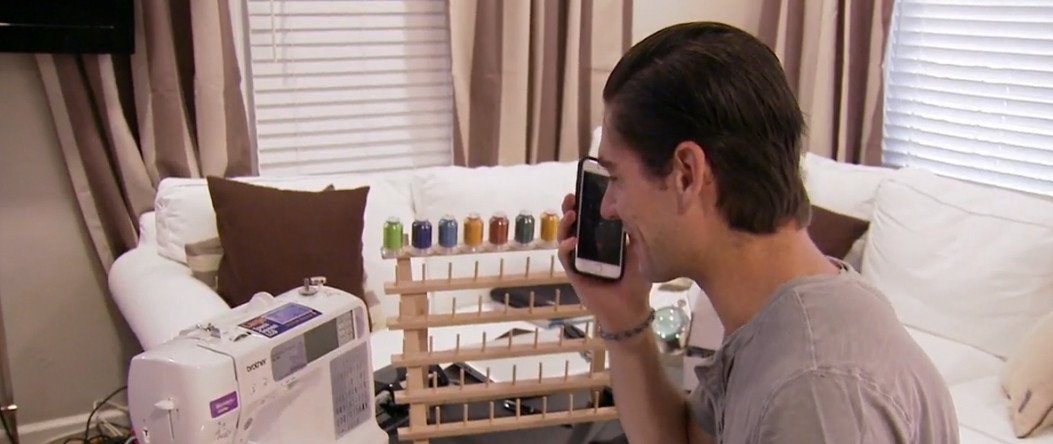 Replacing his inner Bob Villa with Martha Stewart, Craig is thrilled to receive his new sewing machine in the mail. It even has an embroidery function! Just stop! With his sewing desire now satiated, he's ready to become a landlord. Having procured her marvelous matchmaking hoodoo doll, Cameran sets her sights on looking for Craig's perfect investment property. She calls a listing agent about a home he's interested in, but it's under contract. After crunching some numbers (aka sewing some throw pillows), Craig isn't phased to lose the property. He's got plenty of time to exercise his inner slumlord. Plus, these drapes aren't going to hem themselves!
After mixing the perfect blend of liquid courage, Thomas dials up Landon for a possible date. She's got plans to see Phish with her sister, but she's open to a day date. Thomas is defeated. He just got totally friend-zoned. Where are those flat-fronts when he needs them?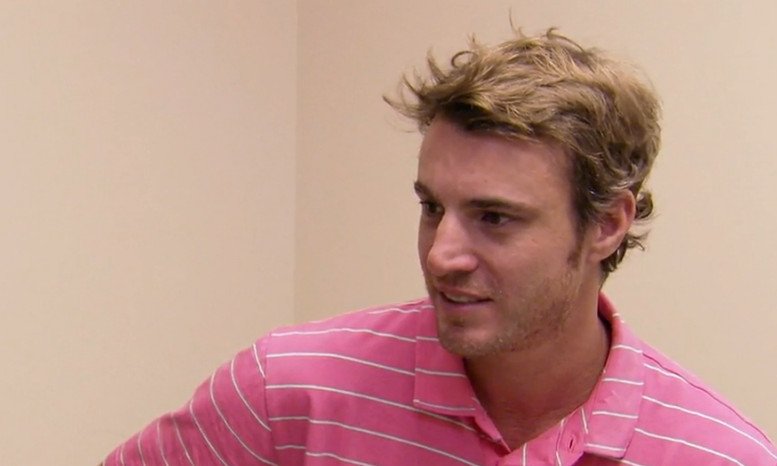 After his latest foray onto the basketball court, Shep makes an appointment to see a doctor. His father had a heart attack in his late thirties, and he wants to make sure he's not going to suffer the same fate. Thankfully for the middle aged frat boy, T-Rav recommended this doctor, so Shep is pretty sure he won't be judged. He relays to the nurse he smokes a bit and drinks on average a dozen drinks a night. Shep follows the rule of sex partner divulging…you cut the actual number in half and add ten. The doctor can't find anything wrong with Shep, but he urges the party boy to stop drinking for a week. Challenge accepted. Maybe(ish). Or not.
The following day, Thomas and Landon meet for their day date while trying to one-up the other with a super high maintenance margarita orders. They are both impressed with the other's knowledge of high end tequila, fancy mixers, and the ability to send their waitress into a materialism induced coma. Thomas recounts his previous evening which ended in going home alone (curses, designer jeans!). Landon coyly counters that T-Rav shouldn't be bedding strangers mid-week He's too mature for that. It's time that Thomas focus on finding his perfect match. T-Rav couldn't agree more. As Thomas describes the pairs' similarities, Landon purrs, "yeahhhh" over and over as they lock eyes. This connection is deep, y'all.

That night, Craig is treating Naomie to a much deserved home-cooked meal at her parents' house down the street from their abode. What a Renaissance man! Naomie is touched…until he recounts his day. When she inquires about his recent desire to obtain rental property, Craig responds that not only is he going to be a real estate mogul, he's also starting his own clothing line. Law school what? Craig is a preppier version of Kanye, complete with a ridiculous rant as Naomie rebukes his idiotic assertions. Why can't he just focus on a legal career? What's with the Zillow chasing, carpentry-wielding, seamstress wannabe pipe dreams? Naomie rationally forms her argument while Craig reacts like a petulant child, calling her dumb. Girlfriend stands her ground as Craig back pedals. Perhaps he'll take up cycling next? He storms off like the brat he's being. Get it together, Craig. Seriously.
TELL US – WHAT DID YOU THINK OF LAST NIGHT'S EPISODE? ON A SCALE OF ONE TO TEN, HOW MUCH OF AN ASSHAT WAS CRAIG? 
[Photo Credit: Bravo]