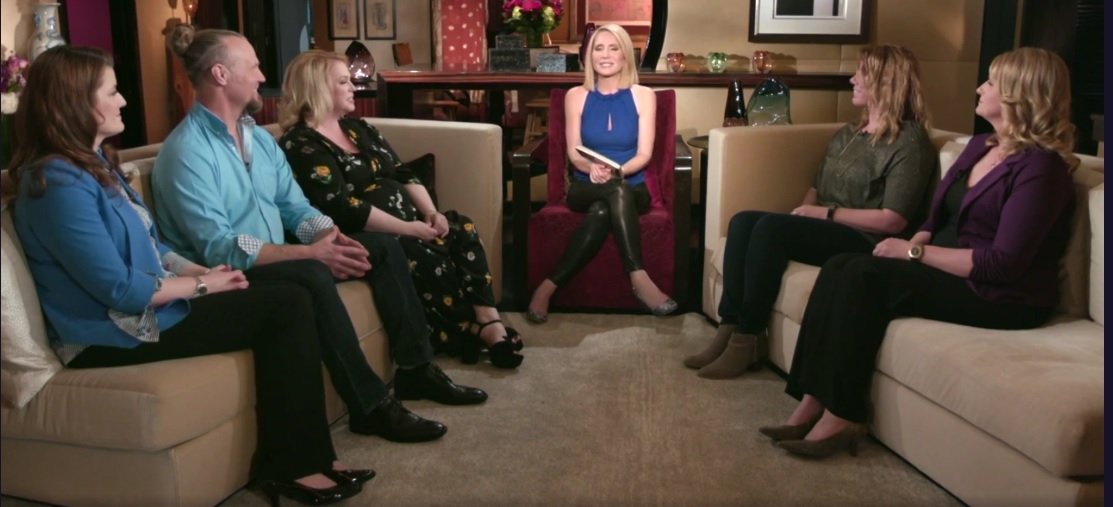 Y'all! It's a Sister Wives miracle! The first half of last night's tell-all was only one hour long! And most of that hour was video recaps and commercials. I'm almost sad we didn't get more time with Kody Brown and his new 'do. Almost. What a difference a year makes when the family convenes to rehash the longest season known to man. Meri seems happier. Robyn cries, but she doesn't talk as much. Christine revels in her new role as the family bad ass while Janelle is just glad to be a grandmother.
Andrea Canning is hosting the debacle, and she immediately compliments Kody's man bun. He's even shaved the sides and glued them to his chin. A quick poll shows that everyone but Meri is on board with the man bun. Andrea dives in with Meri's desire to buy her family home to start a bed-and-breakfast/house her mother in her twilight years. Meri insists to Andrea that she was only sharing her idea with the family because she'd been chastised for withdrawing during her catfish situation. Looking back, Meri recognizes that she didn't frame it as such, saying she could have been better about expressing her thoughts. The discussions segues into the lack of intimacy in Meri and Kody's relationship. Kody is fine with the status quo, but Meri wants more. Robyn interrupts, accusing Kody of saying stupid things.
Kody leaves the women to chat, and Christine shares that they can be much more carefree without him being a buzzkill. The topic is Meri's role in the family, or lack thereof. Robyn gets teary when thinking about Meri not being a part of the family. She's excited about the B&B for Meri so she has a purpose, but she's concerned it will pull her farther away from the family. Janelle and Christine second Robyn's assertion.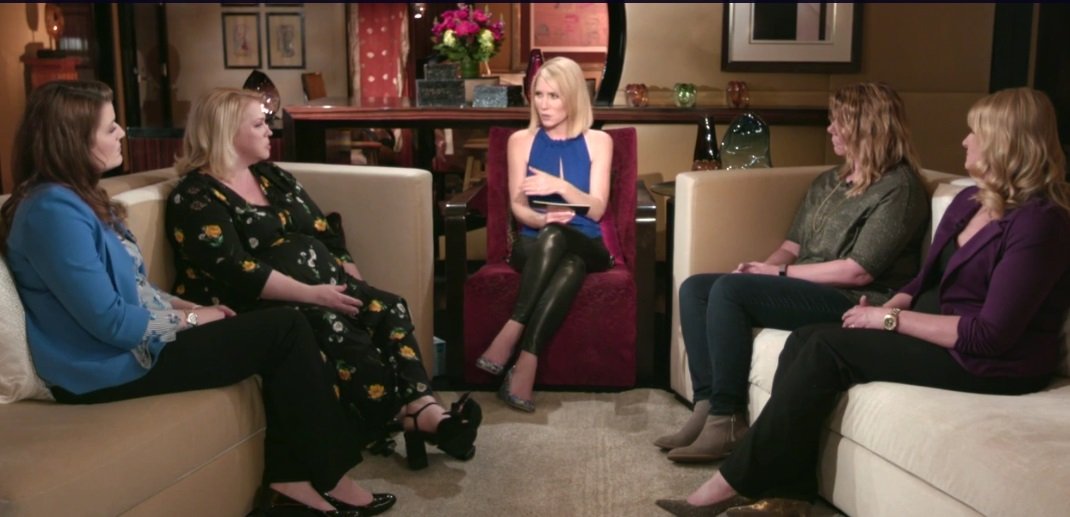 Meri doesn't doubt the women want her in the family, but she admits her distance from Kody makes it difficult to interact with the group. As she cries, Christine interjects to share how alone she felt when she and Kody were struggling. Everyone around her was happy, and she hated being at family functions to witness everyone feeling great when she was so lonely. Meri nods that she is feeling the same. Look at Christine being the voice of reason!
Speaking of Kody, Meri maintains that she wants things to go back to normal, and she wants more than just a platonic relationship. She looks at Christine and jokes that she means with Kody, not her sister wives. Andrea teases that would be an entirely different show. Janelle praises Meri for shouldering such a huge burden and she recognizes progress in Meri's relationship with Kody. Robyn wants both Meri and Kody to work on getting to a better place. Meri admits that a hug from Kody gives her hope for the future.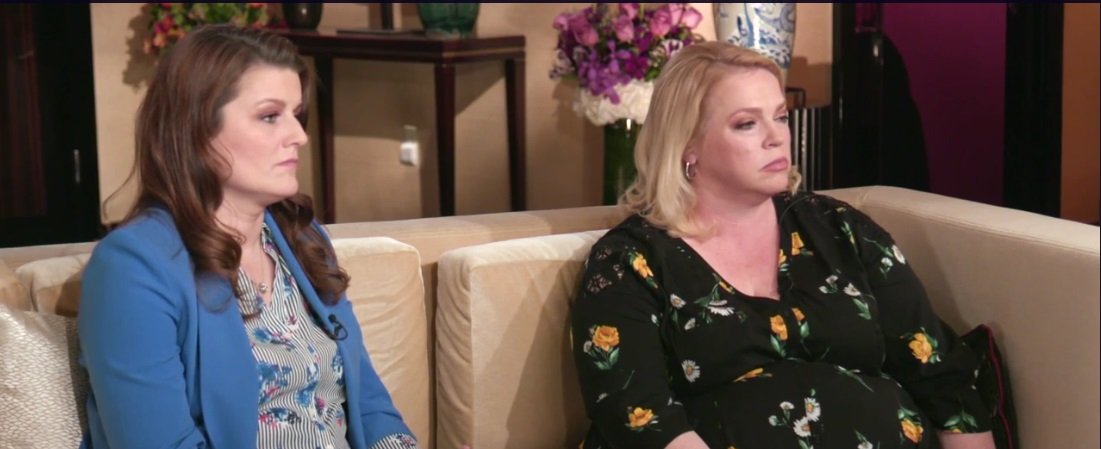 The women continue to discuss Meri being on the outside after replaying Christine's conversation with Meri after Axel's birth. Meri recognizes now that the real reason she wasn't with Madison during the birth was purely circumstantial. She realizes it wasn't her sister wives purposefully leaving her out of the big moment. Christine isn't great with intense conversations, but she had good intentions. All the women agree that they need to work on their friendships, but as is isn't good enough for Robyn. She wants deeper, more meaningful relationships with her sister wives.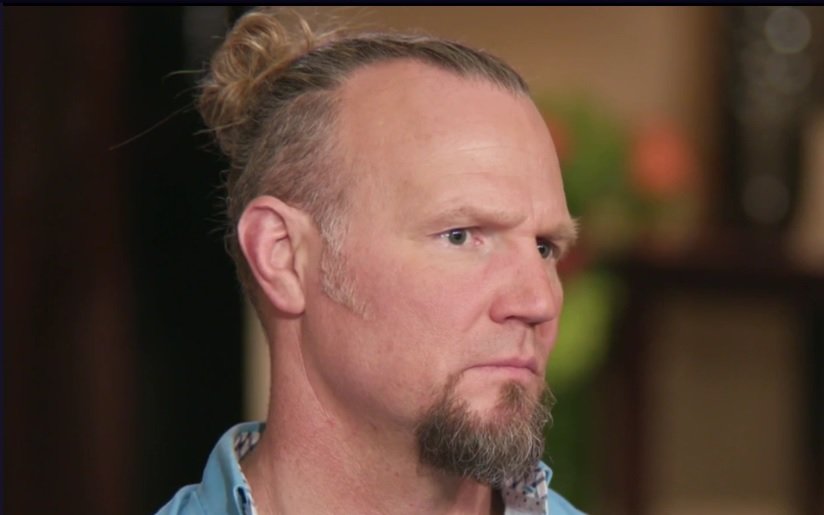 Kody returns to the sofa to express his disdain over Utah passing a law with tighter restrictions against polygamists. Their march is revisited, and Christine feels this is the first time she hasn't had to live in secrecy. She can be a wife openly, and she has no plans to go back to Utah. Meri isn't keen about leaving Nevada (but then why did she buy that house in Utah?), but Janelle and Robyn are on the fence. They love their lives in Las Vegas, but Utah has always been home.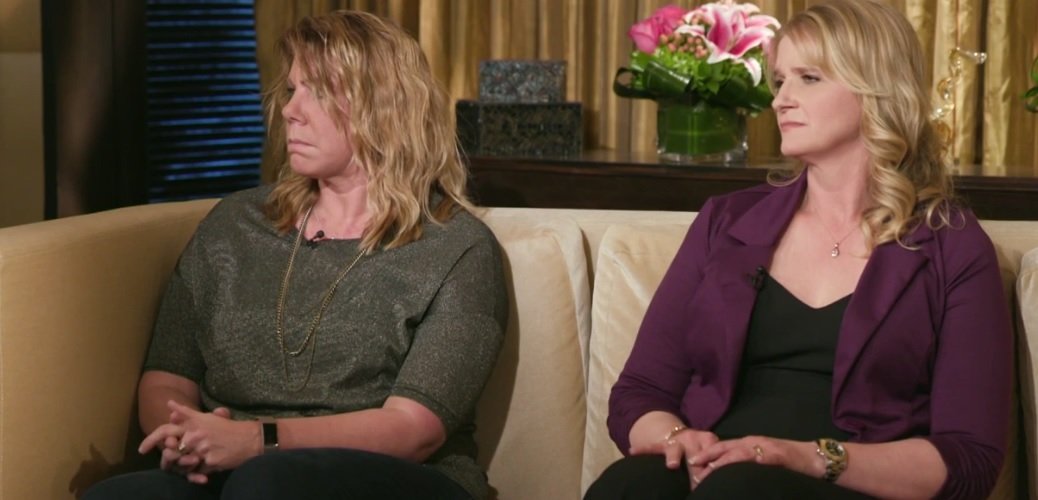 The turmoil between Meri and Janelle is highlighted, and both women concede their issues are based on miscommunication and misinterpreting each other's personalities. Janelle believes that attending the March on Washington was a great bonding experience. Janelle was flattered that Mariah wanted to include her on the trip. Meri seconds that she was thrilled to march with her daughter in an effort to repair their strained relationship.
TELL US – WHAT DID YOU THINK OF THE FIRST INSTALLMENT OF THE SISTER WIVES TELL ALL? WERE YOU EXCITED IT WAS ONLY AN HOUR? DID MERI SEEM TO BE DOING BETTER?
[Photo Credit: TLC]