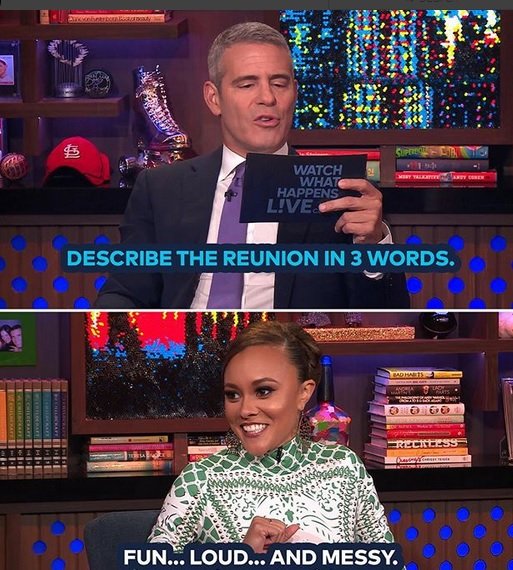 Ashley Darby's tagline for Season 3 of Real Housewives of Potomac is "You may say I cause trouble, but I say I keep things interesting." She definitely does keep things interesting. She has no issue calling out Karen Huger (or anyone else) over and over again.
Ashley's messiness made her the perfect person to be Andy Cohen's guest on Watch What Happens Live last night. There wasn't one question that she wouldn't answer. She had no issue stirring things up and spilling some tea.
Andy asked Ashley, "Do you believe Karen didn't know about Ray's [Huger] financial issues?" Without hesitation, Ashley declared, "False. She knew everything." I can't help agreeing with that one.
Then the questioning got significantly more controversial when Andy asked, "Do you really believe that Monique [Samuels] wasn't drunk when she was driving?" Ashley answered, "No, I do not." Spoiler alert: almost every question asked was about Karen or Monique
Andy wanted to know, "Do you believe Karen has a perfume line?" Of course Ashley said, "No, I do not." He also asked, "Do you really believe Monique wasn't trying to be messy by bringing Kyndall [Douglas] around the group?" Ashley told him, "No, I do not." Kyndall Douglas is the ex-wife of Sherman Douglas– Gizelle Bryant's boyfriend from the beginning of Season 3. Kyndall was never at an event before that, so it's most likely not a coincidence that Monique and Karen are inviting Kyndall to everything at this point.
And of course Andy had to ask, "Is Karen living in her Great Falls home?" Ashley said, "The jury's still out, but I will say maybe." But most likely not, though.
A viewer asked Ashley, "How is the relationship between your mom and Michael [Darby] these days?" Ashley shared, "Michael and my mom are on their way… to all being a happy family." Andy teased, "I don't want to spoil some of what we learned at the reunion, so I'm gonna leave things at that."
A fan asked Ashley, "Why do you always call out Karen on her marriage and living situation, especially when you live in a glass house with your own marriage?" She explained, "I polish my glass house so I can see out clearly. Karen's glass house is cloudy and all types of gross." Fair enough.
Another viewer wanted to know "Do you think there's more to [Karen] not wearing the ring?" Ashley answered, "Yes, I do. We were in the South of France. I have worn my ring in Somalia and Karen can't wear hers in the South of France? We were on the French Riviera." She might have just been trying to initiate a story line. It wouldn't be the first time that Karen a Housewife has done that.
The Karen-inspired questions continued when Ashley was asked, "Do you believe Gizelle's claims that Ray has a crush on her business partner and has been stalking her?"Ashley revealed, " Yes, I was at said Christmas party. And I can attest that there were some googly eyes." Andy told her, "Well, you kept that quiet at the reunion."
A caller asked, "Do you think that Monique was really using Cha Cha [Charrisse Jackson-Jordan]for her friends and her contacts?" Ashley declared, "I one hundred percent do. There had been a lot of rumors going around that Monique was explicitly telling other people that and it got back to Charrisse. So it came straight from the horse's mouth." Damn.
Photos from Ashley's appearance will be up soon!
RELATED: Charrisse Jackson Jordan On Monique Samuels: She "Portrays A Sense Of Naiveness To Camouflage Her Deceitful Tactics"
TELL US- DO YOU THINK KAREN IS LIVING HER HOUSE? DOES RAY HAVE A CRUSH ON ERIKA? IS MONIQUE USING CHARRISSE?
Photo Credit: Instagram