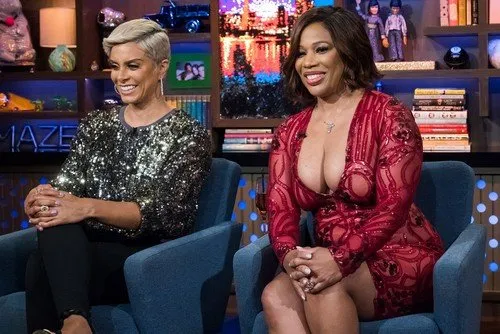 There is so much going with the Real Housewives of Potomac ladies this season. Loyalties are constantly shifting and shade is constantly being thrown. Monique Samuels joined the show as a close friend of Charrisse Jackson-Jordan's, but they are far from that these days.
It's safe to expect a reunion showdown between these two- especially after that messy Kyndall Douglas situation. Just as reminder, this is what happened: Gizelle Bryant used to date Sherman Douglas. Sherman was married to Kyndall. Charrisse and Monique have filmed several scenes with Kyndall this season and invited her to events that Gizelle attended. Beyond messy.
Andy Cohen asked Charrisse about the Kyndall mess, during last night's episode of Watch What Happens Live. Robyn Dixon was also a guest for the episode, but most of the juicy questions were directed at Charrisse.
The first word that came out of Charrisse's mouth was "liar" when Andy asked  about Monique's role in the Kyndall drama. Then she told him, "One thing about Monique which she does, instead of dealing with the truth, she lies her way out of things. First of all, Gizelle and I buried that hatchet a long time ago. On the show you even saw me confront her where I said to her 'No. I didn't have anything to do with it.' Initially? Yes. I was going to get under Gizelle's skin- which had nothing to do with what Monique was doing. No one knew what I was doing actually." Clearly no one is completely innocent in this scenario.
Later in the episode, Andy revealed, "You pointed out at the reunion that you put up Kyndall to be a Housewife of Potomac for the first two seasons." Charrisse confirmed by saying, "Yes, I did."
Andy started to say "This was before…" Charrisse chimed in with "All of this. Before Monique was even on the show."
Andy asked Charrisse, "But that has nothing to do with this season?" Charrisse responded, "I'll be honest. You know Gizelle can get under your skin and there was that little thing that we had, but we did get past it. I kind of was a little interesting in getting her back just a slight bit."
And then the conversation turned to Karen Huger and her murky financial situation- just like it has all season long. Ashley Darby claimed that Karen's good friend Matt was telling people in Potomac that Karen did not really live in her mansion and that she was actually living in a townhouse.
Andy asked Charrisse and Robyn if they believed Ashley or Matt. Robyn shared, "I believe Matt was saying those things. I don't think Ashley would have just made that up." Charrisse said, "Ummmm. I plead the fifth."
Later in the episode, a fan asked Charrisse, "Did you at all suspect that they were having financial issues prior to the news dropping?" Charrisse said, "Actually I had no idea about their financial issues, nor do I care." I don't know about that last part. Everyone in this cast cares about Karen and her questionable finances.
A fan asked Robyn and Charrisse "Who do you think caused the most drama on the Cannes trip?" Without hesitation, Robyn said, "Ashley was quite messy and confrontational." Charrisse added, "I would agree with that."
Just for good measure, Charrisse was asked about Monique yet again. She confirmed the obvious: "Today, we are not in a good space. Unfortunately you know… I really did adore Monique and it really went bananas. No, we're not friends." That reunion is bound to be heated.
TELL US- WHOSE SIDE ARE YOU ON: MONIQUE'S OR CHARRISSE'S? DO YOU THINK KAREN REALLY LIVES IN HER MANSION?