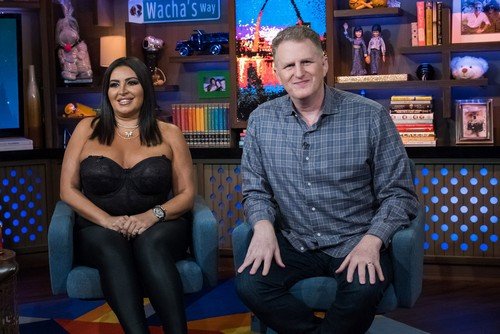 If it seems like the drama surround Golnesa "GG" Gharachedaghi's divorce is longer than her marriage itself, that's because it is. During the last Shahs of Sunset episode, GG debated selling or keeping the ring. So of course Andy Cohen polled the Watch What Happens Live viewers to see if GG should sell it, keep it, or give it back to Shalom Yeroushalmi. He also had Mercedes "MJ" Javid in the Bravo clubhouse to weigh in on the poll and all of the other Shahs of Sunset drama.
MJ told Andy, "She shouldn't give it back because they got married, so there's that." Andy pointed out, "She was married for like three weeks." Nevertheless, MJ insisted, "I think if you cancel the engagement, then you have to give it back." Alright then.
Speaking of Shalom, a fan asked MJ, "Do you regret bringing Shalom's ex to your party and not telling GG after seeing how much drama it caused?" MJ explained, "She was a very, old, old, ex from several years ago. If I wanted to be shady, I would have invited a different girl, but of course if I hurt someone, I would say that I wish I wouldn't have. She was also very shady before that." So I guess that's a "kind of" regret, not a hard "yes" or "no."
A caller mentioned that Mike Shouhed insinuated that Destiney Rose might be gay during an appearance on Jeff Lewis' radio show. The caller did not actually ask a question, but MJ began, "I'm really glad that you asked that question and he should not do that because it's not her sexual preference." She continued, "If someone says that they're straight, you should respect that. He's taking a joke too far. Because she doesn't give him enough attention, that's his way of dealing with it." Hopefully he has apologized to her since that interview aired.
TELL US- SHOULD GG GIVE HER ENGAGEMENT RING BACK TO SHALOM?