On last night's Below Deck the communication breakdown continued as Chandler Brooks found himself abandoning guests and Caroline Bedol pushed Chef Zen to the brink of rage that even several hours in downward dog mediation couldn't fix. OM… gonna snap!
It's the morning after Caroline got put in the time-out cabin to recuperate for her suspicious foot issue, and she's feeling betterish. I mean as better as she can feel while still being singled out (and unfortunately not by Chandler!) by Kate Chastain and Josiah Carter's mean girl vendetta!
This time Caroline walks in on Josiah and Kate questioning if she's possibly lying or exaggerating her injury. "I'm not lying!" Caroline insists defensively, already on the brink of hysteria.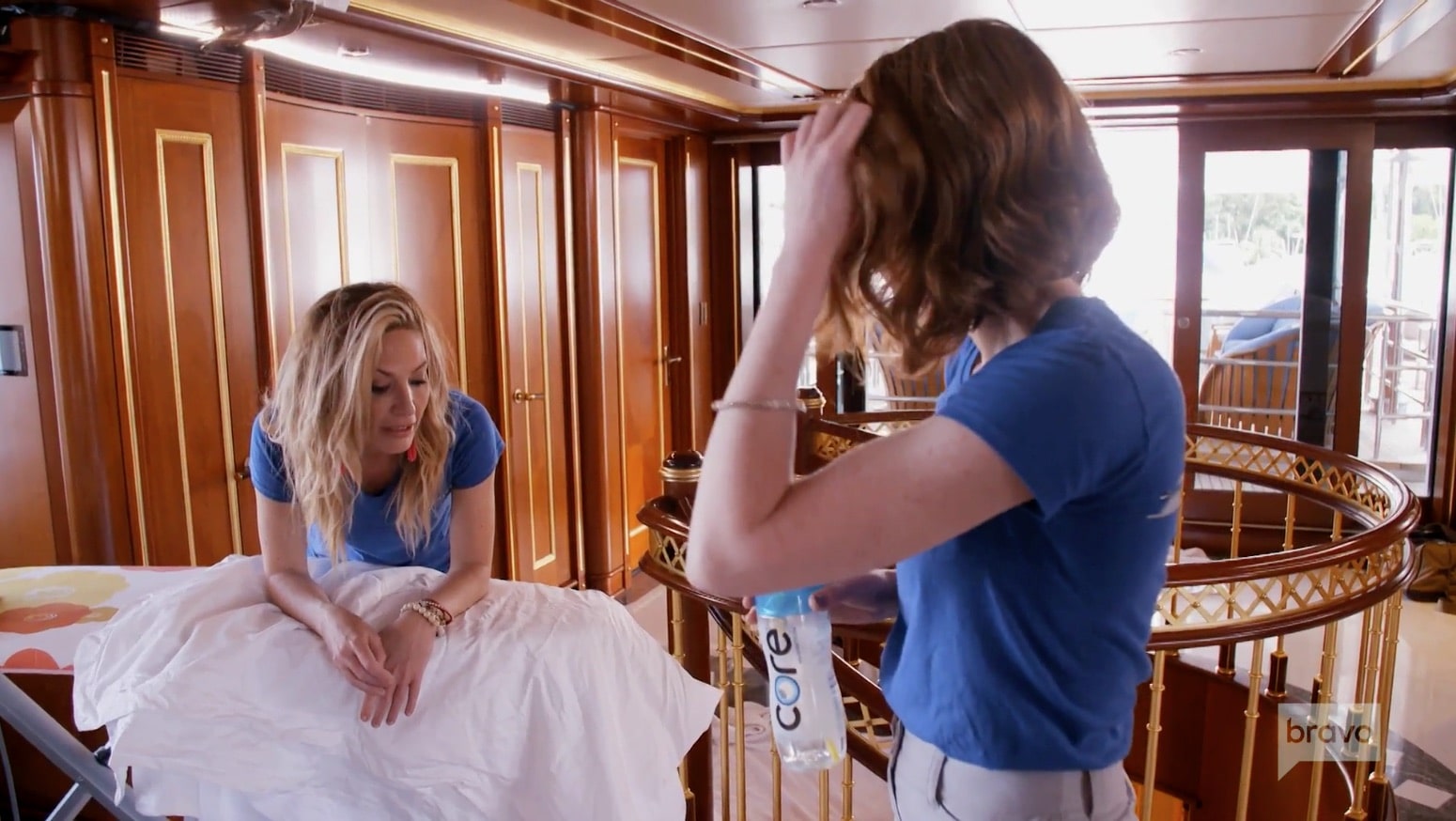 "I just think they like gossiping," Camp Counselor Ashton Pineaar reassures Caroline and urges her not to let it bother her or interfere with her work. Fat swollen chance of that happening! Ashton also gets Caroline back for the condom prank by tossing Captain Lee's underwear, which got mixed in with his laundry, into her face. LOL
Then Ashton switches his attentions to Rhylee Gerber. But sober, kindly attentions this time. He went from lecherous predator of fire crotch and ice cream at 2am, to mentor saving her career at 10am. Instead of a booty call he's just hoping Rhylee, like Caroline, can get out of her own way and try to stop fighting Chandler for control. As for Rhylee, she's 33 years old and will choose her booty calls as she wants to, thank you very much!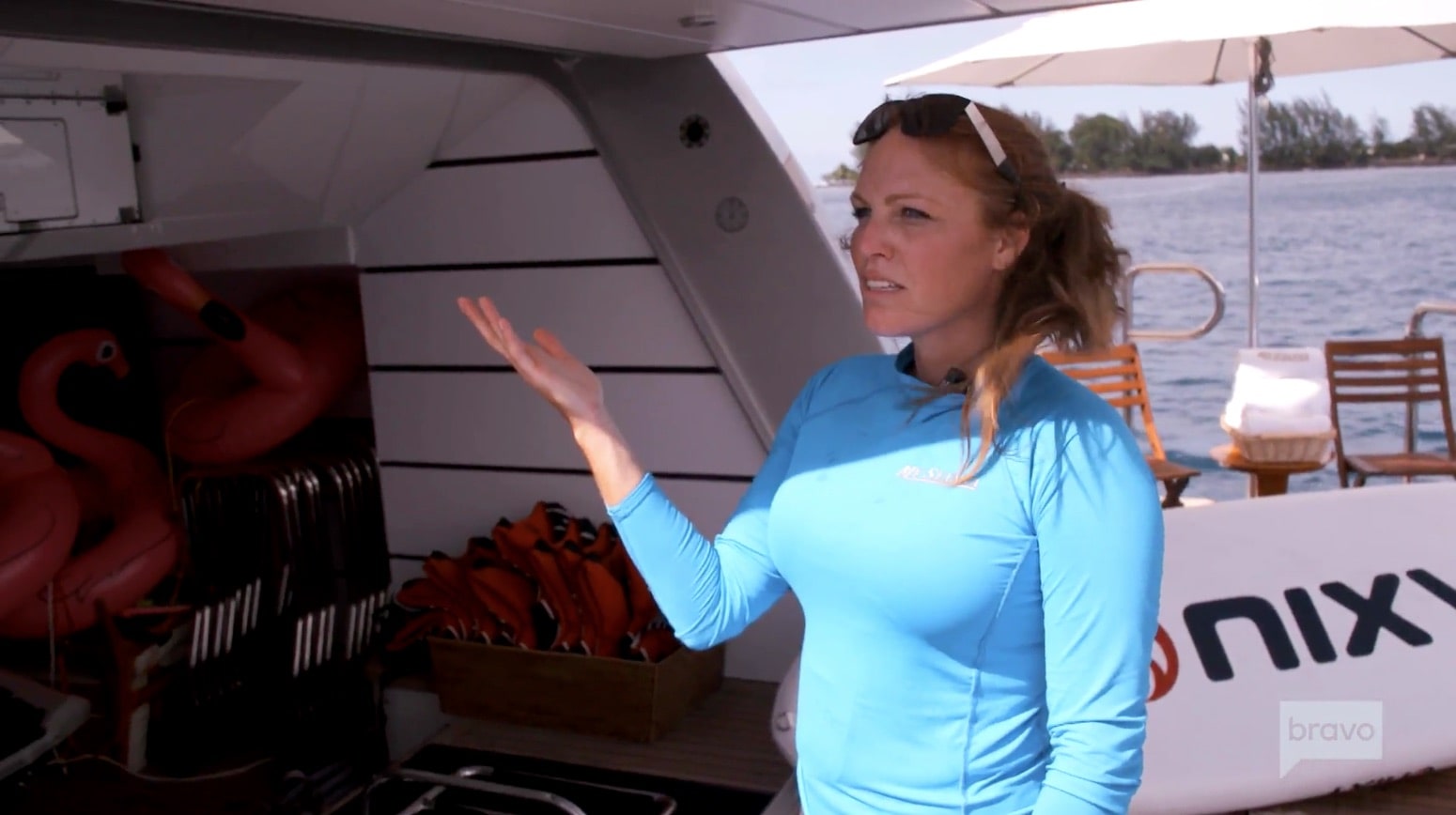 Chandler is also trying for newfound maturity. "It's obvious that Rhylee and I will never be friends, but as professionals we need to suck it up and work together." Did he get hit in the head with a tender? A giant inflatable lobster? Oh wait, he's only pretending to be an adult because he knows the real adult Captain Lee is watching him closely! I mean this conciliatory revelation was short-lived however. Very, very short-lived. Like shorter lifespan than an inflatable lobster.
And duh-duh-duh they're about to have their most complicated charter ever! Four days, 10 people – 2 of them CHILDREN. Imagine the soundtrack to Psycho in your mind, then you can picture the expression on Kate's face. Children have cooties!
Tori and Albert also have lots of food allergies, requests, and particularities. Including one kid who is so allergic to peanuts Kate isn't even allowed to have her Costco-sized tubs of PB on board. "They probably met at a support group for dietary restriction weirdos," she gripes, and Kate is already in over her head dealing with swollen foot weirdos who are allergic to hard work.
"I think if you add up all their dislikes together, there's literally nothing they eat," frets Adrian Martin who will nonetheless spin air into peanut-free, gluten-free, dairy-free, low-carb, high omega-3, fish-flavored supersonic protein that looks like carrots and tastes like Sour Patch Kids dipped in chocolate.
Just to keep the stress and intensity level high, and up the chances that Chandler will screw up, to 100% the guests are requesting a Tahitian beach party, a white party, and snorkeling with sharks, all water toys. Plus Captain Lee makes an edict that the kids must be in lifejackets any time they're outside.
Pre-charter Captain Lee pulls Chandler aside to explain, in short concise sentences with small words, how to establish clear, concise communication with his crew. Step 1: define communication; Step 2: open your mouth and explain what's in your mind which should be exactly what is also in Captain Lee's mind; Step 3: Don't fuck it up. Is Chandler up to the task? Consider him the Caroline's swollen foot of bosuns!
Like Captain, like Chief Stew, so Kate sits Caroline down for a pre-charter work ability checkup. On a scale of one to pain in Kate's ass, Caroline is like oh, a 9. But Caroline insists she can work. She thinks she can! She thinks she can! She's the little chihuahua that can! She just can't have a positive attitude while doing it.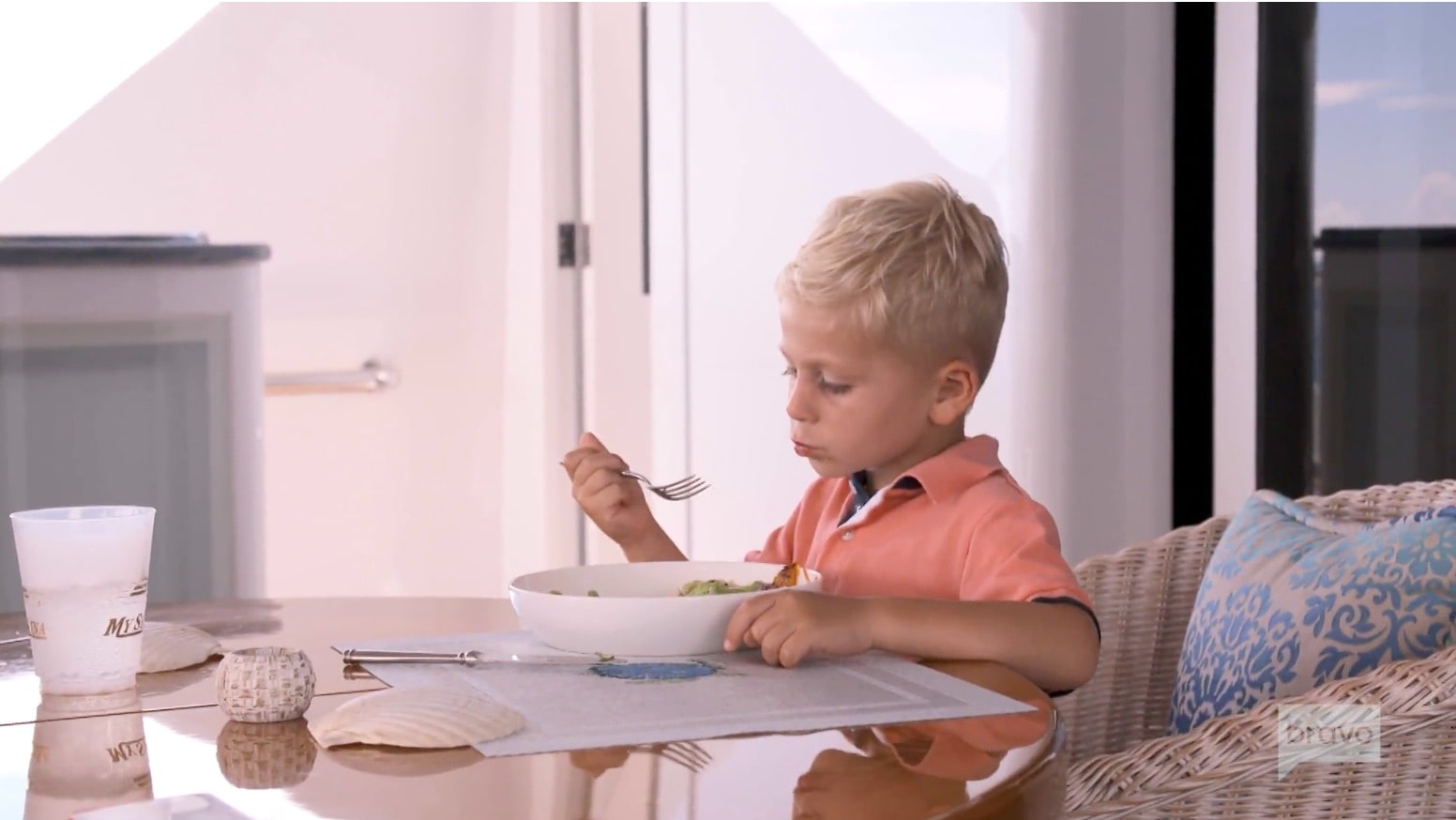 Then guests arrive bringing kids who are essentially mini adults – tantrums and all – but the kids will eat and drink anything so at least that seems easy. Right?
Chandler decides that as soon as anchor is dropped to Rhylee and Ashton should start unloading the water tools. Unfortunately he doesn't explicitly let them know that it's OK to start to pull out the 300+ jet skis and slides and everything else, and Ashton has enough experience to know better. He tells Rhylee they should standby until given the word, but Rhylee argues with him. This is the svengali effect – the pupil turns on the teacher! Rhylee constantly questioning everyone causes even Ashton to snap and he storms away. So Rhylee tattles to Ross Inia, who also says to wait and let Chandler use a slide rope to hang himself in need-be.
Of course Ashton and Ross were right because Chandler changes up his instruction and has no recollection of making the first one when Rhylee presses him on it.  Then Ross, who is the psychologist to Ashton's counselor, must go back to check in with Rhylee and Ashton and make sure they're OK because it will be all hands on deck needed to stage a mutiny against Chandler.
I can never decide if I like Rhylee or not. She's in between a rock and a hard place with Chandler, but the rest of the deck crew really supports her, yet her approach – even to them – is so abrasive! Girl, you do not have to treat yachting like American Gladiators.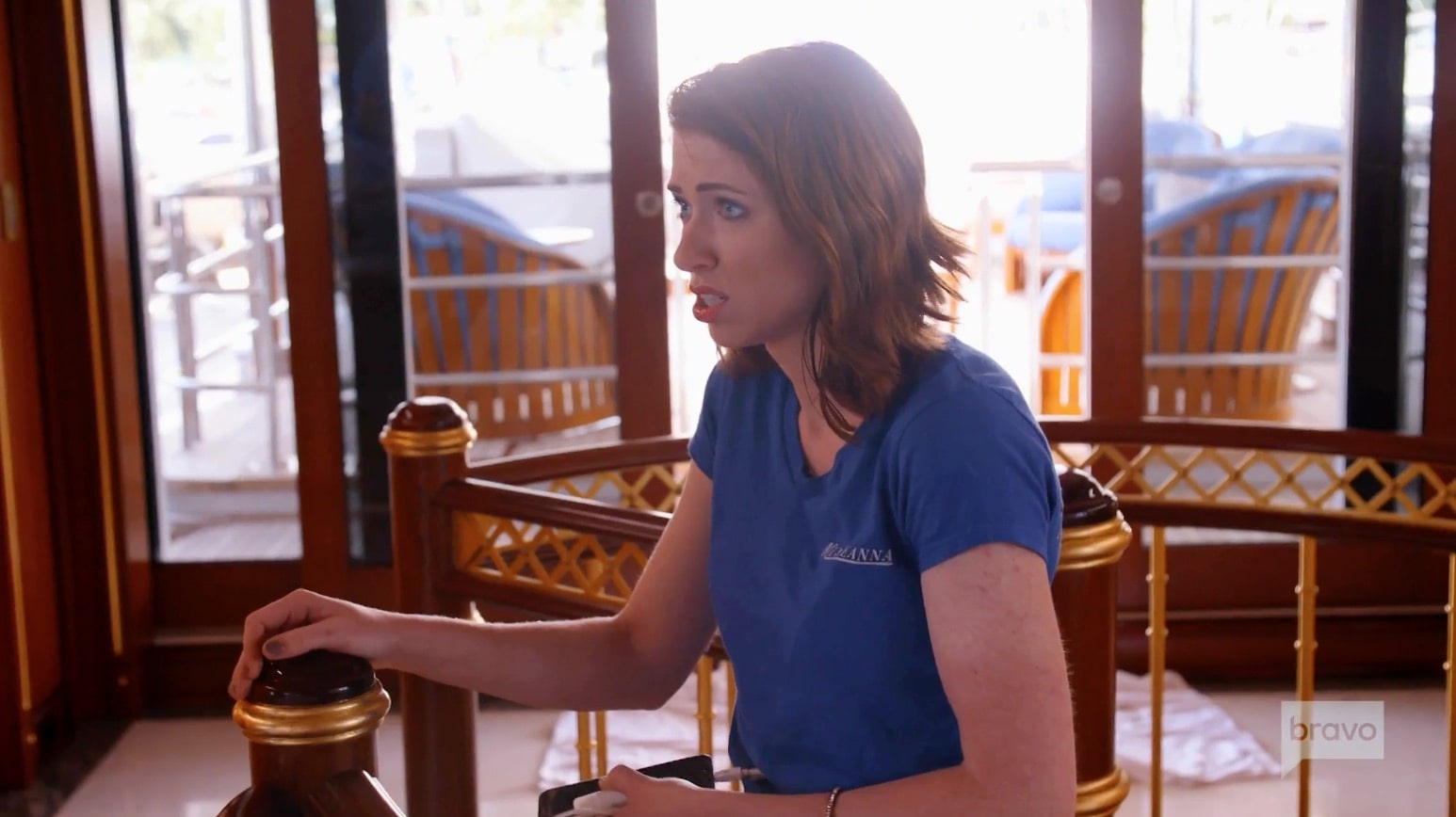 Caroline is sulking around, dragging her puffy foot like Sisyphus dragging his eternal stone, until Kate tells her to put all the white things aside for that evening's white party, . That doesn't mean the dirty white towels Caroline, or the leftover dinner mints, Caroline!. When Josiah points this out she goes into a rampage about how everyone is telling her conflicting things and ITS. NOT. FAIR. Caroline takes everything too personality. She and Rhylee must spin each other up at night when they're bored and alone and wondering why they only have each other.
"Caroline is definitely bringing the vibe down for the whole boat. It's draining to have someone around who's always complaining and moping," explains Adrian. Now he will make sad stew for supper. It takes an hour to plate a complicated fish and steak dish, which turns out tough and bland and the guests hate it.  Albert gives it a 2 out of 10 and complains to Kate. Who does Adrian think he is – Chef Matt from last season!? Kate elects not to tell Adrian, because she chalks up one bad meal to being a fluke. Plus it's really all Caroline's fault.
Of course CAROLINE, who likes to know every bit of bad news she can, immediately goes behind Kate's back to tell Adrian the guest said his food SUCKS. Adrian doesn't mind the feedback, but he does mind Caroline's attempt to pass her unhappiness onto him like a food-borne illness. Just to put it in perspective Adrian points out that this dad died a month before, yet he's not trying to drown the boat in his sorrows! Obviously this makes Caroline cry because her problems are problems too! And of course Kate finds her sniffling in the stew kitchen and gently has to pat her back and rock her to sleep because she belongs in the guests cabins with the rest of the children .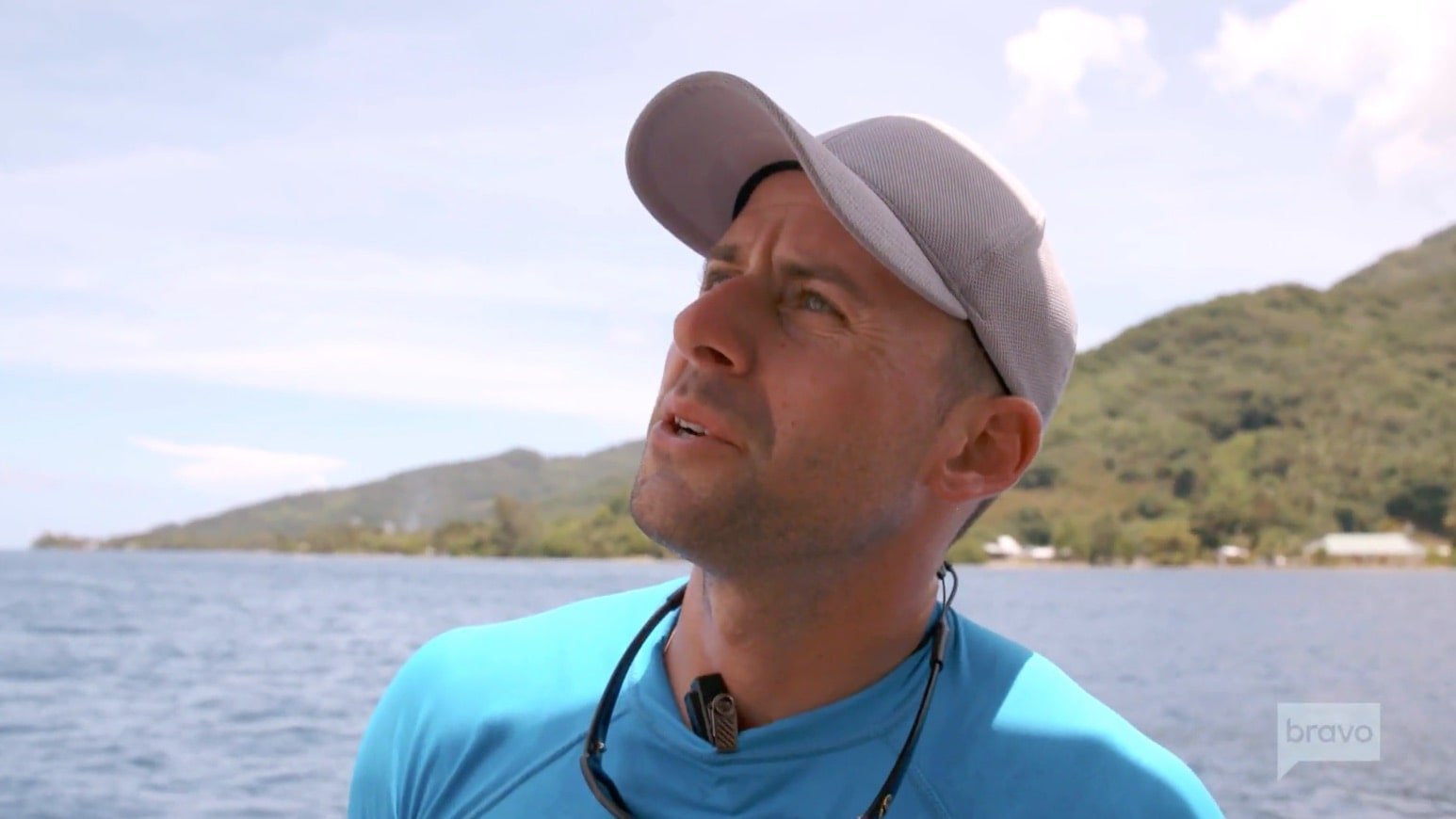 The next morning Adrian decides to just ignore Caroline completely and focus on making the best damn gluten-free pancakes the world has ever known! And Chandler decides to ignore his radio once again (because the definition of insanity is doing the same thing over and over but expecting different results!) so he misses Captain Lee's call about the plan for the day, and how the deck crew MUST MAKE SURE THE GUESTS HAVE TOWELS PACKED FOR THE EXCURSION.
Ross and Ashton both copy, but not Chandler! After his leisurely breakfast he stomps up to the deck and demands the crew start putting up the slide as if there's no excursion happening in an hour. As if he doesn't notice Kate and everyone else running around in a tizzy to plan the day around swimming with stingrays and sharks. It's like Chandler is doing his entire job while wearing his sleep mask because the dude is completely checked out.
Meanwhile Kate is wearing protective eye-ware to make the guest jalepeno mojitos! Cause pro.
I literally cannot even watch Chandler! As Captain Lee observes he continues to talk-down to Rhylee about towlines while putting up the slide! THE SLIDE THE GUESTS WILL NOT BE USING UNLESS IT INVOLVES STINGRAYS yet he doesn't review the plan for the excursion or make sure all the supplies are packed!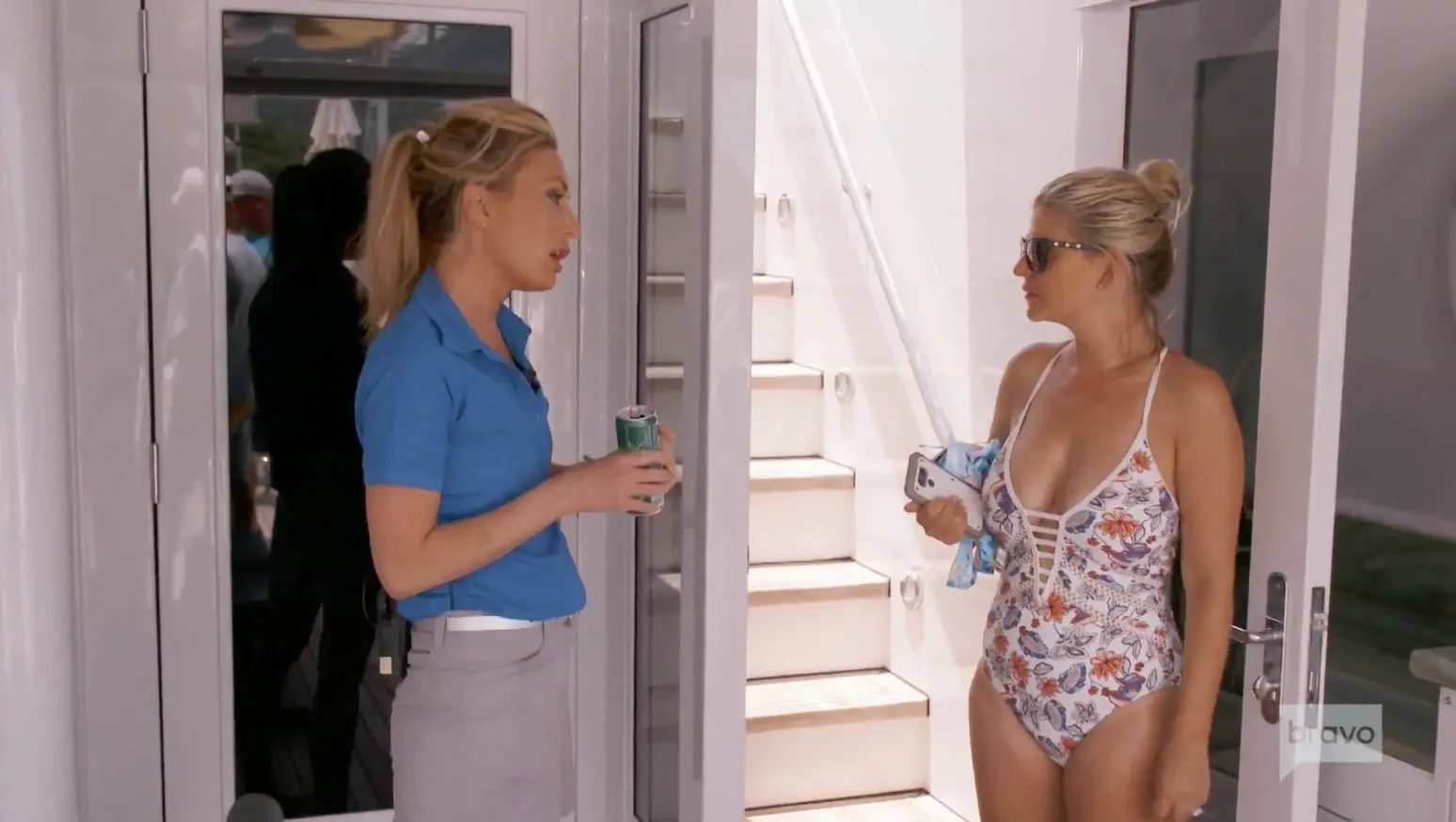 Then Chandler elects not to go on the excursion because he doesn't want to deal with Rhylee. "Chandler should go," advises Ashton, "there's so much that could go wrong and he's the bosun." Famous last words by Bravo which Chandler should inscribe on his tombstone.
Of course the much-needed dry bags never made it OFF the tender due to the stress of the crew trying to figure out the plan while not being able to get ahold of Chandler. Who is taking a coffee break! That means the guests were stranded with no water or towels and forced to eat raw stingrays for provisions while everyone tracks down Chandler. Albert, the primary, finally locates a cell signal after swimming into shark-infested waters, then stepping on small stones to a neighboring island so he can call Kate to beg for water and help. I have never seen Captain Lee out of a chair so fast as when he got Kate's radio call stating that the guests needed picked up immediately because they're dying of dehydration. Let's just say he was levitating with rage.
"We f–ked up big time," sighs Ross, who has no idea where the breakdown happened. Meanwhile Kate decides to fix things the best way she knows how: by making a rescue cocktail (featuring gold!) to be ready upon the guest's return. Captain Lee is also waiting – to offer heartfelt apologies. And Caroline is loitering, awkwardly, trying surreptitiously to watch the shit-storm that's about to go down! Girl – I feel you, but probably shouldn't have let your boss see you especially when tensions are already so high.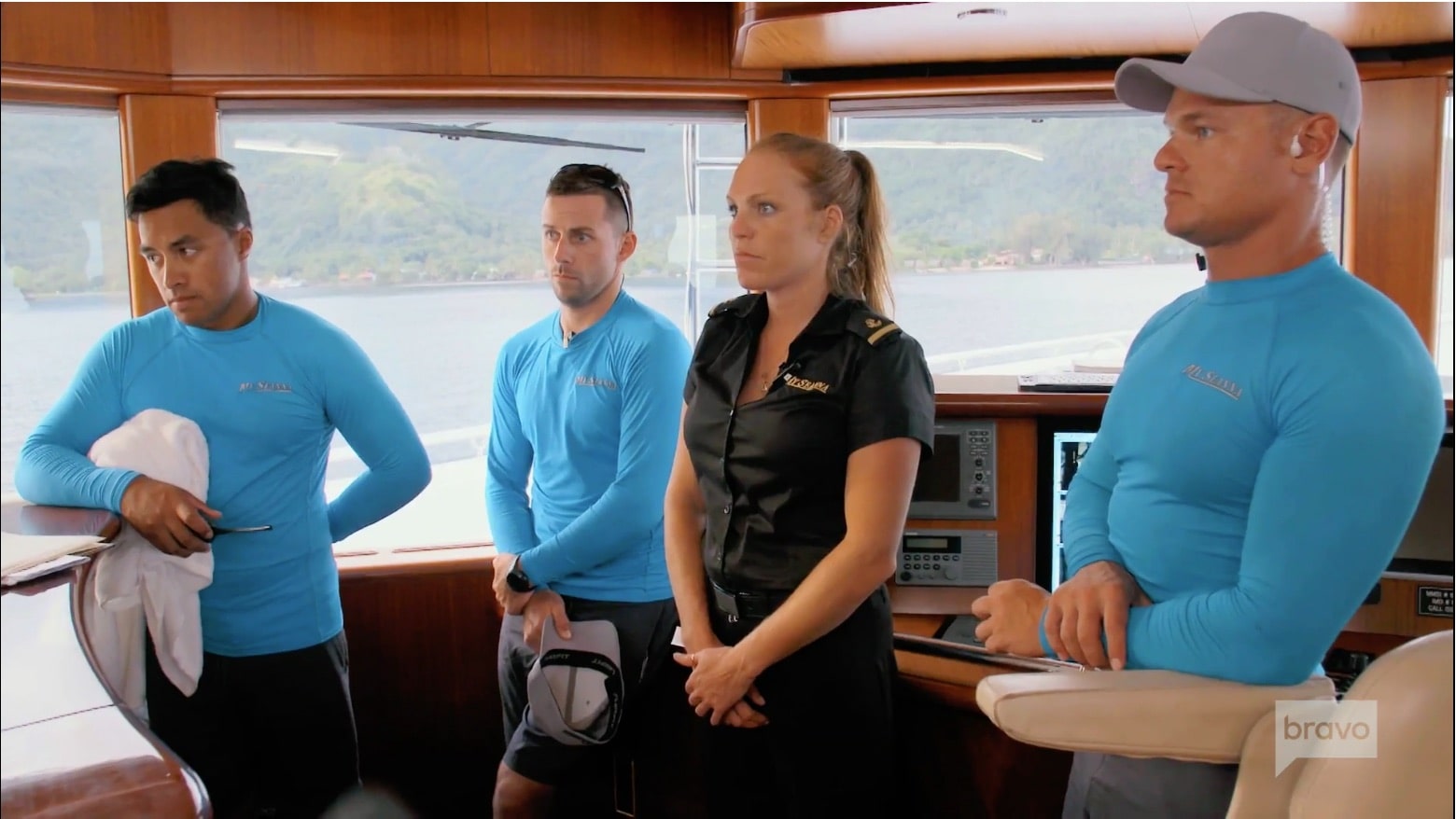 Kate is gleeful about the impending trouble. She covers it by sucking up to Lee and being extra sweet while pretending to be busy around the captain's quarters. Chandler predicts, "I feel like I should start packing my bag or running away." Captain Lee promises,"I will make some changes and not all of you will be happy."
These poor guests seem like perfectly nice people just hoping to have a nice vacation, despite their million food issues, yet here they are being victimized not by sharks, but by an out of control crew! NO TIP FOR YOU! I do want that cucumber champagne mojito though.
TELL US – WHICH BELOW DECK CAST MEMBER NEEDS TO BE FIRED: CHANDLER, CAROLINE, OR RHYLEE?
[Photo Credits: Bravo]