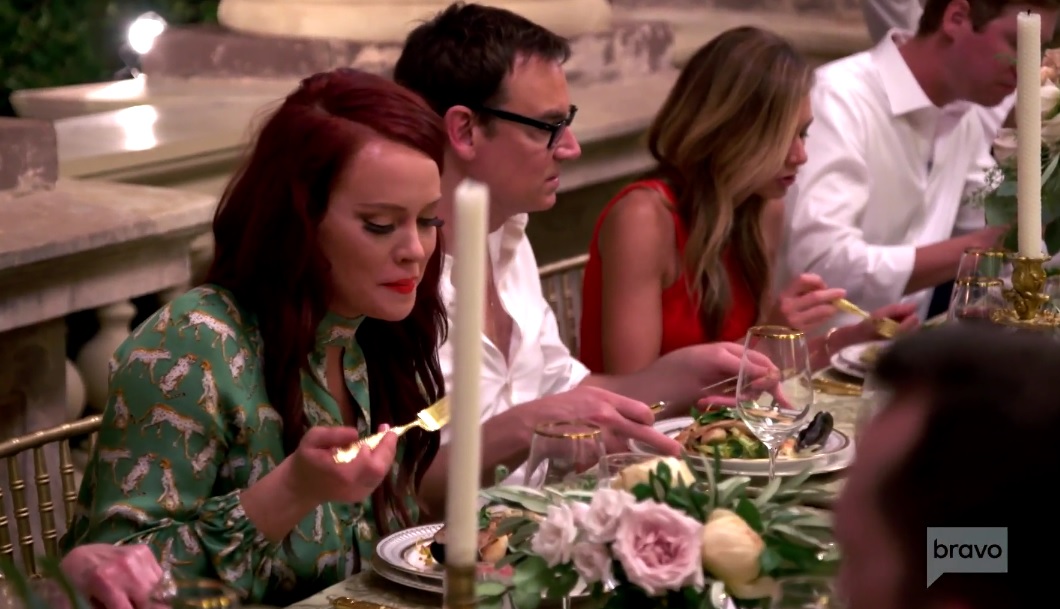 He's got money, he's in magazines….the tabloids! Last night, Southern Charm made it's much anticipated return with one missing piece, one Mr. Thomas Ravenel, who is sitting out this round due to several alleged sexual assault accusations. We do get our OG Charmers–Cameran Eubanks, Kathryn Dennis, Shep Rose, and Craig Conover. To say I cannot wait for this season to unfold would be an understatement!
The format remains the same…we follow the Charmers through their morning routines. The only difference is this group of noon sleepers are all actually early-rising adults. One by one, they recap their thoughts on the allegations against T-Rav and his subsequent arrest. Kathryn talks to Danni Baird and Craig. Shep admits to Austen Kroll that he's yet to check in on the mother of two. Chelsea Meissner and Naomie Olindo (added to the credits this season, congrats!) joke about whether what's her name will stay with Thomas if he goes to jail. Cameran is wisely pleading the fifth. She doesn't want to risk a lawsuit from the Litigious Lothario.
Patricia Altschul dials butler Michael from her boudoir to request a martini. Mama needs her medicine. Mr. Belvedere makes a rookie mistake of delivering her cocktail sans silver tray. Wow, Michael. I would not have expected this kind of sub-par butlering from you. Even with his meager excuse that all the trays are being polished, Patricia gives him a deserving evil eye before tasking him to plan a dinner party. He's ready to atone for the nasty tray mishap and is ready to invite the old gang for a delightful evening. Tsk, tsk, Michael. The social landscape has changed, and Thomas is not this roster. Kathryn does make the list as she's recently found herself on Patricia's good side. Pat is quick to admit that she may have only based her opinion of Kathryn on Thomas' skewed narrative.
Kathryn heads to Danni's to dish on her recent run-in with Thomas at Saint's doctor's appointment. He acted nonchalantly, and Kathryn is peeved that Ashley-what's her name-Jacobs keeps posting pictures of herself with Kathryn's kids since getting back with T-Rav. The girls walk down memory lane regarding Kathryn's early relationship with Thomas. Such simpler times…for him! She's on the winning side now!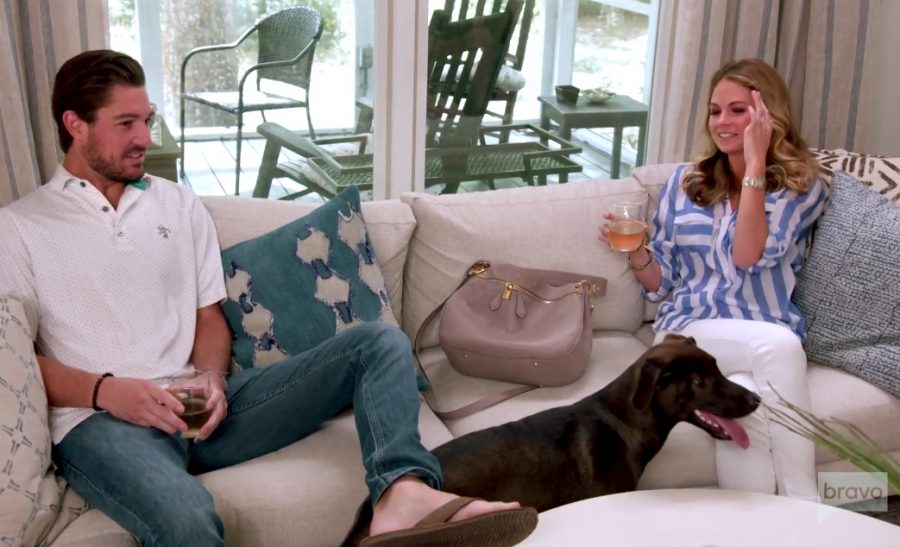 After dropping baby Palmer off at daycare, Cameran chats with Shep on her way to visit Craig. She admits she hasn't hung out with Craig since last season when she was contractually obligated he returned from an escapade in the Bahamas. Shep reminisces about his visit with Craig in the islands before she pulls up to his house. Craig and his new dog Bethany meet Cameran at the door. She's astounded by his new pooch, facial hair, and fully renovated and decorated home. Our Craig, he's all grown up!
He pours the pair some wine. Cameran shares that it is hard to prioritize her real estate career now that she's a mom. Cameran raves about Craig's newfound swagger. If she was single, he may just be her type! Craig has been getting his groove back in the Bahamas after calling it quits with Naomie. He has a new lease on life. He speared fish, macheted coconuts, and learned how to open Corona's that didn't have twist tops. It was quite the experience.
Across town, Naomie is working out with her new nose boyfriend Metul Shah. She is a smitten kitten with this anesthesiologist resident. Naomie is bummed that her hot doctor beau can't accompany her to Patricia's dinner party, but she appreciates his drive. He's the anti-Craig…saving lives instead of sewing pillows.
Back at Craig's, Cameran questions if he's seen Naomie since pulling his personal Stella moment. He admits that they have been in minimal contact. He thinks she is more upset about their break-up than she lets on to others. In other news, Cameran may need some medicinal marijuana to calm her in light of her crazy new life.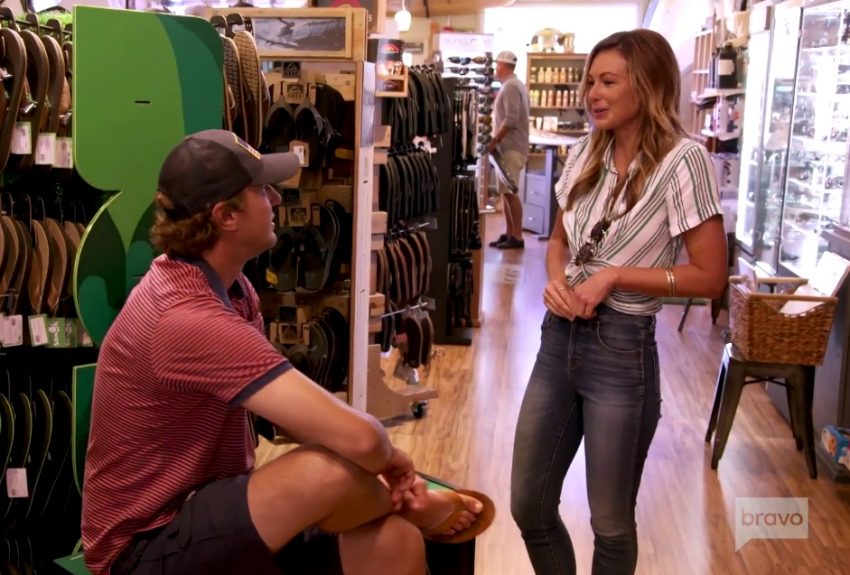 On Folly Beach, Chelsea is shopping for a new surfboard. Shep meets her to critique the merchandise and catch up on her recent renovation. It's kept Chelsea from socializing, but she's got a very strong pinpoint on her financial situation, which is refreshing. Shep fills her on Austen's relationship status. He's dating a single mom named Madison Lecroy. We're treated to Austen having coffee with his new paramour. He's head over heels as they discuss their weekly schedule. Austen shares that the couple is invited to Pat's dinner party.
Apparently, his new flavor is tight with Patricia and not a fan of Shep. At the surf shop, Shep asks Chelsea is she's privy to Austen's cheater tendencies. Chelsea reveals that she may have seen the social media video footage of his new gal walking in on a threesome in progress in which Austen stars. There is nothing better than thirsty girls filming the aftermath of a threesome with a reality star. Shep counters that Austen's lady isn't totally innocent. She's Shepped stepped out as well. Austen defends Shep's loyalty to his unwitting audience.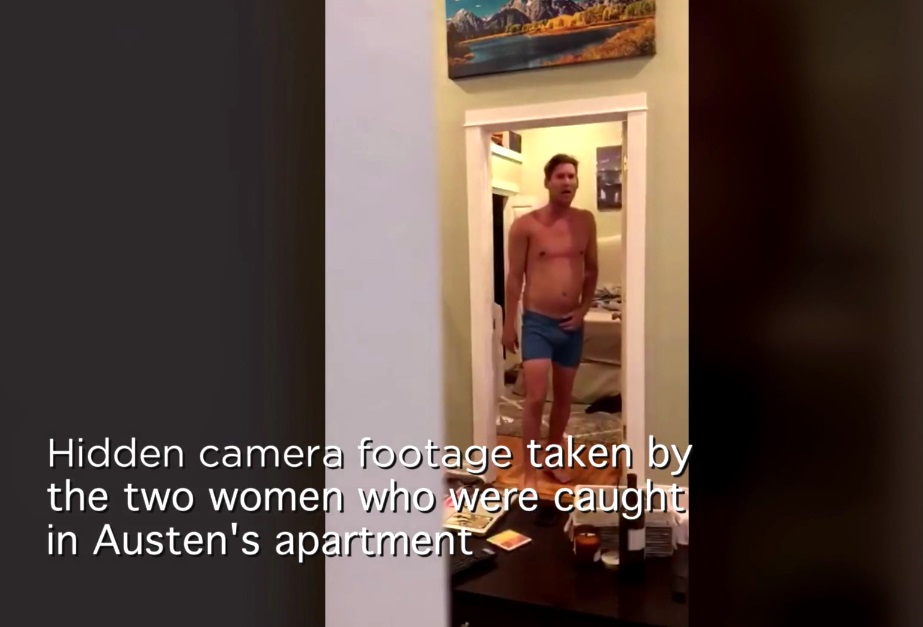 Patricia's dinner party prep is in full swing when we get our first glimpse of a globe-trotting Whitney Sudler-Smith. Getting ready for the event, Kathryn tells Danni that the last time she was at Pat's house was the first time the Bravo viewers ever met her…as the twenty-year-old who may have hooked up with Pat's son before being introduced to Thomas. The crew arrives and gets reacquainted over champs and hushpuppies okra beignets.
Craig shows up with a new girl and a pillow for his hostess. I would expect nothing less. Naomie pretends it doesn't bother her. Patricia disposes of the Stein Mart poison as Whitney struts in his Sherlock Holmes three-piece suit. Craig is convinced Naomie is still distraught over their break-up but putting on a brave face.
Shep shows up with a date who is biffles with T-Rav and she who won't be named. The tension can be cut with one of the extremely expensive knives that Patricia owns but has never touched. Austen's date fumes at the idea of having to share air with Shep. Shep's date goes on and on about polo and how Thomas is her family.
Also, she knows how crippled elderly folks feel after having sore muscles from horse-back riding. She won't be deterred though…she's young and hot and just graduated college a year ago. This girl is fabulous because she refuses to read her audience. She sings the praises of T-Rav and who's-ash-what's-it in the presence of Dame Altshcul. Silly girl.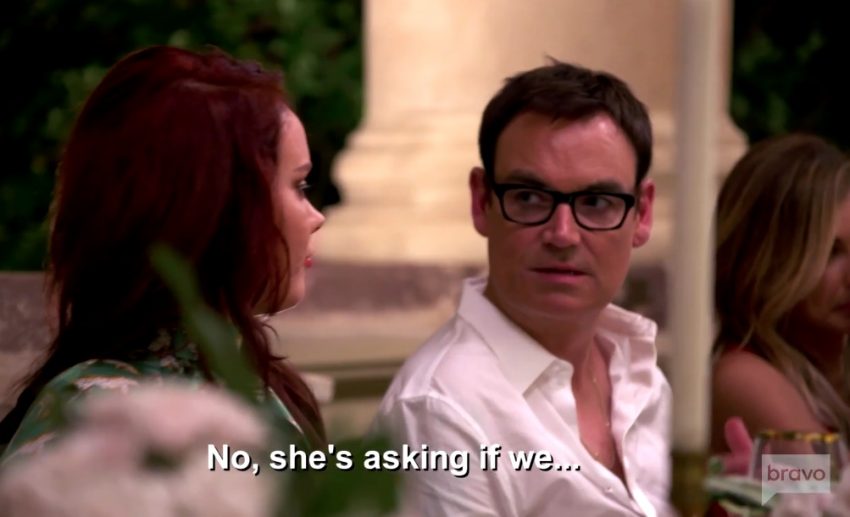 The group convenes with whisperings about that one time Kathryn hooked up with Whitney. As Danni stresses over flatware, Chelsea digs in with Whitney about a rumor that he's recently slept with Kathryn. He ducks and dodges before detailing her questions to Kathryn, who seems a tad worried. Cameran's sweet date does an amazing job at changing the subject before Shep's date needles Kathryn about her kids and how cute they were when she last saw them….presumably with That Girl who is with Thomas.
When Kathryn bristles, Shep's date (I won't learn her name) innocently engages Cameran to see what she did wrong. Cam doesn't mince words. Back off…no one is buying what you're selling, recent college grad.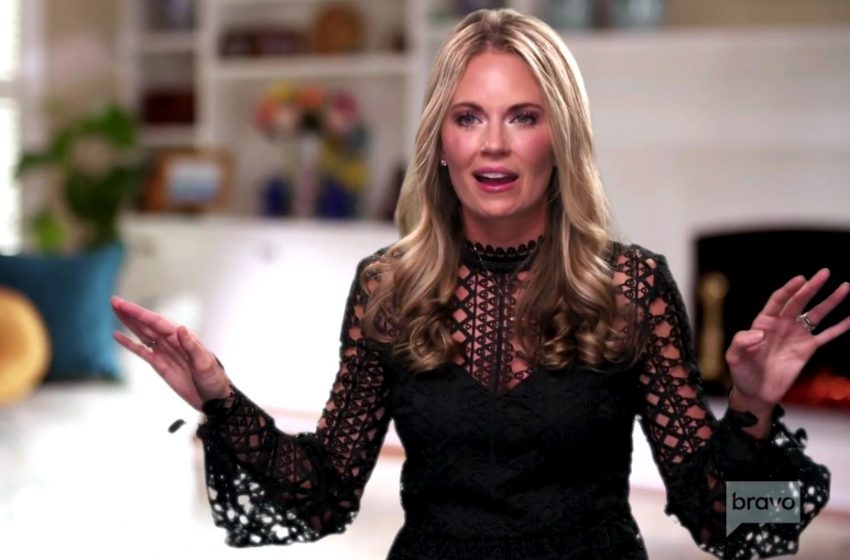 The dinner party chatter turns to Shep's sperm count. There is no way he's bedded a million ladies without impregnating at least one of them. His date offers up Shep's swimmers with Kathryn as a surrogate since she's so fertile. Her attempt at humor falls very flat. Shep shimmies over to Danni to explain that he doesn't really know this girl, but he offered to come with her since they were both invited to the same event.
Danni is floored because this chick made the guest list. Retiring to the parlor, Shep and Cam unsuccessfully try to explain to college grad why her comments are offensive to Kathryn. On the other side of the mansion, the rest of the Charmers are supporting Kathryn in her disdain for college grad. Against Shep's advice, college grad pulls Kathryn aside for a half-assed apology because she wants to stay on this show. Kathryn is beautifully dismissive. You go girl. Veteran Charmer-one, random recent college grad-negative fourteen.
WHAT DID YOU THINK OF LAST NIGHT'S PREMIERE? ARE THE NEWCOMERS GOING TO OVERSHADOW THE VETERANS WHICH SEEMS TO BE THE PLAN?
[Photo Credit: Bravo]