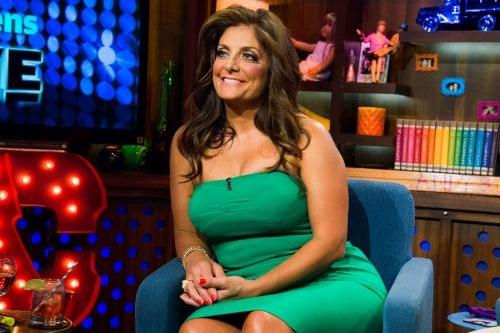 Real Housewives of New Jersey star, Teresa Guidice does not mince words. She clearly meant it when she said she wanted to "cut the cancer out" of her life. If you need a refresher, Teresa sat down with her cousins, Kathy Wakile and Rosie Peirri, at an empty restaurant during Season 7 of RHONJ to tell them she was done with having any sort of relationship. The moment was hard to watch, considering these weren't fabricated friendships, but actual fam-bly (trademark Caroline Manzo) members.
I always thought Rosie should have been the full-time cast member because Kathy was way too normal for the show. Regardless, I enjoyed watching Kathy play peacemaker and make cannoli kits. Kathy came on RHONJ in a full-time capacity during Season 3. Things went as well as they could when you're related to Teresa, until the Season 4 reunion. At the reunion, the cousins threw around awful remarks about each other's parents. From there, Kathy was downgraded to "Friend of the Housewives." Soon after Teresa accused her of not reaching out during her time in jail and officially "cut the cancer out."
In her time since RHONJ, Kathy has kept quite busy, but she's still answering questions about her relationship with Teresa. In an exclusive interview with Hollywood Life, Kathy shared that she still has no relationship with her cousin. "No," Kathy responded to Hollywood Life asking if her time off the show enabled her to mend fences with Teresa. "She made her position quite clear," Kathy said. "I've made my position quite clear, that I'd try and, my life is very full, and so I'm not going to waste my time with trying to make something work that isn't going to work," she continued.
Kathy and her husband Rich Wakile also have a strained relationship with Joe Guidice. "My husband has spoken to Joe a while back, but lately, no," Kathy shared. Hollywood Life also asked Kathy how she thought Teresa was doing while Joe sits in ICE awaiting his deportation appeal.
Kathy responded with, "I really couldn't speculate." She continued, "It seems to me she's doing… Seems to be doing fine. Whatever you see out there is what I see. I don't check in. That chapter seems like it's closed, and I'm doing other things. My children and my husband and my family keeps me pretty busy, so I keep concentrating on that." Good for her, she can focus on her cannoli kits.
Kathy did get to share with Hollywood Life that she's teaching classes in Memphis, Tennessee at Remington College. The class starts on October 17. It will focus on decorating for Halloween and is open to the public, in addition to students. This actually sounds like a fun class. If you're in the area – check it out!
RHONJ has been a difficult show for me to watch given all of the family drama. Can't believe I'm saying this, but for a while it seemed to get too real for reality TV because of the women's ties. This past season however was the best in a long time because they brought women on who are not a part of the Guidice clan. Excited for Season 10!
TELL US- ARE YOU LOOKING FORWARD TO SEASON 10 OF RHONJ? DO YOU MISS KATHY AND ROSIE? IS THE FAMILY DRAMA TOO MUCH FOR YOU?
[Photo Credit: Charles Sykes/Bravo]