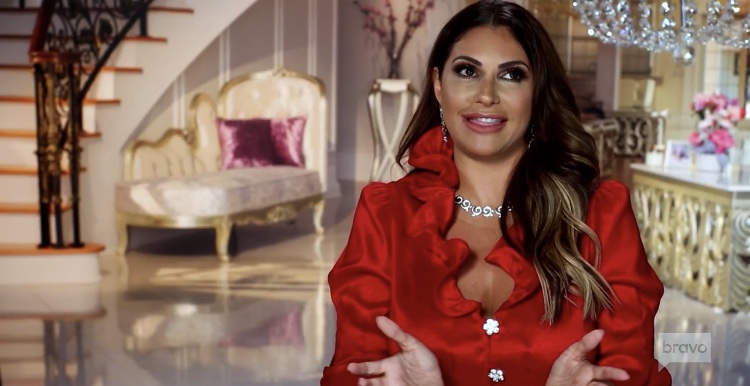 You know when Housewives are introduced but they don't win over viewers? Sometimes we have the fortunate occasion when new wives come into the fold and stir things up a bit. Jennifer Aydin and Jackie Goldschneider were added to Real Housewives of New Jersey last season and they were far from boring. While Jackie was team anyone but Teresa Giudice, Jennifer found herself aligned with the veteran.
Sucking up being friends with a felon the main OG has it's benefits. It provides a layer of protection and guaranteed screen time. Last year, we saw a relationship bloom between Teresa and Jennifer. Now in her second season, Jennifer says some friendships have taken a turn for the worse. With reports of feuds and handbags on fire, RHONJ is getting dirty. According to Jennifer, purses aren't the only thing lit this season. Apparently pre-zen Teresa is back, and her temper is hotter than ever.
Jennifer says the current season is crazy and the "old" Teresa has come back to haunt us. In an interview with HollywoodLife, Jennifer said, "Basically, it's a crazy season." She mentioned how she is more "vocal" about her opinions this time around. "You know, I know like people have such a crazy perception of this whole franchise. But let me tell you something, this s**t was real and it hit the fan and I got goose bumps," Jennifer explained.
The drama must be intense, as she claimed "everyone is going to get goose bumps" because of "what happened so organically and unexpected[ly]." The only thing that would surprise anyone as much as Teresa's old attitude returning is if Danielle Staubs's old face returned too.
Jennifer said Teresa is not playing this season. "You're going to see the old Teresa back, because she lost it." Okay, so just now Teresa is losing it? Not when she threatened Jackie with a box of Kleenex on the reunion? Not when she manhandled a chair in front of Kim DePaola? Is another innocent table about to be collateral damage in a classic Teresa temper tantrum?
Jennifer shared, "[Teresa] was very valid in doing so, so you guys are going to have to watch and see what the explosives are all about, because it's explosive." I hope not too explosive because, probation.
Teresa's fuse might be easily sparked due to her new boyfriend husband, currently being held in ICE custody.
"[Teresa's] doing as well as to be expected, given her situation," Jennifer shared. "I mean, she doesn't like to talk about it too much only because she's not supposed to and she doesn't want to jinx anything, so I'm just kind of letting her be her and, honestly, she's been down at the shore. I've been extremely busy trying to plan my brother's wedding from here and help my mother move into her new house. I haven't had a chance to communicate with her as much as I would like."
Talking about it might also lead to questions regarding the very young man Teresa is definitely not dating.
Sounds like we are in for a whirlwind of a ride when the Teresa Show RHONJ comes back. Jennifer goes after Melissa! Expensive purses are in danger! Relationships are trashed! I can't wait to see what new levels of crazy drama are reached this season.
TELL US- ARE YOU LOOKING FORWARD TO THE NEW SEASON? ARE YOU SURPRISED TERESA'S TEMPER HAS RETURNED? DO YOU LIKE JENNIFER ON THE SHOW?
[Photo Credit: Bravo]