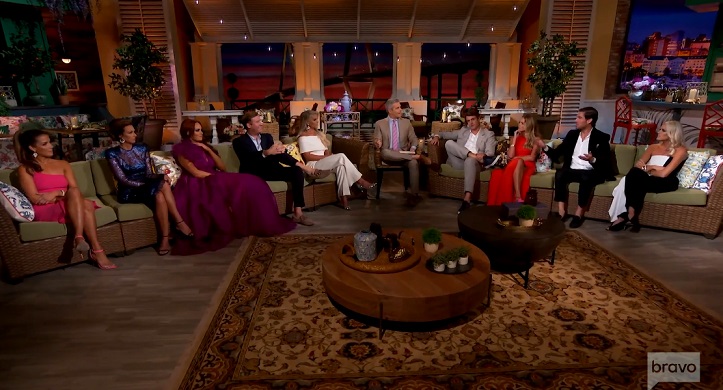 Our summer with the folks of Southern Charm has come to a bittersweet end. Sweet because it's over, and bitter because the story line centered around a withering bromance and toxic romance of an Austen Kroll triangle. The wayward beer enthusiast spent the season entangled in a twisted web, pulled between his snobby, elitist wing man and shrill, roid-raging girlfriend. It wasn't the stuff of Bravo dreams…that's for sure!
Andy Cohen welcomes Danni Baird to the sofa before Austen continues to lecture Kathryn Dennis about her admittedly odd Watch What Happens Live appearance. Naomie Olindo interjects to state that a friend of hers witnessed Kathryn drinking before her evening in the clubhouse. Cameran Eubanks had the same snitch friend texting her this intel as well. Kathryn maintains that she didn't have a sip of alcohol before WWHL, and she'd admit it if she did.
In fact, Kathryn has already shared that she is back to drinking in moderation…whatever that means. Craig Conover reveals that often times the cast has lied about seeing Kathryn drink because they didn't think she was allowed to drink. Shep Rose agrees that they have all defended Kathryn's reputation more than she knows.
Reliving the girls' trip to the tree houses turns into a discussion about Kathryn's inability to communicate and be held accountable for her actions. Andy points out how defensive Kathryn is to having friends show legitimate concern for her well-being, but she argues that Thomas is going to use these very conversations against her in court. Danni admits to being frustrated by Kathryn, but she still defends her to the others who needle her about not responding to texts. Naomie expects only the bare minimum in terms of friendship from Kathryn, but she's not getting it…perhaps because she seems to only align herself with Kathryn when it serves her.
Danni isn't too keen on Kathryn's new gal pal Madison LeCroy, but Kathryn counters that Danni said she was fine with her being acquaintances with Madison. They have kids the same age, and she only sees Madison at the occasional play date. Austen's head almost explodes. Madison supervised her kids several times! Danni explains to Austen that Kathryn has to Thomas Ravanel approved supervisors for visitation, but she's still hurt by the level of Kathryn's friendship with Madison.
After all, Madison has been downright nasty to Danni who is the only real person on this show! Naomie wonders if Madison is leveraging her friendship with Kathryn to further piss off Danni. Austen defends his on-again-off-again lady, conceding that she is manipulative, but not THAT manipulative. Kathryn doesn't consider her a bestie…they are just mom friends.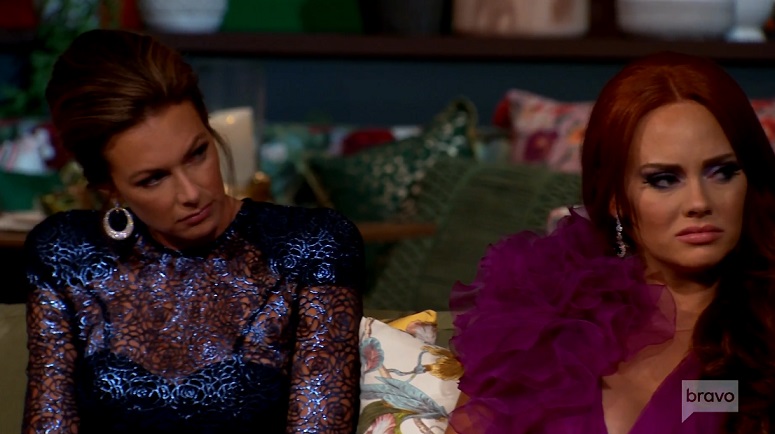 I'd completely forgotten about Recent College Grad, but her is poor Eliza Limehouse sitting on the sofa. She's immediately in tears talking about her father's previous affair and her awkward social misgivings at Patricia Altschul's initial dinner party. Eliza is also taken to task for continuing to bring Ashley Jacobs into the fray. She still talks to Ashley once every blue moon, and her family is still tight with T-Rav. And just as quickly as she was acknowledged, RCG's time is "lime"light is quick.
Andy turns the focus to Chelsea Meissner's long-distance relationship and her father's concern about her love life. Chelsea then has to defend her work ethic to Austen, Shep, and Craig who think she doesn't need to work. Austen is then forced to explain texting mean things about Chelsea to Madison…which Madison then sent straight to Chelsea.
It's a upside down world where Madison's pot stirring gets more sofa time than the girl who hosted all the plantation parties. She and Austen describe their relationship as complicated or friends with benefits, and Madison boasts that they were together the night before. Austen swears up and down that he didn't hook up with one of the women from his cell phone threesome, but he doesn't remember much of the night.
Andy tries to help him out, asserting that Austen probably couldn't perform if he was so wasted. Austen, still maintaining that he has no memory of the night but knows he didn't hook-up with either girl, takes offense to this notion. Madison overshares that she's had sex with Austen plenty of times when he was blackout drunk.
Plus, one of the video girls point blank told her that she slept with Austen which is what prompted Madison to pursue her revenge sex. Madison wishes the cast would stay out of their relationship, but Chelsea reminds her that they involve the cast in their relationship. Craig is just tired of Austen calling him crying whenever Madison tries to make him jealous on social media.
The back-and-forth turns to Madison's friend DMing Danni's boyfriend on Instagram. Madison blames everyone for tattling that information back to Austen, but Craig retorts that there would be nothing to tell if she hadn't been trolling guys who weren't her boyfriend on Instagram. Danni didn't tell Craig that she'd seen the DM in hopes of igniting a shiz show in this dysfunctional pairing, but Madison is extremely aggressive and dismissive towards her.
Craig announces that the only person responsible for the fallout of DMing another guy is the person who actually DMed the other guy! Danni admits it was a mistake to share with Craig, but she sincerely tried to mitigate the fallout. Chelsea and Cameran completely agree, but Madison won't hear it. When Danni starts crying, Madison demands to know what she's ever done to upset Danni. Is this girl serious?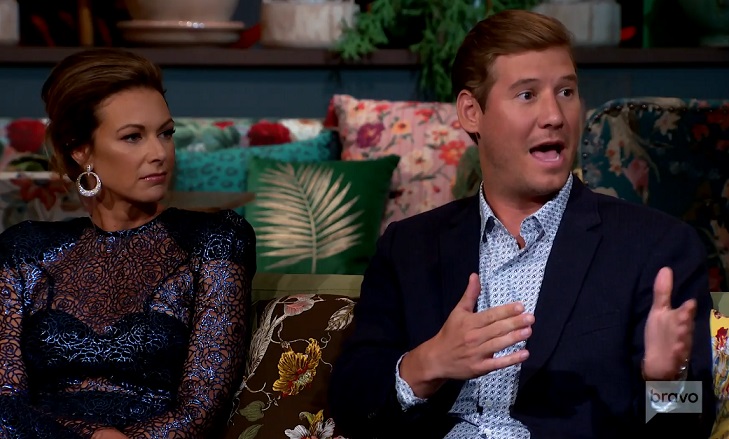 "White-trash-gate" is revisited. Shep tries to distinguish between "country" and "rednecks" and Cameran suggests just saying "trash" instead of "white trash". Kathryn tearily reminds Shep that he called her the same at Craig's pillow party, and he stands behind his statement. She was acting trashy. Good gracious, this guy just needs to admit when he's wrong and give a sincere apology.
Instead, he waxes poetic about being raised well and is unapologetic about being an elitist. Recapping the trip to Colorado, Chelsea exclaims she was mortified by her "vagina" comment to Craig, and Austen defends his weed dinner in light of Kathryn's issue with marijuana. Austen teeters between apologizing to Kathryn and calling her complaint a BS ploy for attention.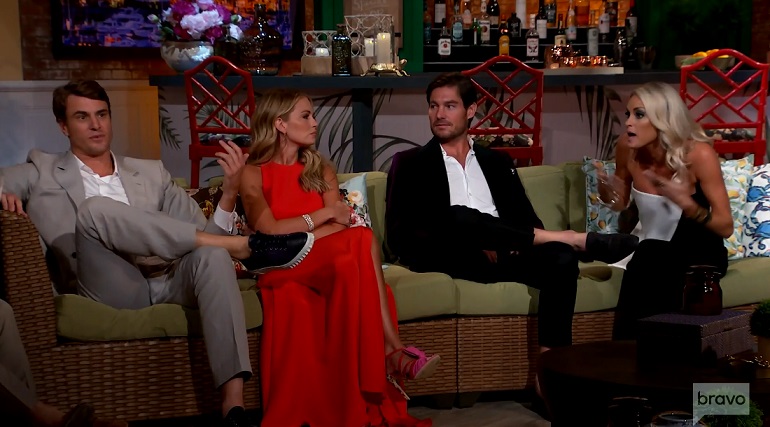 Tabling that debate, Andy turns to Madison's accusation that Shep gave Danni the clap. Even though Madison's beef was with Shep, she brought Danni into the ugliness in order to get back at her for her part in the DM madness. Madison blames blind rage on her outburst…she should have never shared what Austen told her in confidence. When questioned point blank if he made up the rumor, Austen says he misconstrued a late night conversation with Shep.
Of course, the cameras are ever present, and Bravo cuts to Austen prepping for the reunion. He cockily promises he won't back down to Danni's question and will state that Shep told him about giving Danni the STD point blank. Shep also deems the allegation a bout of confusion in a drunken conversation, but he's not nearly as defensive as Danni. Girlfriend brought her medical records…does she think this is a Housewives reunion?
Andy is confused. The clap is no more of a big deal than the flu these days, so why does Danni even care. "It's the STIGMA!!" the girls cry, talking over one another. Austen and Madison sit stone faced.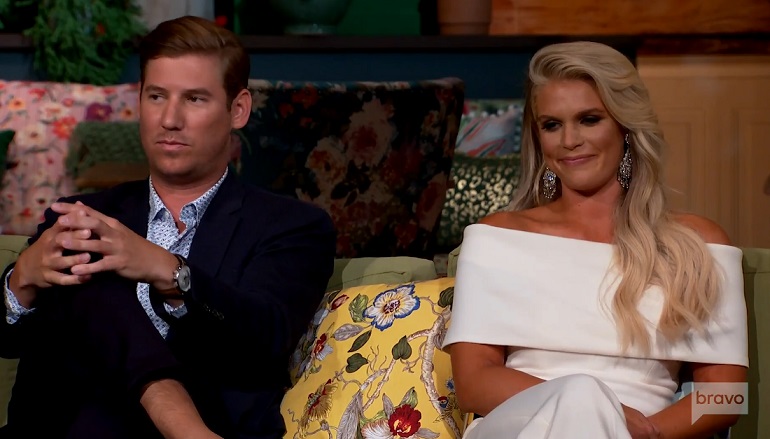 With the exception of Madison and Austen, no one seems to find any problem with Shep bringing the threesome girls to Pat's party. They found it funny. Andy believes that Shep's behavior flies in the face of his self-proclaimed manners and pedigree. Shep doesn't disagree, but it was a great joke. Andy wonders if Austen and Madison are feeling amorous after the stresses of the reunion. Um no.
Andy dismisses Madison and Danni before closing out the long reunion with the main players. Because she's a class act, Danni still gives Madison the opportunity for an apology. Andy toasts the charmers with some closing remarks and a stiff martini. Y'all, I have loved this show for every second, but damn. Shark. Jumped.
TELL US – WHAT DID YOU THINK OF THE REUNION FINALE? WHO IS THE MOST IRRITATING CHARMER? 
[Photo Credit: Bravo]