YASSSSSSSSSSSSSSSSSSSSSSSSSSS! Married to Medicine is BACK with a vengeance! This season, the drama has stayed the same, but friendships have definitely changed. On the season premiere, the tension has risen to a whole new level. Boundaries have been crossed and new alliances have been formed. The beefs are no longer one on one. There are so many fractures in this group, they are on life support.
Simone Whitmore is livid about Heavenly Kimes beefing with Cecil Whitmore via Twitter. Simone is also at odds with Quad Webb-Lunceford. Mariah Huq is upset with Jackie Walters for repeating the accusations about her using drugs. Contessa Metcalfe and Toya Bush-Harris still can't get past their issues. I don't know about you, but I am here for ALL of the messy drama. Someone might even get hit over the head with a purse again this year. Let's get straight to Married to Medicine the recap!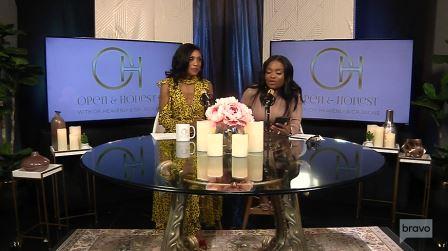 Heavenly and Jackie are doing a podcast called Open & Honest. All of the women have tuned in to hear what they have to say. Jackie says some secrets should be taken to the grave no matter what happens. She asks Heavenly if Quad should have disclosed that Mariah did drugs. Heavenly admits Quad shouldn't have said that. Do they not realize that comment alone is going to cause Mariah to go into a tailspin? Let the games begin!
They then discuss husbands being shady on social media. Apparently, Heavenly feels like Cecil shaded her on Twitter. He repeated a joke Mariah made about Heavenly needing to pressure wash her house. That is when Heavenly went out the door and Hellishly took over her body. She went on a Twitter tirade discussing Cecil's lack of a job and Simone's personal business.
Simone thinks when Heavenly detects shade, she goes down to the gutter. Facts! I think Heavenly has taken residence in the gutter, with the way she acts most of the time.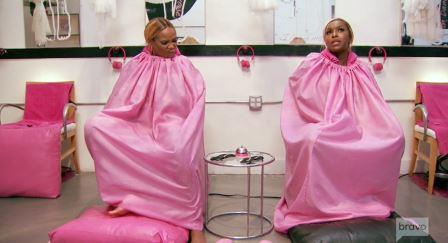 Heavenly takes Quad to a Vaginal Hydro Therapy center.  Now that Quad and Greg Lunceford are nearly finished with their divorce, she wants Quad to expel him from her vagina.
Meanwhile, Mariah goes to dinner with Toya and Simone. The recent podcast and its messy hosts are discussed. Mariah is angry and she feels Jackie cosigned a confirmation that she did drugs by asking those questions.  Jackie, girl, you are in danger!  In Mariah's opinion, Jackie is no different from Heavenly and Quad. I can understand why Mariah is offended, but I am not sure Jackie intended to shade her. But it is a strong possibility considering these two have had their issues for quite a while.
As for Quad, she stands by the accusations she made about Mariah using drugs. She isn't taking back anything because they are no longer friends. Simone and Quad now have an almost nonexistent friendship. Heavenly is planning an event to celebrate Damon Kimes opening his surgery center. Apparently, he has been working for years behind-the-scenes on his new endeavor.  Despite all the drama, Heavenly is inviting all of the Married to Medicine women and hoping everyone can be cordial. Good luck with that!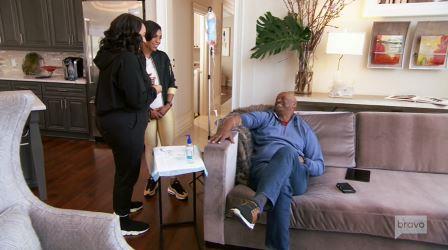 Jackie invites a nurse over to check on Curtis Berry. He suffered from food poisoning thanks to some under-cooked chicken wings. I hope Jackie didn't make them. We all know she can't cook. There have been some new changes in their life. They moved into a new home. The plan is to completely gut this beautiful home and rebuild it. Jackie and Curtis seem to be in a much better place. Let's just hope Curtis doesn't begin to feel lonely again and repeat previous indiscretions. I don't think Jackie will be as forgiving a second time.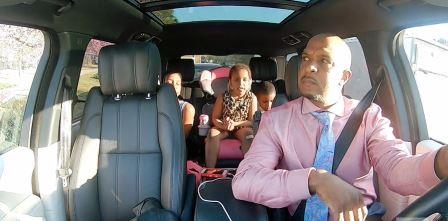 Contessa has gone all the way to Tennessee to study Public Health. She hopes to become Surgeon General one day. Scott Metcalfe is overwhelmed taking care of the family alone while trying to support his wife. Now how did Contessa go from having guilt from working in the same city to leaving the state entirely? I am not saying she shouldn't pursue her goals, but it makes one wonder if she was just faking for a storyline. Contessa now only sees her family a few days a week.
What a difference some years can make. Toya and Eugene Harris take the kids to see their new house.  Toya has outdone herself customizing the house. She focused on getting everything she placed on her vision board. By the looks of things, she got it! That house is going to be amazing. I think by the time it's completely finished, it may be one to rival with the Real Housewives' homes. Let's hope they won't find themselves in trouble with the IRS again.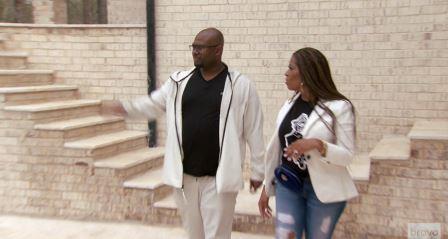 Cecil and Simone are back living under one roof. The couple goes out to eat with their two sons. Cecil was laid off last year, but he started a new career in real estate. Now that Cecil has more free time, he's been also acting as Simone's part-time "Executive Assistant." I can see Heavenly taking notes on this for the reunion.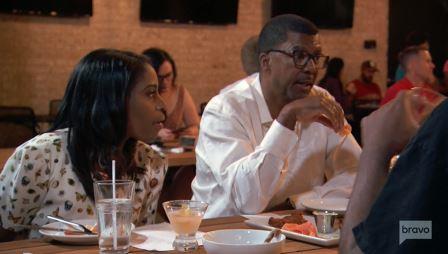 It's the day of Damon's Surgical Center reveal party. Something tells me this is going to get messy! Several of the ladies have beefs and haven't talked to one another in quite some time. On the way there, Simone fills in new cast member, Buffie Purselle on the other ladies. Simone blocked Heavenly after her Twitter beef with Cecil. I'm surprised she only blocked her, after some of the comments she made. Given Simone hasn't seen Contessa, Quad, or Heavenly since the reunion, this should be interesting.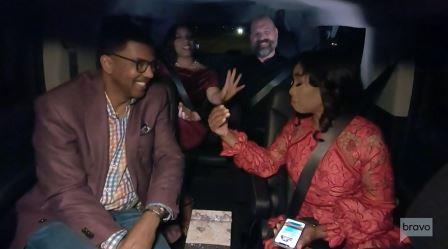 Mariah arrives with her sister, Lake, and Aydin Huq. Heavenly thinks Mariah brought Lake to be passive-aggressive. Quad was accused of sleeping with her husband. Obviously, Mariah needed one last dig after the drug comments. When Simone arrives, Cecil and Heavenly have a very awkward exchange. Things get even pettier when Quad sees Simone. They don't even speak to one another. Well, there goes any hope of a civil gathering. At least these ladies can't be accused of being fake. They will hold on to a grudge for dear life.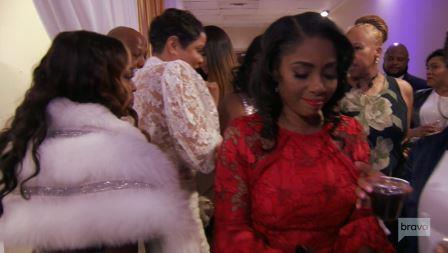 Damon gives everyone a tour of the new facility. Eugene reveals that Damon was the first person to give him a job when he moved to Atlanta. All of the women gather together to sit and talk.  You can literally cut the tension with a knife. It doesn't take long for Jackie to bring up the podcast. Mariah tells Jackie she's glad she knows who she really is as a person, after comments on the podcasts. Jackie feels she only repeated what was already said.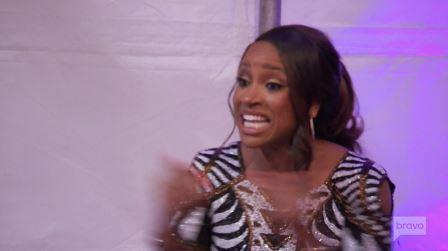 Simone brings up her beef with Heavenly. When Heavenly claims it was "b!tch sh!t" for Cecil to tweet about her. Contessa interjects that if the husbands are going to get involved that she can call them b!tches. Mariah reminds Contessa that her husband, Scott, has gotten involved in the ladies issues before. Toya agrees and adds that Eugene would never do that. Contessa gets angry and says that Eugene is "literally the definition of a big a$$ b!tch." I literally just died laughing at that comment.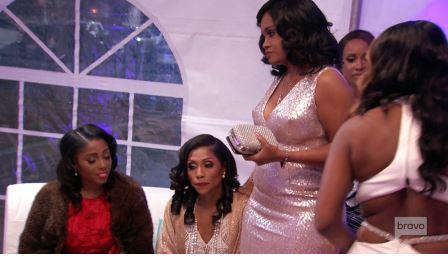 Quad attempts to be the voice of reason as she tries to calm Contessa down. Contessa shouts that Toya must be unhappy with Eugene to always talk about her husband. Toya remains calm. She wants to sit back and let Contessa show her true colors. Well, it's working because Contessa becomes unhinged if you mention her husband or family. I suspect everything that glitters isn't gold in that household. The ladies then report back to the men that they are being called b!tches. Of course, none of them care and laugh it off considering the source.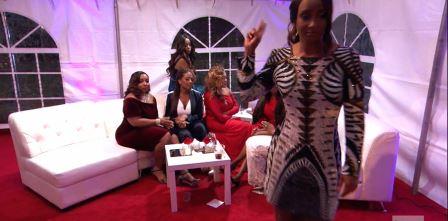 The night ends early for many, but the season is just getting started. Baby, this season of Married to Medicine is shaping up to be downright explosive. I am here for all of the petty drama. The ladies have drawn lines in the sand. It's apparent there are now two separate cliques among the group. I wonder who will win the battle because war has already begun!
TELL US – WHAT DO YOU THINK ABOUT THE NEW ALLIANCES? DO YOU THINK JACKIE PURPOSELY SHADED MARIAH? SHOULD MEN GET INVOLVED IN WOMEN'S BEEFS? WAS CECIL OR HEAVENLY WRONG FOR THEIR TWEETS?
[Photo Credit: Bravo]