The aftermath of Jennifer Aydin's meltdown on The Real Housewives of New Jersey did not disappoint. You just can't be throwing dinnerware in a restaurant. Absolutely not appropriate. Not only was that bad, but some tension is starting to brew again with Teresa Giudice and Melissa Gorga. PLEASE DO NOT LET THEM GO DOWN THIS TROUBLED PATH AGAIN. OUR HEARTS CANNOT TAKE IT.
However, another big topic heading into this episode is what's going on with Joe Giudice. Where will he end up? More important than that though might be "will Teresa and Joe remain together?" All signs point to no, but we will see what this episode brings. Something might change, but I doubt it. They seem done for good. There comes a time where you can't take the verbal abuse and uncertainty anymore.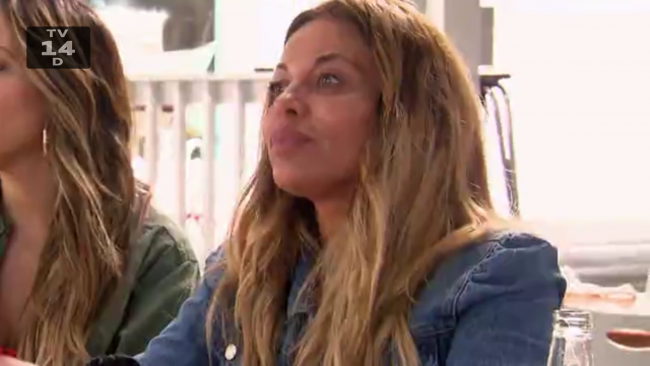 Jennifer not wanting to walk away at all really shows she never backs down. Once she gets some tequila in her system, all bets are off. Naturally, Teresa has to take Jennifer's side which is only going to make things worse.
Jennifer standing there and staring at Melissa is PERFECT. It's good to see Melissa actually do something for a change. She hasn't had a real storyline in years. Unfortunately, her golden era on show was fighting with Teresa. How sad is that?
Melissa giving away Teresa's food to Jackie Goldschneider is hilarious. When Teresa finds out about it, she'll probably explode. Time for some flipped tables!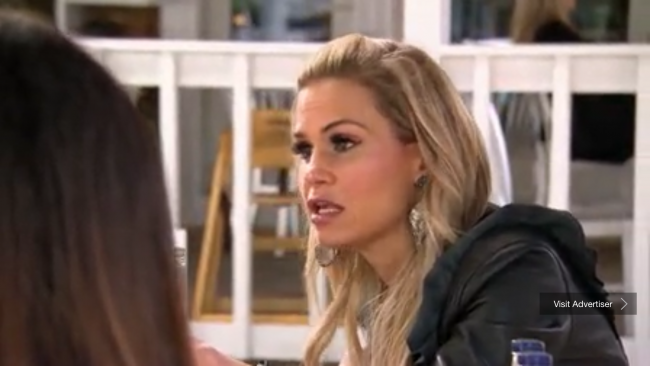 I don't know how I feel about Margaret Josephs always bringing up Jackie's issue with food. Is she coming from a genuine place of concern? When she was talking to Jennifer in the last episode, it felt like she loved cracking the jokes. Now that the comments have been brought to Jackie's face, she's changing it up a bit.
The flashback footage of her father making negative comments about her weight will never not be upsetting. At least Margaret is able to apologize to Jackie at the end of the day. A lot of people in this group don't do that. The only thing I didn't care for was Margaret lying regarding Jennifer. Jennifer has definitely made comments about Jackie's eating before, so why the cover up?
Dolores Catania is the type of friend that everyone should have. She calls you out on your crap, but still is ride or die one hundred percent. You can't ask for a better friend. She's one of the most level headed women of the group. She's such a needed balance to the antics of Jennifer & Teresa.
However, not everyone is currently on Dolores' nice side. She's ready to come at Melissa for the comment of calling all of the parents losers for their party spending. Dolores barely tolerates Melissa as is, so she really shouldn't push her luck with Dolo.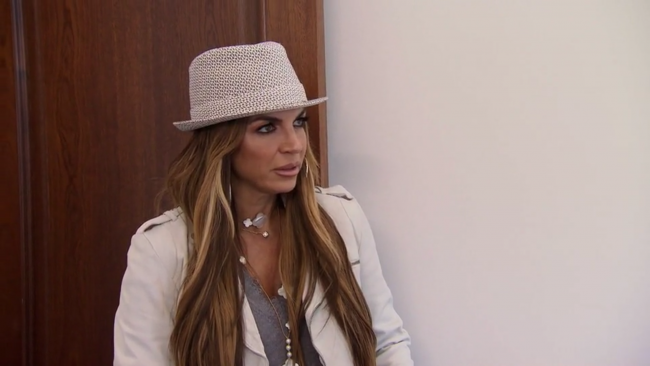 Jennifer is considering leaving the house, and Dolores and Teresa want to follow suit. I really hate the split of the cast. It's always split down the middle with these six. They could really use a seventh wife to come in and shake things up. Maybe we'll get that next season. I don't think this issue at the restaurant is a big enough deal to cut the trip short though.
These women are grown enough to work through this issue. It's not that serious. The moment Melissa walks in the house, the other three jump all over her. Jennifer makes a lot of sense here when she brings up how Jackie talked about her last year. That's kind of true. If you open that door to talk about someone's parenting, you're going to get it back.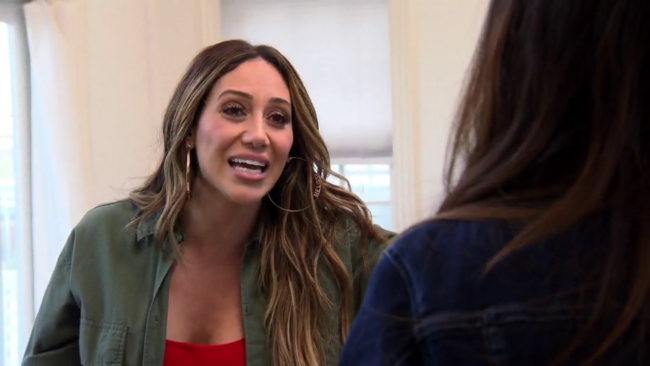 Of course, Jennifer tries to incite a fight between Melissa and Teresa. Please don't let us go down that road again. That was such a toxic period on the show. Let's not relive that once more.
Why do Teresa and Dolores have to leave with Jennifer? If she wants to leave, that's on her. Surprisingly, Teresa agrees to stay with Melissa and the others. I'm a little floored she's actually choosing her family in this scenario. Given how much she rides for Danielle Staub and all the s**t she pulls, this is genuinely shocking.
This is such an unusual dynamic than what we're used to seeing. Teresa staying behind with the "other" three should shake things up a bit. I wonder if Jennifer will get in her feelings about this at all. However, I don't foresee her ever going up against Teresa. That's a tree she won't bark up.
Joe Gorga, Frank Catania, and Joe Benigno meet up for drinks, and they could probably have their own show. I'm surprised at this stage, they haven't done a Housewives type show with the husbands. The Jersey men are ALWAYS in the drama. It could be a really fun show. Their comments about never signing a prenup is a little date, but I don't want to bash their culture. It is what it is, and I don't want to disrespect anyone's beliefs.
I couldn't imagine Jackie introducing Teresa to a new man. They were enemies for so long. Oh my, how things have changed. Teresa's really into the pool guy. I wonder what could be going on there. Drop Joe, and live your best life Tre.
Teresa will hopefully get some respect from her daughters and find a man who will treat her right. Love or hate her, she's hardworking and busts her ass for her family. She deserves someone who will help build her up, not tear he down. Is that too much of an ask?
Joe and Melissa hit the nail on the head when they realize why she's friends with Jennifer and Danielle. She loves the attention. She likes to be worshiped in a way. It's been that way for YEARS on this show. She is someone who allowed fame to inflate their ago.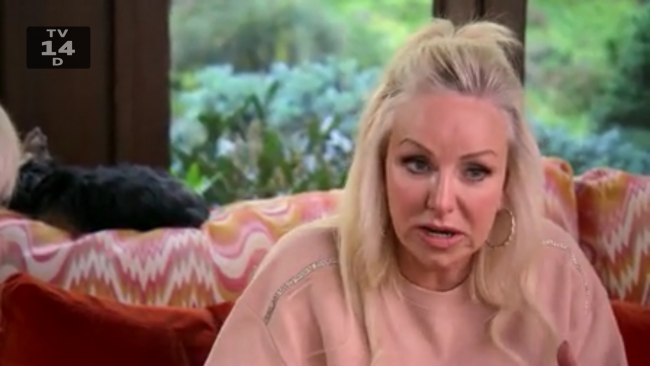 Marge Sr. and Margaret have such a complicated dynamic. Part of me thinks she goes a little too hard on her mother at times. However, if my mother treated me like that going up, I'd probably harbor the same resentment. Their relationship is what it is, and it will likely never change. So many years of it being the same. Nobody is really giving an inch here.
I totally understand the role reversal though. I am responsible for everything of my grandmother's, and it can get stressful at times. Nobody can truly understand the anxiety it causes, unless you're in the situation yourself. I'd like to see these two stay on track because you can see the love radiating between them.
Seeing Teresa with her brother is actually really nice. It's refreshing she has a male figure in her life that wants to UPLIFT her. She has clearance to see Joe in custody, but things could get really nasty. The way he speaks to Teresa is unacceptable. In addition to that, a choice needs to be made about Joe's future. Will he stay or will he go?
Seeing the softer side of Jackie with her family is needed. Besides her eating disorder, I feel as if we know nothing about her. The way she is so good with her learning disabled brother is touching. Hearing that she struggled in silence so her parents could focus on her brother GUTTED me. It takes a strong person to sacrifice her own needs for the needs of her brother. I hope that her father truly understands what she went through when she finally tells him.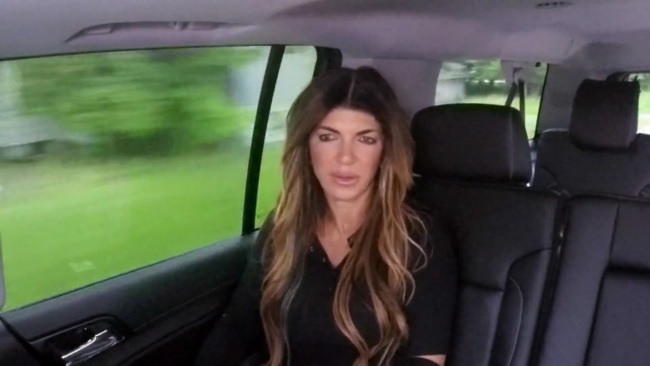 Teresa, Gia, and Melania are visiting Joe in ICE custody for the first time. Teresa must be quivering on the inside. Obviously her marriage is over, but she doesn't want to be the one that says that to her daughters. If she cuts the cord now, it'll save everyone less pain.
The worst thing ever happens on Teresa's drive to see her imprisoned husband. SHE FORGOT HER WALLET AT HOME. She's halfway to see Joe, and no she won't be let in at all. She is losing it, but there's nothing she can do. Her daughters want the yelling to stop, but this is BAD BAD.
TELL US – DID TERESA LEAVE HER WALLET AT HOME ON PURPOSE TO AVOID JOE? SHOULD JENNIFER HAVE LEFT THE TRIP EARLY? ARE YOU ENJOYING THIS SEASON OF THE REAL HOUSEWIVES OF NEW JERSEY? 
[Photo Credit: Bravo]