Welcome to a new chapter of Below Deck Mediterranean. The dawn of a new day. A time to set sail for the unknown sea, the wind at our backs and Captain Sandy Yawn still micromanaging the boat from the bow. Just kidding, we're still in Mallorca.
For those of you just tuning in, this week is the first episode in the history of the show's five seasons without Hannah Ferrier as chief stew. The OG's firing — over an unregistered Valium prescription — was decidedly hard to watch last week. The fallout in interviews and other press was even harder to swallow. (Need an example? Just listen to the way Sandy chooses to use the phrase "do Valium" in this clip from the Below Deck Med After Show.)
However, while Hannah may be gone, the rest of the crew is behaving much the same: Jessica More is hitting Alex Radcliffe with a giant dildo while doing turndowns. Pete Hunziker is, thankfully, almost entirely off-camera. And Malia White is trying to talk her boyfriend, new chef Tom Checketts, down from a tantrum. Tom joined the boat just as Hannah was on her way out thanks to Malia. (Insert joke about ships passing in the night.) And in just one meal, we learned a few things about the dashing blonde Brit.
First, Tom is good at his job. He trained under Gordon Ramsay! Second, Tom was not prepared to take on this particular job in front of Bravo's cameras. He was just trying to visit Malia on his way to visit a sick relative in the U.K. Third, Tom has a temper. He does not take criticism well. Just watch how he takes the news that his lobster is "raw" after being cooked sous vide for more than an hour. As the chef starts to unravel, Malia drags her British beau into the standing freezer and out of the glare of the Below Deck cameras.
After throwing a bit of a fit, Tom actually gets good feedback from the other guests who loved his raw lobster. Clearly, these clients' palates are all over the place, and as Tom points out in his confessional, ahem, less than refined for all the money they're spending to charter this mega-yacht.
Either way, Tom survives the night and the next day, the pressure transfers to Bugsy Drake. As newly-promoted chief stew, Bugs is operating down one stew and determined not to let the crew see her sweat. However, the guests have requested a dreaded beach picnic. And any longtime fan knows how well those tend to go on Below Deck. And this time is no exception: Tom refuses to go to the beach. Malia snipes at him for handing her a tray of glass shrimp cocktail bowls with rounded bottoms. And Rob Westergaard gets ultra-sensitive over a tangled bow line on the tender and being talked down to within the deck crew.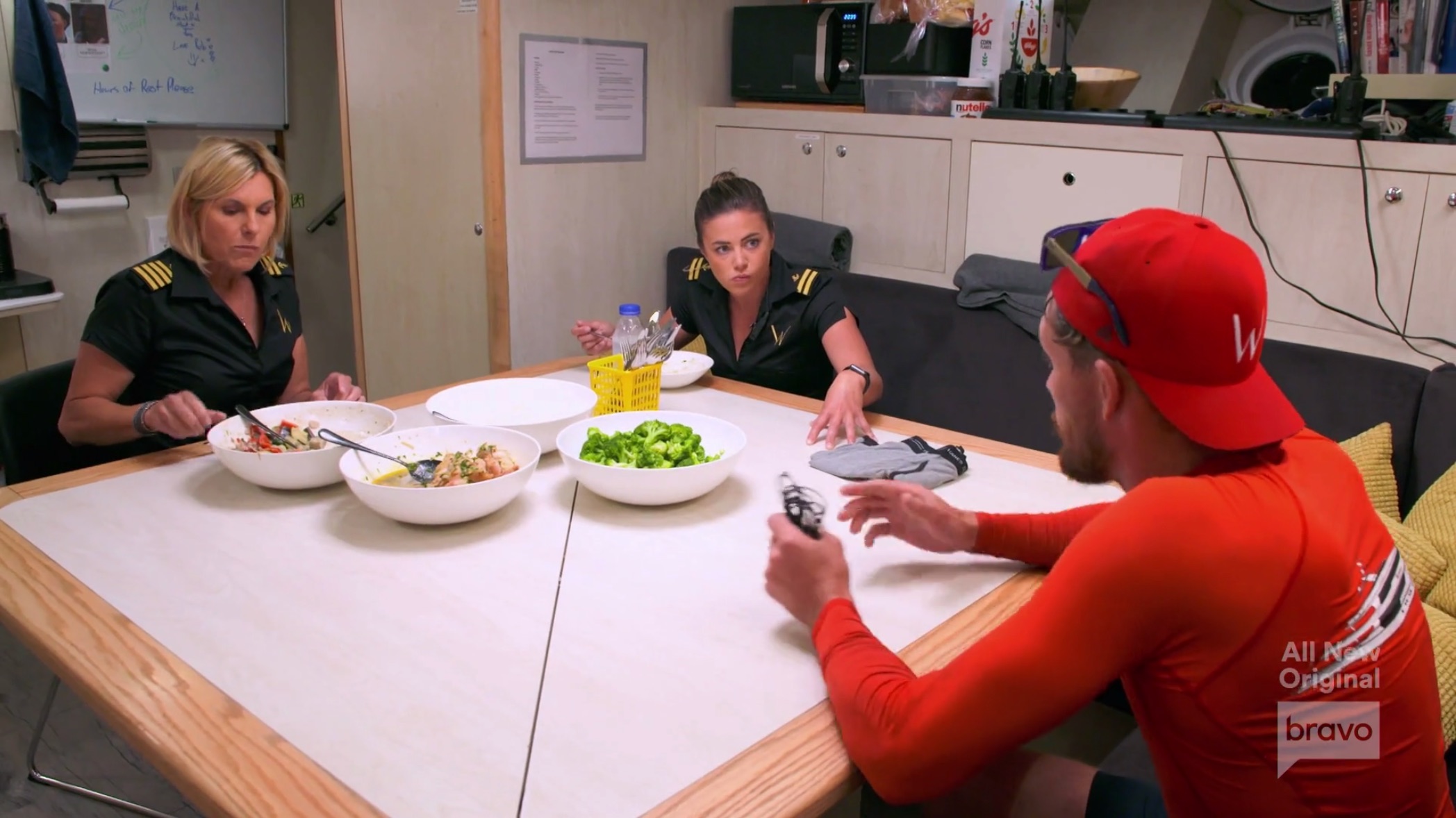 The deck crew drama spills over to the evening, when Rob and Creepy Pete ignore a direct order from Malia about the slide. And if there's one thing the bosun hates, it's direct defiance from the boys' club. Reprimanding them, Malia brattishly calls her underlings "f***ers." Which is something always-calm Rob, a stickler for respect on board, doesn't take well to. But rather than just take the name-calling from his superior, Rob decides to confront her. In the crew mess. In front of Captain Sandy.
While Bugsy's wild Arabian Nights dinner is happening on deck, Rob calls out Malia. Naturally, the bosun digs in her heels and refuses to apologize. What's most shocking about the argument, though? Rather than micromanage the way she does everything else, Sandy sits back and watches the fight play out. Just sits and chews her food. Eventually she steps in to take Malia's side — because of course she does — leaving Rob to stalk off and vent to Jess in their cabin about the blatant disrespect. By the end of the night, Malia and the soft-spoken model make up, but boy was their clash unexpected to see. (Also, Tom gets called out for serving pink chicken during dinner, so it appears he's very hit-or-miss when it comes to pleasing his first round of guests. You win some, you lose some?)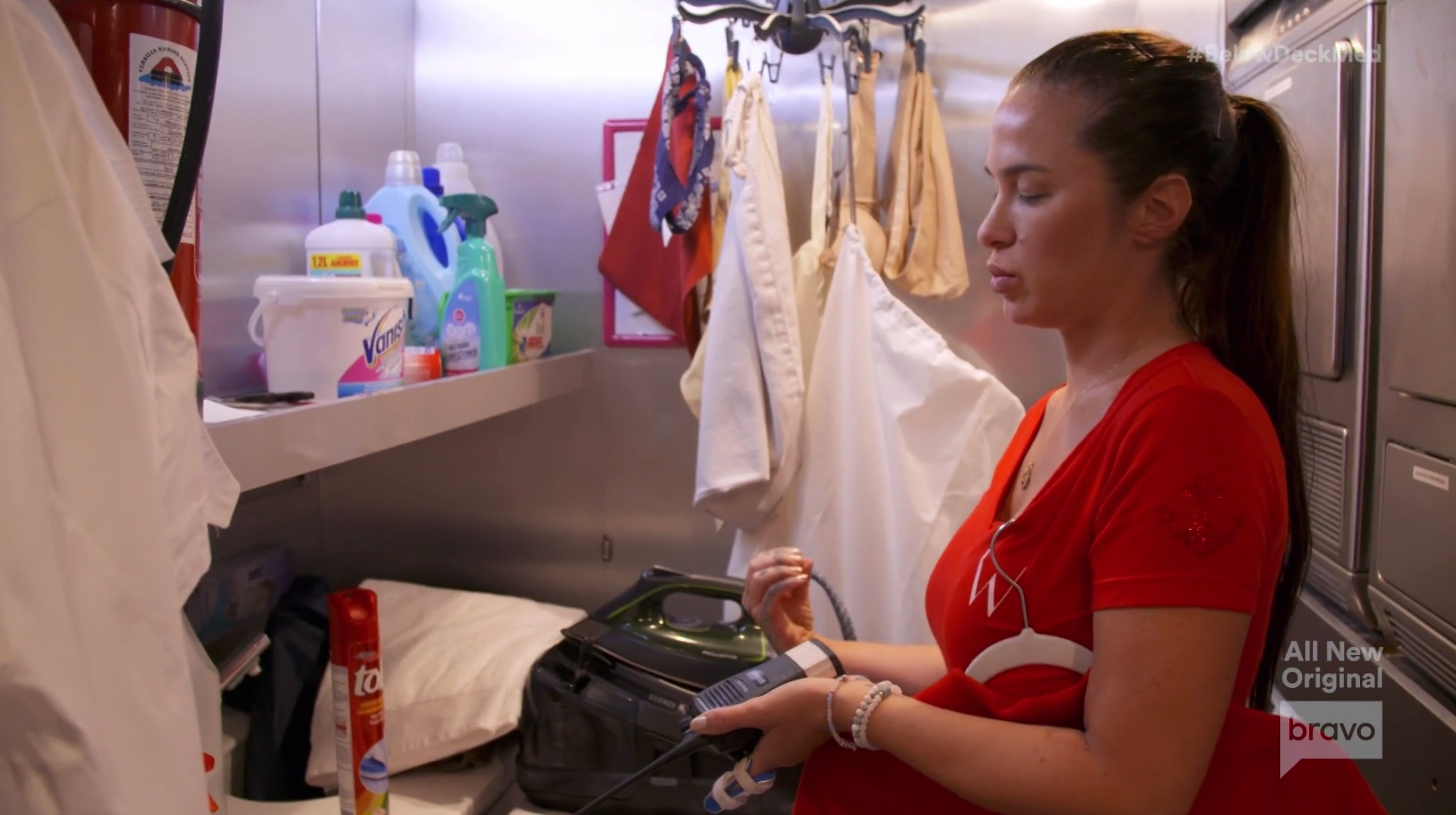 The next and last day of the charter, the interior is feeling the effects of working a man down. I mean, Jess has literally fallen asleep standing up on this charter. However, Sandy starts the day off irate that the laundry isn't going. Apparently, the washers and dryers should be operating at capacity around the clock. She lashes out, first at Jess, then at Bugsy. But the latter claims it's not the time to crack the whip on her third stew. You know, given that they're stretched thin at the moment and both just doing their best. However, it takes Jessica giving herself a pep talk not to break down after being berated. So calm down, Sandy.
After one last breakfast of huevos rancheros — which Bugsy pronounces 15 different ways in one meal — the guests are dropped off. And now it's time for a tip meeting. Laundry tantrum aside, Sandy praises Bugsy for seamlessly taking over as chief stew. She then drops some tidbits of news. First, a new second stew will be arriving before the next charter. (Jessica's face at this information is less than thrilled; she thought she'd be getting promoted to0.) Second, the next charter will be in Ibiza! That's right, The Wellington is headed to Europe's party capital, home to EDM, nightlife and DJs galore. But, since they have to get to Ibiza, that means the crew won't be headed off-boat for their night off.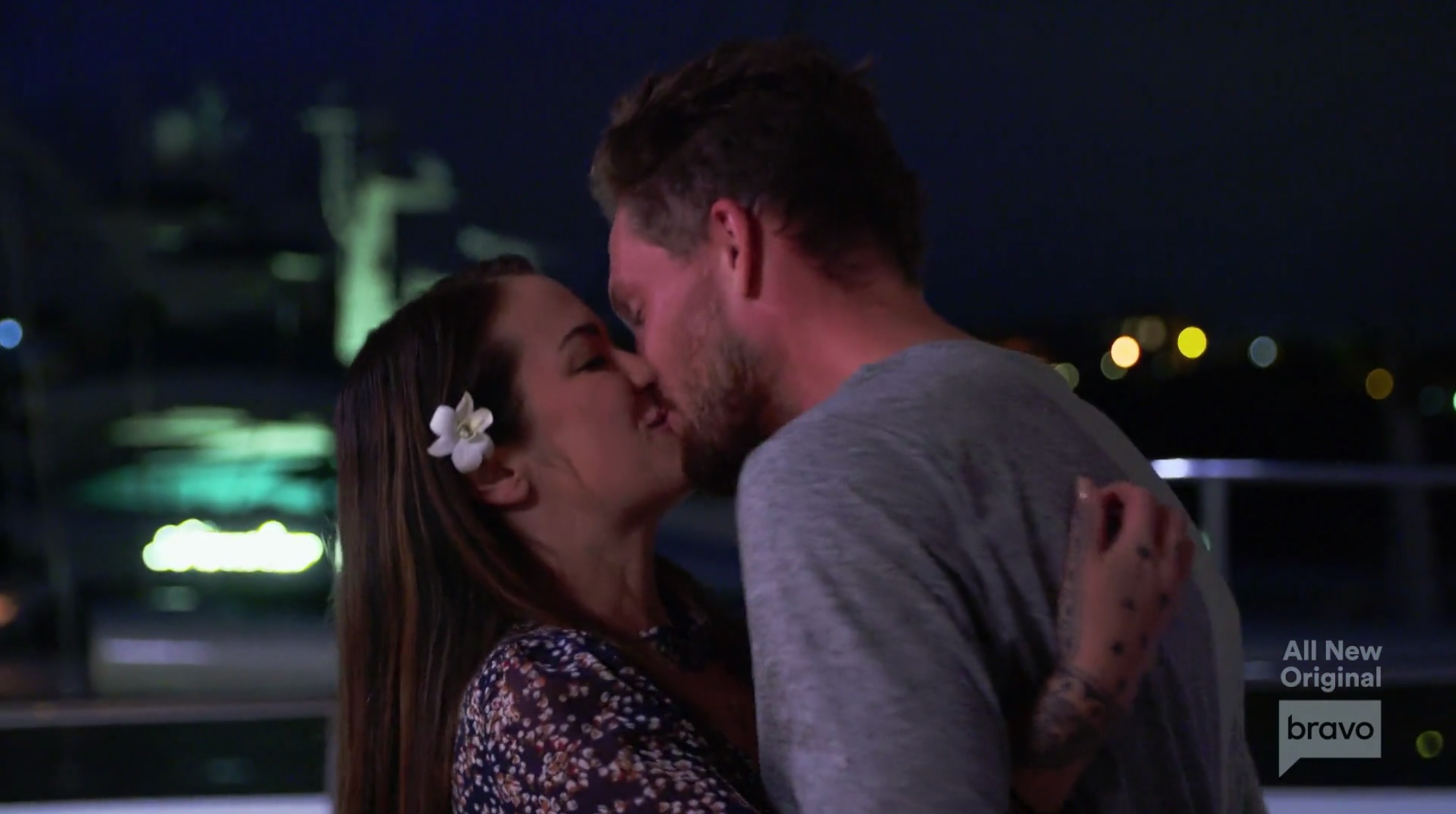 Instead, the rest of the crew works with Rob to pull off a grand romantic gesture for Jessica. See, she's been asking for days for him to come to Bali with her after filming wraps, and he's finally decided to join her. Rob sends Jess and her healed finger on a cute scavenger hunt, with Malia, Bugsy, Tom and Alex stationed at various points throughout the boat to deliver clues. The whole thing culminates in Jess finding her boyfriend on the sun deck with champagne and his plane ticket to Bali. Aww! I'd be more invested in this love story if Jess hadn't already made it clear that things will soon fall apart for this ill-fated boat-mance. But it's adorable in the meantime.
The next morning, The Wellington is ready to set sail for Ibiza. But not before the new second stew arrives in the form of yet another familiar face. Surprise! It's Aesha Scott, Sirocco's favorite bushpig from Season 4! Aesha's addition to the boat should be quite interesting given that she only knows Sandy. That's right. The wildly foul-mouthed stew will be the only returning crew member without some magical connection to Malia this season. Next week, Ibiza and the return of Johnny Damon!
TELL US – ARE YOU HAPPY AESHA IS RETURNING AS SECOND STEW? WERE YOU SURPRISED TO SEE ROB CLASH WITH MALIA? WHO'S SIDE ARE YOU ON?
[Photo Credit: Bravo]