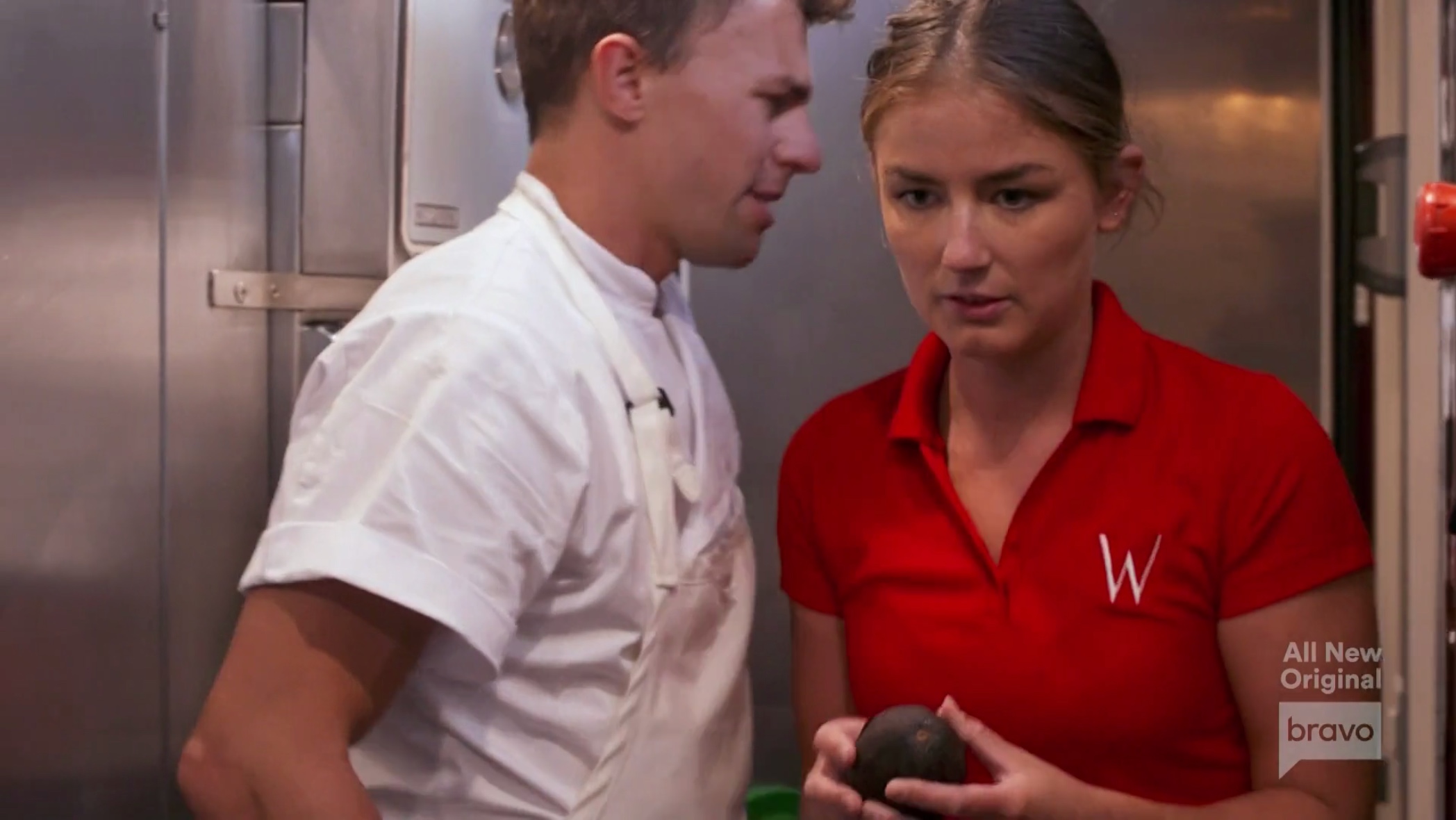 There's a fundamental principle to being a rookie cast member on any long-running reality show. I wouldn't call it a hard and fast rule, but it's basic common sense for any newbie. And especially for one who joined a given show as the boyfriend of a cast member almost universally reviled by fans. And it's this: if you're brand new to the show, try not to make the fan favorite cry. Simple, right?
Well somehow Tom Checketts managed to do just the exact opposite to Aesha Scott on this week's Below Deck Mediterranean. Over, of all things, a cucumber. And an avocado. It was bizarre. It was unnerving. And it was a confrontation so out of left field that it bears being addressed right at the top. Plenty of viewers had reservations about Tom when he magically popped on board as Malia White's boyfriend. The timing felt suspiciously perfect for him to take over the galley, and helped fuel rumors that Malia had somehow managed to basically cast the show in the wake of several firings by Captain Sandy Yawn.
At the time, I was willing to give Tom a chance to win me over on his own. Even if I, like everyone with a soul, was torn up about Kiko Lorran's cruel and unusual exit from the show. After all, he was handsome, charming, blonde and seemed to cook great food. He also gave off the impression that he'd sort of stumbled into this situation on The Wellington. With Captain Sandy basically begging him to take the job, how could he refuse? Especially since it meant getting to spend a few weeks with his girlfriend! However, at no time did it seem like he was dying to do his job in front of Bravo's cameras. He gave all the signs of being a reluctant reality star, if you will.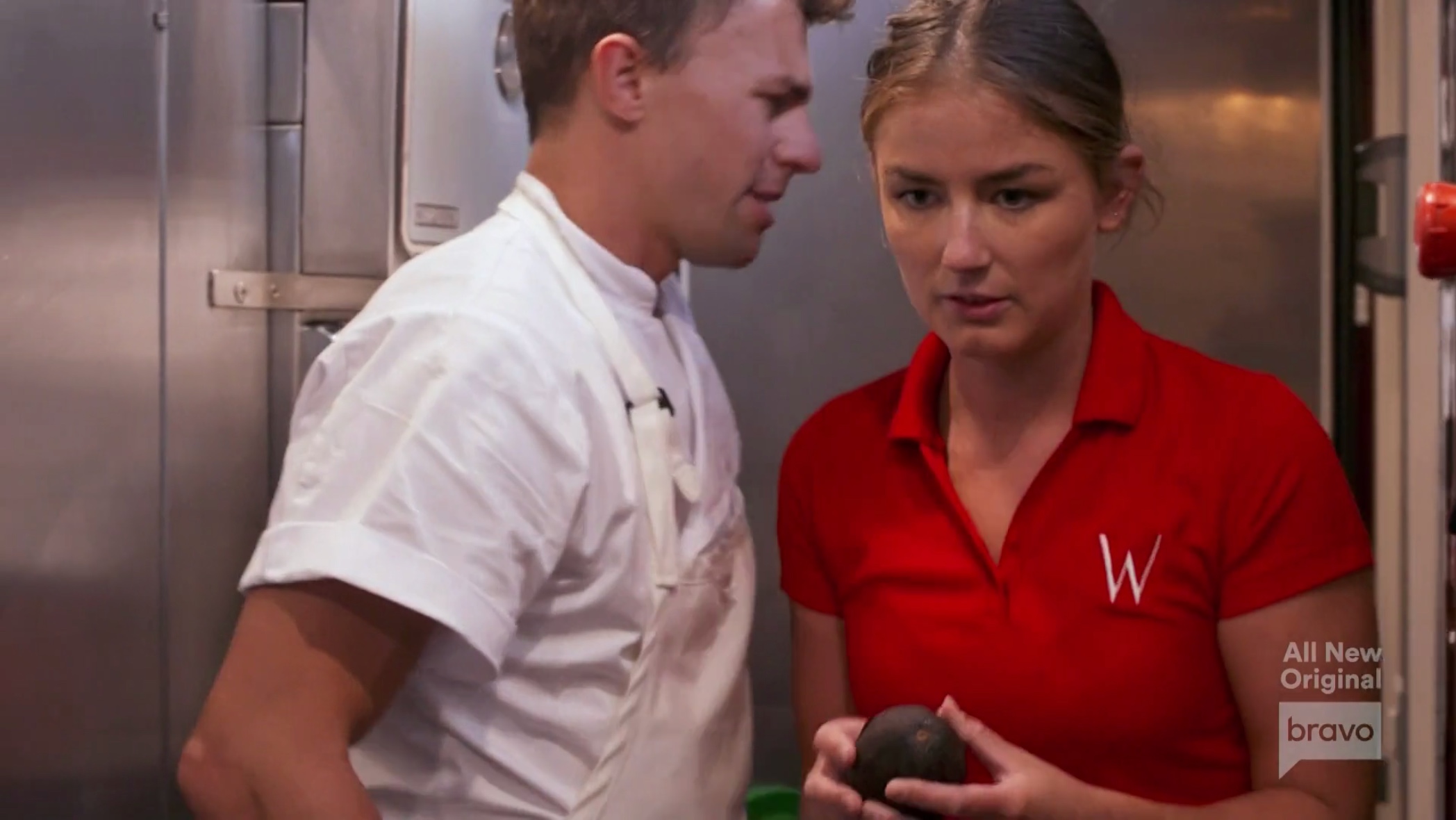 Degrading Aesha over sliced cucumbers and 18 minute breaks has me rethinking the benefit of the doubt I so freely proffered to Tom when he came on board, though. It's the first time we've seen his underlying nasty side come out. (And by the looks of the preview for next week, it's far from the last time the viewers and his crew members will be subjected to his rage.) And to turn on poor Aesha of all people. Aesha who had already broken down in tears this episode over homesickness and feeling like she didn't fit in with the crew. Aesha who approaches every task with an irrepressibly cheerful demeanor and sunny attitude. Who was only trying to empathize with Tom when she offered a sincere apology that his break had been interrupted to cater to needy guests.
It's not a good look, Tommy boy. And for record, Aesha rightfully pointed out that Captain Sandy had been the one to barge down to the crew quarters and ask him to come to the galley. She just happened to be the unlucky co-worker to suffer his wrath for daring to pick up an avocado. For committing the unpardonable sin of trying to help. It all left a bad taste in my mouth for the British chef, knowing that hiding behind that charming smile is an angry monster who can berate someone to the point of tears over cutting up a vegetable.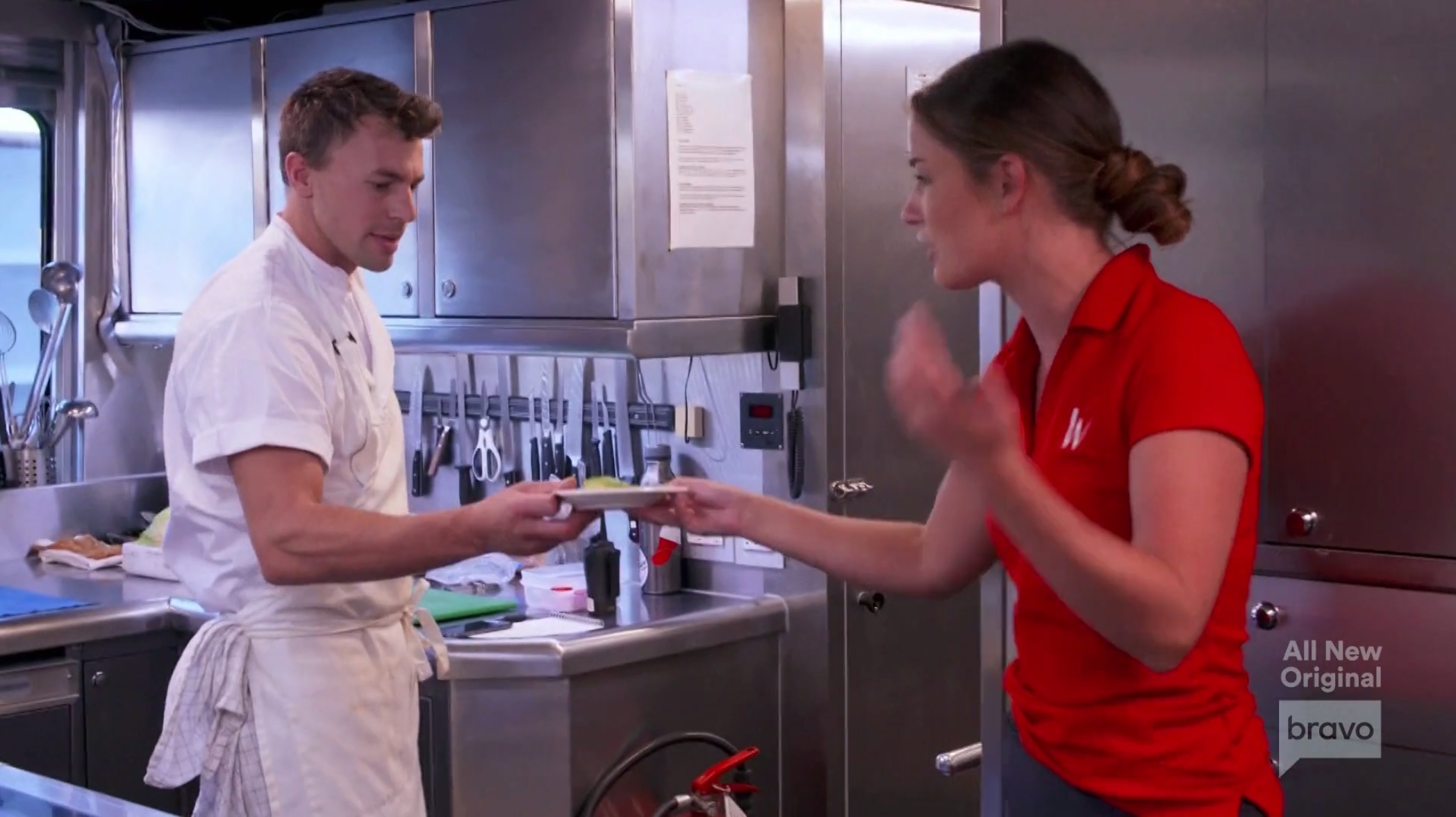 It didn't help either, that in the Below Deck Med After Show, both Tom and Malia laughed off his horrific treatment of Aesha. Tom never once apologized or appeared to show any amount of remorse for his actions. The bosun simply chalked her boyfriend's verbal abuse up to Tom being a typical "grumpy chef." LOL. So funny. Boys will be boys, so what are you supposed to do? Now that Bravo has confirmed that we're getting a virtual reunion this season, I hope Tom is raked over the coals by everyone who saw this disgusting moment in the galley. Throw him out with the bag of frozen mussels.
Speaking of mussels, other things did happen in this episode. Charter number eight started back in Palma. Everyone was hung over and miserable, but the show must go on — both in yachting and on reality TV. The boat lost power while docking, which provided all of thirty seconds of drama before the generators kicked in. Tom threw a temper tantrum over mussels. The primary charter guest showed up wearing an "Almost Single/Almost Married" shirt fit for an aging frat boy at his second bachelor party. A game of ultimate Frisbee was played, at which point I remember for the first time in two weeks that Pete Hunziker is technically still on this show. Wagers were made and the crew will apparently be wearing speedos to dinner in next week's episode. However, the other dramatic storyline boils down to Rob Westergaard and Jessica More.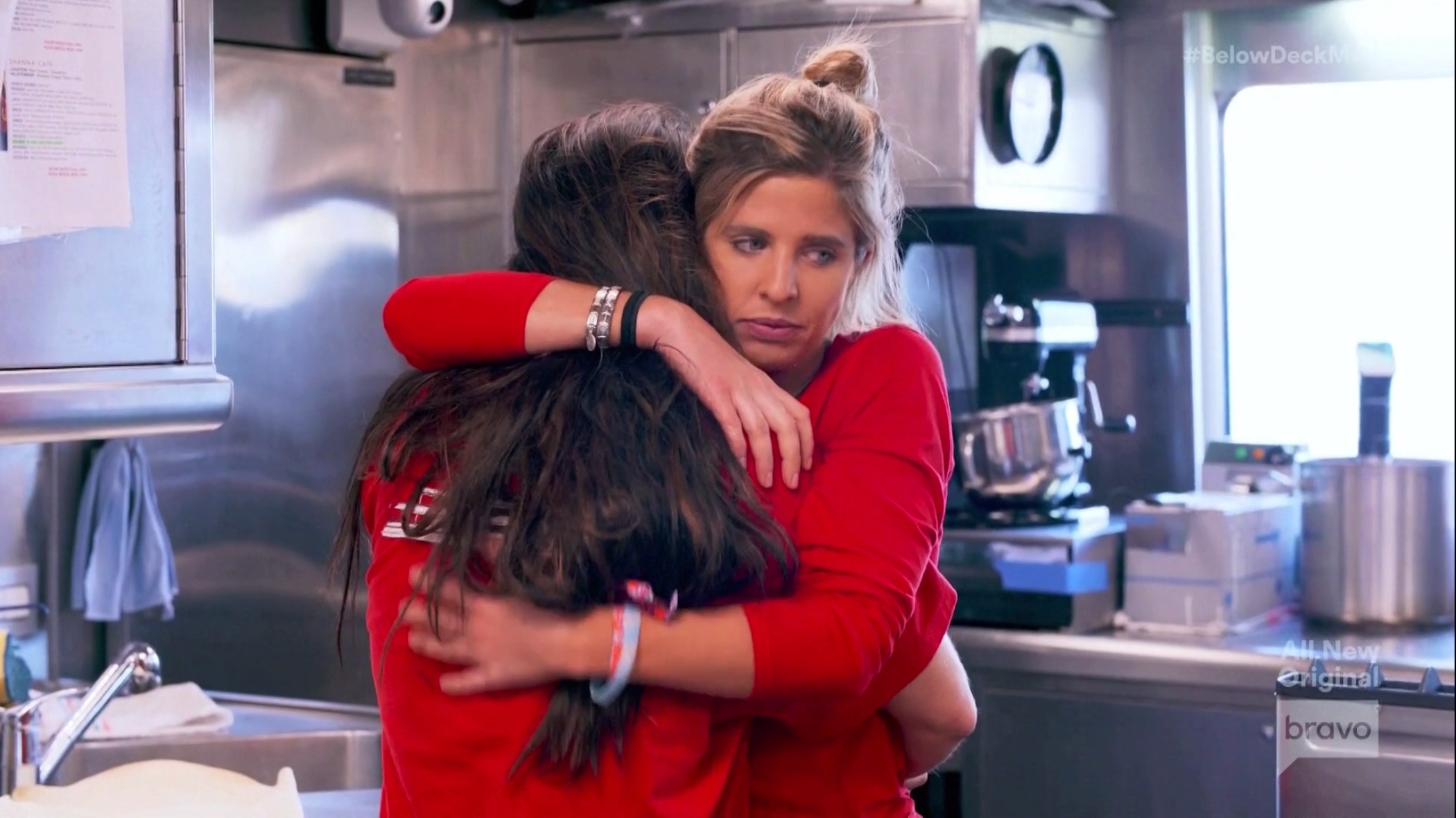 After fighting at the club in Ibiza, the drama-fraught couple's relationship continues to circle the drain. So much so that Jess is getting the full-blown silent treatment. Even Alex Radcliffe is annoyed at his two pals, pointing out that maybe they're simply getting to see the real versions of each other and recognize that they're not compatible. Eventually, the tension is so bad that Bugsy Drake shuts both of them in the dining room with orders not to come out until they've fixed their issues for the sake of themselves and their fellow crew. Of course this means that, instead of talking things out, Rob and Jess sit in petulant silence while refusing to make eye contact.
At this point, it comes out that the two have been together for all of three weeks. Three weeks! It's hard to remember that the production window for Below Deck is so short. Because to viewers watching at home, we're 16 episodes deep into the season. It feels like we've been on this boat for months. But in reality, the crew has been working and living together for just 21-ish days. And Rob and Jess are already saying "I love you" to each other!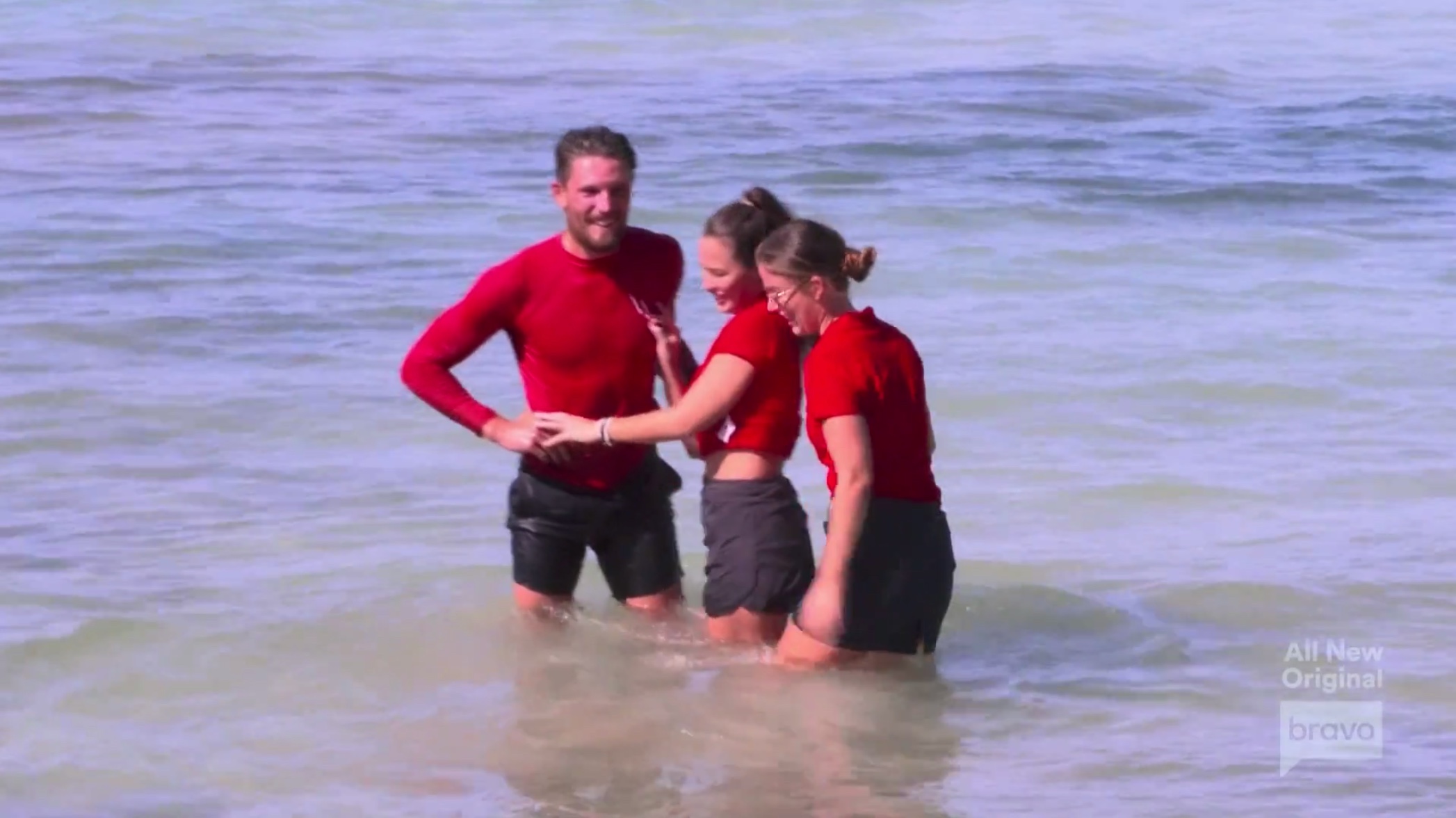 Here's another rule for reality TV and life in general. If you're tempted to say "I love you" after dating someone for less than a month, that's probably not love you're feeling. It's lust. Maybe it's infatuation. But it's certainly not real love. Even if you're living, working and sharing a cabin together on a super yacht in the middle of the Mediterranean. You barely know this person. Maybe that rule goes especially for when you're stuck on a boat in the Med with every one of your daily movements captured by reality TV cameras. But even if Bravo's not documenting your every move to play out in front of millions of viewers, don't make Aesha cry over a cucumber!
TELL US – WERE YOU SURPRISED BY TOM'S OUTBURST AT AESHA? WHOSE SIDE ARE YOU ON IN THE DRAMA BETWEEN ROB AND JESS? DID THEY SAY "I LOVE YOU" TOO QUICKLY?
[Photo Credit: Bravo]