There's a big fight feel in the air for this new episode of The Real Housewives of Potomac. It's been brewing for so long. We all knew it was coming. However, that doesn't lessen the electricity in the air surrounding the feud between Monique Samuels and Candiace Dillard Bassett. This has been one of the greatest builds to an epic moment in the history of Housewives. That's on period.
This one moment is going to send shockwaves through this group. For the most part, things are semi stable in this circle of women for a change. There's no telling what's going to happen once a physical altercation breaks out. It's going to alter everything. People are going to pick sides. Allegiances will be made, and relationships will never be the same again. Here we go.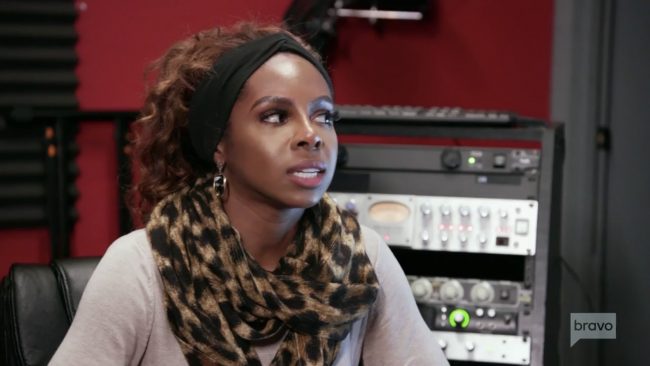 CANDIACE CAN SANG. YES. I'm very much vibing with the remix of her love song. I wasn't a super fan of the original version, but this one can stay. Candiace serving us all with that voice tonight. Whoever says that a sequel can't be as good as an original is a liar.
Candiace tells Chris Bassett that she's officially done with Monique. That was a long time coming. The way Monique treated her at the lake house was so uncalled for. She was coming at her throat over nothing. Monique has proven herself to be fake this season. However, I do love me some T'Challa. I ordered a t-shirt with his face on it, and I'm not even ashamed.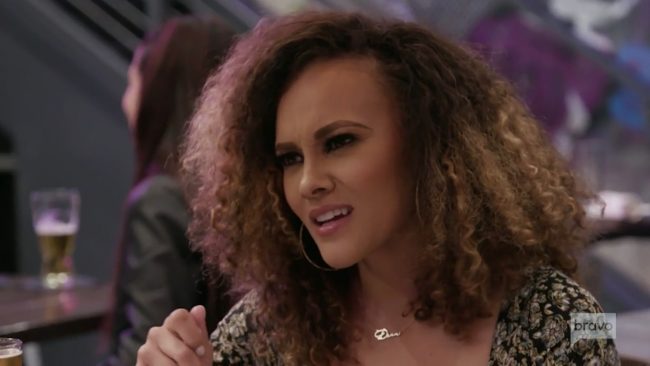 Ashley is meeting Michael Darby for dinner to discuss all of the scandals. This poor woman. She's forever being embarrassed by Michael. It's awful to do to it regardless of whatever arrangement they might have. Ashley is well aware of the circulating photos of Michael after both Monique and Robyn Dixon share them with her. This conversation with Michael might go left really quickly.
Kudos to Ashley for removing herself from the home to have this conversation. It's not anything baby Dean needs to be hearing. Michael apologizes for not giving Ashley a heads up about the woman at the hotel. It's really shady that the woman snapped that photo of Michael though. That's such a privacy violation.
Ashley is upset that Michael didn't think of her at all when doing this. Ashley openly admits they are not a traditional couple and she has hooked up with others in the past. Michael himself has only ever done it with her there in the past. This is a pivotal point in their marriage. It's make or break.
She lets Michael know that it'll be catastrophic for them. He tries to have the camera cut, but the producers aren't really having it. It's a reality show. You talk about your life. Normally these two are open, so they don't push to have it cut much more. It sucks that they even have to have this conversation. Michael was so reckless in this instance. I hope he quits this because there's so much at stake.
I'm already sick of hearing about Monique's podcast, and she just now started talking about it. It seems like she wants it to be an overnight success, and that's not how things work. Her ticket sales for her live podcast are not doing well at all. She's invested over $200,000 in this. HOLY.
Monique is nervous about the possibility Candiace might back out of the podcast. She has good reason to be concerned. Candiace is DONE DONE when it comes to Monique. All this is going to do is add further friction to their delicate situation. When it boils over, it's going to be bad. Very bad.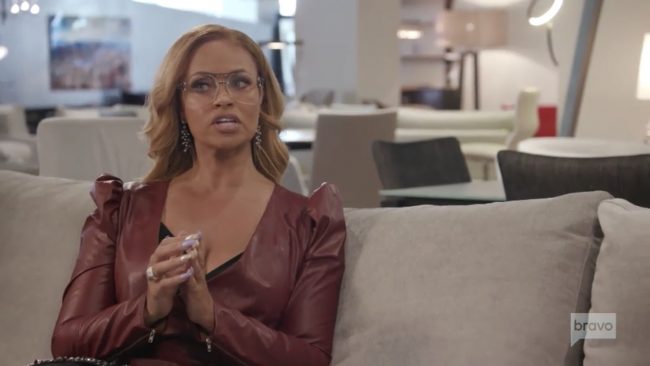 WHY ARE WE WATCHING GIZELLE BRYANT AND ROBYN GOING FURNITURE SHOPPING? There better be some hot tea in this scene because snoozefest. Gizelle needs all the help she can get in the fashion and décor department department. Has any other Housewife had fashion sense this bad before?
Robyn fills Gizelle in on the drama that took place between Monique and Candiace after she left for her award ceremony. It was so over the top. Who cares about the damn fire pit? It really wasn't that big of a deal that they had a private conversation.
Robyn accidentally sent the pictures of Michael to Ashley! That's the worst thing she could have possibly done. She talked herself out of the hot seat with that one though. Robyn is so good at being messy but not getting caught in the crossfire. She's a stealth bone carrier.
Gizelle wants to take the women for a wine tasting to celebrate her award. I'm pretty sure this is where the fight happens. It's so close y'all. I know we won't see the whole thing tonight, but it still gives me chills. AHH!
Wendy Osefo signs her son up for karate, but watching it makes her so nervous. In her professional life, she's at a crossroads. She doesn't know if teaching is where she wants to be anymore. I hope her mom reacts well to her possible career change. It's going to break her heart, but she might understand.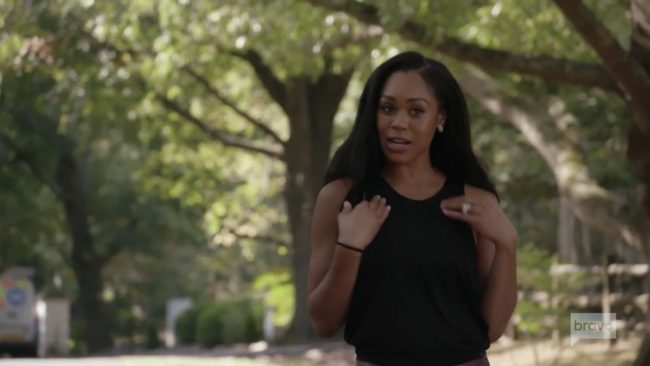 Chris Samuels wants Monique to cut back on the spending if she's not selling tickets. He could be a little more supportive it seems. That's what she needs at this stage. He has a lot of valid points, but it makes her happy. It's something she holds dear. He should at least try to come from a more understanding place.
Candiace officially dropped out of doing the podcast, but at least she gave her notice. She didn't just no show the event. She gave her ample time to plan a new lineup. Why would Candiace support anything Monique does? Monique has been sketchy and plotting all season against her.
I just noticed we haven't even seen Karen at all in this episode. Normally I'm obsessed with The Grand Dame, but I didn't really miss her presence. Maybe she's not the central queen of the show after all.
Ashley's mom talks to her about the Michael drama and wants him to stop it. Ashley isn't afraid to leave Michael. She already secured the bag, so she doesn't have to worry about that.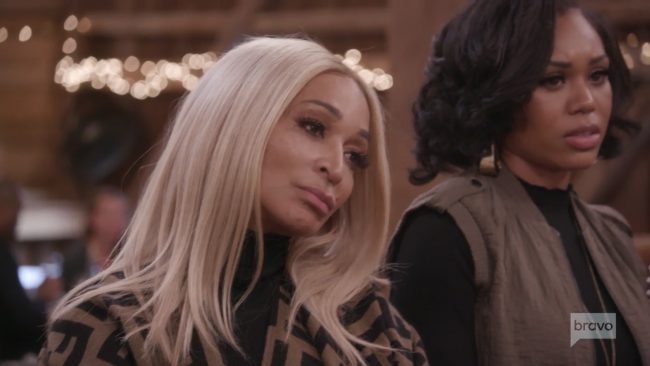 If they only knew what was about to go down at this party. Everyone is arriving full of laughter with no inkling of the dark storm about to strike. I feel bad for Gizelle because her big moment is majorly overshadowed by the Candiace and Monique drama.
Candiace gives Monique the cold shoulder when she arrives. Not surprising at all. She has nothing to say to her. Ashley is the last to arrive. She must know the Michael drama is going to be a big topic of conversation. They have to address it. It's a two-headed elephant in the room.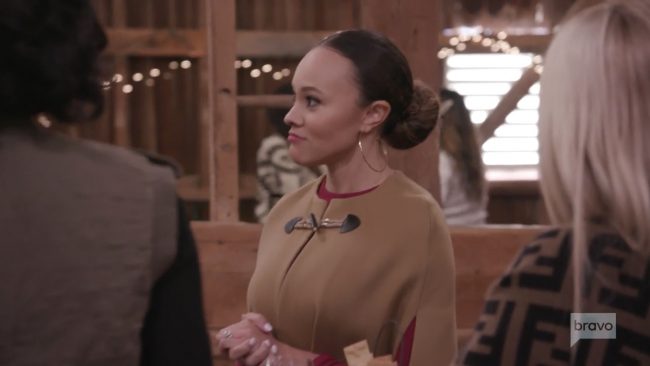 FINALLY, ASHLEY ADMITS TO THE WOMEN THAT SHE AND MICHAEL HAD AN ARRANGEMENT. We all knew it, but it's nice to have those suspicions confirmed. Props to Ashley for putting this all out there. She's putting on a brave face, but she's probably hurting. Michael is totally lying here, but we will let Ashley have this. Do you, boo.
Candiace is feeling the wine buzz and tells everyone she loves them. Monique makes a dig at her after that, and things turn ugly fast. I love that Candiace calls her out for faking being asleep when she left the lake house. Following that, Monique brings up the fact that Candiace isn't a mother. This is turning so nasty out of nowhere.
Monique calls the friendship a façade, and nobody can get the conversation to move away from this. Ashley goes away to pee, but things keep heating up. I am getting so much anxiety inside watching this. The build has been so crazy. Monique won't stop touching Candiace's hair, and she looks to pull her down toward the table. TO BE CONTINUED GUYS. WOW. INSANE. GIVE ME NEXT WEEK.
TELL US – ARE YOU SURPRISED ASHLEY AND MICHAEL HAD AN ARRANGEMENT? TEAM MONIQUE OR TEAM CANDIACE? ARE YOU ENJOYING THIS SEASON OF THE REAL HOUSEWIVES OF POTOMAC?
[Photo Credit: Bravo]