Well darlings, if The Real Housewives of Salt Lake City started out with a snowstorm, it's safe to say it's quickly becoming a pop culture avalanche. At the every least, the (snow)ball is rolling down the hill, and gaining momentum with each passing week. After last week's ski day showdown, the Housewives are supposed to be starting over with a clean slate. But like generations of Bravolebrities before them, when has that ever successfully happened. In Utah society, only God forgives, after all. And rarely does a Housewife forget…
It also appears that battle lines are starting to be drawn. And I could not be more here to see it, even if some of those lines seem poorly etched for the time being. I mean, did you ever expect to see Jen Shah pit herself against Meredith Marks? I mean, calm, cool and collected Meredith? The cast's voice of reason? Of all people? And so quickly into the season too! But now I'm getting ahead of myself. Let's back up and start from the beginning, shall we?
First, let's talk about Heather Gay, who frankly broke my heart this week. As apparently the world's coolest boss, the medspa owner is throwing a baby shower for five of her employees. All of the girls are young, Mormon twenty-somethings who are each having their first child. Now, I know. That sentence might sound crazy to anyone reading this outside of Utah, but trust me. In Utah, it's the most normal thing in the world. More than normal, it's the social expectation. What's less normal is each of the girls getting a miniature Range Rover as a baby gift. But what else would we expect from a Housewife?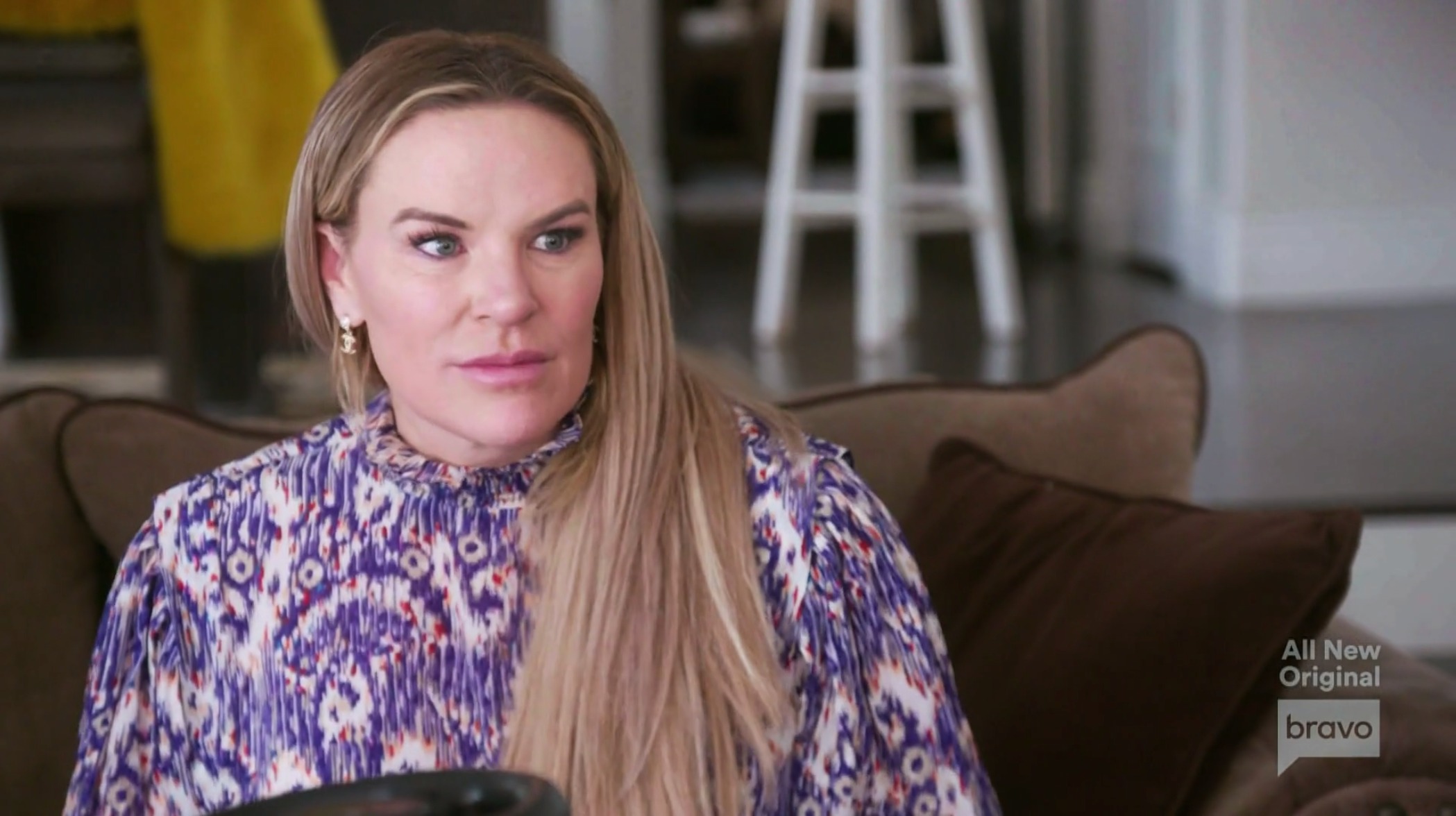 As she plans the shower with Jen, Heather's triggered by memories of her marriage to "Mormon royalty" Billy Gay III. It turns out, after eleven years, her ex decided he didn't want to be married anymore and walked out on the marriage. (Up until this point, Billy's identity has been a fairly well-guarded mystery, so I was actually shocked to hear Heather drop his name so casually in her confessional. And she wasn't kidding, her ex and his family have business ties to actual Mormon royalty like Mitt Romney, Jon Huntsman Sr. and Steve Young.)
Heather confides in Jen that her divorce left her heartbroken, lost and questioning her place in the Mormon Church. After all, she tearfully admits, being a wife and mother is all you're taught to want as a women when you grow up Mormon. And that's true on both a doctrinal level and a social level. It's looked down upon in certain Mormon circles for women to do anything other than be stay-at-home moms. Heather even loosely quotes Mormon prophet David O. McKay in her confessional. "No other success can compensate for failure in the home," he once taught, and that sentiment impacted an entire generation of Mormon women.
Imagine how much pressure having that type of edict handed down by someone who supposedly speaks for God would have on a person. And then suddenly your husband leaves you after 11 years and you do feel like you have failed in the home. Because in Mormon culture divorce, while common, is all too often seen as exactly that — a failure. But in reality, Heather is an inspiration to her daughters and all her new fans. It takes more courage than anyone knows to rise above the dogma you raised to believe. And that's exactly what Heather is doing. You go, good time girl! (I still can't get over the blurred-out Christus statue in her confessionals though. If you know, you know.)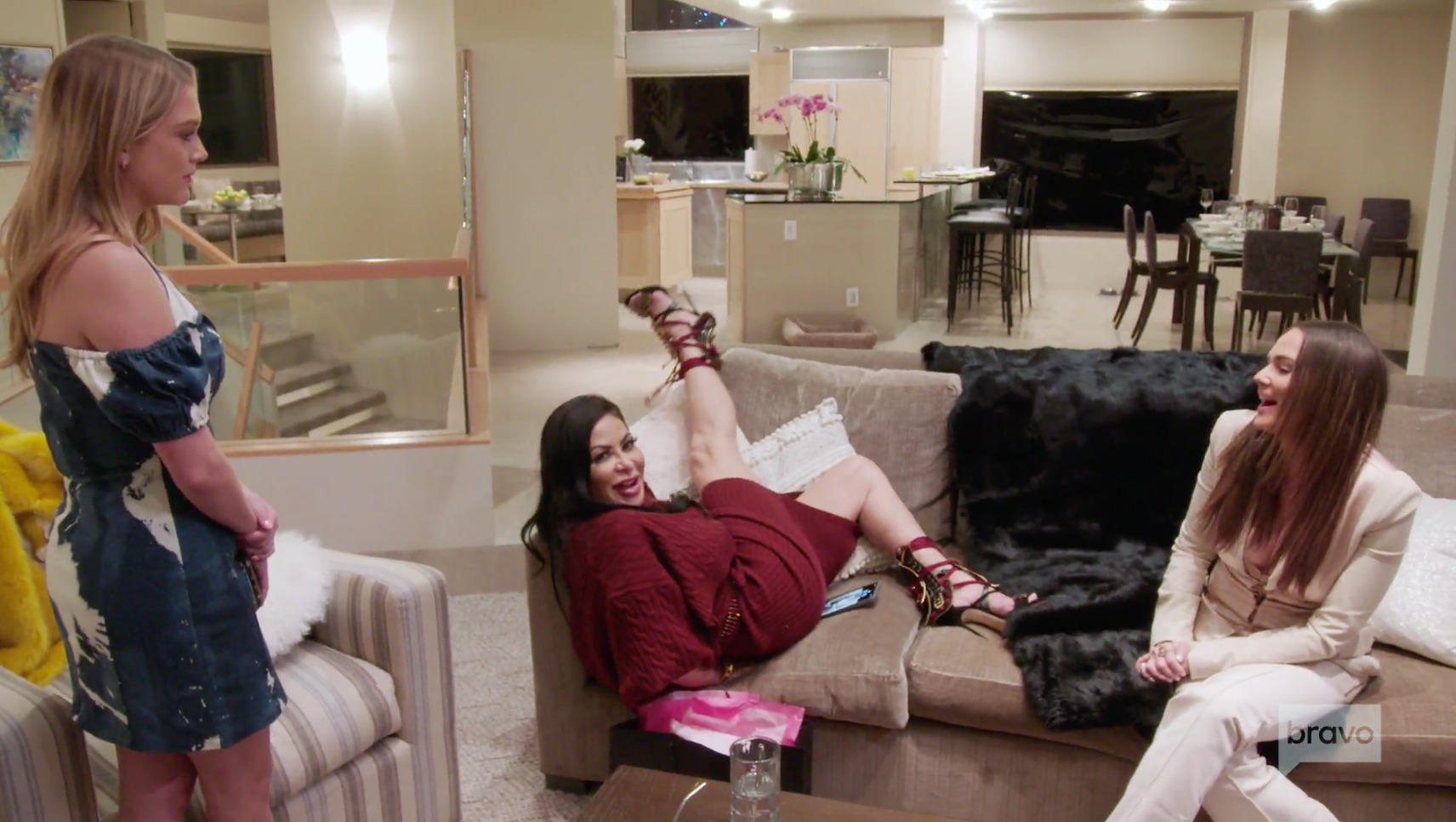 Up in Park City, Jen drops by Meredith's for a little social visit. Because with her husband working all the time, it's quite lonely in a big empty ski chalet. Jen's in a needy, kooky mood. And before you know it, she's doing high kicks on Meredith's sofa chanting "Grindr! Grindr! Grindr!" Much to the chagrin of Brooks Marks and his older sister, who's visiting from New York, I might add. Sensing an opening for more camera time, Brooks decides to pick a fight with Jen, accusing her of basically flashing her vagina in his face.
Of course, he doesn't say this in person. Instead, he throws shade via confessional like the good scene-stealing side character he is. Brooks also confronts his mother about it later, bombarding her with a lecture about her friend's inappropriate behavior. Meredith admits Brooks has a point, but why exactly is a 21-year-old running the show in the Marks household? Either way, Meredith gives in and decides to cancel her planned sleepover with Jen to hang out with her kids instead. Trust and believe, this seemingly innocuous choice will come up later, so put a pin in it.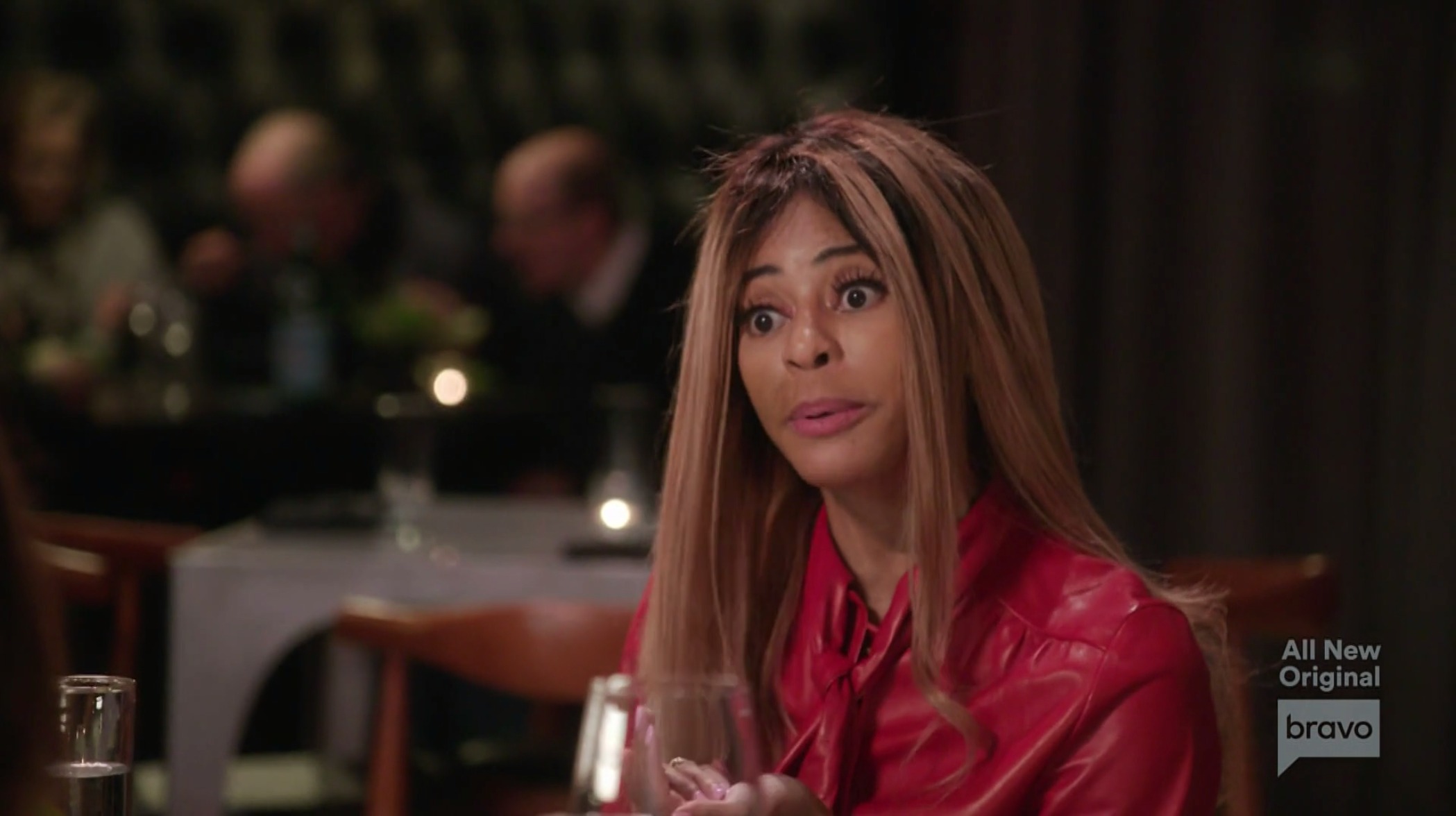 Later, Meredith goes out to dinner with Mary Cosby. And finally, we get a more complete backstory about just how the minister ended up in an arranged marriage with her step-grandpa. She explains again that it was a condition in her late grandmother's will. Basically, in order for her to inherit the Pentecostal church she now runs as First Lady — and all the business, homes and wealth associated with it — Mary had to marry Robert Cosby Sr. Apparently, this decision also caused a major falling out with her mom, who thought she should be the one marrying Robert. Umm…I'm sorry, what?
Having grown up Mormon, I'm used to a lot of crazy-sounding marriage scenarios (hi, polygamy!) but this is just beyond. Something is majorly off here. There's a reason Mary spent three weeks after the wedding pretending she was on her period to get out of sleeping with her step-grandpa-turned-hubby. Also, it sounds like the fallout from the marriage split her church in two. Some followed Mary and Robert, and some followed Mary's mother. (Weirdly, this is kind of parallel to early Mormon history, but that's a conversation for another time…)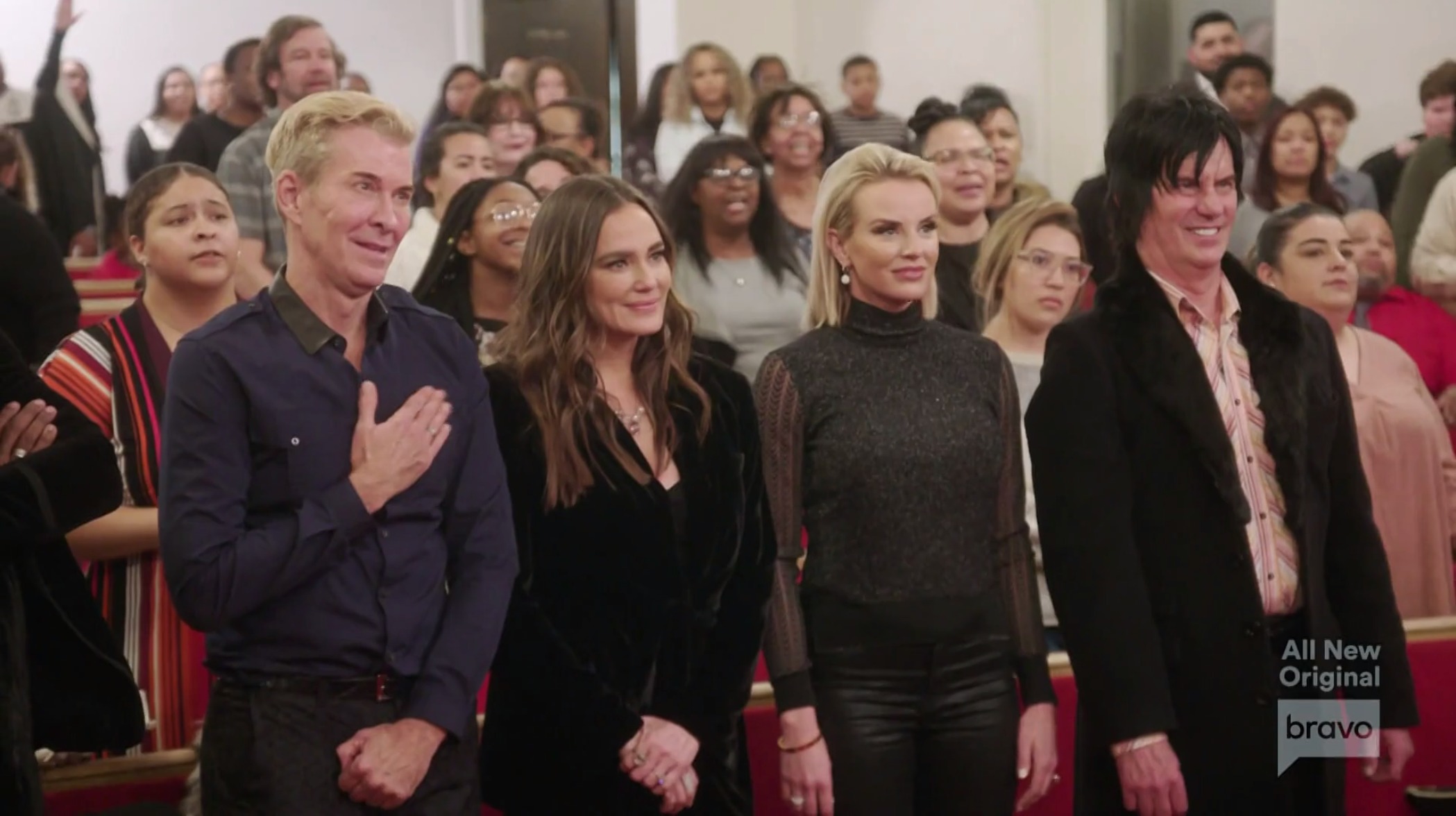 We also get a taste of Mary's Pentecostal faith this week! In an effort to help her dad's addiction problem, Whitney Rose takes Mary up on the offer to attend her church service. And Meredith comes too! Now, I don't know much about the Pentecostal religion, but I can tell you it is a night and day difference from Mormonism. Mary's sermon is loud and boisterous. There's clapping and shouting. All things that would never take place inside the Mormon chapels Whitney was raised in. (Never mind that a woman would never, ever be allowed to lead a Mormon church service. The priesthood, and subsequent leadership positions over the congregation, are only for the men.) However, Whitney's dad seems genuinely moved by the service. And if it helps him conquer his addiction in any way, that's all that matters.
The night of Heather's baby shower arrives, and Whitney and Jen are the only 'Wives invited to attend the all-white affair. After offering a lovely and frank speech for her employees, Heather pulls the women aside to discuss the drama happening amongst the 'Wives. Whitney claims she was serious about starting over with Lisa Barlow. Jen, on the other hand, is fully unprepared to let go of her grudge against Mary. In fact, she's none too pleased to learn that Whitney's invited her nemesis to her upcoming roaring '20s party. But what really gets Jen heated is finding out that Meredith went to Mary's church after cancelling their sleepover.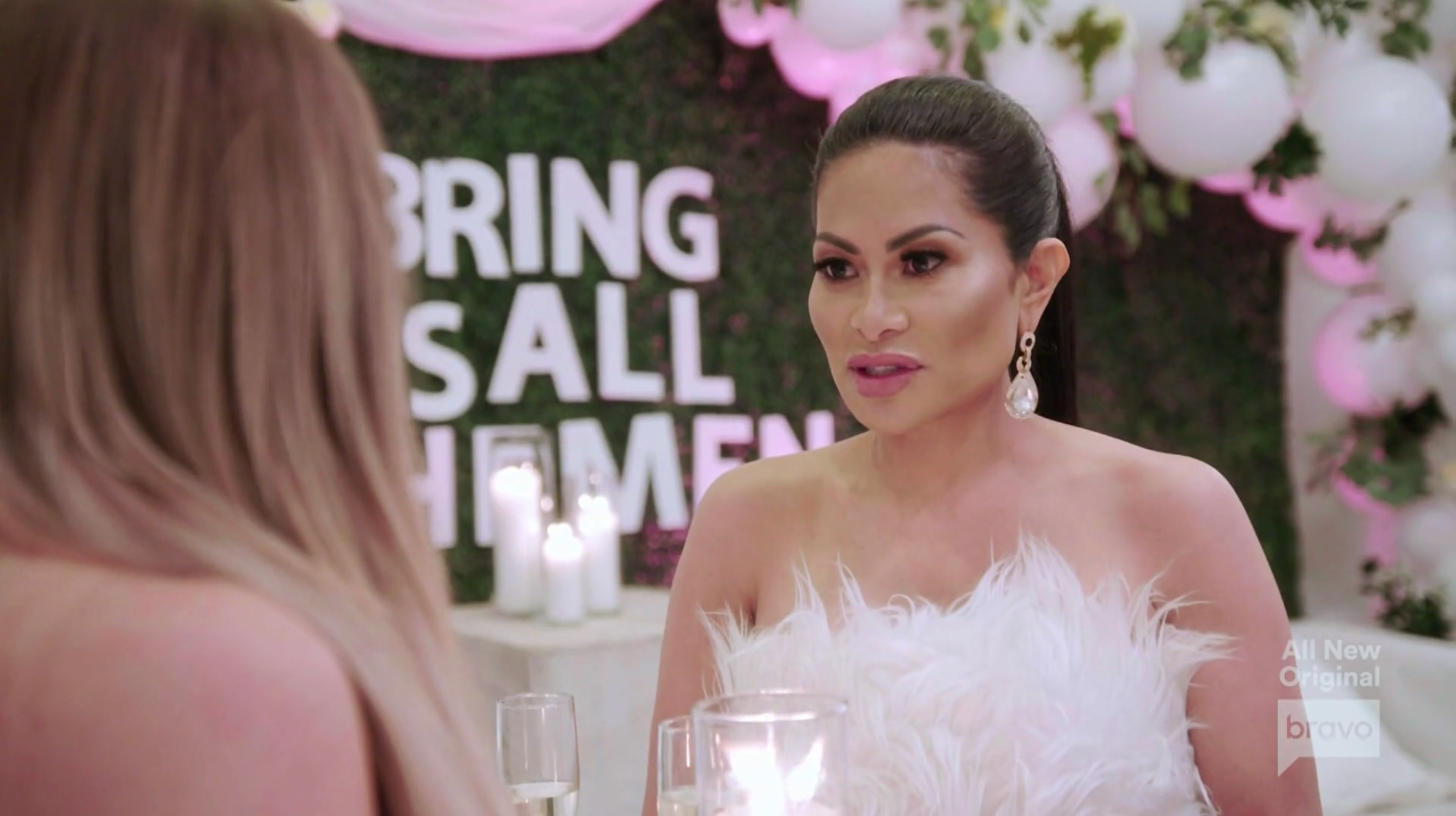 Jen immediately starts spiraling into a rage, and it's all a little confusing. Why is she angry at Meredith but not at Whitney? After all, Whitney's the one who put Mary on the guest list for her party. However, Jen sees the whole situation as Meredith pulling away and choosing Mary over her. Which is honestly not the case at all. And I can't help but wonder whether Jen feels a bit embarrassed she got so worked up after seeing what really went down on camera. The reason for Meredith cancelling was Brooks! It had nothing to do with Mary! However, I think Jen's also very lonely and lashing out, and major drama is bound to go down at Whitney's party.
Cut to said party, and all the 'Wives are dressed in their best '20s looks. Well, not all the 'Wives. Meredith is inexplicably wearing a pair of sparkly bell bottoms, but at least her jewelry is very art deco? Jen makes her grand entrance surrounded by her Shah Squad, and her look is really to die for. Instead of going for, in her words, "basic flapper bitch", she went all out as a '20s madam. And the result is truly stunning, even if the dress requires someone to follow her around fixing the train all night.
Now, Jen's already a couple drinks in when she arrives. And right away, she sees Meredith and Mary, chatting happily like BFFs. Jen's eyes turn black with anger. She's ready to pounce. But we'll have to wait until next week to see how this turns out because, you guessed it, we get another ominous "To Be Continued!"
TELL US – IS JEN'S ANGER AT MEREDITH MISPLACED? WHAT DID YOU THINK OF MARY'S CHURCH SERVICE? WERE YOU SURPRISED TO LEARN ABOUT HEATHER'S DIVORCE? WHAT ARE YOUR THOUGHTS ON MARY'S ARRANGED MARRIAGE? WHICH REAL HOUSEWIVES OF SALT LAKE CITY STAR IS YOUR FAVORITE SO FAR?
[Photo Credit: Bravo]