This Real Housewives of Potomac reunion is getting nasty really quickly. Monique Samuels' binder is going to go down in Housewives infamy. Has anyone else ever brought such thorough receipts to shut someone down the way she did Gizelle Bryant. The way she openly read off Jamal Bryant's phone number was iconic because everyone knows that relationship is a sham. She made the alleged cheating rumors seem a lot more plausible.
We didn't get much interaction between Monique and Candiace Dillard Bassett  on last week's Real Housewives of Potomac reunion episode. However, all of that is going to change. We're finally going to dive into THE fight that changed everything on Real Housewives of Potomac. Both of these women have had a lot to say in the last year. Now though, all of that talk is coming to a head because we're going to hopefully get some real answers.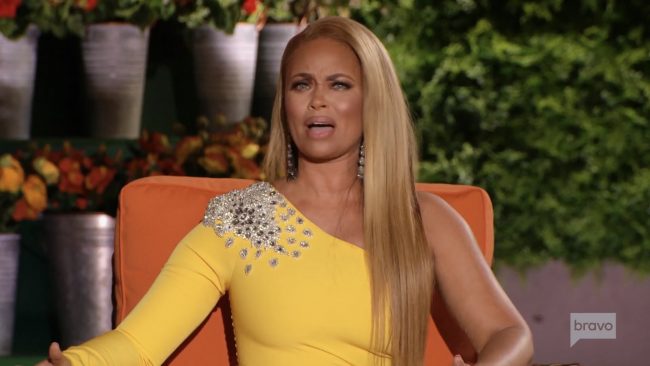 You can just tell Gizelle is rattled by Monique's reveal of those text messages. She certainly was not expecting that. Another thing you can tell is Gizelle absolutely initially wanted to lie about if that was his phone number or not. However, those shady producers would've proven it in an instant, so she had no way out but to confirm.
Even CANDIACE is wondering why Jamal wouldn't just show up to the Real Housewives of Potomac reunion if the rumors aren't true. It would be the easiest way to clear things up. It's true. We know it's true. Gizelle knows it's true. Period.
Gizelle says she will cross the bridge when she gets to it, but she's older now and less things bother her. Uh this SHOULD be bothering her. Jamal (with a Monique assist) has embarrassed her on national television, and millions of people think it's a fraud relationship. Who is willing to sit there and let that be the topic of conversation? Someone who knows it's true. That's who.
Monique's binder terrifies me. It holds so much power over these women. I wonder how long it took her to put together all of her receipts. There's tabs for everyone, so a lot of work must have gone into the creation of it. I guess that happens though when the group refuses to film with you, and you have all that time to yourself.
Monique's backstage talking to her husband Chris Samuels about being fed up with everything. I'm on her side when it comes to Gizelle because that green-eyed woman has been out to get her from the start. I don't know if it's jealousy or what, but Gizelle has always had a target on Monique. Karma is real honey, and she's here to collect.
If she's going to end up leaving the show, she's going out on an explosive note. She's here to drag everyone for all of their wrongdoings. I'm low key here for all of it.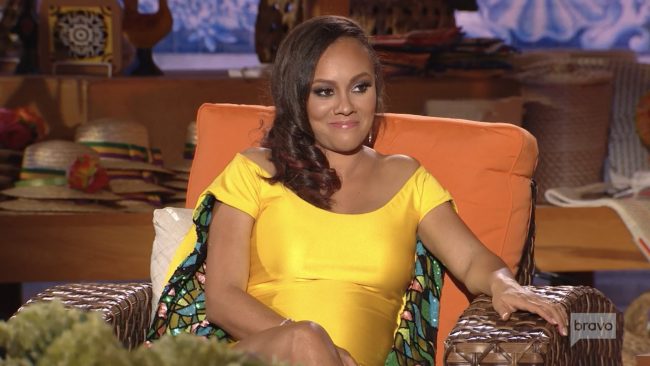 All the stuff about Ashley Darby not wanting to be away from Dean feels so long ago. The fight between Monique and Candiace kind of slowed this entire season down. I forgot how much Ashley struggled in the early parts of the season. I'm glad to see things are going much better for her when it comes to the baby.
Even Andy Cohen feels bad for Ashley because of everything Michael Darby has put her through. It must be so humiliating at times to be married to him. However, nobody handles things head on the way Ashley does. She is able to take any and all questions that anyone throws at her, and she does it with ease. She should be a politician because she is GREAT at what she does.
Michael is NOT there for the reunion, but Ashley swears he wasn't avoiding it. I actually believe her because Michael has had a lot worse things to own up to at the reunion, and he's always there. Neither of them are really shy about tackling their critics face to face.
Wendy Osefo says the sight of baby Dean is what triggered her to attack Ashley. I'm glad she didn't double down on her comments because it was so out of place. Her own feelings were being projected onto Ashley, and Darbs didn't deserve that. I can actually respect Dr. Wendy for once.
All of the women are rolling their eyes and somewhat disgusted in Ashley's defense of Michael's actions. She always tries to shift the blame or attention onto herself in some way instead of holding him accountable. There's so much talk about Jamal at the reunion, but Michael is the worst husband of them all. He's the one who is a problem.
Ashley denies being the woman on the show that Katie Rost had sex with. I love that everyone just assumed it was Ashley because of her lifestyle. I wonder who it actually is though. It's hard to picture it being any of them. SOMEONE PLEASE OWN IT.
Hearing Ashley talk about the strip club incident and defending Michael is so nauseating. OF COURSE they had sex. What world are you living in? Nobody is this delusional. I don't think Ashley truly believes the words coming out of her mouth. Secure your coin, and leave this man.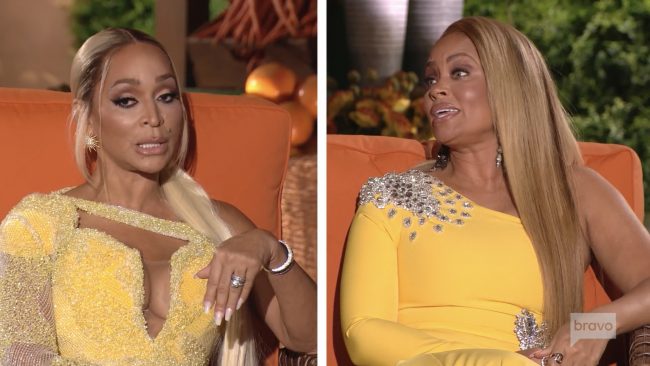 Karen Huger tries telling Gizelle she's coming from a place of love and concern about Jamal. These two might have the most entertaining dynamic in all of Housewives. Their back and forth is unmatched.
SHE IS ROOTING FOR GIZELLE AND HER FAMILY. STOP IT. I'm actually dying of laughter after hearing that. Gizelle's right that Karen is full of s**t, but it's the funniest s**t I've ever heard. I need for these two to never stop bickering and having this type of interaction.
Andy brings up Michael squeezing the ass of a producer, but of course Ashley doesn't find anything wrong with that. That's so disrespectful to anyone who has ever experienced unwanted sexual advances. Everyone knows Michael probably did it, so let's just move on.
The only positive thing that came out of that conversation was Ashley saying she'd leave Michael if he cheated again. Praise the Potomac gods! Ashley is going to leave Michael next season because it will undoubtedly happen again. He always does something horrible on every single season of Real Housewives of Potomac. Michael cannot help himself.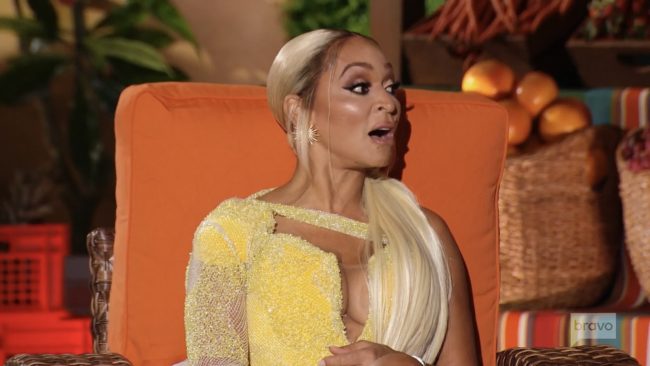 What a shocking thing it was to see Karen not only get drunk this season, but talk about her marriage so candidly. She held a façade for years that her marriage to Ray Huger was an institution. However, this season we saw the walls of that institution come crumbling down.
Perhaps more shocking was the revelation that Karen bailed Ray out of his tax mess. We've never seen her be so open about her marriage before. Sure, alcohol played a big factor, but I think she was just ready for it all to come out. Getting that out in the open probably saved her marriage.
Monique calling the money from the show "that little check" comes across so f**king rude. I'm so done with her after this season. We get it, you're above everyone and everything. Congratulations. Go play with your bird.
It's so refreshing to see Karen admit she was putting on a fake personality in prior seasons. Her parents were watching the show, and she didn't want them to see anything but the proper Karen basically. It's nice that we are able to finally see the real woman underneath all of the smoke and mirrors. It's about damn time!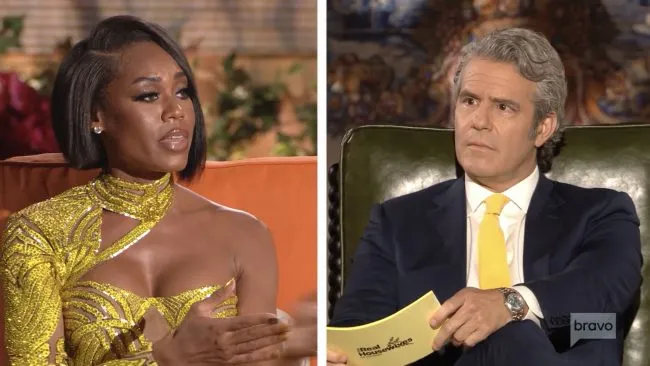 Candiace doesn't believe T'Challa ever flew away and came back home. She thinks the entire thing was a fabricated story by Monique. That honestly would not surprise me one bit. Also, Andy reveals how it's highly unusual for a bird to fly away and then return. Sounds like more lies from Monique. Who is shocked? Not me.
Apparently Charisse Jordan was the source to bring the trainer rumors to everyone on the show. Okay whatever. However, the big issue here is how it appears they were going to say baby Chase wasn't Chris'. That's a huge rumor to start. If you're going to say something like that, you need to be able to back it up.
All of this originated at Andy's baby shower, but there's no proof of it because it never took place ON THE SHOW. Andy tries to say it didn't happen on the show, but Monique says the part about Chase was edited out of Gizelle's confessional. I feel like if she really did that on camera, they would have showed it. They don't usually shy away from using juicy footage like that.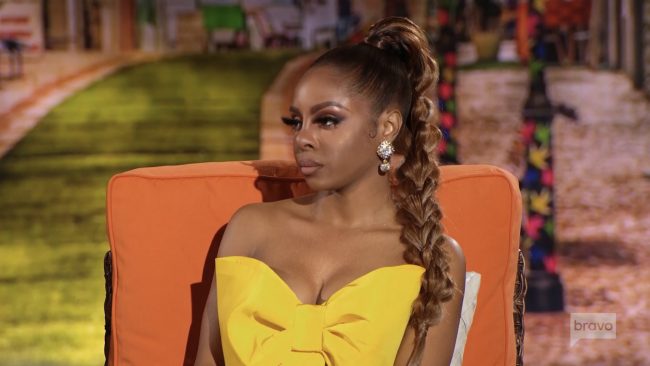 It's so depressing to see how bad the friendship between Monique and Candiace has become. I really feel like Gizelle played a huge part in their downfall. She's so messy.
Candiace tried so many times to diffuse the situation, but Monique has always been the aggressor here. I would have a razor sharp tongue too if I had to deal with that. Monique is a loose cannon.
Monique's explanation for what set her off is absolutely ridiculous. Also, everything about the wine glass is such bulls**t too. It's obvious to that Candiace was simply struggling with the glass. What would you be doing if someone was bashing your head in and not letting you go?
I'm glad Andy is calling out Monique for all of her lack of emotions about the situation. She has no remorse. She never will. Monique is far too self centered to understand how her actions have affected others. All of this led Candiace to walk off the Real Housewives of Potomac reunion set to gather herself.
TELL US – WHO STARTED THE FIGHT AT THE BARN? WILL MICHAEL CHEAT ON ASHLEY AGAIN? DID YOU LIKE KAREN OPENING UP MORE ABOUT HER MARRIAGE THIS SEASON ON REAL HOUSEWIVES OF POTOMAC?
[Photo Credit: Bravo]