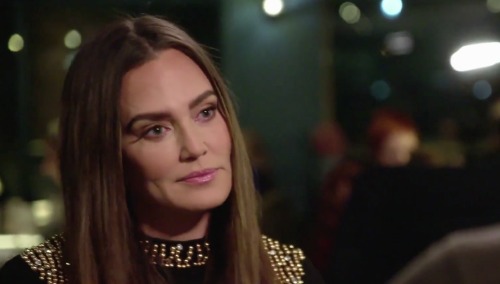 Real Housewives of Salt Lake City is giving us their all in their freshmen season. And no one has gone over the top more than Jen Shah. She's got a penchant for throwing glasses (and tantrums). So Jen is definitely a stand out of the show. Maybe not for the right reasons but at least she is entertaining?
Trouble has been brewing for Jen from the start of the season. Jen came out of the gate fighting with castmate Mary Cosby over the infamous hospital smell issue. Things got worse when Whitney Rose decided to tell Jen that Meredith Marks and Lisa Barlow were scared of her. All at her husband's birthday party, which really set Jen off. Jen ended the night by throwing a glass and storming off. It didn't end there though. Whitney and friend Heather Gay tried to work it out with her at the hot springs. But Jen seemed less than willing to move on.
Despite all her beef with the others, Jen is now taking aim at cast member Meredith. She recently slamming her for not "being as authentic or real." She also said Meredith is "definitely trying to brand herself and her family in a specific way." She ended up throwing in that Meredith is really fun off camera. That hardly makes up for the other comments.
Now Meredith is firing back, telling Page Six she was shocked that Jen felt that way. She admitted, "I was a little bit bothered by it, to be honest. I mean, for starters, you know, Jen and I have spent time together prior to this maybe half a dozen times. It's not like we were together every Tuesday and Thursday, so I think that's kind of interesting — to make such a bold judgment of someone."
Meredith continued, "Like, if Lisa Barlow had said it, you know, to me that holds a lot more water because we've spent time together for years and years and years."
Meredith says she might have been held back from her castmates due to her own issues. This included working through a separation with husband, Seth Marks. Meredith explained, "I had a lot of stuff going on on top of business and everything else. I was under an immense amount of stress and pressure and I was very much authentic to where I was at that point in my life."
Meredith tried to keep it light and added, "And I'm sorry, I didn't feel like, you know, doing splits on the dance floor — which by the way, I can't do splits anyway, I'm exaggerating." She concluded, "You want authenticity, you got it."
While the jury for me is still out on Meredith, I have similar thoughts as fans. Social media commenters have accused her of being too calm on the show. Calm as in, taking Xanax, which Meredith denies. But I'm not sure I can write Meredith off as being inauthentic. So she doesn't behave like the other women when it comes to partying and having fun. So what? She has a different personality and isn't that the whole point of housewives? To have different personalities with each cast?
Either way, I think Jen is being unnecessarily hard on everyone. Maybe due to her own insecurities. We are seeing how Jen's anger is coming out and it's not cute. So she's busy playing defense as a way to defend her behavior. While it makes for good drama, it's certainly not going to win Jen any allies. And it looks like that door is closing with Meredith.
TELL US – DO YOU THINK MEREDITH IS NOT BEING AUTHENTIC? DO YOU LIKE HER ON THE SHOW? WHAT DO YOU THINK OF JEN?
[Photo Credit: Bravo]