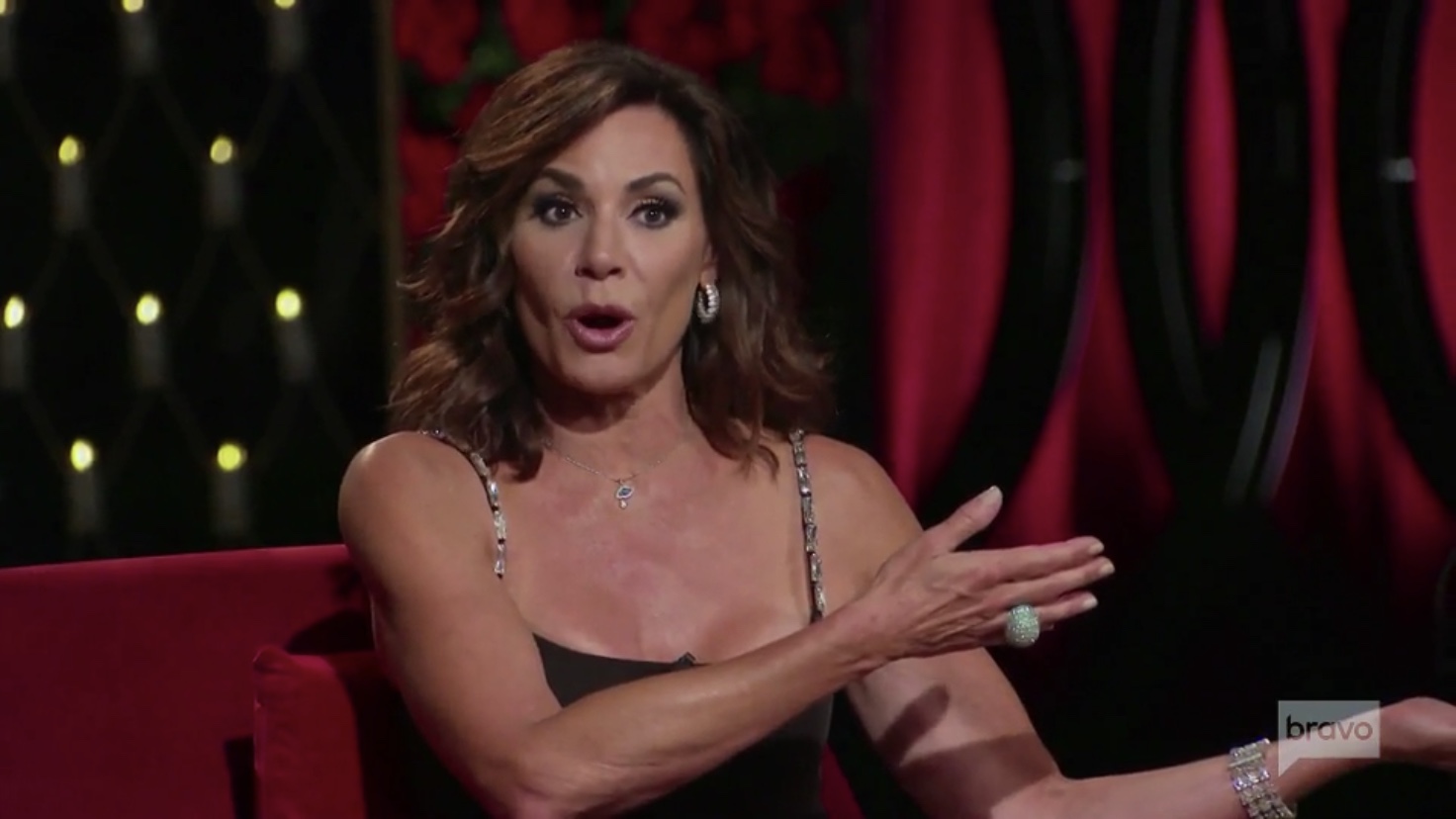 Because, of course she does. We're certainly used to this formula by now. Celebrities feeling the pangs of no attention being shut in or shut down thanks to COVID-19 has become the norm. Some people are gracious about postponing plans and wearing masks to protect one another. Others are going full stir crazy and not really listening to science or medical professionals who only want to halt a fast-moving virus so people can go to the movies again.
Last week, Real Housewives of New York star and former nurse, Luann de Lesseps caught some flak about being seen at a party in Florida. She was tripping the light fantastic in all her glory without the benefit of facial protection. Naturally people had some kind words of advice for Luann, seeing as RHONY recently dropped cameras because a cast member tested positive for coronavirus. But you know, Lu is cool, not all, uncool. So, she has a perfectly good explanation for her lapse in judgement. Alexa, play Stop Me If You Think You've Heard This One Before.
Though Luann appears to have voted the Democratic ticket, it did not spare her from the wrath of Carole Radziwill when she was busted for comingling with 50 of her closest strangers and a couple ladies from Real Housewives of Miami. On the bright side, at least it's not about Tom. That said, jumping on a plane to Florida to attend an event maybe wasn't the best idea. But people are gonna people so here we are.
Luann now wants to address the concerns of the general public and make sure Carole knows it's all CHIC C'EST LA VIE… Page Six has the details. After Lu was snapped maskless at an indoor birthday party in Coral Gables, she started getting some negative feedback. Folks thought it particularly outrageous because Lu may or may not have been putting Bravo production and her fellow co-workers at risk. But don't worry you guys, "proper precautions" were taken.
Luann said party organizers had required a negative Covid test before revelers were allowed inside the bash. And she claimed she had been wearing a mask at the party. "I took the mask off for some photos," Lu advised. "Knowing everyone had tested negative, I felt comfortable doing that." Is this kind of like knowing a snake has no venom and not caring if it bites you? The Countess also wanted to reassure everyone that she will be in quarantine upon her return to the Big Apple.
As previously mentioned, RHONY halted filming around January 14 for about two weeks because of a Covid-positive cast member. Aaaand it was the second time the season has been interrupted by that bitch Rona. This time they stopped production right before a trip upstate for the finale of the show. Obviously this was the ideal opportunity to jet set off to a state with an extremely high virus rate. But whatevs, if Covid catches the Luann, it will just make Covid cooler. It's too bad we won't have Dorinda Medley during these trying times. At least she would have made the pandemic nice.
TELL US- WHAT DO YOU THINK ABOUT LUANN'S EXPLANATION? DO YOU FEEL IT'S SAFE TO TRAVEL? WAS IT A MISTAKE FOR LU TO GO TO FLORIDA?
[Photo Credit: Bravo]