Well. This was certainly not the way the Below Deck crew expected this season to end. Particularly Elizabeth Frankini, whose firing at the end of last week's episode became, well, flagrantly unnecessary in hindsight. But it still happened. To say she's shell-shocked by the decision would be…a bit of an understatement. But it's clear Francesca Rubi is taking a kind of pleasure in forcing her off the yacht. Downstairs, Elizabeth bursts into tears, and decides the best thing to do is beg Francesca for her job back. If only the chief stew would stop and reconsider what she's doing.
The majority of the crew seems equally dumbfounded, and doesn't seem to agree that Elizabeth should've been fired. Especially considering that, while Francesca is using the guest cabin debacle as her last-straw excuse, Eddie Lucas isn't firing James Hough. For the exact same thing! They hooked up in the guest cabin together! Rachel Hargrove is particularly upset. Ashling Lorger, meanwhile, gives her fellow stew a sympathetic hug — all while side-eyeing the cameras and later celebrating with Chess.
As Elizabeth leaves the boat, Francesca doesn't even bother to see her off with the rest of the crew. And though he tells her to stay in touch, it's clear that James is secretly relieved to see Liz leave. After all, now he doesn't have to break up with her! The awkward conversations can all be avoided because she's out of sight and out of mind. On her way out, though, Elizabeth warns via confessional that karma is real, and her karmic retribution is aimed squarely at Francesca. But for now, she needs to call her energy healer.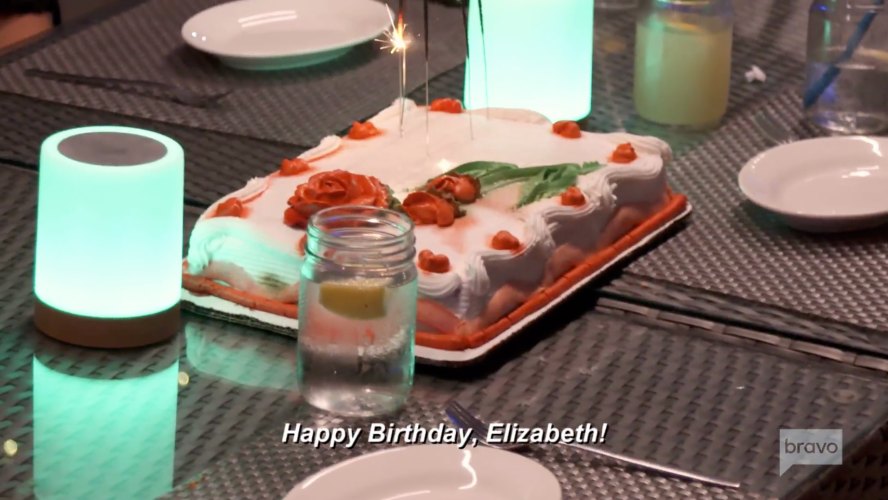 What better way to celebrate a crew member's exit than a night out? The crew change into their best party clothes and head out to dinner on the island. Which is all well and good until a birthday cake arrives at the table, topped with sparkling candles. To make up for Elizabeth's terrible 30th birthday. Oops. Turns out Rachel and Izzy Wouters forgot to cancel the cake after Elizabeth got fired. Awkward. But the rest of the crew doesn't see any problem with enjoying it since it's already there. Specifically Francesca, who digs into her nemesis' birthday cake with relish. Prompting Rachel to loudly point out that they don't need a serving knife; it's already been lodged in her friend's back.
With that, Rachel storms away from the table, refusing to participate in the celebration of Elizabeth's demise. Some of the crew feign ignorance about why she's so upset. But Rachel thinks the whole display is gross and classless. And has no problem telling them so. In fact, she's so angry that she refuses to ride back to the boat with everyone, opting instead to take a completely separate van. And she's not done! Back on MY Seanna, she tells Francesca exactly what she thinks of her behavior. In Rachel's view, the firing was clearly personal, and now the fallout is personal too.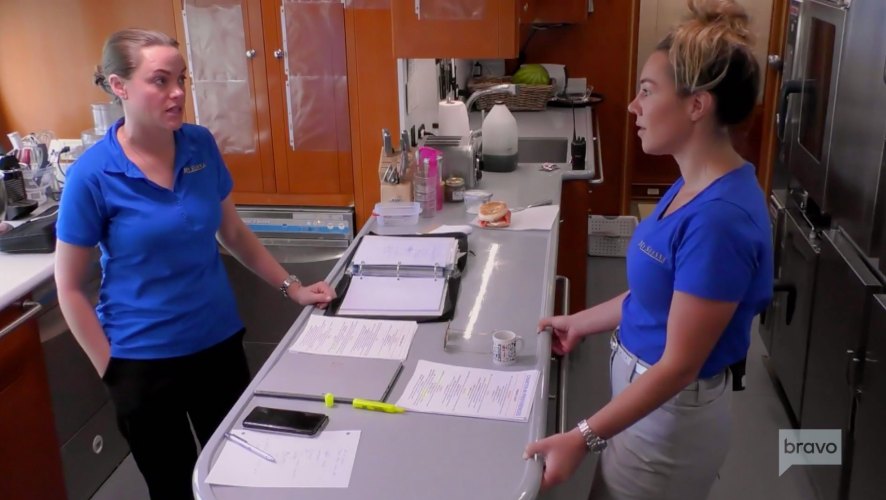 The next morning is a turnaround day before charter number seven. So while Rob Phillips continues his campaign of passive-aggression towards Izzy, Rachel requests a meeting with Captain Lee Rosbach. It's no secret that she and Francesca have clashed over service all season. And now she's ready to tell Cap the problems had nothing to do with Elizabeth. So now that they're potentially down a stew, she doesn't know what to do. But Captain Lee points out that there are only two more charters. That's six days. Can't the two department heads find a way to just get through the next six days?
Ultimately, it's an issue of communication. So it's time for Rachel and Francesca to really talk. Down in the galley, they issue a fragile peace treaty. Chess insists she's Rachel's "number one support." Both apologize — sort of — and agree that, when you boil it down, they both want the same thing. Which is to provide the very best service and food to the charter guests. So they're committed to working together more effectively and leaving the season on a high note. After all, it's just two more charters, right?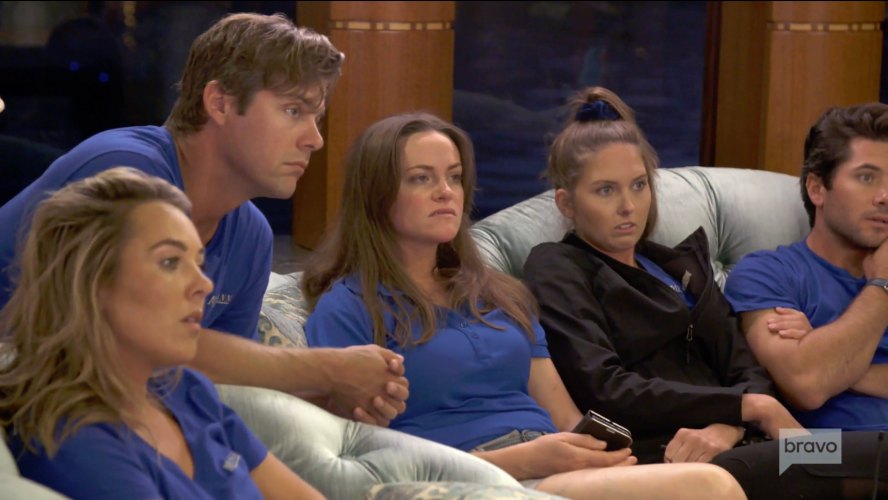 Wrong. That night, Captain Lee calls an emergency meeting. This is completely out of the ordinary. The crew has no idea what to expect, but it absolutely wasn't what comes next: the last two charters have been cancelled. [Insert stunned silence here.] Because of the coronavirus pandemic, borders around the world are closing. Travel has become increasingly perilous. It was a serious possibility that the charters wouldn't even be able to get to Antigua, much less travel home to the U.S. afterwards. So for all intents and purposes, this season of Below Deck is over.
Like I said, no one expected this. After all, by this date (March 14, 2020), the Caribbean remained virtually untouched by the pandemic. While New York has shut down and Italy's been placed in total lockdown, there wasn't a single confirmed case of coronavirus on the island. So the pandemic felt like some faraway nightmare that wasn't quite real to the crew. But now they have to frantically call their families and figure out what to do next. Though after travel arrangements have been made, they decide there's nothing left to do but dance…and drink. Captain Lee, however, wants nothing to do with a toast. He's not in a celebratory mood.
The next morning should've been the beginning of the penultimate charter. But instead, it's departure day. Before they leave, Izzy wants to have one last conversation with Rob. He deserves to be confronted about how he treated her as lead deckhand. But James gets to him first, warning his bestie over text that Izzy's looking for him. To which Rob promptly locks himself in the bathroom to avoid the conversation. However, Izzy manages to wait him out. And even after he hits her with a preemptive apology, she stands her ground and lets him have it. Good for you, Izzy!
And with that, the crew members leave the boat one by one. First Rob, Ashling and Rachel. Then James, Izzy and Francesca. Which leaves Cap alone with Eddie. Turns out the Stud of the Sea has one last parting gift for his trusted bosun: Eddie's first officer stripes. The moment is sweet and tender, and harkens back to Lee promoting Eddie to bosun with another set of stripes seven seasons ago. Via confessional, Captain Lee admits Eddie is how he wishes his late son had turned out. The difference is that Eddie lived.
Reflecting on the season, Captain Lee is the first to point out it wasn't necessarily smooth sailing. He started the season in the hospital. He ended it prematurely in the midst of a global pandemic. But he leaves viewers with some of his gruff, trademark wisdom. So I want to end this recap on a hopeful note in Captain Lee's own words. "This isn't the end of the world. We're tougher than this. We're better than this." Next week, a virtual reunion!
TELL US – ARE YOU SURPRISED THAT THIS SEASON OF BELOW DECK WAS CUT SHORT? WAS RACHEL RIGHT TO CONFRONT FRANCESCA ABOUT ELIZABETH'S BIRTHDAY CAKE? WERE YOU PROUD OF IZZY FOR FINALLY STANDING UP TO ROB?
[Photo Credit: Bravo]