What's Katie Flood going to do about Delaney Evans? Why, let her go of course. Was there really ever any doubt that the redheaded (non-)deck/stew wouldn't be around for long? For as much hemming and hawing the chief stew did about her lose-lose situation, moving the entire crew around below deck just to accommodate the newbie wasn't ever going to be worth the hassle. No matter how much of the weight dropped by Lexi Wilson her team player attitude managed to pull.
Also unsurprisingly, Delaney doesn't exactly take this news lying down. She argues. She cajoles. She tries to debate her way into changing Katie's mind. She even tries to request an appeal to both Captain Sandy Yawn and the other stews to back up all the reasons she should get to stay. Honestly, Delaney is so insistent that it gets to a point where I'm left wondering: why does she want to stay on the boat so badly? It can't really be the money, because she was already getting paid to sit around in quarantine. And it can't be to stick around in a job she doesn't want or know how to do…
The only option that makes sense is that Delaney is desperate to stay on the show. She wants to be on Below Deck Mediterranean. And don't get me wrong, she's certainly managed to maximize her short time in front of Bravo's cameras. Not only has she stretched her story arc out over multiple weeks, but she's not done yet. (Just wait.) I mean, she even got to sit (virtually) across from Andy Cohen on Watch What Happens Live after this very episode. That's really as much fame as you can squeeze out of your 15 minutes as a stew for a single charter.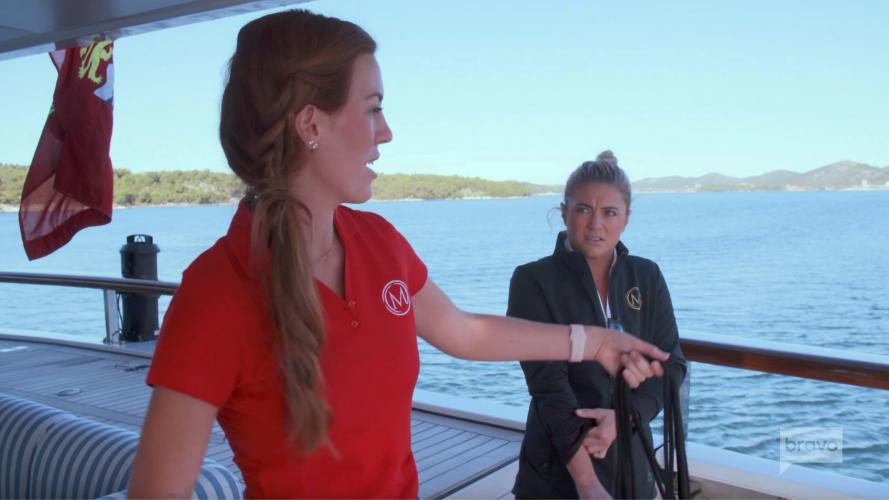 Speaking of the charter, it needs to end. So while the guests enjoy their final breakfast, David Pascoe gets to drive Lady Michelle through the canal. And as one last parting gift, Captain Sandy asks Malia White to let Delaney help with docking. After all, she's really a deckhand at heart, right? So the bosun agrees to let Delaney handle the stern lines, where she can keep an eye on her. And it's win-win, because it allows Mzi Dempers to throw the bow lines for the first time. Except, well. There's just one tiny problem. When it comes time to dock, Delaney doesn't actually know what she's doing. She messes up throwing her heaving line not once, not twice, but three times. Literally to the point that Captain Sandy has to walk the boat over to port. Which is not safe when you're operating a massive superyacht.
Once Delaney finally throws the spring line correctly, it becomes apparent that she doesn't even know how to tie a stopper knot. And listen. I don't know how to tie a stopper knot either. Or where a cleat should or shouldn't go. But I don't claim to be a deck/stew on my resume! It's embarrassing for Delaney to fail so miserably on her way out. Especially after talking such a big game on her CV. Malia is just left shaking her head, glad she didn't put the new girl on the bow to really screw things up. All jokes aside, it was the worst docking of the entire season.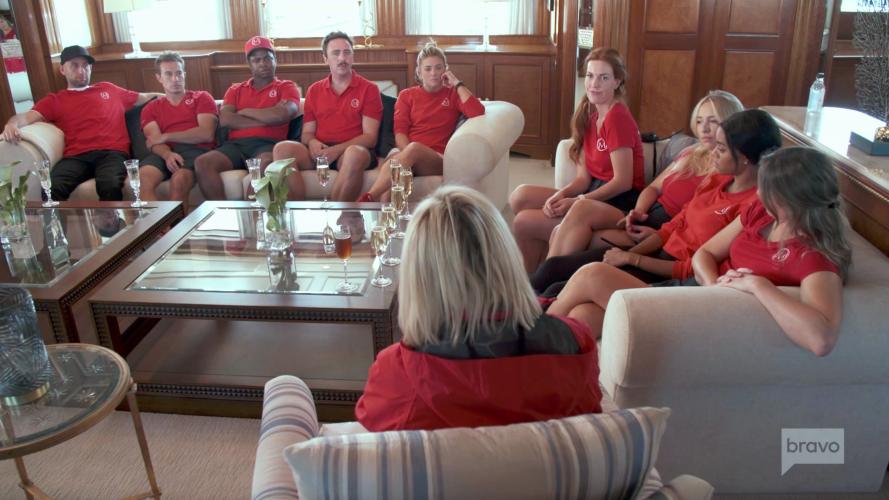 The guests finally depart, and at the tip meeting, Captain Sandy praises Delaney. Despite the fact that she just barely almost crashed Lady Michelle, the captain calls her an asset to any boat. In fact, she's so much of an asset that the crew has to split their tip one more way because of her! Amazing. The tip is $17,000, which is great for a four-day charter. It's less great, however, when it turns out to be just $1,300 a piece because of the extra person. But great attitude, Delaney. Sandy surprises the crew with a well-deserved day off the following day, and specifically invites Delaney to stick around for it. (What was it I said about maximizing her camera time?)
But wait! There's one other problem Delaney's incompetence caused. During docking, a rudder alarm went off on the steering pump. Possibly as a result of Sandy having to push the boat to port so much. They could have gotten a ground line tangled up in the propeller, and the only way to check is for Malia to put on a wetsuit and go diving. Apparently this is a big deal. That type of alarm has never gone off before, and could potentially ruin the rest of the season. But the bosun doesn't find anything during her short scuba adventure, so it must've been some sort of false alarm.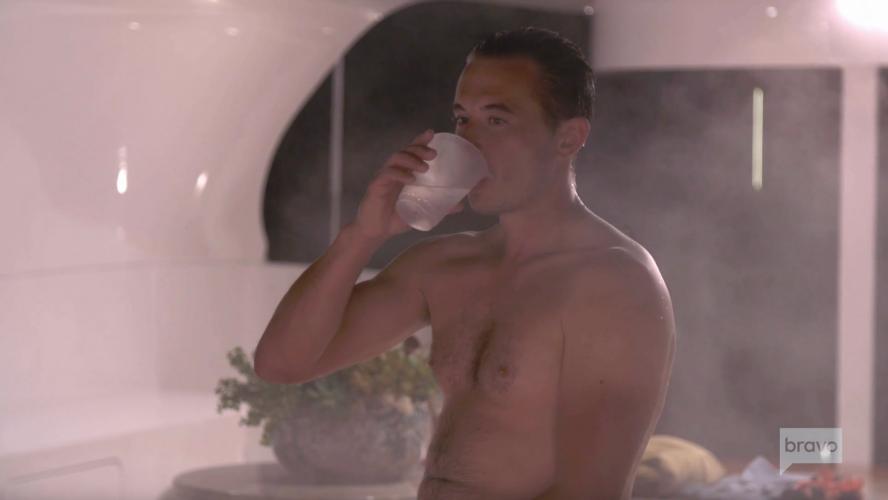 That evening, the crew heads out for dinner at Sibenek hotspot Cantinetta. The meal is slightly chaotic. First, Delaney reveals that not only is she on board with Mathew Shea's views on polyamory, much to Lexi's disgust, she's also pro sex parties. Across the table, Courtney Veale rants to an increasingly drunk Mzi that she and Katie could handle a charter better than with Lexi and Delaney's "help." And she's probably not wrong. David gives a nice speech, which somehow manages to reignite hostilities between Mathew and Lexi. Malia pulls Delaney aside to call her out for embellishing on her resume. And also to give her some friendly advice from a more experienced female in the industry, which the newbie immediately shrugs off. And the dinner ends with Mzi giving Courtney an intensely awkward lap dance. Cheers!
Back at the boat, the revelry turns into a hot tub party. Well, for everyone except Lexi, who would rather eat chili by herself and go to bed. Seeing his window of opportunity closing, a drunk David makes a play for Delaney before falling on his face while stepping out of the hot tub. We're talking hitting the deck with a sickening thud. And suddenly the poor guy is left hobbling around and can barely walk, let alone flirt. That's definitely going to leave a mark.
The party migrates to the crew mess, where tensions once again flare between Mathew and Lexi, with Mzi caught in the crossfire and labeled "Captain Save-a-Ho" by the vicious stew for trying to defend the chef. And the night ends with Delaney donning a cheetah-print bodysuit and forcing both Lexi and David to play airplane with her. Because, like I said, she wants to make as big of an impression for the cameras as possible. And while a boatmance with David isn't on her agenda, Mzi decides to take his flirtation with Courtney a step further by ordering a bouquet of roses to be delivered the next day.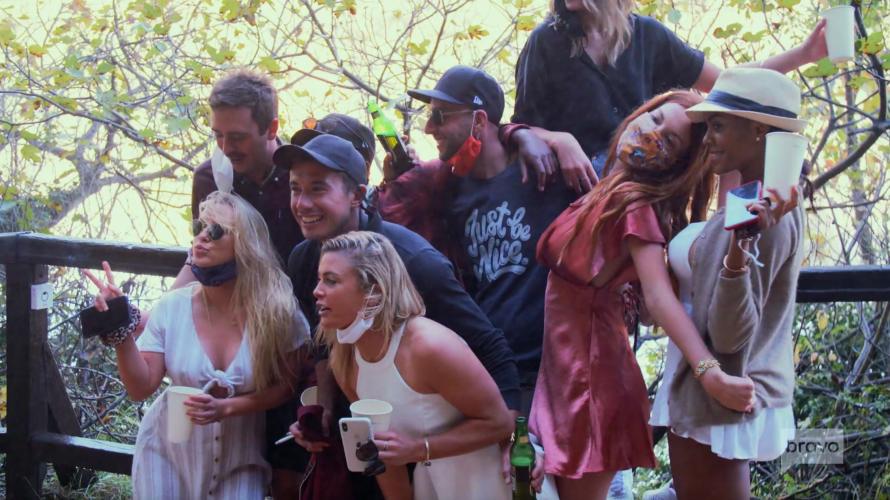 The crew's day off starts bright and early with a morning full of water sports. However, Lexi's much more interested in sleeping in, and refuses to join her frenemies. Poor David is still limping, now with a giant bruise on his leg. And Lloyd Spencer decides to pull Courtney aside and ask her about her feelings for Mzi. In a complete 180, the stew claims she just wants to be friends with the sweet deckhand. Even though they've been flirting and vibing and, you know, sometimes kissing all season. And she has no idea a dozen roses and Mzi's heart are about to be delivered on a silver platter. Poor Mzi! Lloyd tries to advise him to abandon the romantic gesture, but it's too late.
Next, the group takes a trip to Krka Falls, Lexi included. But all Malia — and any longtime Below Deck Med fan — can think of during the outing is her ill-advised date with Adam Glick back in Season 2 (a.k.a probably the best season ever) at the very same place. Safe to say this time, she won't be kissing the chef in front of the (truly stunning) waterfalls. Instead, she'll get a front row seat to round 500 between Mathew and Lexi during the crew's outdoor picnic. And this time, the chef picks the fight by openly suggesting Lexi leave and Delaney stay to take her place. Malia, Courtney and David try to shut down the fighting by forcing Mathew to switch seats. But then the name calling and low blows just get louder as they're thrown between the archenemies across the table. And suddenly, Delaney's realizing she may have buddied up to the wrong person on the boat…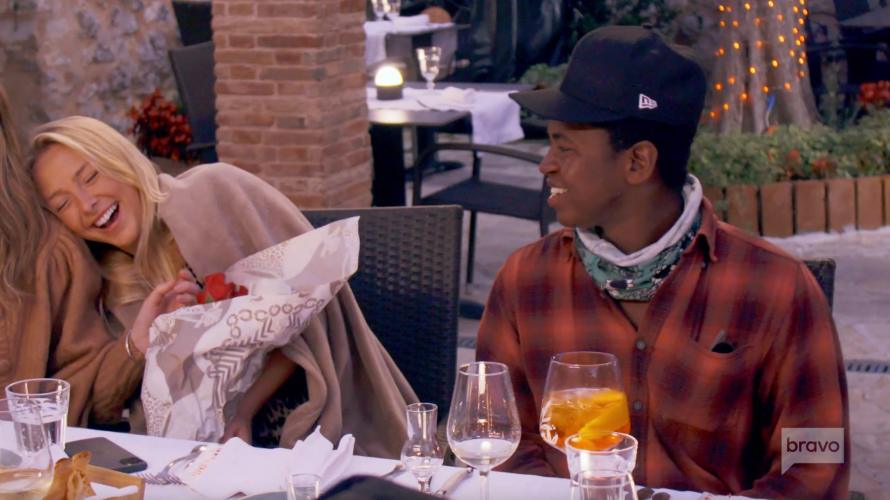 Somehow, the picnic leads right into dinner, which is back at Cantinetta. Some of the crew even make a quick change into dressier outfits on the drive over. Lexi, though, prefers to sleep, and misses the first two hours and 15 minutes of dinner by napping in the van. She wakes up and joins the group just in time for a blackout wasted Mzi's flowers to get delivered. As in, he hasn't even been able to stand up by himself all day. Despite friend-zoning him earlier to Lloyd, Courtney graciously accepts the roses and something tells me there may be hope for Coco and Maverick yet.
There's no hope, however, for Mathew and Lexi, who resume fighting almost the minute she sits down. He claims she's the worst person he's ever known. She retaliates by calling him the r-word, which is when the entire crew says enough is enough. But there's no stopping either of them now. Mathew claps back that his mom was a special education teacher and would say Lexi had bad parents. To which Lexi hatefully fires back that the chef should've been aborted. Storming away from the table, she threatens that if there weren't a camera crew watching, she would physically lay hands on him. The self-proclaimed Satan has shown her face once again and sunk to a new low, just in time for the supersized episode to end…
TELL US – ARE YOU SURPRISED KATIE LET DELANEY GO? WHY DO YOU THINK DELANEY WANTS TO STAY ON THE BOAT SO BADLY? HOW BAD DID DAVID'S FALL LOOK? ARE YOU SHIPPING MZI AND COURTNEY? ARE MATHEW AND LEXI EQUALLY IN THE WRONG IN THEIR WAR OF WORDS?
[Photo Credit: Bravo]