After last week's filler episode of The Real Housewives of Potomac, this one better be better. There was way too much revolving around Candiace Dillard Bassett's music video. We need a lot more substance than that.
I'm a bit scared to even comment on Gizelle Bryant's daughter and her driving again. She has a long way to go before she's fully road ready. If I say anything else, the world might end up in actual uproar. However, Gizelle's putting it out there, so why wouldn't I comment on it?
Gizelle's home is still nowhere near ready to be done. She's hosting an event at her place which is opening herself up to criticism. I understand wanting to launch her new podcast, but her house looks rough. They can't even go inside. The entire event will take place outside. Good luck avoiding shade with that one.
Even though things have improved with Wendy Osefo & Karen Huger. Gizelle's not over it fully. She doesn't want either of them stepping foot inside of her home. Robyn Dixon wants them to not be treated differently than everyone else. She's not signing on to any of Gizelle's unreasonable demands. Good for her!
Thankfully Robyn is able to talk some sense into Gizelle. The guests (Karen included) may not use her bathroom facilities when they feel the urge. This is progress!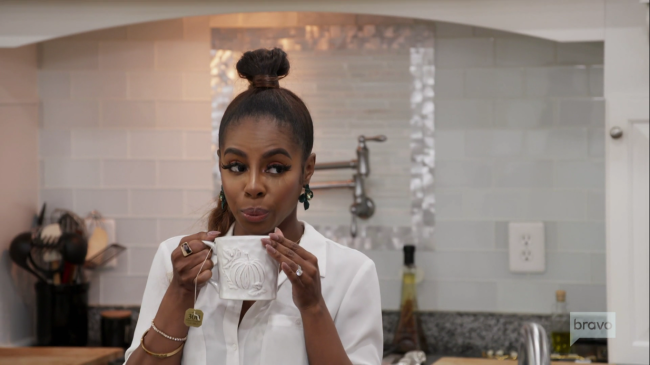 The prototypes for Karen's new three wick candle are here! This home essentials line is already light years ahead of anything Wendy's working on. For starters, Karen appears to have a solid business plan beside her.
Karen's so shady about Wendy's one wick candle. She continues to point out how there's no comparison between the two candles. In all fairness, Karen isn't wrong. Wendy's totally unaware of anything she needs to do to have a successful business. It's going to be a while before she's achieving anything near the heights of what Karen is.
Ray Huger gets a text message from a woman who calls him handsome. Karen doesn't waste any time calling the woman back. Mrs. Huger isn't going to let some young thang come and steal her man. No way no how!
Dorothy Dillard is still hanging around. It's a shame because Candiace has no idea the horrible things being spread behind her back. There was no reason for Mia Thornton to fish for dirt about the crevices of Candiace's person life.
Dorothy won't own up to any of the comments she spread behind her daughter's back. She doesn't recall what she said to Mia behind their backs. This likely did irreparable damage to her relationship with Chris Bassett. Now that he's seeing this air and play out, there's no way he's okay with any of this. Dorothy is messy for no reason. How is this woman someone's therapist?
Candiace says it's a bad move for anyone to try and create issues in her marriage. This feels like a warning shot to not only Mia but also to Dorothy. Her mother is going to learn eventually the ramifications of meddling in her daughter's marriage.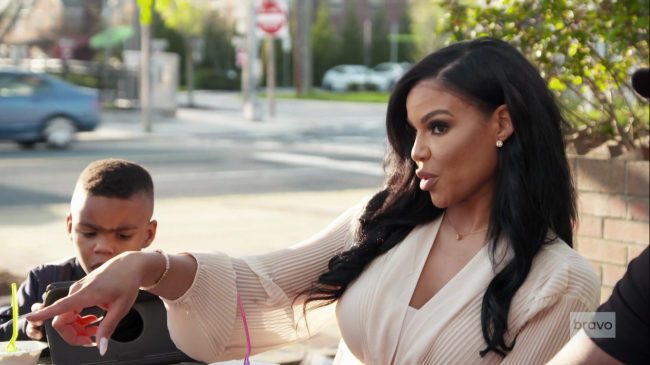 Mia's finally meeting up with her mother and has the kids along for it. They've come a long way so far, but there's still much healing to be had. Things are far from hunky dory right now.
Mia seems extremely jealous at the closeness of her mother's relationship with her younger sister. It probably stems from not having access to the same type of relationship. When she was growing up, her mother wasn't in the state to be an actual mother. She was facing dark personal demons that rendered her basically unfit.
Mia's mother went from prison to rehab, and she's been out ever since. Despite originally being sentenced for 20 years in prison, things are going well on the surface. Her mother's there and making an effort in the present though. She's putting in the work to make up for her past wrongdoings.
She tries to praise Mia for how successful she's become. However, part of Mia's drive comes from being forced to be so independent at such a young age. She wasn't allowed to have the privileged childhood of her sister or other children. That has to sting.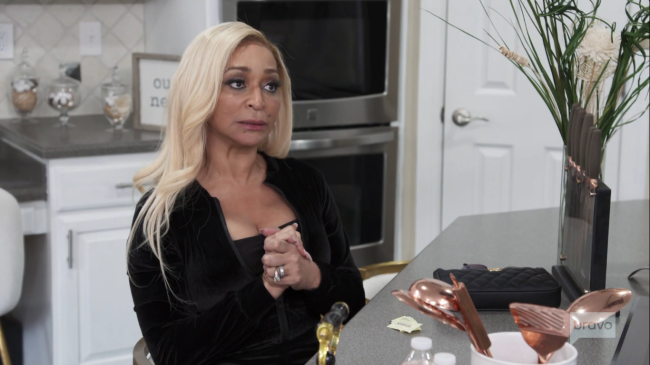 Karen stops by Wendy's to hear the rundown of how her business efforts are going. Karen wants Wendy to understand there's enough room in the market space for both of them. If I was Wendy, I'd still be pissed about Karen keeping it a secret from her. That's so damn shady.
Wendy enlists Karen & Askale Davis' help on a charity project. I'm not sure what the hype is around Askale. She always looks too shook or confused. Every scene is Askale having basically no clue what's going on. Why is she even around?
The ladies discuss how uncomfortable it was for Mia to ask Dorothy questions. It was so inappropriate. It's more twisted of Candiace's own mom to do it than Mia though. Mia's questions didn't seem anywhere near as malicious as Dorothy's comments. The mama is the real problem.
Wendy doesn't know why Gizelle's bringing negative energy to the group after everyone made up. Putting "haters" on the invite is only going to cause more chaos with everyone. We'll see how it goes.
Wendy's planning a couples getaway with everyone in the group. Everyone's steadily gossiping about the men of the group. It'll be interesting to see all of them together in one location. You'd have to imagine neither Juan Dixon nor Michael Darby will be in attendance. If history is any indication.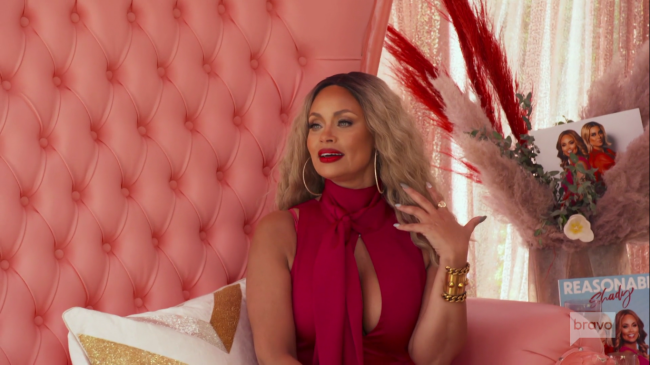 Gizelle's home isn't in any condition for a party. I'm having second hand embarrassment on her behalf. If that wasn't already bad enough, Gizelle's injured. She dropped an entire table on her foot. This is what she gets for trying to have a celebration at this Hotel Hell.
Things between Karen & Gizelle are still good. How long can peace last between them? Eventually, they're going to come to blows again. It's the circle of life in Potomac.
For some reason Gizelle announces to the group about almost not letting Karen & Wendy use her bathroom. HERE WE GO. Let's cue the end of the peace between the ladies. It's a really weird things to even vocalize a shady ass rule like this.
Wendy wasn't going to originally come to this event in the first place. Now that she is there, she's in the hot seat so quick. Why invite someone to an event if you plan on attacking them though. You either bury the hatchet or you don't. You don't pretend to bury the issues and then bring up at any time to cause a problem.
Gizelle thinks it's whack Wendy told Candiace about Mia digging into her life. Just in time for this question, Candiace finally arrives to the shit show. She's going to waste no time reading Ms. Mia for filth.
Why is everyone making an issue over Wendy doing this. She was protecting her friend in that moment. How is that shady but spreading rumors about Wendy's family isn't? Are you kidding me? The green-eyed bandits are always living in a sea of hypocrisy.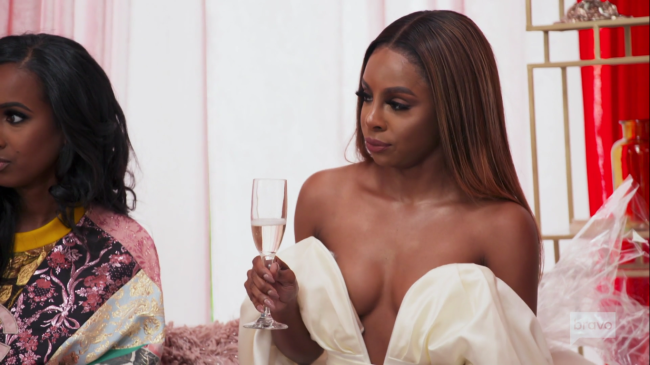 Mia calls Candiace's music video low budget, but Candiace calls her mother low budget. She doesn't know the backstory of that, so she doesn't know how low that might've hit. Nobody understands why it's weird to ask Candiace's mom about her finances. Uhhhh, yes it is. Stay the f**k out of it. It's not as if Mia is close with Candiace. It was basically a stranger asking her mother personal questions about her home.
Robyn asks the final question of the event, and it's a doozy. She asks if it's reasonable or shady to question your friends changes to their appearance after cheating allegations emerge. She should've openly said "hey Wendy this is for you and only you." This isn't going to go over well at all. This question in and of itself is shady as hell.
Wendy says it would be reasonable if they didn't continue to talk about her after the fact. Robyn and Gizelle are both denying doing this, but they're lying. That's exactly what went down. They've continued to talk shit about Wendy whenever she's not around.
Askale tries to stick up for Wendy, but she ends up in a fight with Mia. She calls Mia a "hoe ass", and things are getting highly combustible. I didn't think she had it in her to actually stick up for herself. More of THAT please.
With the way this event went, the couple's trip is going to be total chaos. WHY DID CANDIACE LET GRACE MOVE HER CAR AT THE END OF THE PARTY? Does she want her car to get totaled? The fact that her car made it out in one piece is a miracle!
TELL US – TEAM WENDY OR TEAM GREEN-EYED BANDITS? IS MIA WRONG TO ASKING QUESTIONS ABOUT CANDIACE'S FINANCES? WHAT DID YOU THINK OF HOTEL GIZELLE? ARE YOU ENJOYING THIS SEASON OF THE REAL HOUSEWIVES OF POTOMAC?
[Photo Credit: Bravo]