Most of us Celebrity Big Brother or Big Brother fans in general, have learned to "expect the unexpected." But these past few days in the Big Brother House have been maddening for those that love and respect the game. It's normal for a few players to act as clueless "recruits," whether on the main show or the celebrity edition, but the dumb is being served thick this season, especially with players like Lamar Odom and Todd Bridges (most of Odom's air-time is spent with Todd trying to explain to him how the game works, which is funny since Todd has close to zero understanding as well). What's even more disappointing though is that even the "good" players this season like Carson Kressley and Cynthia Bailey seem to not have full grasps of how the game works, or at least that's what it looked like in their handling of Shanna Moekler.
Shanna became the latest back-door victim on Monday night's episode, after Todrick Hall successfully flipped the house on its head to save his ride-or-die ally, Miesha Tate. Shanna knows the game, but wasn't able to effectively articulate her position. The idea that Cynthia and Carson would have expected Shanna not to talk game at all with anyone else in the house (when Carson himself was in three different alliances), is a bit of a dismaying shock. Shanna proved her loyalty by pulling Carson off the block when he was the clear target, yet Shanna was blamed for "watching out for herself." Of course she was! This is Big Brother! An alliance has never won the game, only an individual person can win. Of course Shanna is going to make the best moves for her game, but her in-game actions have clearly put her in-line with Carson and Cynthia, who became so blinded by Todrick's story that they evicted a person that could have helped them win the game. Instead, they've given control of the house back to Miesha and Todrick.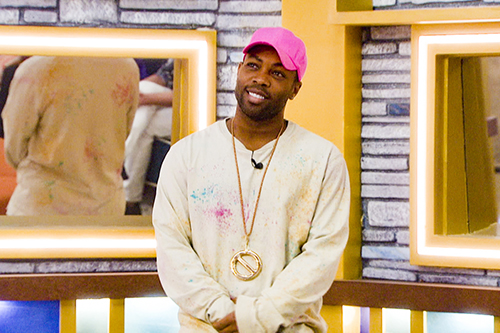 It's quite unbelievable if you think about it, and kudos to Miesha and Todrick for somehow, someway wiggling out of harm's way. The fact that Miesha was publicly gunning for Carson, put him on the block twice and couldn't be convinced otherwise that he was the game's biggest threat…Carson then wins HOH and Miesha escapes eviction? Woah. Nothing will ever compare to the mastery of Dan Gheesling's "Funeral," but I'm not sure I've ever seen a bigger "save" in the Celebrity edition of the game than what we just witnessed.
Shanna said it correctly in her exit interview with Julie Chen Moonves: It's kind of sad and pathetic that Carson and Cynthia squandered all that Chris Kirkpatrick and Shanna did to earn the power in the game. Shanna was done dirty, but you know what? It's not the first time that's happened in the Big Brother house and it won't be the last.  We're now down to two different power couples, Todrick/Miesha and Carson/Cynthia, and then whatever the opposite of a power couple is with Lamar/Todd. Carson has shown to be a good competitor but not nearly as much as Miesha has, and if she comes to power for a third time in this game, do you really think that they're going to target Todd or Lamar? If the Entertainment Gods of Reality TV are reading this, please please please give us a Lamar Odom HOH! While this season has proved to be frustrating at times, I don't think anyone would say it hasn't been entertaining, but the fun-factor would be off-the-charts if we could see a Lamar (or to a lesser degree of fun, Todd) HOH. Make it happen!
Monday's episode was doubly-cruel to Shanna when she was the ONLY person out of the seven remaining players not picked to play in the POV…that POV comp was her last chance to save herself. Talk about bad luck. Todrick, who ended up winning POV, ended up inexplicably pulling Todd off the block to clear the way for Shanna's unanimous vote-out (we'll have to wait and watch the next episode to understand exactly why Todrick ended up leaving Miesha up on the block against Shanna). Clearly something escalated between Todrick and Shanna during the live episode, because Shanna had some choice words for him on her way out the door, promising him that she'd get the jury to vote against him should he make it to the end.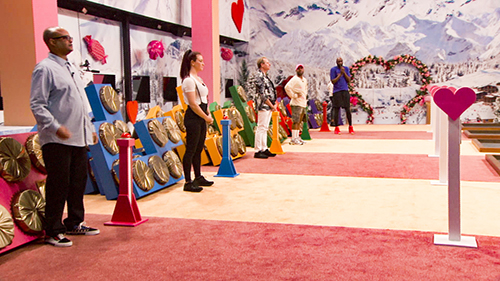 The only other scene of note from Monday is the one that everyone is talking about, which was Lamar's live vote. It was disgusting if you ask me, as he was shown chomping on his nails, spitting them out into a napkin and then doing it over and over again…all on live TV while Julie and the rest of America awaited his vote. It was just another example of his complete obliviousness in this game…something that was cute and funny for a few episodes, but for me, has already worn out its welcome. I sort of hope that the two power couples get together and evict Lamar and then Todd, just to ensure that the game's good name isn't sullied by them somehow making it to the end and – gasp! – possibly winning (as Shanna left, she seemed to be rooting for Todd to win…yikes! And there is a 100% chance that a jury full of C-List celebrities will indeed be bitter, so a "spite" winner is not exactly the finish I'm rooting for).
The Finale is already coming soon, in just over a week, so stay tuned to see if cutting Shanna comes back to haunt Carson/Cynthia (that's my bet) or if it will be looked at as a big move on their road to winning the game.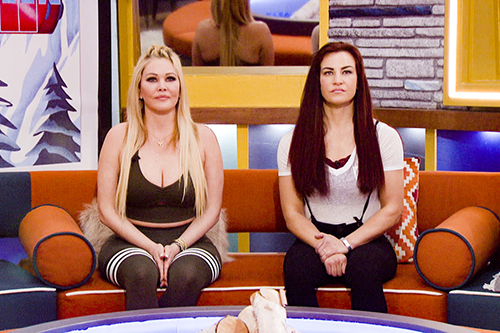 Here's the upcoming Celebrity Big Brother Episode Schedule:
Week 3
Wednesday, Feb. 16 – 8-9 PM (HOH and nominations)
Friday, Feb. 18 – 8-10 PM (two-hour live POV and eviction)
Saturday, Feb. 19 – 8-9 PM
Week 4
Sunday, Feb. 20 – 8-9 PM
Monday, Feb. 21 – 9-11 PM
Wednesday, Feb. 23 – 8-9 PM (finale)
Quick Note! I appreciate that you are reading this recap! Those that have followed me also know that I am also a RottenTomatoes-approved film critic and I encourage you to check out my past movie reviews and my TV show (episodes are also available online at the website, www.MovieShowPlus.com.) As always, the easiest way to get all of my Celebrity Big Brother and Survivor coverage and movie reviews is to follow me on Twitter – @tomsantilli – or on Facebook.
TELL US – WHAT DO YOU THINK OF THE LATEST EPISODE? WHICH POWER COUPLE ARE YOU ROOTING FOR? WHO DO YOU HOPE WINS THE NEXT HOH?
[Photo Credits: Screen Grab/CBS (C)2022 CBS Broadcasting, Inc. All Rights Reserved]