The Real Housewives of New Jersey are working for their checks! Jackie Goldschneider has clocked in this season, and so has Dolores Catania. These two getting into a near physical interaction wasn't anything I ever anticipated. More of this, please! Thank you for finally not being two bores.
The fight between Jackie & Dolores picks back up, and they need to be separated. Dolores says Jackie gets on her nerves. Paterson Dolores is HERE this season. It's about damn time. She spends most seasons coasting and doing the bare minimum.
Dolores says Jennifer Aydin should approach her directly if she thinks she's not being a good friend. Discussing it with Jackie is the real issue Dolores is having here. However, in Jennifer's defense, Jackie's the one who brought this to her attention. Jennifer didn't seek out information about Dolores' loyalty from Jackie.
Jackie says she doesn't want Jennifer to rely on someone who isn't going to follow through. Jackie's not scared of Dolores and won't pretend she's a good friend to Jennifer. Dolores is going through it right now because of her recent breakup with David Principe. She's in a heightened state of emotions.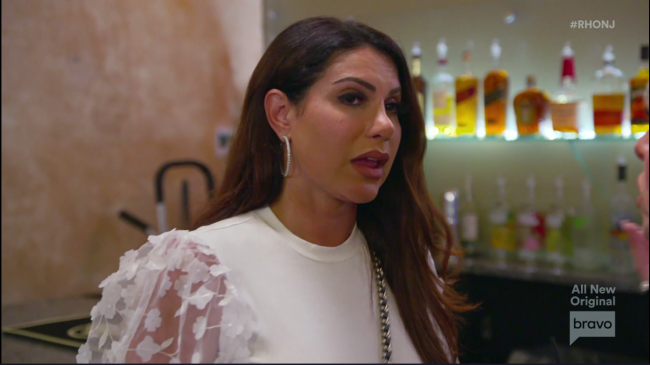 Margaret Josephs & Jennifer finally have a one on one conversation, but Marge still doesn't get it. She thinks Jennifer's being a hypocrite because she calls out Marge's past affair when Bill Aydin also cheated. If she stops and thinks for a moment, she'll realize that the cheating in her past probably triggered Jennifer. Jennifer probably sympathizes with victims of adultery because of what she went through with Bill.
Jennifer admits to going in on Margaret too far about the cheating. However, she proves my theory correct by saying Margaret's affair triggered here. BINGO! There it is. Jennifer's admitting that she's quick to judge, but it still hurts her to hear Marge bragging about the affair.
Dolores says it's wrong for Jackie to question her friendship with Jennifer. Jackie finds this to be a pattern from Dolores. Not only that, but she knows what it's like to be on the receiving end of these salacious rumors. The situation from last year with Teresa Giudice sent her eating disorder on a downward spiral.
Jennifer tries to get Margaret to understand why she's so humiliated. She wants to protect Bill. She doesn't want her life to fall to shambles over Margaret revealing this long-buried secret.
Margaret thinks Jennfier's brainwashed to believe she's at fault for the affair. The dynamics of everything are shifting because they're seeing new sides to one another. Finally! This cast is working for their checks, and it's great to see.
Melissa Gorga invites all of the women to her shore house. Anytime these ladies go down to the shore, shit pops off. It's only a matter of time before this temporary peace is destroyed again.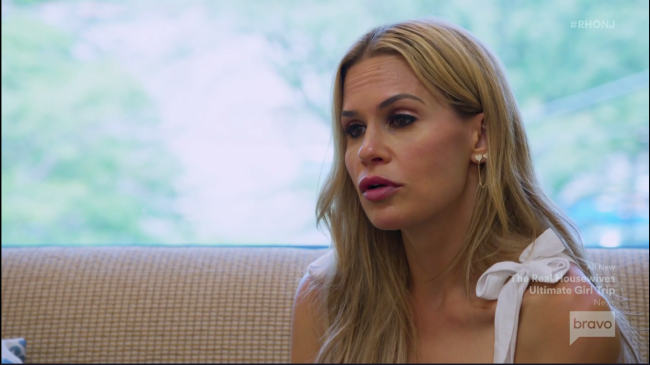 Man, my heart is breaking for Jackie this season. She's going THROUGH it. My greatest wish is for her to get her eating disorder under control, so she can live a long and healthy life.
Jackie tells a treatment center that her older kids are noticing her relationship with food. Sometimes Jackie's fingers go numb, she's always cold, and her heartrate is abnormally slow. Hopefully, they can help her get back on a better path.
I love a good Catania family solo scene this time of year! It's so weird for the kids to be living with Frank Catania for the first time since they were infants. Gabby Catania doesn't want any girls being brought home to the house by her father. Setting a ground rule like that as the daughter might cause a rift within the family. Good luck stopping him from doing what he wants to do.
Dolores doesn't want any trouble under her roof. However, Frank's lifestyle isn't conducive to a good time for everyone. He's not allowed to have anyone sleep over at the house. It's sort of a double standard because the kids are allowed to have their partners over for intimate times.
At the dinner, Gabby asks about David, but Dolores is beating around the bush. The kids are shocked when they learn of David & Dolores' split. A lack of communication led to their split. We all saw this coming. The writing was on the wall for many seasons. It was never going to last.
Frank asks Dolores if she had an issue with any of the family remaining close with David. She doesn't have an issue with it because she brought him into their lives. At least she's being cool about that. Some people would want to have their ex completely cut out of the lives of anyone around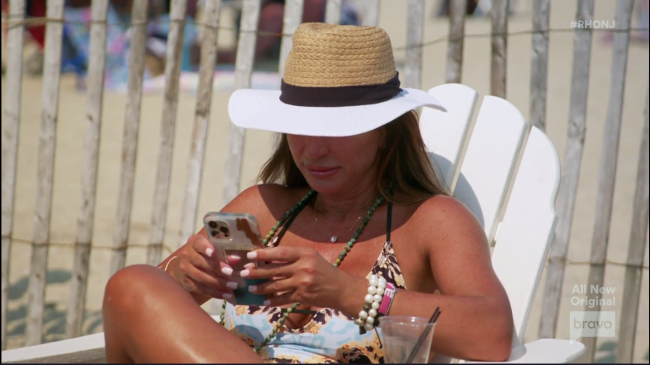 Jackie can't wait to start moving forward with her recovery. However, her mind is racing over thoughts about good already. Worrying about lunch is at the forefront fo her mind instead of having a good time.
Jennifer's feeling a little better about her place in the group after making up with Margaret. Things aren't perfect, but it's a lot better than it was previously. Trouble's still brewing between Jackie and Dolores though. Dolores is looking pissed off and out for blood about Jackie talking negatively about Bill. HERE WE GO AGAIN.
There's more weird information coming out about Louie Ruelas. It seems every episode another unflattering piece of information from his past is emerging to haunt him. Of course, Margaret is on top of that in an instant. She's trying to take Teresa down this season it seems.
Jennifer takes issue with Dolores asking her how she's feeling because of what happened before. Dolores is suddenly changing her tune when it comes to Jennifer. She's more invested in Jennifer's feelings than she was before Jackie called her out. Jennifer's not buying into it either. The shifting dynamics of the group this season is doing wonders for the show.
Everyone's gossiping about Louie, and they think where there's smoke, there's fire. Spreading these rumors about Teresa seems to be revenge for her antics last season. Did she make the bed she's being forced to lay in? It's difficult to feel too bad for her given the mess she wreaked on Jackie's life.
Dolores tells Jennifer what Jackie said about Bill at Teresa's party. All bets are off now. Jennifer's gears are turning, and she's clearly getting pissed at Jackie. Jennier's playing friendship ping pong and bouncing back and forth between Jackie & Dolores this season.
Dolores is being so over the top and messy, and it's a welcome change in her usual demeanor. Finally. It only took her the last like four seasons to get back into the game. I didn't think it would ever happen.
Louie calls Teresa and before we can hear what's going on, Teresa tells him she's mic'd. A producer shows up to tell Teresa that Louie's upset in the parking lot. The story's out there, but she's refusing to discuss it. She's leaving and calls the producers the devil.
TELL US – TEAM DOLORES OR TEAM JACKIE? IS DOLORES BEING TOO MESSY? IS JACKIE A GENUINE FRIEND TO JENNIFER? WHAt IS YOUR OPINON OF LOUIE?
[Photo Credit: Bravo]