It's only been two weeks since The Real Housewives of Orange County took a break. And while the brief hiatus was for no particular reason, it somehow felt like it lasted forever. Right? But I'm glad the show is finally back. Because I thought the last episode was a great mix of fun and drama. And I for one am ready for this season to keep going.
In her press interviews ahead of the premiere, Heather Dubrow teased this season as "transitional." At the time, some fans probably thought that was to temper expectations in a sort of re-grouping year after a truly terrible Season 15 and a big casting shake-up. But the longer this season goes on, it's giving me more and more of an old-school RHOC vibe. I'm talking before Housewives spread throughout the nation and it was just a show about a group of privileged women living in Orange County. We even had a cameo from a former Housewife for no particular reason other than real friendship this week!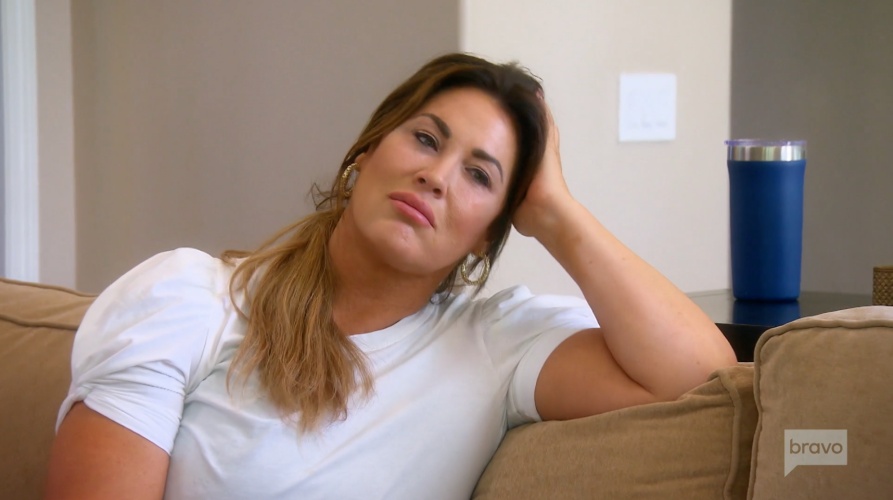 Though to be honest, the last thing I ever expected to see on Housewives was a Mormon missionary video conferencing in to help a 'Wife's child prepare for her baptism into the Mormon Church. But we've reached that point with Emily Simpson and her daughter Annabelle Simpson. Shane Simpson's religion started out as an interesting factoid when Emily joined the show three years ago; how do a Real Housewife and a Mormon husband possibly make their marriage work? But the religion has become more central to the family in the wake of the pandemic. And it's left Emily seeing the value in her kids growing up to be like their dad.
Though I reference it more often in my Real Housewives of Salt Lake City recaps, I'm not shy about the fact that I grew up Mormon and spent the first quarter century of my life in the Church. And let me tell you, the rules for missionaries have changed drastically since I spent two years in northern Canada. We were only allowed to call home for one hour on Christmas and Mother's Day. That's twice a year. For sixty minutes. Other than that we were only allowed to correspond with our families once a week via email. Nowadays, missionaries can Skype or Zoom with their families on a weekly basis. Kids these days have it so easy….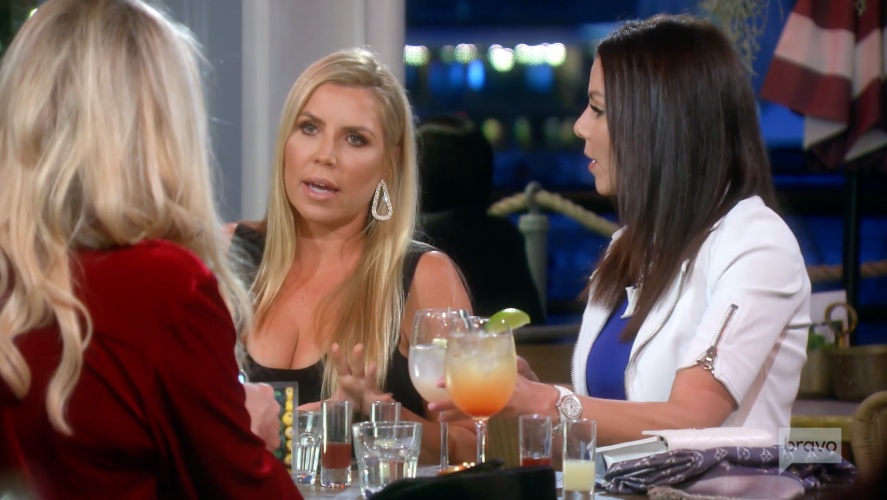 Meanwhile, Heather's having a girls' lunch with Shannon Beador, Dr. Jen Armstrong and her friend Tawnie. At first, I thought it was great to see the two vets getting together, but really the purpose of the meal is to check in on the status of Dr. Jen's marriage to Ryne Holliday. Update: things are still not good. Symptoms: the sparring husband and wife duo still haven't addressed the fact that he packed his bags and left the house in the last episode. Or that he came back the following morning to unload on the good doctor. Prognosis: this marriage could be on the rocks faster than it takes Ryne to remove his shirt without some serious help. And while she's no professional, Heather volunteers to step up and do what she can to show Dr. Jen and Ryne what a healthy marriage can look like.
On the unhealthy end of the marital spectrum, though, we also have Noella Bergener. The newbie is happy to report that she's begun the process of mediation with her soon-to-be ex-husband James Bergener. The only issue is that Sweet James couldn't be bothered to show up in person for the meeting. So he FaceTimed in from Mallorca (allegedly). Though Noella wouldn't have seen him anyway since they spent the entire mediation in separate rooms with their lawyers.
The most telling aspect of this whole scene, though, is the fact that the newbie is relaying all of this information to a friend whom we've never seen or met before. Who is Keni and why should we care? Has Noella already exhausted all the other 'Wives with tales of her dramatic divorce to the point that none of them want to film with her? She certainly seems to have burned bridges with the majority of the cast one by one with her antics this season. But, like, not even a one-on-one scene with Shannon?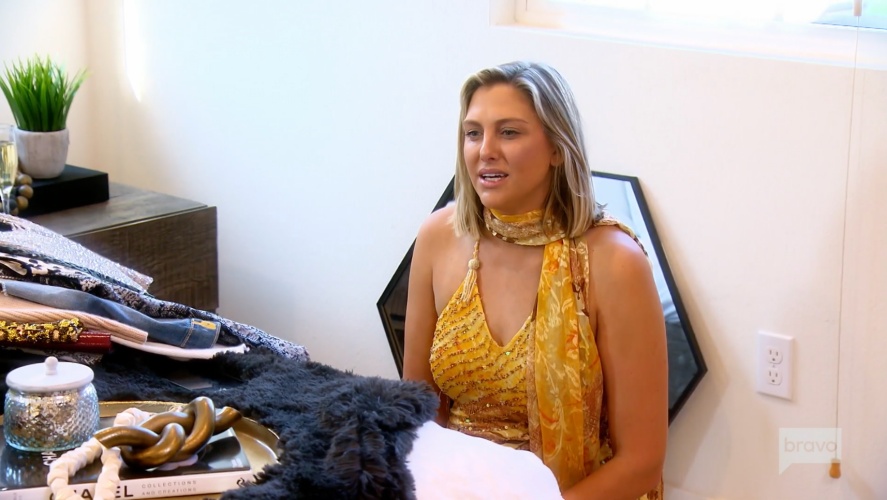 Gina Kirschenheiter certainly can't be bothered with her frenemy's latest divorce drama. Because she's preparing to receive a visit from Heather. It's the scene everyone's been waiting for: Fancy Pants is about to see the casita. No one have expected Heather and Gina to hit it off this season. Yet here they are, with Heather purging Gina's closet and making her try on her old prom dress for old time's sake. Heather wants to help Gina elevate her style, which can best be described as, ahem, eclectic by anyone with two eyes who's watched some of the mid-level 'Wife's sartorial choices over the last three season. The glow-up started with a haircut, and can really only go up from here. But first she has to toss her wedding dress, prom dress, and roughly 90 percent of her closet.
Gina's style upgrade comes just in time for the party to celebrate Emily's daughter's baptism. She's the only current Housewife invited to the backyard soiree. But look! There's Lizzie Rovsek, making her annual appearance as a real-life friend of Emily's. Please can we bring Lizzie back next season? I loved her. She deserved so much more than one season as a Housewife and another as a demoted Friend.
While everyone may be celebrating Annabelle's official introduction into the Mormon Church, Emily has some gossip to pass along to her BFF. She admits to letting slip the whole conversation about Shannon being jealous of Gina's growing friendship with Heather. And now Shannon's angry at Gina for talking behind her back and thinks the younger Housewife's ego is getting a bit too big riding on Heather's fancy coattails. At the same time, Shannon basically reiterates all of this during dinner at The Quiet Woman with John Janssen. Consider a feud between these two officially brewing.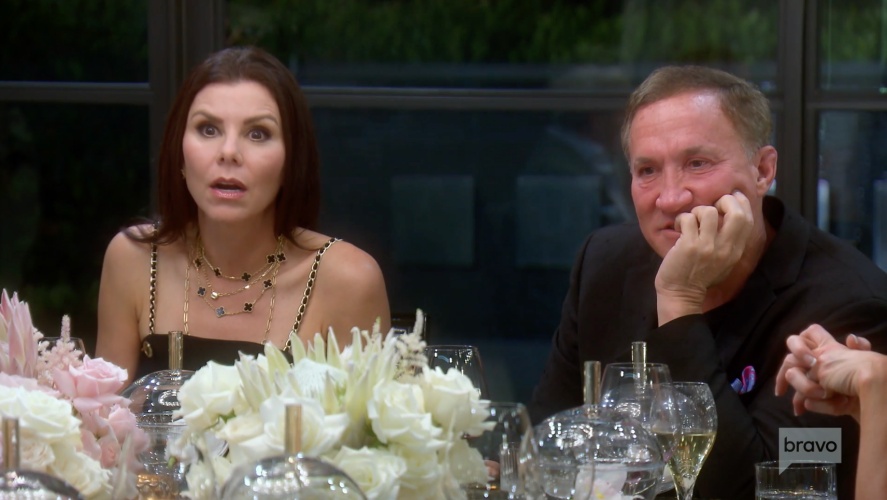 Heather, however, has more on her mind than the cold war starting between her old friend and new. She's trying to help Dr. Jen save her marriage. And she's doing so the best way she knows how: by throwing a dinner party! Again, none of the other 'Wives are invited. (We don't get a single group scene this week, which is another reason why I might be feeling the vintage RHOC nostalgia so much.) Instead, Heather has enlisted Terry Dubrow and a few of their real-life friends to help show the Armstrong-Hollidays what a healthy marriage can look like.
However, the vibe of the evening starts off immediately on the wrong foot. And it's not just because Heather's amuse bouche is listed second on the menu. From the moment they arrive, Dr. Jen is visibly nervous, and probably desperate to impress the Dubrows and their fancy friends. So she masks her anxiety by taking drink after drink. After drink. After drink. Until she's positively hammered, slurring her words and raving on and on about how delicious the fancy wine is. Meanwhile, poor Ryne has no idea what his wife's gotten him into. The man shows up wearing Nike gym socks with dress shoes. He's very clearly out of his depth among such polite, elite company and basically shuts down.
Heather and Terry try to nonchalantly turn conversation at the table to Dr. Jen and Ryne, asking the typical questions about how they met and how Ryne proposed. One of those stories involves white Louis Vuitton sunglasses and a breakfast buffet; the other, a job offer at Harvard. But in her tipsy state, Dr. Jen has a tendency to talk over her husband, dominating the conversation and not letting him speak. And even when Heather and Terry ask him questions point blank, they get nothing but a vacant stare and deferment to Dr. Jen. Attempts at playful banter fall flat. It's really very awkward. And I'm not even talking about Ryne tucking his napkin into his shirt to eat an onion ring…
Eventually, a visibly irritated Ryne tells Dr. Jen to rein in the alcohol consumption and quietly leaves the table to play on his phone in the corner. And that's their cue to go. The evening has officially been a minor disaster, but Dr. Jen is oblivious to how uncomfortable everything's been from behind her merlot-colored glasses. In the car on the way home, she drunkenly throws herself in Ryne's lap and…promptly falls asleep. Leaving the poor man to make small talk with the driver about their respective gym routines. Back at Chateau Dubrow, Terry declares the couple "a complete mess," and while his critique may be a little harsh, is it incorrect?
TELL US – ARE YOU GETTING OLD-SCHOOL OC VIBES FROM THIS SEASON? DO YOU CARE ABOUT NOELLA'S DIVORCE DRAMA AT THIS POINT? IS SHANNON REALLY JEALOUS OF GINA? IS THERE HOPE FOR DR. JEN AND RYNE'S MARRIAGE?
[Photo Credit: Bravo]