Ok, I see what happened now. Going into the Season 16 finale of The Real Housewives of Orange County, I was very concerned that the 'Wives' trip to Aspen was getting shortchanged. Because it's very very rare not to have an episode or two after the final cast trip of a given season for the women to come home, wrap up their individual storylines and gather for one last, dramatic party. It's part of the formula. But here were were, going into the last episode of Season 16 still in Aspen.
But the issue wasn't the cast trip. It was everything that came after, essentially. Turns out there wasn't a ton to put a bow on back in Orange County. And so the vacation to Aspen was stretched all the way to the finale's halfway point. And even then, there were several moments teased in various previews and the midseason trailer that were left on the cutting room floor. Not least of all Emily Simpson screaming "I'm talking, shut the f–k up!" at someone after the second dinner. Also Dr. Jen Armstrong defending Heather Dubrow against Noella Bergener sometime during one of the Aspen meals. Instead, we were subjected to the inanely painful tantrum last week by Gina Kirschenheiter over some of the other women not knowing who her off-screen bestie Tatiana was.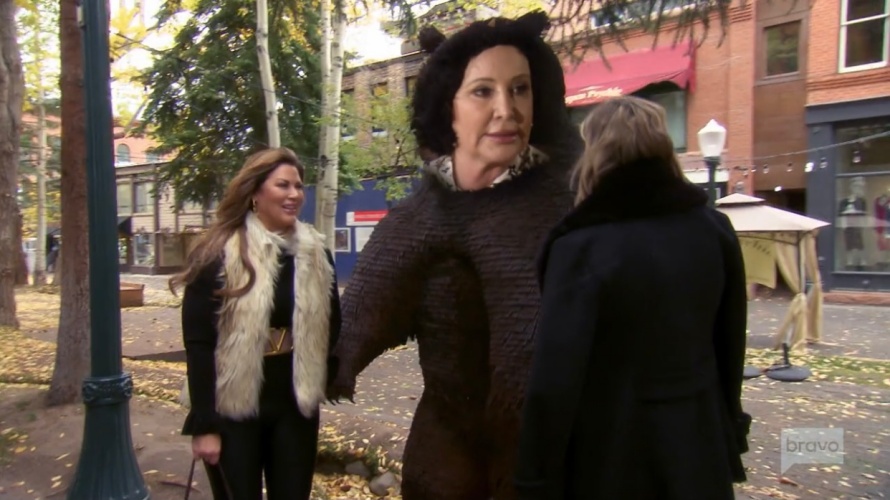 Which, for the record, is something Gina's not feeling all that proud about the next morning. Yes, she recognized that she fully overreacted to a stupid situation. And that yes, she may be lashing out in anger instead of dealing with her issues with Shannon Beador. But instead of just taking accountability for her bad behavior, she decides to blame it on demonic possession. Or if not a full-blown possession, then at least some demonic influence. Because apparently we also didn't get to see the ghost tour the 'Wives went on in Aspen. But now Gina's convinced some hostile spirit attached itself to her down in the Smugglers Mine. So naturally, she has to return to the mine with Emily in tow to offer a gift basket full of Veuve Clicquot, Hershey's chocolate and an apple to appease the demon.
Sure, it's all fun and games for the cameras. And Emily's more than game to play into her BFF's psychosis. But it doesn't solve the root of the problem: the lingering tension in Gina and Shannon's frenemy-ship. Instead, she's — to use Shannon's favorite phrase of the season — put a pin in it and brushed it under the rug. Only once the duo have left the mine to meet up with Heather and Dr. Jen for an afternoon of shopping does Gina admit that her anger towards Shannon is the real issue here. She even uses a giant bear statue in downtown Aspen as a stand-in for the vet, confessing she irritated by (read: jealous of?) Shannon's constant support of Noella. And of course, just as she's reiterating this realization to the other 'Wives in the store, who should waltz in but Shannon Storms Beador.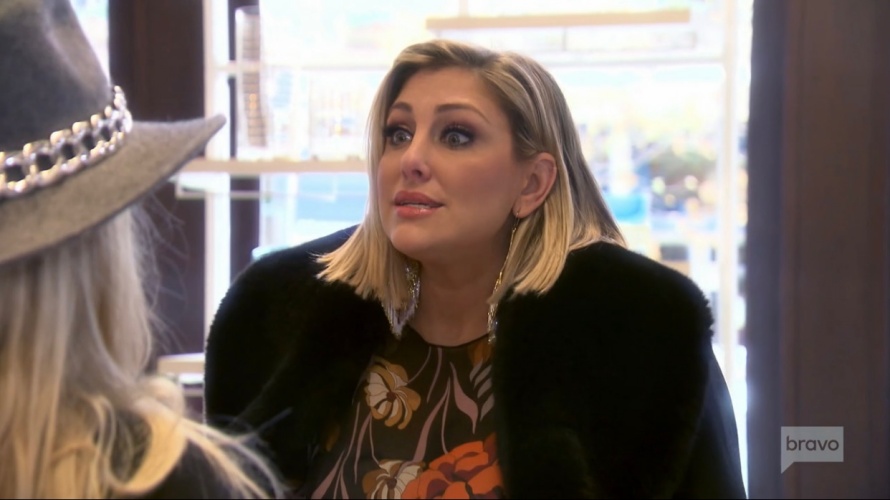 It's time for this feud to be settled once and for all until the reunion. So Gina pulls Shannon aside to hash out their various resentments. And the conversation quickly spirals into a retread of the same things they've been bickering over all season. Shannon called Gina arrogant! Gina said Shannon doesn't have any friends! The number of actual people in Shannon's "core friend group" keeps changing! Is it three or four! Meanwhile, the other women try to distract the retail workers by purchasing as much as possible. Because if you're a real RHOC fan, you know that one thing Heather refuses to do is be kicked out of another store.
Gina and Shannon's constant back-and-forth is exhausting. One minute the pair are at each other's throats, claiming that maybe they don't actually want to be friends. And the next, they're almost in tears over how much they mean to each other. Which is it, ladies? The only good thing about the topic being exhausting is that eventually it gets exhausted. And the two 'Wives ultimately hug it out and agree to move forward with a clean slate. But does Shannon still secretly think Gina is arrogant? And is Gina still secretly jealous of Shannon's bond with Noella? Yes and yes.
That night, all six of the ladies head downtown for their final meal of the trip. With the intention, Emily insists, of healing some more of the rifts that have been created on this mountain getaway. Despite her best efforts to use Dr. Jen as a buffer, Heather somehow ends up seated directly across from Noella. Who immediately launches into an unprompted conversation with the poor sommelier about her messy divorce. TMI, Noella. TMI. So yes, I'd say the dinner is off to a promising start. Since it worked so well last time, the women suggest playing a game at the table. (When will they ever learn?)
This time, though, they attempt to go around the table saying nice things about each other. Which actually works well until Noella gets to Heather. She attempts an insincere line about the two being in the same friend group, but it obviously falls flat. There's no need to pretend, sweetie. You can't go from accusing Heather of physically assaulting a crew member at one meal to a kumbaya moment the next. But at least the meal — and the trip — manages to end on somewhat of a positive note. Even if it's forced, at least no one stormed away from the table. Back to Orange County we go!
Like I mentioned at the top, there isn't much to wrap up in the OC in terms of storyline. The only thing really worth noting is that Emily finally gets a re-do on her wedding photos. It's not the vow renewal she wanted, because Shane Simpson was adamantly against it. Partially — and I'm just speculating here — because vow renewals are seen as unnecessary and maybe even a little taboo in Mormon culture. It's too much to get into here, but if it ever comes up again on RHOSLC, maybe I'll do a deeper dive on the subject. But either way, given the vow renewal curse that Emily clearly knows all about, perhaps that's for the best. But she does get three extravagant rings out of it, to signify her engagement, wedding and 10-year anniversary. Plus, she got to wear a cape!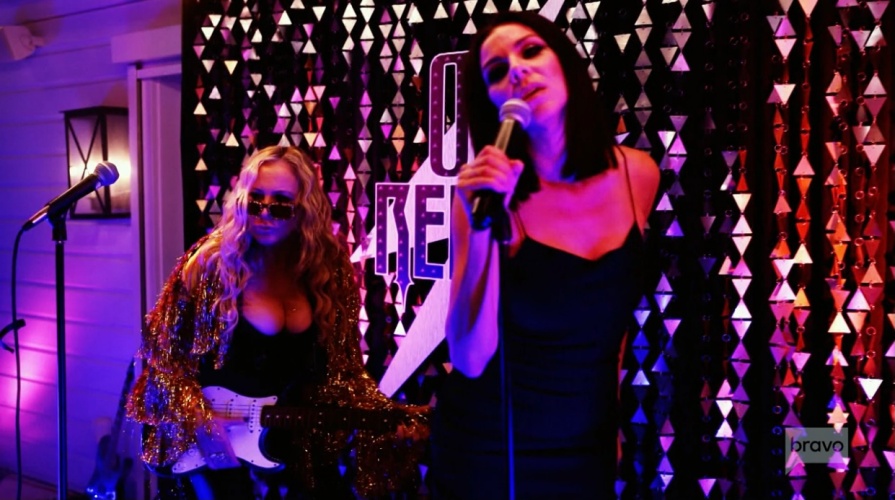 For the final cast party of the season, Shannon's thrown together a night of rack 'n' roll. That's racks of homemade ribs and rock music, thank you very much. And not just any rock music: resurrecting the spirit of Ladies of Rock, the vet has forced the rest of the 'Wives into forming their very own band, the OC Realz. Yes, with a Z. And each of the ladies arrive with their men in tow while dressed as their musical alter egos. Gina is a bonafide hollaback girl as Gwina Stefani. Heather's channeling Posh as Fancy Spice. Emily's corseted to the gods as Emilectra. Dr. Jen's "virally linked" to Ryne Holliday's Tommy Lee as Doctor Baywatch. And Noella's Noelli Hendrix is a bit of a stretch, especially since she's the drummer, but OK sure. Just go with it.
Over dinner, Heather makes a point to toast her renewed friendship with Shannon. Which, honestly, I wish we could've seen more of this season. But there's always next year. And Dr. Jen gives, well, not a toast exactly. More like a veiled message about the state of her relationship with Ryne, thanking all of her new cast mates for helping her get through a rough year. (Serious question: do we think Ryne even knew what she was talking about? The couple did end up separating temporarily after filming…) Then it's time for the live premiere of the debut single by OC Realz, written by none other than Richard Marx!
Yes, I know there was quite a mixed reaction to the music video playing while the 'Wives' rather shady "Where Are They Now?" cards flashed across screen. But I thought it was cute and campy, and kind of the perfect way to put a bow on this season of a revitalized, if not yet perfect, RHOC. And I have to admit, the most exciting part for me was finally getting to hear Heather sing on the show! (She performed at Tamra Judge's reception back in the day, which was documented on Tamra's OC Wedding, but Bravo couldn't get the song cleared to air.) And all I have left to say is, bring on the reunion!
TELL US: DO YOU THINK SHANNON AND GINA'S FRIENDSHIP IS SALVAGEABLE? DID YOU LOVE OR HATE THE 'WIVES' MUSICAL PERFORMANCE? WHO HAD THE BEST ROCK PERSONA? WHAT DO YOU WANT TO SEE AT THE REUNION?
[Photo Credit: Bravo]