Andy Cohen — Bravo's head honcho has had much to say lately regarding Vanderpump Rules' Tom Sandoval and Raquel Leviss. And rightfully so. But as the Season 10 reunion begins to air and his job is out of the way, he's taking more of a backseat and enjoying the show — alongside us watchers at home. Literally. 
During part one of the VPR reunion, Andy and his pal, John Hill, decided to crash some strangers' viewing party, and thankfully for them, they were received with open arms. 
"I got an invite to crash a Vanderpump Rules viewing party which is like a block from my house," he said on Instagram. Eventually, the Watch What Happens Live host decided to send it full throttle and join the fun.
"OK, we're doing it," Cohen said. "I just wanna say, this is gonna be a drop by, but we'll see. But also, I would like to see if they have any desserts!"
Andy drinks with Bravo fans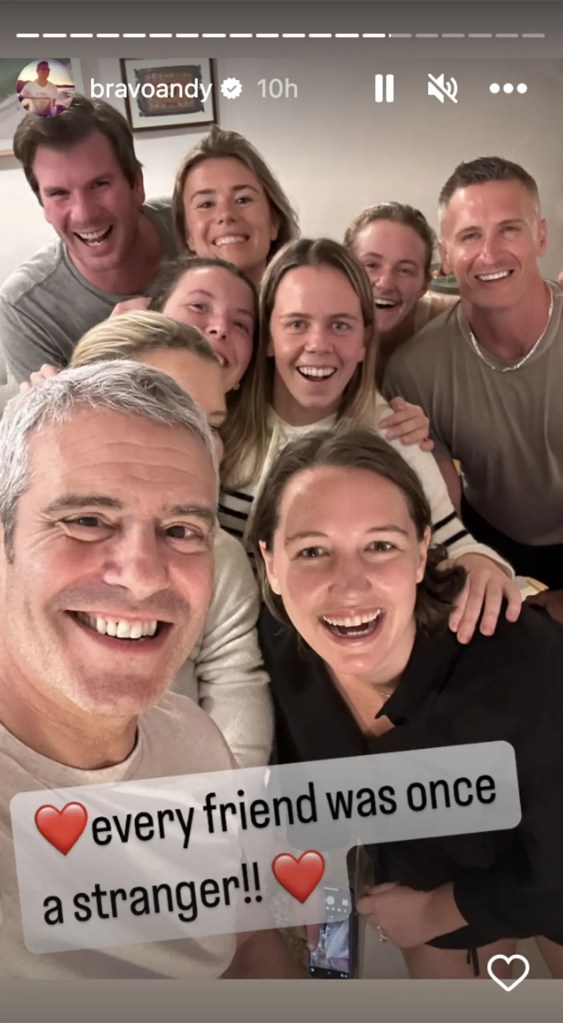 As Andy showed up to the Pump Rules viewing party with a bottle of alcohol, he was let in by one of the partygoers. 
"What the f–k! Oh my God!" the other guests shouted once Andy entered the living room. 
Although he didn't have his famous shot-ski present, he did offer everyone a shot of what I'd assume to be pretty fine alcohol.
"We're all gonna do a shot together – they do have some desserts I'm glad to see that," he said on Instagram. After that, the group raised their glasses high to "Andy" and to "Scandoval." 
Although Cohen's stay was brief, maybe his fun time will contribute to more surprise pop-ups. 
"That was fun. That was really fun. Wow, they're very cool," Andy said while leaving. "That was fun. Love thy neighbor. As I learned at SantaCon a few years ago, every friend was once a stranger."
Vanderpump Rules continues Wednesdays at 9/8c on Bravo. 
TELL US – WOULD YOU HANG OUT WITH ANDY COHEN? DO YOU WANT HIM TO POP UP AT YOUR VIEWING PARTY?