Part one of the most anticipated Vanderpump Rules reunion did not disappoint. We were over- SURved Tom Sandoval sniveling, Ariana Madix stunting, and Raquel Leviss blinking. Rumor has it, Raquel won't join the barstools until the third episode of the reunion series. Until then, Sandoval is the single lightning rod of hate on the set. Let's get into it. 
Pre-beat down sit-down
Before the reunion officially begins, Andy Cohen does seated interviews with Ariana, Rachel, and Tom to get everyone's final version of the story. This part of the episode starts with insane clown music and Tom Sandoval. These producers are thriving. 
During her sit down, Ariana reveals that it took Raquel 48 hours to send her an apology text after Ariana found out about the affair. Ari insists that she always trusted Tom 100%, and she especially trusted her girlfriend to not bang him in the back of a sedan. 
In his bit, Tom admits he had feelings for Raquel dating back to last year. He insists, though, that he and Raquel didn't hook up until the day after Ariana's dog passed away. He says he and Raquel picked things up stronger before appearing at Bravocon in October. We're also treated to a flashback of him telling a producer he would like to trash his relationship with Ariana on camera to be authentic. Smooth. 
Round one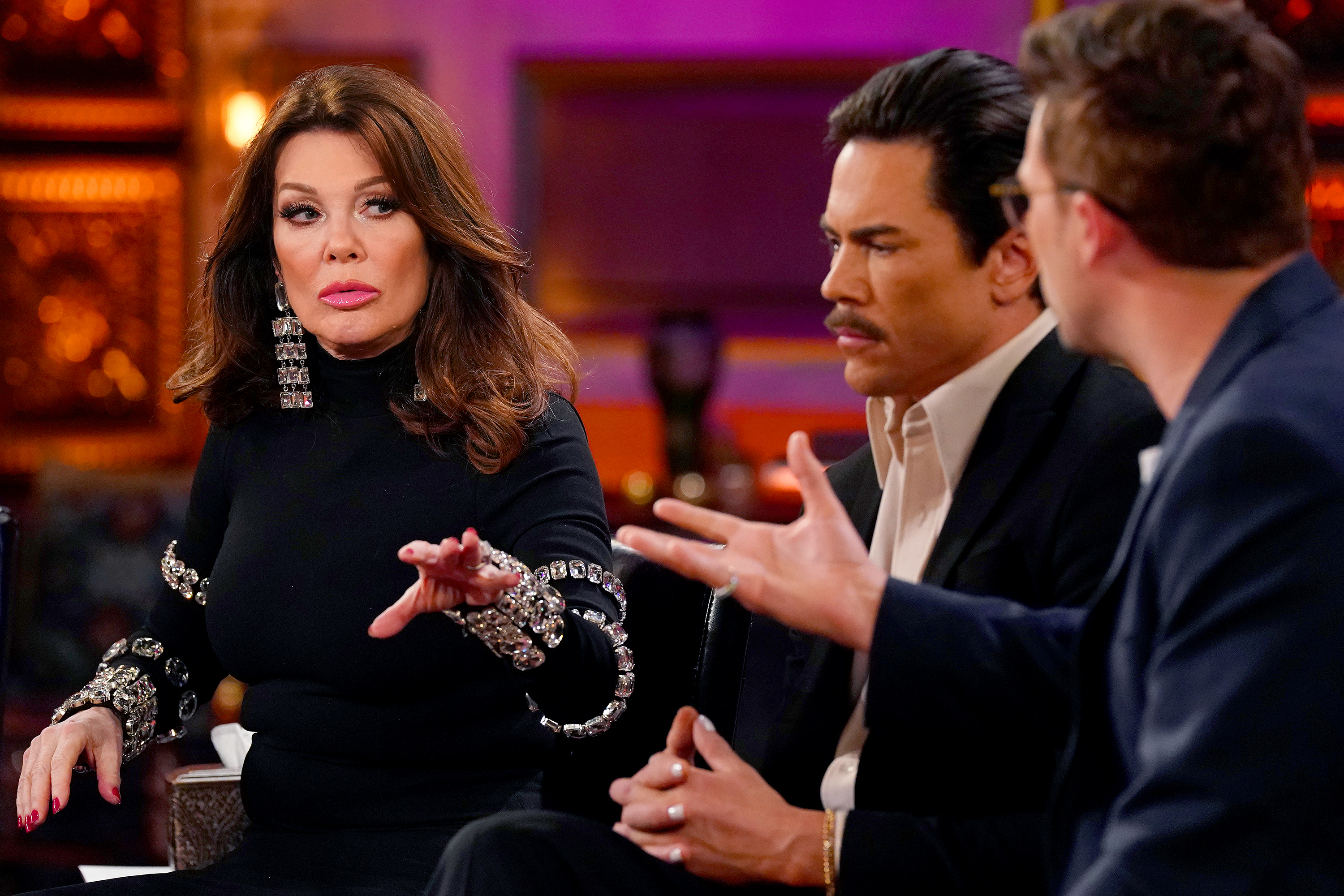 What an opening segment. Lisa Vanderpump walks into the reunion wearing a dress previously featured on Gizelle Bryant from Real Housewives of Potomac. And her poor taste didn't end there. Following Lisa to the set is Sandoval. His face is already sheen and everyone is disgusted by the sight of him. 
From here, everything goes at double speed. Quick facts; Raquel is outside in a trailer because she isn't allowed within 100 yards of Mother Scheana Shay. It's Tom Sandoval's first time seeing the group since the news broke of his affair. Andy Cohen quickly gives James Kennedy his accolade as the number one guy in the group. And we're off. 
The first moment Sandy is given a chance to speak for himself, he begins to whimper. He can't even get one word out before James attacks him for being a complete loser. Lala Kent is next. She accuses Tom of being just like her ex, Randall Emmett. Impossible to keep in the house until he was caught with his pants down. Lala calls Tom "dangerous" for being so manipulative, but LVP disagrees. 
Lisa is quick to defend Sandoval throughout this first episode. Is anyone surprised? This woman caped for Jax Taylor. And Ken Todd's acting chops. Lisa even argued that a lot of men have cheated, implying this situation is not that big of a deal. Keep this lady out of my husband's sedan! 
Scheana, on the other hand, has completely turned on Sandoval. She tells a story about approaching Ariana with concerns brought up by Lala in January. Ariana assured Scheana things were fine, though, and revealed she and Tom had been very intimate that month. Blink blink blink! 
Sandoval then tries to minimize his friendship with James. This, despite the fact that he paid for part of James' engagement to Raquel just last year. But the #1 guy in the group doesn't take that kind of disrespect. James rose from his seat and Andy had to remove him from Tom's side of the stage. 
Tom's mouth got a little louder once security arrived, but James decided to excuse himself for a potty break. After returning, James called Tom ugly, and Lisa threatens James with a time-out in the dressing room.  No really.
The other relationships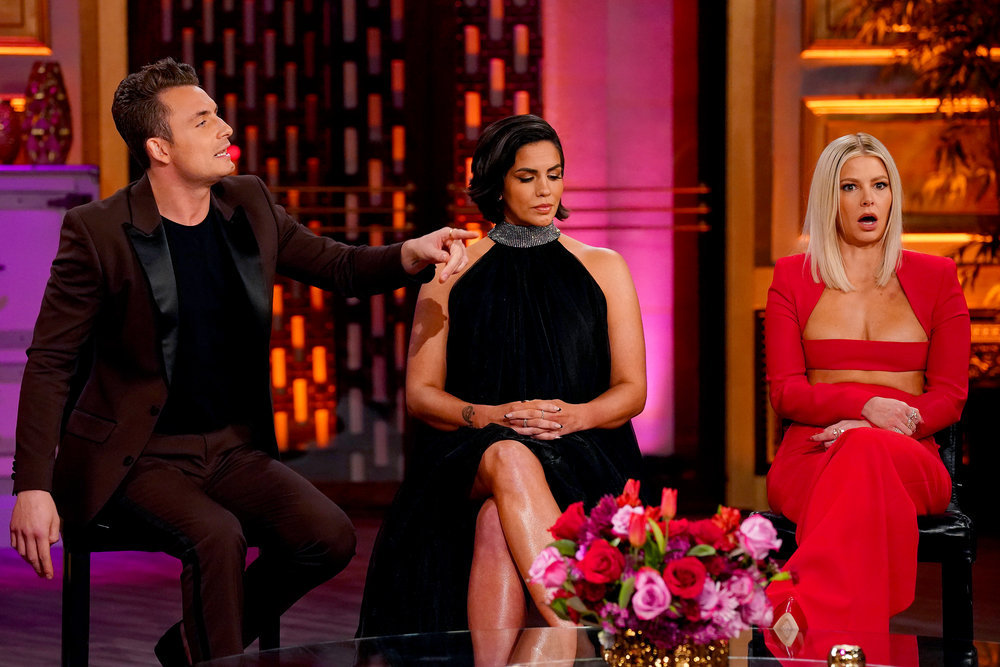 Throughout the reunion, Andy tried to address the tepid dynamics we were supposed to be served for Season 10. Katie Maloney and Tom Schwartz were on the stand first. 
Schwartz says their divorce came at a hard time for him personally, but he also doesn't expect Katie to pick him over herself if she's unhappy. He admits he's not happy that Katie was having sex in their house after they split. Katie argued that it's better than making out with James Kennedy's former clinger on camera. Slow blink.
We also learned that Schwartz and his roommate Jo developed a friends-with-benefits relationship. Schwartz called Jo his "happy place", but denies ever double dating with Tom and Raquel. The group collectively boos the Toms for this blatant treason. 
Schwartz and Sandy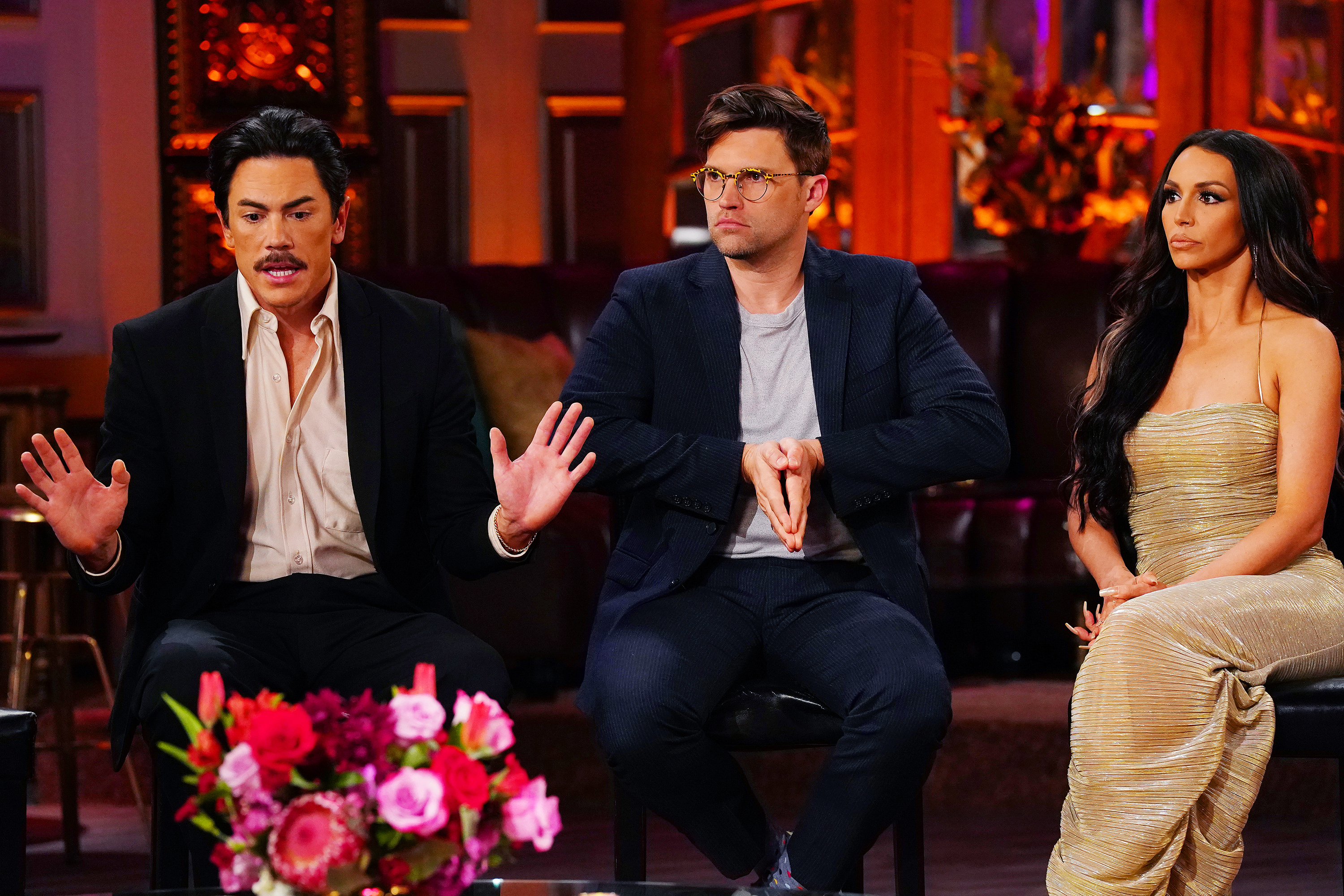 Tom and Tom did not cross-check their timelines before filming. Schwartz revealed that Sandy told him about his hook-up with Raquel in late August, sometime after Scheana's wedding. In his earlier one-on-one interview, Sandoval said he revealed things to Tom in January. We now have confirmation that all of Schwartz's mistress jokes about Raquel were as sinister as predicted. 
Sandy claimed that he didn't use Schwartz as a smoke screen for his affair. It's confusing why he was encouraging his best friend to make out with a woman he was already having a relationship with, but don't pay attention to that, I guess. 
Ariana and Katie dunk on their exes bar by gloating about their recent merchandise success, enjoying takings of over $200,000. The Toms have succeeded in making these two very well-liked and very well-paid. Schwartz and Sandy's bar has a three-star review at the time of this writing. 
Palm Springs commune 
Scheana and Lala are friends again because of their kids. Lala just bought a house next door to Scheana. During this conversation, Schwartz comes out of nowhere to blast Katie for being jealous of the new dynamic between the elder-mistresses. 
Katie calmly explained she feels she's been more loyal to Lala than Lala is to her. Scheana then apologized to Katie for having trusted Raquel's version of Katie's "attack" on her. Blink. Katie has never been kind to Scheana, and she trusted the puppy party girl over her. Things happen. They will move forward in peace.
The episode ends with LVP taking up for Tom against Lala once again. Both Lala and James went at her for this, with the latter taking himself out of the room so he could take a moment to overcome the BS. See you for part two!
Vanderpump Rules Season 10 reunion continues Wednesday, May 31, at 9/8c on Bravo.
TELL US – ARE YOU SURPRISED TO SEE LVP DEFENDING SANDOVAL SO CONSISTENTLY? ARE YOU LOVING OR HATING JAMES? THOUGHTS ON RAQUEL IN THE TRAILER?