NeNe Leakes is coming for narcissistic men on her Instagram, and although she didn't mention anyone in particular, it has fans wondering just who she could be speaking about. 
Andy Cohen, the Real Housewives executive producer and former bestie of NeNe, recently went on a press tour for his new book. In it, he spills major Housewife tea, from Lisa Rinna's shocking exit to the closed door on a possible relationship with NeNe. 
"What a sad end to a relationship with someone I adored and put on a pedestal for years," he wrote in his book The Daddy Diaries.
NeNe and Andy have been at odds publicly since 2020. Her last season of the Real Housewives of Atlanta was tough for everyone involved. Not only did she feud with most of the cast, but she was also dealing with her late husband Gregg Leakes' battle with cancer. 
Following her last season, viewers hoped to see the RHOA OG return; however, the two parties couldn't reach an agreement on a mutual contract, and that's when NeNe unleashed on everyone involved. 
NeNe calls out 'narcissistic men' on social media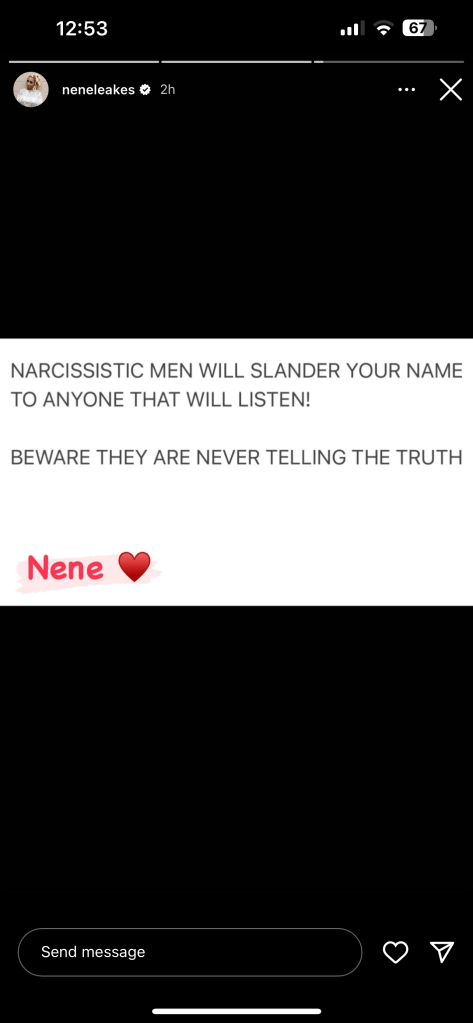 Over the last two-and-a-half years, NeNe has made pretty serious claims against Bravo and Andy. First, she accused the Watch What Happens Live host of being racist and on drugs, and then she followed through with her lawsuit against them for discrimination. 
Furthermore, she claimed she was being "blackballed" and "blacklisted" for telling the truth while also claiming Andy "abused her for years." 
In a new Instagram story, the former peach holder took another shot at abusive men, warning women to "beware." 
"WARNING TO ALL LADIES," the post reads. "NARCISSISTIC MEN ARE THE WORST PEOPLE ON THE PLANET! THEY COME TO DESTROY!" In another post, she wrote, "NARCISSISTIC MEN WILL SLANDER YOUR NAME TO ANYONE THAT WILL LISTEN! BEWARE THEY ARE NEVER TELLING THE TRUTH," NeNe signed off with a red heart emoji. 
It's unclear who precisely who the reality star is referring to exactly; however, it wouldn't be a shock if she's taking a dig at Andy following his book release. Although the door is closed between these two, I know time heals all wounds, and there's certainly a future for these once-thriving BFFs. 
Real Housewives of Atlanta continues Sundays at 8/7c on Bravo.
TELL US – WHO DO YOU THINK NENE IS SPEAKING ABOUT? DO YOU THINK SHE AND ANDY WILL BE ABLE TO MOVE FORWARD?