Andy Cohen is at his wit's end with this crew. Real Housewives of New Jersey is putting him through the wringer. As a result, is he straight-up being rude to Jennifer Aydin? Or is she collateral damage for the whole reunion endeavor?
Jen loves a good rouse. And with everything going on with her personally this season (and the last) she is fired at times and letting it all out. In this case, a fan is coming to her defense. He's basically saying he sees you, Andy. You're singling out Jen and being downright rude.
Reunion talk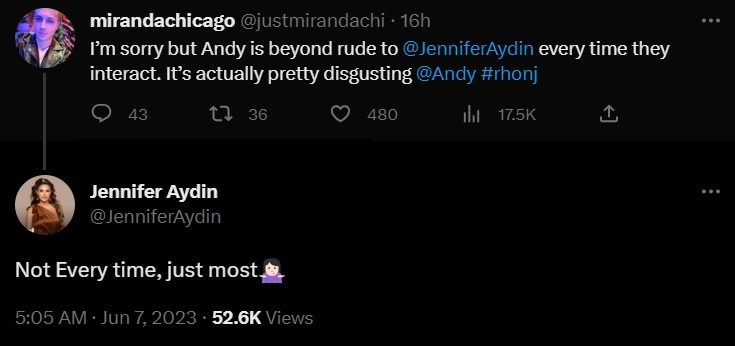 The fan, talking in absolutes says the host is doing it "every time they interact." Jen responds back and says it isn't happening every time – simply "most" of the time. Is that true? What does everyone think?
This actually isn't the first time this topic has come up. Jen tweeted in 2021, that Andy "has his favorites…and it's definitely not me, obviously." The fan went on to describe Andy's behavior as "disgusting."
Interesting word choice because he used similar verbiage; inadvertently defending Jen after last year's BravoCon.
Remember when Jen and Melissa and Joe Gorga got into it? Their rumble of words and drinks thrown after BravoCon at a hotel. Who could forget? The one filmed by Jen's assistant and then uploaded with her assistant's take as a play-by-play.
Andy didn't go in for Jen then. Actually, he called Tarzan's 'on display' response (and the whole interaction) "gross." Which led to what seemed like a 2000-word text from Melissa explaining her thoughts and opinions. Can you imagine receiving a text that long? Block.
Andy ultimately stayed out of it. And he wants to stay out of Teresa versus Melissa, and he wants to stay out of New Jersey-level nonsense. He needs a juice box and naptime (because the men are next in the reunion).
What else did fans say?
Jen's stans came to her defense. They see what she sees. That same fan said that Jen finally delivered Melissa's storyline. And expressed his love for Jen.
Another stated, "GET HIS ASS MOTHER!!!!!!! Disrespectful and unprofessional, he's declassing the show," while someone else said, "You deserve better girl. Sometimes I wish they could rotate reunion host with y'all." Andy would probably enjoy a timeout. Let's bring someone in like Minaj did.
Watch Real Housewives of New Jersey Part 3 Reunion June 13 on Bravo at 8/7c.
TELL US – IS JEN ON TO SOMETHING? IS ANDY LOSING HIS COOL? IS ANYONE JUSTIFIED IN THEIR BEHAVIOR DURING THE REUNION?