As Kim Zolciak and Kroy Biermann's shambolic divorce proceedings continue, financial ruin remains the central theme. Kim seems to be covering her eyes, plugging her ears with her fingers, and singing "lalalala" (kind of like we did when she hit the studio to sing for Dallas Austin on The Real Housewives of Atlanta) when faced with all of the money messes she and Kroy have created. To his credit, Kroy has been trying to get Kim to sign off on selling the Georgia mansion they share. It seems he wants to start paying the debt collectors. So far, his efforts have been to no avail.
Kroy's exhausted with Kim's indifference and is again begging a judge to let him move forward with selling their house. This time, Kroy got very blunt in new court filings. He's pointing all fingers at Kim and trying to convey just how dire their straits really are. TMZ has all the details.
Kroy maintains it's crucial to sell the house immediately so they can pay debts
Kroy has now maintained for weeks that it's way past time to put the house on the market so they can start to pay their insurmountable debts. The house is in pre-foreclosure again and has a $1.1 million lien for unpaid taxes. Kroy wants to offload it before there's nothing left to gain.
He's frustrated that Kim wants to delay the process, and pointedly blamed her for the state of their finances. In part, the filing reads, "the parties to this action are financially destitute, largely related to [Kim]'s reckless spending habits and love for online gambling." Welp, we do know Kim always loved a casino and stacks on stacks of scratchers.
Kroy wants to be able to live separately for the sake of his and Kim's kids
Aside from just disarming the financial timebomb that's ticking, Kroy also says selling the house would finally allow them to each get their own place. This divorce is a toxic train full of nitroglycerin wrecking into an actively on-fire dumpster factory, and Kroy also included in the filing that "toxicity enveloping the marital home is extremely detrimental to the mental and emotional well-being of the children."
It's unclear whether Kim is delaying the inevitable while waffling with the idea of bankruptcy or is just remaining blissfully delusional, spending all of her time asking and believing to hopefully end up receiving some kind of Big Poppa 2.0 windfall that'll make all of this disappear. Maybe while she's sequestered in The Surreal Life house for a couple of weeks, Kroy can get some stuff done without her throwing a Party City wig into things.
TELL US – DO YOU AGREE WITH KROY'S FILING? WHY DO YOU THINK KIM WON'T SIGN OFF ON SELLING THE HOUSE?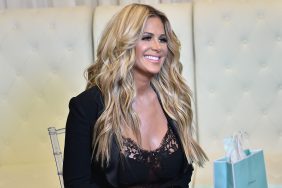 Kim Zolciak is back home in Atlanta, Georgia, enjoying a nice glass of red wine — Olivia Pope style. The…