In a move that proves one person's financial trash situation is another's haute couture treasure, ex Real Housewives of Atlanta star Kim Zolciak – er, "Kim Zolciak-Biermann" again – is embarking on a high-stakes wardrobe purge to chip away at the towering mountain of debt she shares with Kroy Biermann.
The two have apparently reconciled, and at least for today aren't divorcing anymore. Move over garage sales, because Kim is peddling her high-priced designer items in her Instagram Stories. If you're in the market for used, overpriced luxury goods, Don't Be Tardy to this sale!
Kim's selling off some of her designer shoes and handbags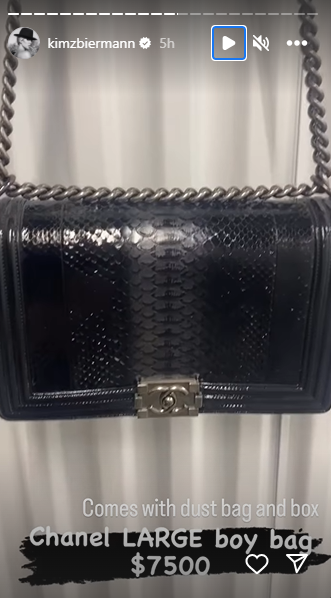 On Tuesday, Kim unleashed a fashion frenzy in her Instagram Stories, featuring a small array of handbags and shoes from her collection. But before you start thinking outlet prices, think again. She's got a black Chanel bag on the market for a cool $7,500, and a grey Louis Vuitton purse that can be yours for the mere price of $4,500. Chump change, really, when you have over $1 million in debt looming.
But wait, there's more! She also has Gucci mink heels up for grabs at the bargain price of $1,250, and for those on a budget, her Balmain plastic heels can be yours for $600. She did not specify if her items hold the lingering odor of cigarettes and terrible decisions.
I know what you're thinking, because same: "How does Kim still have all of these expensive items left while her home is in pre-foreclosure and her daughter Brielle Biermann had to help out with the electric bill?" Your guess is as good as mine.
Is Kim's effort a mea culpa to Kroy?
Kroy, no stranger to trying to tame this financial burden, had previously embarked on a similar journey to liquidate some assets. He even suggested that Kim do the same. She did sell a few things including some of her wigs, but instead of funneling the funds into the debt black hole, it seems that she instead decided to treat herself.
While some might see Kim's fire sale as a straightforward attempt to pay down debt, others are reading between the lines. Could this be Kim's way of extending an olive branch to Kroy and showing that she's making an effort to alleviate their debt instead of blowing it all on scratch-offs, solo cups, and vaginal rejuvenation?
Nothing says everlasting love like trying to unload a used Chanel bag for the price of a used car. Here's hoping the sale of Kim's swag can help them bail themselves out of financial ruin. Their poor children could use some peace, stability, and a damn break.
You can stream old episodes of The Real Housewives of Atlanta and Don't Be Tardy on Peacock. Kim will also be on the upcoming season of The Surreal Life, set to premiere sometime in 2024.
TELL US – DO YOU THINK KIM WILL PUT ANY OF THE MONEY SHE MAKES TOWARD HER AND KROY'S MASSIVE DEBT?