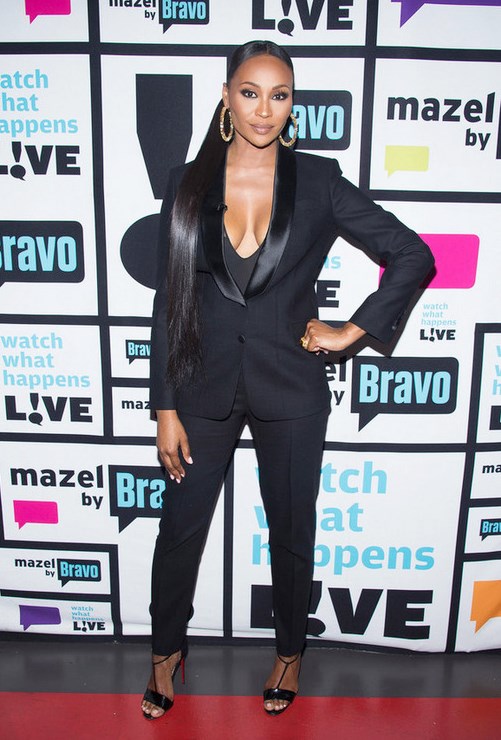 "I still love and support him. I just don't want to be married to Peter anymore," says Cynthia Bailey about her future with Peter Thomas, confirming that they will divorce. 
I'm sure Cynthia's mom and sister have already begun their celebrating.
"I am really at peace with my relationship with Peter," continues Cynthia, "because I really feel like I gave it all I could give." Cynthia and Peter married on Real Housewives Of Atlanta, but after six disastrous years of marriage, they've decided to divorce on the show as well. I mean, why not – let's bring this full circle!
CLICK THE CONTINUE READING BUTTON FOR MORE!
Both Peter and Cynthia will be back for season 9 (filming now) to air more of their dirty laundry and invite the other housewives into the mix. Cynthia is still close with NeNe Leakes and Kenya Moore. 
Obviously, Cynthia doesn't blame RHOA. "Regardless of if we were on the show or not, our issues would have happened anyways because it's just personalities and it's just chemistry and it's also compatibility." Or it's just … Peter?
The couple has battled issues since before Cynthia walked down the aisle in a giant swath of Duct Tape with dinosaur skeletons looming above her. Premonition, anyone? They've undergone countless financial and business set-backs, legal imbroglios, some sketchy friendships, but finally it seems suspicion of Peter's infidelity was the straw that broke the Cargo by Cynthia Bailey luggage strap. 
They've been separated for over a year, with Peachter living in Charlotte after burning all the bridges in Atlanta to build his bars. They haven't seen each other in person for 5 months. Cynthia realized how right divorce felt "the more we got used to not being together and living together." 
She feels the "time apart" has been good for both of them, and Cynthia predicts the divorce will be the opposite of their marriage: easy. Let's hope she has a prenup…  
RELATED – REAL HOUSEWIVES, REAL DIVORCES!
"I don't want it to be an ugly divorce because I still love Peter," Cynthia admits to E! News. "I just don't want to be married to Peter anymore. It's as simple as that."
"I am really optimistic that in the end, after we take some time, we are going to be friends at the end of this because that was the start," Cynthia adds. 
As for any possible resolution, Cynthia has finally taken her blinders off, her Cynthia Bailey Eyewear, and the lenses are clean and the future is clear: "We are just not going to be married anymore," she declares adamantly. 
"I know what I am able to do and I feel like I have done as much as I can do," concludes Cynthia. "I can be a better friend to him at this point in the relationship than I can as his wife."
Cynthia also shares that she's currently very single. "I'm trying to get out of a relationship, not into one," she jokes. "I want to take some time for myself."
TELL US – ARE YOU SURPRISED CYNTHIA AND PETER ARE DIVORCING? AND AIRING THEIR DIVORCE DRAMA ON RHOA?
[Photo Credit: Charles Sykes/Bravo]