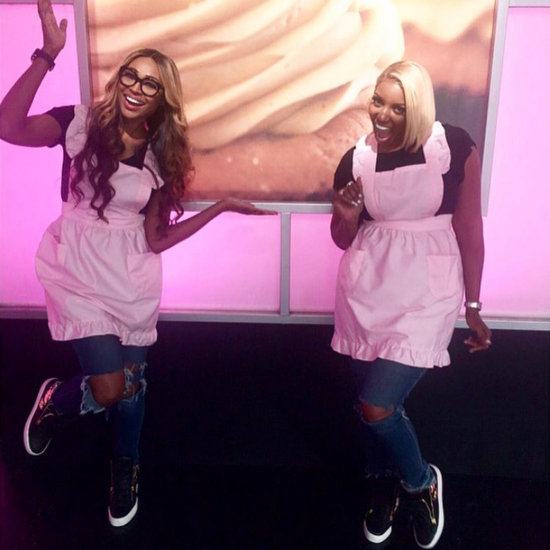 Now that Cynthia Bailey and NeNe Leakes are done battling on Real Housewives Of Atlanta they might as well fight somewhere else, so they've taken their feud to Cupcake Wars.
Let's make the next RHOA reunion a food fight, y'all – oh wait it probably already is considering how much sweet tea gets flung.
Anyway, the former besties, turned enemies have reignited their friendship and appeared on the Food Network's celebrity edition of Cupcake Wars together. NeNe hired Cynthia to be her 'assistant' baker. Naturally. 
CLICK THE CONTINUE READING BUTTON FOR MORE!
Their episode also starred former Olympians Shawn Johnson and Johnny Weir, and actor Lamorne Morris, with judge Betsey Johnson. The challenge was to make a Japanese-themed dessert into a cupcake inspired by Hello Kitty. NeNe made it to the final round but lost to Lamorne. The show was really cute and they seemed to have a blast competing. 
Photos of Cynthia and NeNe on Cupcake Wars are below. 
RELATED – NENE SCORES WITH TO TELL THE TRUTH!
In other Cynthia news, Tamara Tattles and Atlanta Constitution Journal report that now that she's divorcing Peter Thomas, Cynthia has put their Atlanta home on the market for $699,000. Cynthia is apparently more than officially done with Peter and ready to move way on with her life. 
It's in a walk-able area of gentrified old town Atlanta known as Glenwood Park. Interestingly, Cynthia purchased the home solely in her name in 2007, paying $597,000 for the 4,500 square-foot property with a chef's kitchen and four bedrooms. It's apparently in a very desirable area.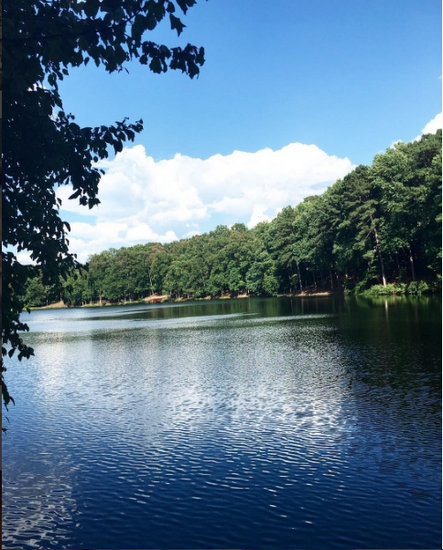 "So excited," Cynthia shared, "#viewfrommywindow #backyard #peace #serenity #Godswork #beautiful #1life2live #myhappy50tome #loveatfirstsight #lakebailey #baileyboat #gonefishin" [Credit]
Cynthia has already moved out of the home and bought a lake house and finding her zen on #LakeBailey. She's also frequently traveling back and forth between Atlanta and L.A. with her daughter Noelle, who has dreams of being an actress. Well, well! 
TELL US – DID YOU WATCH NENE AND CYNTHIA ON CUPCKAE WARS? 
[Main Photo Credit: Instagram]