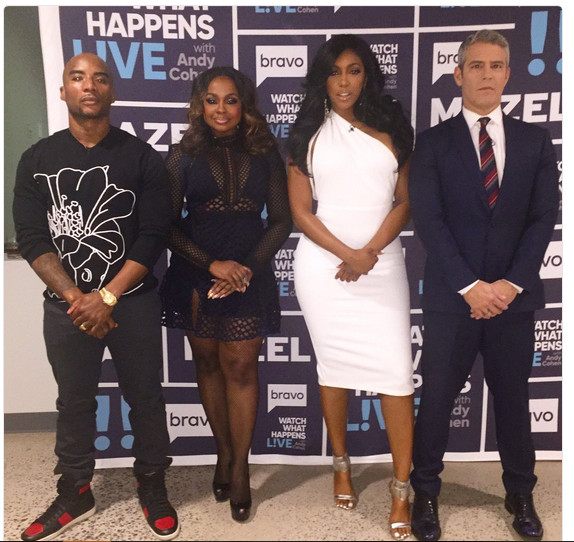 I was so curious about how Porsha Williams was going to defend herself on Watch What Happens Live following a Real Housewives of Atlanta episode that centered around drama that she instigated with Kandi Burruss. Things went beyond the two taking a "dip in the lady pond" as Andy Cohen likes to say, Porsha accused Kandi and her husband Todd Tucker of attempting to drug her and Shamea Morton so they could bring them back to a "sex dungeon."
Porsha made those claims with no receipts, so I knew this WWHL episode was going to be a juicy one. Plus, this entire time I have been wondering why Porsha is the only one having these heated discussions with Kandi when Phaedra Parks is the one who initially said that Kandi and Todd had a sexual relationship with Shamea. Yes, Porsha addressed this too. FINALLY.
CLICK "CONTINUE READING" FOR MORE
This episode was full of inflammatory statements. Andy's other guest was radio personality Charlamagne Tha God and he was very intrigued by the RHOA drama. After Andy played a clip of the latest episode, Charlamagne said to Porsha, "I think you just accused somebody of rape though."
Porsha backtracked, "Let's clear this up. I know you're laughing, but let's clear this up. First and foremost I said that someone told me that she said that. I did not say that she said that to me." She continued, "I took it to her. At the time, I mentioned it to her and she has every right- like she did- to deny it. I said that someone told me that." Porsha provided zero evidence of this (alleged) conversation and has nothing to support the attempted drugging claims. That's probably why the audience sided with Kandi in response to the poll question "Whose side are you on?" with 81% in Kandi's favor.
Andy recapped, "She brought out the receipts tonight." Porsha naively asked, "What receipt, Andy?" And the host gave her a response to such an obvious question: "In the text message."
Porsha deflected by saying, "Those receipts are from three years ago." Andy reminded her, "They're from the night that that happened." Charlamagne interjected with what we were all thinking: "She actually said she was gonna rape Kandi in those receipts." Yeah, that's really not something to joke about. Ever.
The Housewife attempted to go on the defensive with her response: "Let's clear it up. Those text messages from the night we went to the club was from three years ago. When I was told that she said that about the drugging, that happened just last year."
Porsha continued, "Let's be clear, it wasn't like I went to the club knowing any of that and you know, we were still friends having a good time. The only reason I brought it up at the table was because there were a lot of things thrown at the table that day."
Charlamagne chimed in, "If I told a girl I was gonna rape her three years ago, it's still me telling her I'm gonna rape her."
A clip played with Kandi passing out the text message printouts in Hawaii and Charlamagne commented, "I don't know why y'all just don't have sex. There's so much tension between y'all." Porsha theorized, "I think it's because we didn't have sex that there was tension. I'm like get over it. That was from three years ago. I'm past it. I'm so over it."
Andy asked Porsha, "Why did you take all the blame for the rumors when Phaedra Parks brought them to the group in the first place?" Interestingly enough, Phaedra was Porsha's plus one that night and was sitting in the audience. So it's not at all surprising that Porsha ultimately answered that question with praise for her bestie.
Porsha declared, "We all saw the tape. We all know what happened, but the thing is I'm a very loyal person. I've been on the show now for four years and I've been alone the entire time. So for me to find a friend in Phaedra, I really respect that. I enjoy that and I'm just very loyal. I'm loyal to the end regardless. I didn't necessarily feel like I was taking the heat, but I feel like I was being a good friend."
I guess in some weird way that was actually nice of her to do, but then again, pretty much nothing in this whole situation could be categorized as "nice."  Nevertheless, Phaedra is going to have to own her shit when the reunion taping comes along.
Andy started to read a viewer question, "Can you reveal who told you that Kandi and Todd wanted to- " and got cut off by Charlamagne who completed the sentence with "rape you." Porsha just said, "No." Andy asked, "Did you tell Kandi who said it?" and of course Porsha said, "No, I didn't." I find it strange that someone has been on this show for four seasons and has zero evidence to support such outrageous claims.
And I'm not the only one who noticed that Porsha has very little to no explanation for most of the accusations she's put out there about Kandi and Todd. A viewer called and said, "I wanted to know where her receipts are regarding calling Todd 'Marvin'." Porsha said, "Well, everybody's asking for receipts. I got a phone call a couple days before I met with Kandi and he had just been in New York and that's when I was told about the situation."
Thankfully for Porsha there was a silver lining when she thought that Hawaii was in a different country since it distracted people from questioning her about the Kandi drama for a few seconds. Porsha attempted to explain her mistake by saying, "I know. I was at home laughing at myself. It kept going between us going on an international trip or Hawaii and I just mixed it up. Hey, whatever."
Another viewer called in and said, "I want to know if she's still in touch with NeNe [Leakes] and what does NeNe think about the direction that her and the girls are taking the shows." Porsha turned the question back to Andy and asked, "Wasn't she just on your show?" as if she didn't watch that episode and doesn't know exactly what NeNe said about her.
Andy confirmed, "She was and she said you're not in touch." Porsha said, "Right. We're not." Andy instigated a little further by adding, "Are you mad at her about what she said at the reunion? That was something that she said too."
Porsha explained, "No. I think this whole thing with NeNe is like a big understanding and it's just gotten worse. She has issues with Dish Nation and my job and what we do." Porsha added, "I don't have any beefs with anybody. I'm not holding on to anything." Are we not watching the same show, Porsha? You have beef with most of the cast.
TELL US- WHAT DO YOU THINK ABOUT PORSHA BACKTRACKING ON THE DRUGGING ACCUSATIONS? WHAT DO YOU THINK ABOUT PORSHA TAKING THE HEAT FOR PHAEDRA? WHOSE SIDE ARE YOU ON: KANDI'S OR PORSHA'S?
[Photo Credit: Twitter/Andy]
Save
Save
Save