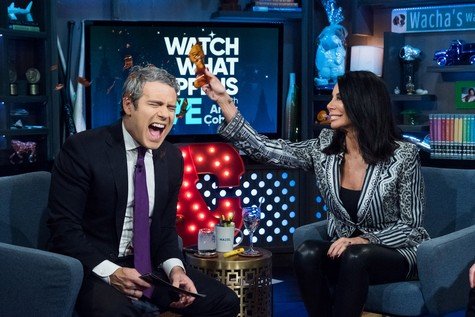 Even though Danielle Staub is all about maintaining the namaste with former sparring partner Teresa Giudice, she still has it out for her old enemies Jacqueline Laurita, Caroline Manzo, and Kim Granatell. It's safe to say that she will not be doing yoga with those three women at any time soon.
Danielle made that very clear when she threw shade (and even some direct insults) at Jacqueline, Caroline, and Kim on Watch What Happens Live last night. Believe it or not, she just kept it old school with her beef and there was not one Dolores Catania dig the entire episode. She's probably saving those up for the Real Housewives of New Jersey reunion taping.
When Teresa stormed out of Siggy Flicker's Boca home earlier in the season she told her "the crab cakes were salty anyway" which Siggy was pretty offended by. On Watch What Happens Live, Danielle continued having the same opinions as Teresa  confirmed that they were "so salty." A moment later she tried to soften the blow when she added, "But I love salt." That's for sure since she is still pretty salty when it comes to most of her former RHONJ foes.
Before she jumped into talking shit and throwing shade, Danielle said that it was Andy Cohen's idea for her to come back to the show and he mouthed "no it wasn't" while looking visibly uncomfortable. Hopefully Danielle doesn't watch this episode back because that moment was pretty awkward.
When she was asked if Teresa apologized to her daughters yet, Danielle's answer didn't make the most sense: "We'll have to wait and see because literally like that's what we're waiting for to happen." We all saw Teresa sitting with Danielle and her daughter and Christine in the preview of what's to come for the rest of the season. Maybe Danielle was just trying her best not spoil a future episode, but the wording was just a little odd. No, I didn't mistype that one.
Danielle continued, "It is important because of what we went through as a family. I think my kids need to come full circle and see who Teresa is today, not what she was or what she was doing earlier." Alright then.
While discussing Danielle's infamous duet "Real Close" with Lori Michaels, Andy asked Danielle, "Do you consider yourself bisexual?" She admitted, "I will always be, yes. Am I interested in going that way? No. I mean, I'm in love with my Marty [Caffrey]. He's my man." He is the TWENTIETH man Danielle has been engaged to. I would love to know what she's doing to get proposed to that many times. I am truly amazed- no shade intended.
One person who is intending to throw shade and then some is Kim G who has been tweeting up a storm about Danielle ever since her return to Real Housewives of New Jersey was announced. Danielle remarked, "I just think she really needs to go into that retirement home already. I mean, give it up."
Andy attempted to clarify an infamous moment in RHONJ history when he asked, "Was it you who called her square tits or she who called you square tits?" Danielle said, "Actually that was Ashlee [Holmes] who called me because I had a problem with my implants. Thank you so much, Ashlee. That was special of you. Sweet. Your mother raised you well." And there's the Jacqueline Laurita shade. Andy pushed, "It wasn't Kim G who called you that?" Danielle insisted, "She reiterated it quite a few times." This is really just a matter of semantics, but Danielle couldn't resist throwing Jacqueline and Ashlee into the mix.
A caller wanted to know if Danielle believed the rumors about Teresa getting cozy with another man. Danielle declared, "Absolutely not. She's getting cozy with all the ladies on Housewives and her daughters." She's always traveling to promote her book, doing personal appearances, and supporting her daughters at their activities. Does Teresa even have the time to have an affair?
Another viewer asked, "Do you think you were stirring the pot asking Margaret [Josephs] about Siggy's apology and telling her to keep her guard up? Why wouldn't you just stay out of it instead of planting negative thoughts?" Danielle answered, "I wasn't planting negative thoughts. I was being a good friend. That's what we're doing. We're living in a world where we have to be honest with our friends and tell them when something is coming is coming at them. When I'm going to have a friend, I'm going to do that for them. Period." It was probably more of a killing two birds with one stone scenario: she got to be a good friend to Margaret and stir up the pot for the sake of the show.
Danielle was not having it when Andy mentioned the book A Cop Without A Badge which put Danielle at the center of the drama during Season 1. She said, "It's irrelevant, thank you."
Speaking of Season 1, a fan asked, "What do you think Caroline Manzo thinks of your friendship with Teresa?" Danielle theorized, "I think she saw this coming all along. It's what she was not wanting to happen. So, she's pretty upset. Merry Christmas, Caroline." That seems like a total stretch. I doubt that Caroline even cares about anything RHONJ-related now that none of her family members are on the show.
RELATED: Danielle Staub Says Jacqueline Laurita "Doesn't Have A Genuine Bone In Her Body" & She Helped Jacqueline With Her Kids Every Day
TELL US- DOES CAROLINE CARE THAT TERESA & DANIELLE ARE FRIENDS? WAS DANIELLE TRYING TO STIR THE POT WHEN SHE WARNED MARGARET TO BE CAUTIOUS OF HER TRUCE WITH SIGGY? ARE YOU HAPPY THAT DANIELLE IS BACK ON RHONJ?
Photo Credit: Charles Sykes/Bravo